In the past, Apple TV has been thought of as a tiny box for home video streaming and display purposes. Prior to the release of the fourth-generation Apple TV and tvOS 10.2, Apple TV devices failed to offer many of the management features IT admins were in search of. But with tvOS 10.2 at the forefront, it seems like the tables have significantly turned. Now, Apple TVs have got some real enterprise opportunities to showcase.
Explore Apple TV kiosk features
Apple TVs render the ultimate visual experience and are extensively used in conference rooms and classrooms. Ninety-five percent of organizations have Apple TVs in their environment and for good reasons. They provide an outstanding conference room experience and also eliminate the need for costly adapters. As for the classrooms, they deliver an engaging learning environment for students. It also serves as an easy-to-manage app platform for digital signage.
With Hexnode, Apple TV deployment turns out to be a breeze. Whether you're an enterprise or a school, Hexnode's Apple TV Management solutions eliminate the frustration of conference room setup and display management. Hexnode helps deliver the ultimate end-user experience and helps the end-users know exactly what to do.
Apple TVs can be remotely configured and managed using mobile device management (MDM) software making it easy to roll out digital signages in public areas, hotels, cafeterias. Apple TVs are designed with the best security and management tools. And by pairing it with an MDM solution, it can greatly prove its value in the market.
Why choose Apple TV for your business?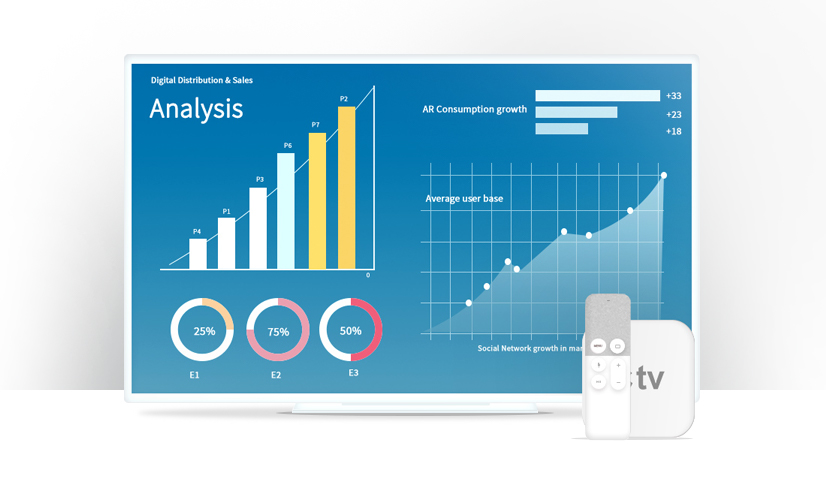 Apple TV is a powerful tool that can empower organizations in the global market. Twenty-five percent of the businesses, based on a survey, make active use of Apple TVs- accounting to a range of 11-25 from all the hardware base- a fairly good count indeed. And, with a dedicated operating system purpose-built for Apple TV, it offers a better display experience for employees and customers.
With the release of tvOS 10.2, IT admins have access to new management capabilities for Apple TV, including zero-touch setup, over-the-air configurations, remote commands, and in-house app distribution, thus making the setup process as seamless as setting up their Mac or iPad. It also enhanced the scalable mass deployments of Apple TVs.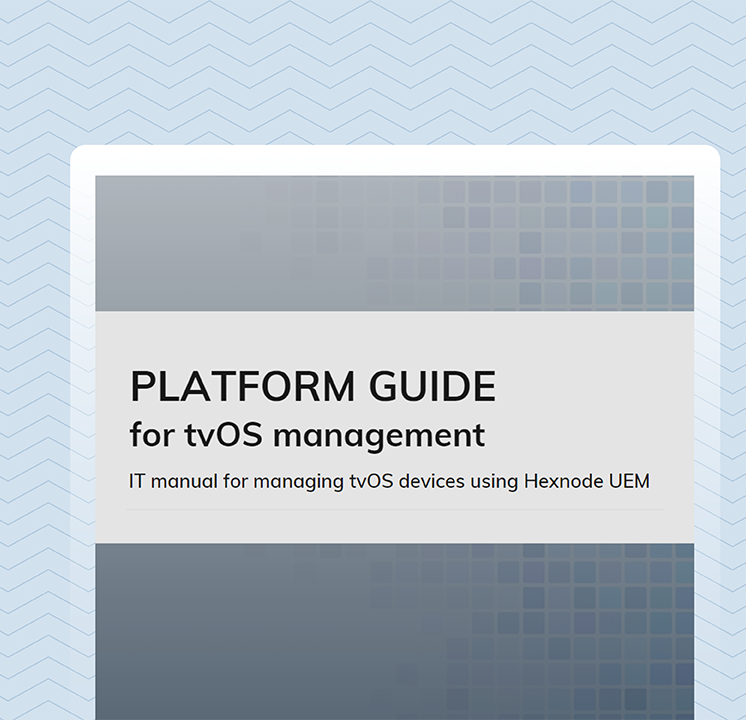 Featured resource
Platform guide for tvOS management
With Hexnode tvOS management, organizations can ensure the security and privacy of sensitive data by setting up restrictions, enabling encrypted communication, and much more.
Download the Platform guide
A set of management capabilities were added in the next release. tvOS 11 enhanced AirPlay security by introducing unique password functionality for individual devices. This allowed information sharing only within the intended room. Modifying and locking Apple TV devices was also made possible with this version. And with tvOS 12, the users can purchase and distribute store apps as well as deploy in-house custom apps directly to the devices.
Apple TV as a robust digital signage solution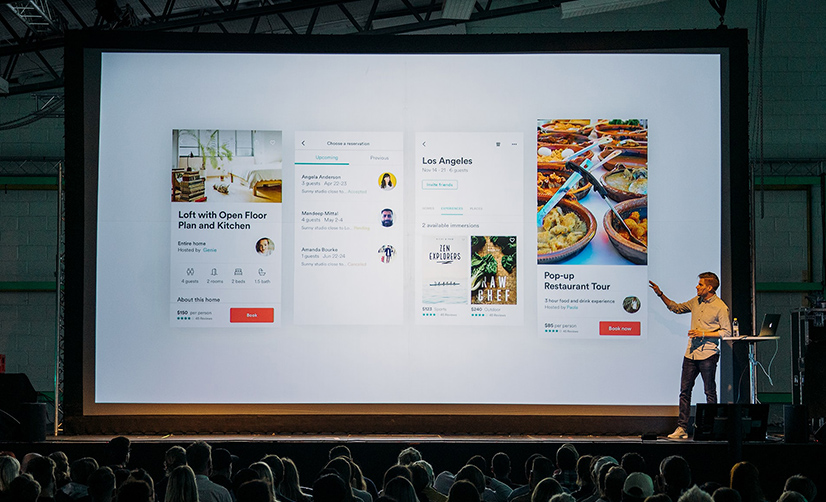 Digital signages are widely available everywhere now. Be it a pizza place, a movie theatre or a sports complex, it's everywhere. For small businesses, the high initial cost and complexity of deployment plus the expensive maintenance often hinders the process of setting up a digital signage. But by deploying an Apple TV with an MDM solution like Hexnode, digital signage can be swiftly rolled out even at the smallest of retail stores.
Download the Apple TV device management whitepaper
Configuring Apple TVs with the help of an MDM solution allows an IT admin to monitor and manage Apple TVs directly from the console. With an MDM solution onboard, the Apple TVs can be locked to a single app, AirPlay settings can be configured directly from the MDM console, and it helps to enable zero-touch deployment. These functionalities add on to smooth digital signage rollouts.
Locking the Apple TV digital signage to a single app
The IT admins can lock an Apple TV to a single application. This application can be a store app or a custom in-house app (such as a digital signage app). The app auto-launches even after the device restarts in case if a power loss or a new software update reboot.
Controlling AirPlay settings from the MDM console
Extensive control on AirPlay settings is yet another strong reason to incorporate an MDM with an Apple TV. The AirPlay controls can be separately configured for individual devices and applied directly from the MDM console hence saving much of the valuable time. The settings can be selectively enabled or disabled based on the specific use cases.
Zero-touch deployment for easy digital signage rollouts
Organizations having a multitude of Apple TVs find it reasonable to enroll their Apple TVs with an MDM software for quick deployment. Configure an Apple TV with Apple School Manager or Apple Business Manager and the rest is taken care of by the MDM solution. Launching a digital signage software takes no time with an MDM solution onboard.
Apple TV Digital Signages in the Industry
Apple TV management with Hexnode provides a seamless experience to control the entire Apple ecosystem thus creating an interconnected ecosystem between Apple devices. With MDM and Apple TV operations pacing hand in hand, the digital signage functionality is growing immensely thus proving its excellence in the enterprise world.
Healthcare
Incorporating digital signages in healthcare sectors provides a personalized experience for individuals seeking medical help. Apple TV digital signages allows to display real-time updates in the lobbies. It also serves as a mode of entertainment and data storage. With remote wipe and redeploy functionalities, the devices can be used indefinitely.
Hospitality
Apple TV digital signages provide a branded onboarding experience for guests at any location. By placing them in lobbies, rooms, or in common gathering points allows guests to view the updates instantly. With remote wipe and restart functionalities, remediate in-room media anywhere, at any time.
Education
Digital signages are highly useful in schools and universities. It minimizes the amount spent on expensive hard-wired projector systems. With digital signage enabled, teachers can move about the classroom and display pictures and other educational materials on an Apple TV. Deploying Apple TV digital signages hence provides a completely intuitive learning experience.
Enterprise
Digital signages provide a modern wireless conference room experience for organizations of any size thus delivering a cost-efficient wireless display solution. The zero-touch deployment capability of Apple TV offers a seamless and interconnected experience for the users at any part of the world.
Hexnode for Apple TV Digital Signages
With a dedicated focus on helping organizations succeed with Apple, Hexnode provides an enterprise-leading management solution for the entire Apple ecosystem.
It exclusively offers support for Macs, iPads, iPhones, and Apple TV. By combining Hexnode's Apple TV Management solution and the latest version of tvOS, businesses can unlock new device management capabilities for Apple TV, including zero-touch setup with Apple Business Manager or Apple School Manager, configuration profiles and app distribution, MDM commands to wipe and restart Apple TV and AirPlay permission enhancements for easy content display. From enabling wireless conference rooms to remote management of digital signages, Hexnode delivers a seamless, interconnected experience for all your Apple devices.
Download Hexnode's Apple TV management datasheet
Wrap-up
Apple has transformed the Apple TV into an attractive platform for digital signages. With an MDM solution onboard and easy deployment opportunity, organizations big or small can easily set up digital signages at a reasonable price range, and that's surely a great news. Hop in and explore the diverse enterprise use cases with the forthcoming Apple TV trend.

Looking to manage your Apple TVs?
Try out Hexnode UEM for free to manage and monitor your Apple TVs remotely.
Sign up now