As customers, we expect everything to be accessible with just a few clicks or taps. And businesses that want to keep their customers satisfied must offer a seamless and hassle-free experience, no matter where they are. That's where Windows kiosk software enters the picture.
Businesses can create self-service kiosks using Windows devices that cater to all our needs. Whether we're browsing products, placing orders or simply accessing information, these kiosks provide us with a user-friendly interface that's easy to navigate. They're the perfect solution for businesses that want to offer their customers a self-service option that's quick, efficient and hassle-free. So, the next time you're out and about and in need of a little assistance, keep an eye out for a Windows kiosk. You won't be disappointed!
Why "Windows" kiosk software?
When it comes to self-service kiosks, Windows kiosk software holds the upper hand and for good reason. With over 1 billion active users worldwide, Windows is a familiar operating system that most people already know how to use. This familiarity makes it easier for customers to navigate and interact with Windows-based kiosks, improving their overall experience.
Wait, that's not all! Windows kiosk software also offers a range of customization options. It ensures that businesses can tailor their kiosks to fit their specific needs and branding. Plus, with its hardware compatibility and robust security features, they provide a seamless and secure self-service solution for businesses and customers alike.
In today's fast-paced digital world, customers demand convenience and efficiency, and Windows kiosk software delivers just that. It offers a simple and intuitive experience that meets the needs of modern consumers.
Top 10 Windows kiosk software
From remote management and device compliance to content filtering and payment integration, businesses can choose the best MDM solution for their needs. This will provide a seamless self-service experience for their customers using Windows Kiosk Software. The Top 10 MDM solutions that offer Windows kiosk mode are listed below. Check them out!
1. Microsoft Intune
Microsoft Intune MDM provides a comprehensive set of tools for managing and securing devices and data in a centralized manner. They offer a wide range of features that can help organizations to deploy and manage Windows Kiosk devices, which are typically for public access or single-purpose use cases. With this MDM, single-app kiosk mode can be configured on Windows 10/11 devices and multi-app kiosk mode on Windows 10 devices.
The IT admins can allow to configure various kiosk settings to customize the Windows 10 experience for their users. These settings include the ability to create and deploy custom start menus, configure app restrictions and set up automatic login. Additionally, it provides the ability to remotely lock down the device to prevent unauthorized access, configure network settings, and manage updates.
2. Hexnode UEM
Hexnode's Windows kiosk mode provides a secure user experience with an additional layer of powerful features to enhance the built-in capabilities of traditional Windows kiosk mode. The software is tamper-proof and prioritizes security. It also provides ease-of-use features to eliminate the learning curve of the lockdown mode. These features make it simple for even non-technical individuals to set up the kiosk mode quickly.
The Windows kiosk feature of Hexnode UEM offers two different types of lockdown modes for different usage scenarios:
The Single app lockdown runs a single Universal Windows Platform (UWP) app on full screen. It is ideal for public use where auto sign-in is enabled and high security is needed. It pushes the kiosk mode to a local standard user account running on the device.
On the other hand, Multi-app lockdown runs multiple UWP apps. This is ideal for the shared use of fixed-purpose devices in offices. Approved apps appear as tiles in the start layout on the desktop when the assigned local standard user account is logged in.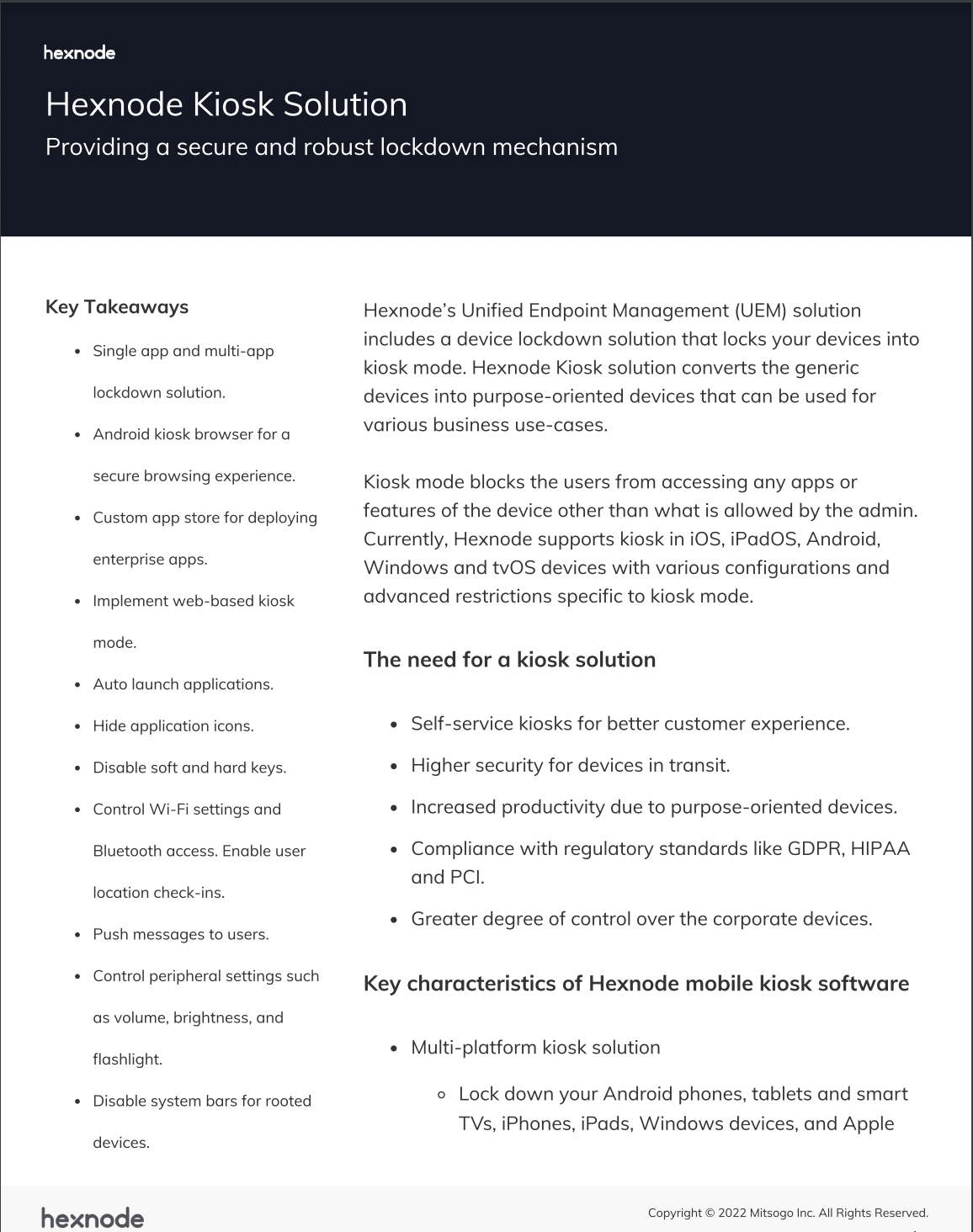 Featured resource
Hexnode Kiosk Solution
Get a glimpse of how easy it is to achieve a purpose-specific environment in your organization with Hexnode.

Download datasheet



Explore Hexnode Windows Kiosk mode
3. ManageEngine Desktop Central
ManageEngine Desktop Central MDM is a powerful device management solution that offers robust features to help manage Windows kiosk devices from a centralized location. They provide organizations with the ability to increase the security of their devices. IT admins can also administer the devices from a single location, personalize the kiosk mode settings and cut IT costs.
4. Scalefusion
Scalefusion MDM enables businesses to manage and secure their Windows 10 devices. With Scalefusion's Kiosk mode feature, businesses can easily set up their Windows 10 devices as kiosks and restrict user access to a single app or group of apps. They provide businesses with a powerful tool to enhance productivity, reduce costs, and improve security by preventing unauthorized access to the device's settings and features.
5. IBM MaaS360
IBM MaaS360 MDM provides a comprehensive kiosk mode for Windows devices. It allows IT admins to restrict access to a single app or a set of apps, enabling organizations to set up self-service kiosks, public displays and digital signage. With IBM MaaS360, IT admins can deploy and manage kiosk mode configurations for Windows devices. They can also customize the user interface to ensure that only the necessary apps and features are available to users. The kiosk mode provided by IBM MaaS360 is supported by Windows 10 Pro, Education and Enterprise.

6. SOTI MobiControl
SOTI MobiControl MDM solution allows organizations to manage and secure their mobile devices and applications. With its Kiosk mode feature, SOTI MobiControl can help transform Windows devices into kiosks. This helps the organizations to control user access and improve device security.
7. SureMDM
SureLock and SureFox Kiosk lockdown are two features offered by SureMDM. They allow companies to transform their Windows devices into interactive kiosks, ultimately improving employee productivity. This software allows users to only access whitelisted applications and content displayed on the screen.
This solution also benefits businesses by deploying off-the-shelf mobile devices as kiosks in high-traffic areas. It will thereby provide a wider audience access to business-related apps and increasing sales. Additionally, the kiosk software saves infrastructure costs by locking mobile devices into kiosk mode. Businesses have more control over their apps and can restrict user access to one or multiple specific apps.
8. VMware Workspace ONE
VMware Workspace ONE UEM offers a complete solution for managing Windows 10 devices in kiosk mode. They allow organizations to streamline workflows, improve productivity, and enhance security. Kiosk Mode enables IT administrators to convert a Windows 10 device into a dedicated, single-purpose device that runs a specific app or set of apps. With Workspace ONE UEM, organizations can implement kiosk mode on their Windows 10 devices with ease and control access to specific apps, websites, or other device features.
9. Citrix Endpoint Management
By using Citrix Endpoint Management, organizations can easily deploy and manage their Kiosk devices. They also ensure that the devices are made secure and compliant with corporate policies. IT teams can easily configure and deploy Windows Kiosk devices across their organization. Furthermore, they enforce strict security policies to protect corporate data.

10. Radix VISO
Radix VISO device management simplifies the setup of multi-app kiosk mode. It's done by transforming devices into predetermined environments with specific functionality and device appearance. It secures external ports, hardware components, and applications to prevent user interaction, except for whitelisted applications and essential hardware elements. IT admins can also centrally manage multiple Windows kiosk devices, collect reports and implement policy and security measures.

Conclusion
As you consider your options for Windows kiosk software and Mobile Device Management (MDM) solutions, it's important to take the time to carefully evaluate your needs and preferences. With the help of our list of top MDM solutions for Windows kiosk software, you can make an informed decision that aligns with your organization's goals and objectives. So go ahead and explore the features and capabilities of each solution and choose the one that best fits your needs. And as always, happy kiosk hunting! 👋🏻
Start your free trial today!
Start your 14-day free trial to experience the very best of kiosk management with Hexnode.
SIGN UP NOW