A common practice we see across every industry is that after the COVID-19 pandemic there was a rise in the number of people working from home. While the productivity of the employees is debatable, security on the other hand has taken a huge hit. An IT admin managing devices without a UEM will find it way harder to maintain all the security protocols.
The larger the company is, the device requirement for that company increases by that fold. Unmanaged devices can hamper a company's safety.
Josh without UEM
Before we jump into the specifics of  UEM let's see how the life of an IT admin is without a UEM. Let us consider Josh, an IT admin who manages various aspects of a company.
Josh has to manage a device fleet of 100. Imagine a case where Josh has to deploy these hundred devices in one go, well he could always take each device and install corporate apps and configurations manually which is a repetitive and time-consuming task. It could take days by the time he finishes setting up the devices. This gets especially hard when the devices have to be deployed to remote workers.
Now after his days of hard work, Josh is finally done with setting up devices and has to move on to managing the corporate devices. An IT admin's job is also maintaining the devices and upkeep with their working.
Josh is constantly overworked; this is a common thing for IT admins if they are maintaining a huge fleet of devices without a management suite. Corporations often block most of the resources on employee devices for security reasons. So, when an employee walks in saying he/she needs an app or an important resource installed, it requires Josh to manually install the required resources. If the resources are required on multiple devices, it becomes a huge hassle.
Alternatively, we can host a portal where all the company resources are available and ideally all the employees can download the required documents from there, but specific people require specific resources and it is not suggested to give all the employees access to the resources as there can be some sensitive data.
After installing the required apps, Josh receives a request from the higher management to update the software on all the devices. This is normally an easy task if the employees do it themselves, but sometimes new updates are blocked. This is where it gets tough and frustrating for Josh since now he needs to run around devices again to install software updates on every device.
When Josh is working frantically to install the updates on devices, his manager walks in to inform him about the change in a corporate policy, which requires him to block a certain app on the managed devices
Besides this Josh should always keep in check with the compliance of every device in the network, which is a frustrating task when monitoring the devices through multiple portals. Every device should be uniquely maintained and even if two devices can be grouped into the same set of restrictions, Josh has to install configurations twice. This is a repetitive job and is a waste of time.
The biggest concern for Josh and many IT admins like him is that they need to do most of their work manually and they require the managed device to be manually present when they have to change any of the configurations on the device. This is a huge hassle in the times of growing remote work. So when COVID hit, most of these companies had to compromise on their safety to make remote work possible for their employees.
Hailey with UEM
It's not about doing the hard work; it's about doing the smart work
– Random wise guy.
Let us look at Hailey, she's an IT admin who manages 100 devices. The same amount as Josh but Hailey has a powerful weapon in her arsenal, a Unified Endpoint Manager (UEM).
When Hailey is required to enroll a hundred devices. She does not manually install corporate configurations on every device manually, she takes the help of the UEM to enroll the devices into the UEM portal remotely and right out of the box. When once a device is enrolled into the UEM portal, she can remotely manage the device.
When an employee asks Hailey for a resource to be made available on their device, she does not require the device physically to push these resources. On installing the required apps, she can push them to the device right from the UEM portal. With the help of a UEM, an IT admin can remotely make required resources accessible to specific users, so users have access to the data that pertains to their work. Hence, securing corporate assets.
Managing and monitoring devices are the primary jobs of an IT admin and Hailey, with a UEM can do all this from a single portal. Policies and restrictions can be placed on a device from the UEM portal and with remote monitoring, Hailey can make sure all the devices adhere to them. Hailey will be notified on the portal when any device falls out of compliance.
Hailey has access to remotely track the devices, this is an essential feature as a job of an IT admin includes security and safekeeping of the corporate devices. If an employee loses their device, with geo-tracking, the enrolled device can be traced in no time. In the case that a device is truly lost or irretrievable, the IT admin can remotely wipe out all the corporate data that is in the device. So, the data is not compromised.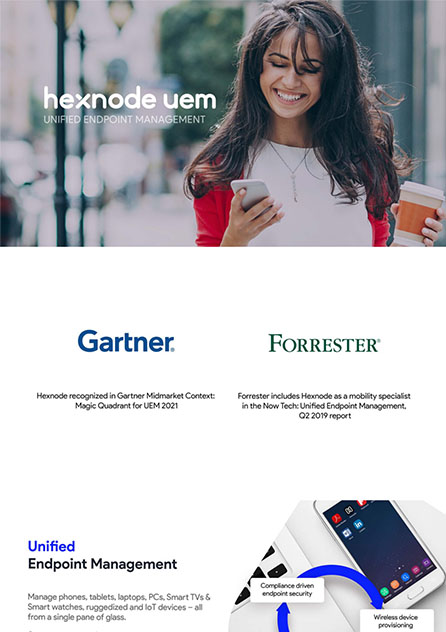 Featured resource
Introduction to Hexnode UEM
Make your IT simple and secure with the help of Hexnode UEM. It is a comprehensive device management suite that supports multiple OS. Download the presentation to know more.
Download presenation
Choosing the right UEM
There are a lot of factors to consider when choosing the right UEM for your organization. Hexnode is one such UEM that has multi-platform support, a wide set of features, and a dedicated support team.
We already saw how a UEM made Hailey's life so much easier. Even the most mundane tasks become easily manageable when you wield a remote management solution like Hexnode. On that note, let's take a closer look at what a typical day in the life of a Hexnode technician would look like.

When deploying a new UEM, it is important for the IT admin to know about the working of the tool. Hexnode offers certification for its product. Wherein, the IT admin can easily understand the working of the tool and get Hexnode certified. Added to this, Hexnode offers a 24/5 support team, to help with any of the queries about the tool.
Choose the right UEM. Choose Hexnode.