The mobile device management solutions have evolved into a single solution that can do it all. With an increase in the need for a unified solution for device management, the demand for UEM solutions have risen. Everybody prefers a single provider for their management needs, even though many vendors claim that they are capable, only a handful can deliver.
Why do you need an UEM solution for your business?
Automation
Automation of your business helps your IT management team get their work done faster and more efficiently. It helps save resources through device management and monitoring.
Security
A well-rounded security for your organization resources and data is ensured by implementing a UEM solution. Remote access features often acts as the danger button to save your company from certain precarious positions.
Unification of Management
A group of solutions from a variety of providers for tasks that can be managed centrally via an UEM is so last year. Your organization's management needs and upgrade and what better way to do it than upgrading to a top notch UEM provider.
Hexnode UEM
Hexnode UEM is the device management offering from Mitsogo Inc, a San Francisco based IT service provider founded in 2013. Hexnode is focused on delivering the promise of a unified digital workspace. The ability to control any device, any platform and the capability to manage any and all business use cases effortlessly from a single console is something that users love about them.
Hexnode UEM's extensive vendor partnership supports integration with several manufacturers like Samsung Knox, LG GATE, Kyocera, Honeywell etc. Hexnode's UEM solution has received several accolades like the Gartner Peer Insights Customers' Choice for Unified Endpoint Management tools multiple times over the past years, G2 has recognized Hexnode as a high performer and Momentum leader of Fall 2019 . Hexnode is also the key innovator in the MarketsandMarkets global forecast (2018 – 2023).
Blackberry UEM
Blackberry Unified Endpoint Manager formerly known as Blackberry Enterprise Server (BES) is the endpoint management solution from the Canadian software and hardware vendor Blackberry. Blackberry UEM has always been quite in the UEM market space, it's has always been there but never really stood out.
They started to grow after they acquired Good Technology a rival in the market space and integrated their products into Blackberry's extensive line in 2015. They are one of the few vendors that still support Blackberry OS, their proprietary mobile operating system. Their dedication to iOT development has often led to them ignoring rapid growth of basic OS functionalities.
Hexnode UEM vs Blackberry UEM
Meets Requirement
Android, iOS, iPadOS, macOS, windows are supported by both Blackberry UEM and Hexnode UEM. The support for tvOS and Fire OS are only available on Hexnode UEM. The support for ChromeOS is in the works for both vendors.
Blackberry UEM misses a lot of features besides the missing OS support. They lack the partnership for integration with LG Gate and Kyocera devices. Blackberry UEM also lacks certain configuration features like web content filtering and network data usage management.
The inability to configure fonts and Access point names on iOS devices, firewall, exchange active sync, time limiting, smart card authentication, screensaver and app catalog configurations on macOS devices can be a deal breaker for most organizational use case. Blackberry's support for Blackberry OS and devices still remains unmatched and is definitely a niche where Blackberry UEM has the upper hand.
Hexnode houses in-depth app management and group policy management features. Hexnode supports the layout management of apps on the play store for enterprise and the ability to downgrade applications. Hexnode UEM also has a robust Geofencing solution which helps fleet management and companies with on-field employees.
The capability to create and manage custom groups is used by almost all of our customers and it's a shame that a top UEM provider like Blackberry still doesn't support it. Hexnode's hybrid solution is made to be used in almost every industrial scenario and are adjusted to meet user requirements.
Ease of use and Setup
A major factor contributing to the ease of use is the placement of the features, universal naming and a simple user interface. Using the Hexnode UEM console is pretty much self-explanatory, the console is created with these universal guidelines making it easier for new UEM users to adapt and migrating users to adjust to quickly. Hexnode's wide variety of enrollment methods makes it easier for organizations to deploy devices in bulk.
Blackberry UEM is missing a key feature in the form of pre-approved enrollment, it is one of the most popular setup methods for faster deployment. Blackberry only lets you pre-approve users and not devices based on serial numbers. The ability to enroll devices via ROM/OEM is also lacking.
The user interface for Blackberry is really simple considering the plethora of features it houses but their color scheme has been an issue for color-blind users. The Blackberry device agent has also received a lot of heat for its sub-par quality that has caused performance issues on devices in the long run.
Kiosk Capabilities
Blackberry UEM's kiosk capabilities are way below satisfactory if you are looking to manage your devices as kiosks. It lacks the ability to run background apps in kiosk mode, the capability to run the kiosk as digital signage and as a screensaver. It also lacks the granular kiosk settings needs for a perfect control as compared to Hexnode UEM.
Hexnode UEM also houses the provision to convert iOS and windows devices into multi-app kiosks, run web app kiosks and autonomous single app kiosks on iOS devices. Hexnode goes a step further with their kiosk capabilities extending to even tvOS devices. These missing features should definitely be taken into consideration if your planning to prioritize the use of your devices as kiosks.
Quality of Support
Blackberry UEM has one of the worst customer support teams among the top UEM providers. The constant back and forth struggle of getting your queries answered and your concerns addressed can take away the entire purpose of having a UEM solution for assistance in the first place.The complex user interface can become difficult to understand at times the lack of an ideal team or documentation to support can hurt new users.
Hexnode has always received praise for its unmatched customer support. Customers rarely need help using Hexnode, but if you do need assistance there is a 24/5 dedicated live chat support to help. There is no concern too big or too small for the team of UEM experts. Any and all concerns will be addressed in a beat and are especially helpful if you don't want to go through those extensive help documents for answers.
Hexnode has been dubbed as one of the friendliest vendors not just because of the chat support but also because of the customer success managers that always puts the customer first. Unlike other vendors Hexnode UEM's service doesn't end at purchase; they provide services like feature addition on customer request and is always available to lend a helping hand.
Product direction
The main issue with Blackberry UEM is a classic case of trying too hard. They are trying too hard to develop and excel in certain areas while leaving behind the basics. This leads to negligence of bug fixes and a delay in providing support for features that are commonly used by most organizations.
Hexnode UEM, on the other hand, is focused on delivering a complete and unmatched solution for endpoint management. Hexnode prioritizes the addition of the missing features while developing faster feature support and addressing customer requests. Hexnode also planning to improve on their customer outreach with annual user conventions and more.
Hexnode is one of the most rapidly growing UEM vendors. The introduction of zero-day support for new OS updates and releases, integration of IoT, ChromeOS etc this year is a step in the right direction.
Plan Pricing
Blackberry UEM pricing starts at $5.0 per user per month. Blackberry also provides the management of wearables as add-ons which will increase the plan prices significantly.
Hexnode MDM prices its plans from $1 to $5.8 per device per month with a 15-device minimum. Hexnode MDM also provides bulk corporate discounts for large scale companies. The lower price with extensive platform support and free chat support will also make it an ideal solution for small and medium businesses.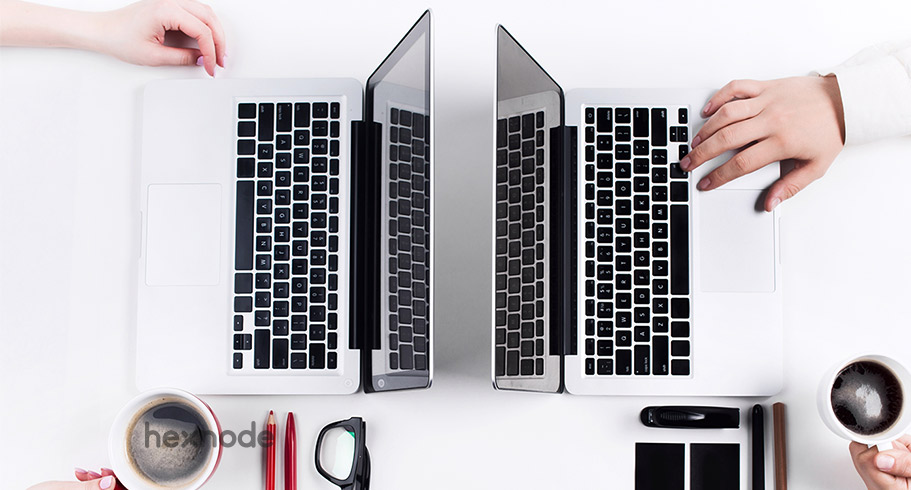 | | | |
| --- | --- | --- |
| User Ratings | Hexnode UEM | Blackberry UEM |
| Meets Requirement | 9.0 | 7.8 |
| Ease of Use | 8.8 | 7.6 |
| Quality of Support | 9.7 | 7.1 |
| Product Direction | 9.1 | 4.5 |
What our customers had to say about Hexnode
Don't just take my word for it here is what customers had to say:
All the different devices that it supports. The easy to use UI that makes it so even your average technical person can understand how to manage devices via Hexnode. There are not many times where ANYONE likes contacting support, however, it's sometimes a necessity. The interaction with Hexnode MDM's Support (Eva) was absolutely phenomenal. Although there wasn't a current solution to my issue, I was still satisfied simply due to the acknowledgment of my issue and how personable the support agent was.
Works very well in a school/education situation. Easy and simple to use. Requires little skill.
Easy intuitive interface! Easily managed learning curve, with excellent user support!
Blackberry's UEM offering has always paled in comparison to its competitors. In a competitive UEM space Blackberry lacks the quality it takes to standout and attract customers when compared to vendors like Hexnode UEM who leads the customer reviews and feedbacks among UEMs and has grown to be one of the best options available.
Disclaimer
All product and company names are trademarks™ or registered® trademarks of their respective holders. Use of them does not imply any affiliation with or endorsement by them.