Mobile Application Management (MAM) allows IT admins to have full control over the applications installed on user end devices. Several policies centered on security and other general app management capabilities can be pushed to the devices to give organizations a better idea on how the deployed applications can be monitored and controlled. Smartphones and tablets offer employees the convenience to work from anywhere. Having a centralized app repository would give employees instant access to all the applications they need, thus saving time and boosting up productivity on the long run.
MAM is integral to ensuring data protection in personal devices of employees, where business apps can be kept separate from personal apps of employees via containerization. There's a lot one can accomplish with a MAM solution. Before we get into all of that, let's first try to understand the difference between an MDM and MAM and why the latter would be a much better approach to managing applications within the enterprise.
Click to explore Hexnode's App management features
Mobile Device Management vs Mobile Application Management
What is MDM?
An MDM comes with a set of management capabilities to secure corporate and personal device of employees. Admins can set up policies and restrictions to protect both the device and data present within those devices. Some of the features of an MDM solution include device encryption, remote wipe, geofencing, location tracking, grouping devices based on pre-defined conditions and other device-based restrictions and configurations. 
What is MAM?
It manages the applications stored within the devices. Your organization may use an application that is essential to all employees or specific to a single team. These apps can be set as mandatory. Setting an app as mandatory ensures that it is made available to all end users who require them. MAM even comes with the functionality to lock down devices to function in just a set of whitelisted applications. Some of the other features of MAM includes containerization on BYO devices, monitoring app-wise data usage, setting up app configurations and permissions, creating app catalogs, app groups and a managed app repository specific to your organization.
Why do organizations need Mobile Application Management?
Forrester's report on application security pretty much makes it clear why organizations need to implement the strictest security measures when developing applications of their own. With the rise in remote work, web apps in particular, continue to be a target for external attacks. Having a Mobile Application Management solution help admins constantly monitor, manage and protect the applications in use. Now that we've briefly touched upon what a MAM can do, let's take a deeper look into each of its functionalities to better understand the importance MAM holds in being a part of improving enterprise security.
Containerization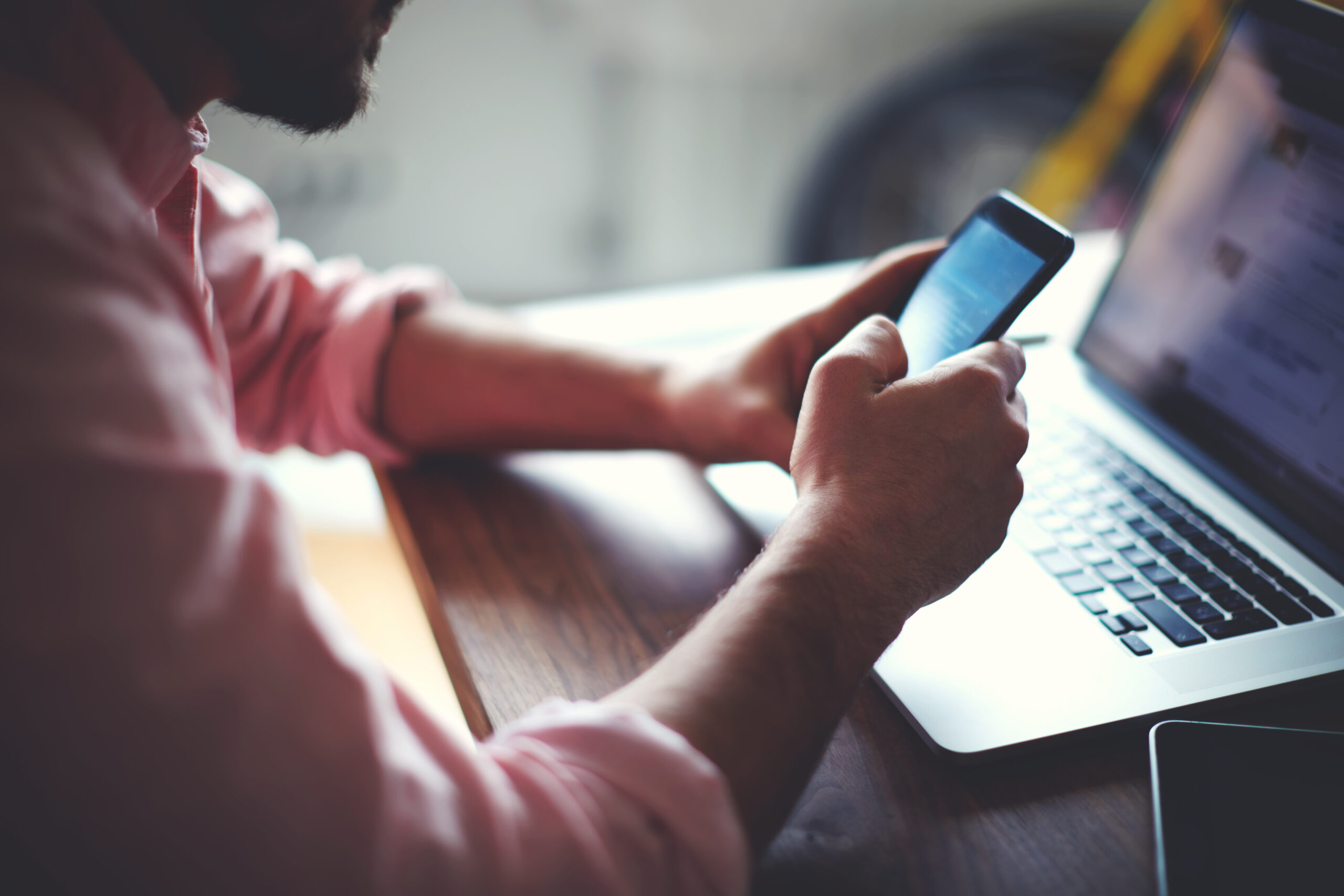 Segregating corporate and personal data with containerization
The onrush of personal devices within the workplace left businesses worrying about data protection. Implementing too many security measures on those devices wasn't much of a viable choice either. Businesses were often left with the risk of invading the privacy of their users to ensure complete protection of corporate data.
Containerization provided businesses with the right balance of making end users happy by ensuring both data protection and privacy. A separate encrypted container would be created on the device to store work related apps and data leaving the personal space of the user untouched. The encrypted space protects all the information stored inside and restricts external users from accessing it. Containerization also offers the benefit of remotely wiping just the corporate data when an employee loses their device or reports it stolen.
Containers can be created on the managed devices with the help of a device management solution. The profiles make it easier for users to readily have access to the applications they need. It also allows admins to enable specific restrictions to make sure sensitive corporate data do not cross over to the personal space of the employees.
If you have a fleet of android devices within the workplace, you could use Android Enterprise (AE) to create a separate container within those devices. AE comes with three device management types – device owner mode (this would be a better choice for corporate owned devices, as the device would be fully managed by the organization) and profile owner mode (a separate work container would be created on the device, this is an ideal choice for BYO devices) and fully managed devices with a work profile (a separate container would be created on a corporate owned device, leaving the rest of the device free for the user).
You can find similar containerization in Samsung and iOS devices. iOS devices have a business container that separates work apps from personal apps and restricts the flow of data from one space to another. This is done with the help of Managed Open-in. This feature prevents employees from opening files from managed sources in unmanaged locations. Admins can also use AirDrop to prevent employees from sharing sensitive files.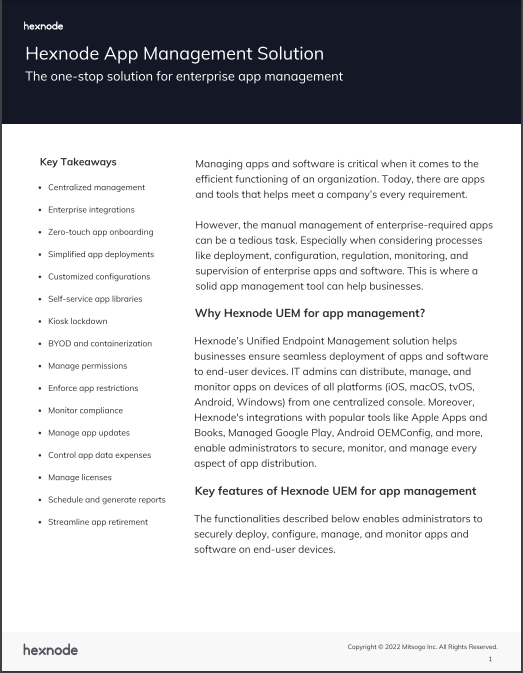 Featured resource
Hexnode App Management solution
Learn how Hexnode's App Management solution helps businesses ensure seamless deployment, configuration, regulation, monitoring, and supervision of enterprise apps and software on end-user devices.

Download datasheet
Create an App Inventory
Wouldn't it be great if you could provide your employees with a centralized repository with all the required applications? It saves up plenty of time and frees up your IT team from the burdensome task of making sure users are equipped with applications needed for work. Apps can be filtered within the inventory based on the app type, platform, license and upload status. The upload status would let you know whether the application has been successfully installed within the app repository.
Admins can create app groups to easily deploy a set of applications to a single user or to a specific group of users in a single go. App catalogs on the other hand, provide admins with the flexibility to create a customized app store that is specific to their organization. It can consist of both individual apps and app groups. This ensures users only have access to and download applications that is approved by the organization. Multiple app catalogs can be created and deployed to different sets of users at the same time.
Application Wrapping
Application wrapping allows developers to secure the applications they develop by deploying security policies. Deploying these policies wouldn't change the look of the application nor its overall functionalities. This process helps organization stay compliant with various security requirements by protecting the data stored within those applications. App wrapping could either be done with the use of an SDK or via an EMM vendor that offers an API with which management policies can be enabled.
Push app configurations, permissions and updates remotely
Admins can ensure continuous application security by remotely enabling required app configurations and permissions. Managed app configurations can simplify the app distribution process by pre-configuring some of the app settings. Remotely enabling app permissions would stop users from enabling any permissions that could open doors for potential data leaks.
It's always good to update applications. Cybercrimes have increased with the rise in remote work. Updating the application to its latest version can prevent hackers from stealing sensitive information by exploiting any weaknesses that could be used as entry points. In addition to addressing multiple security concerns, updated applications would offer improved functionalities and a better user experience.
Sometimes an application with its new version may not be fully compatible with your organization workflows. You can remotely downgrade the application in such cases.
Restrict devices to run in whitelisted applications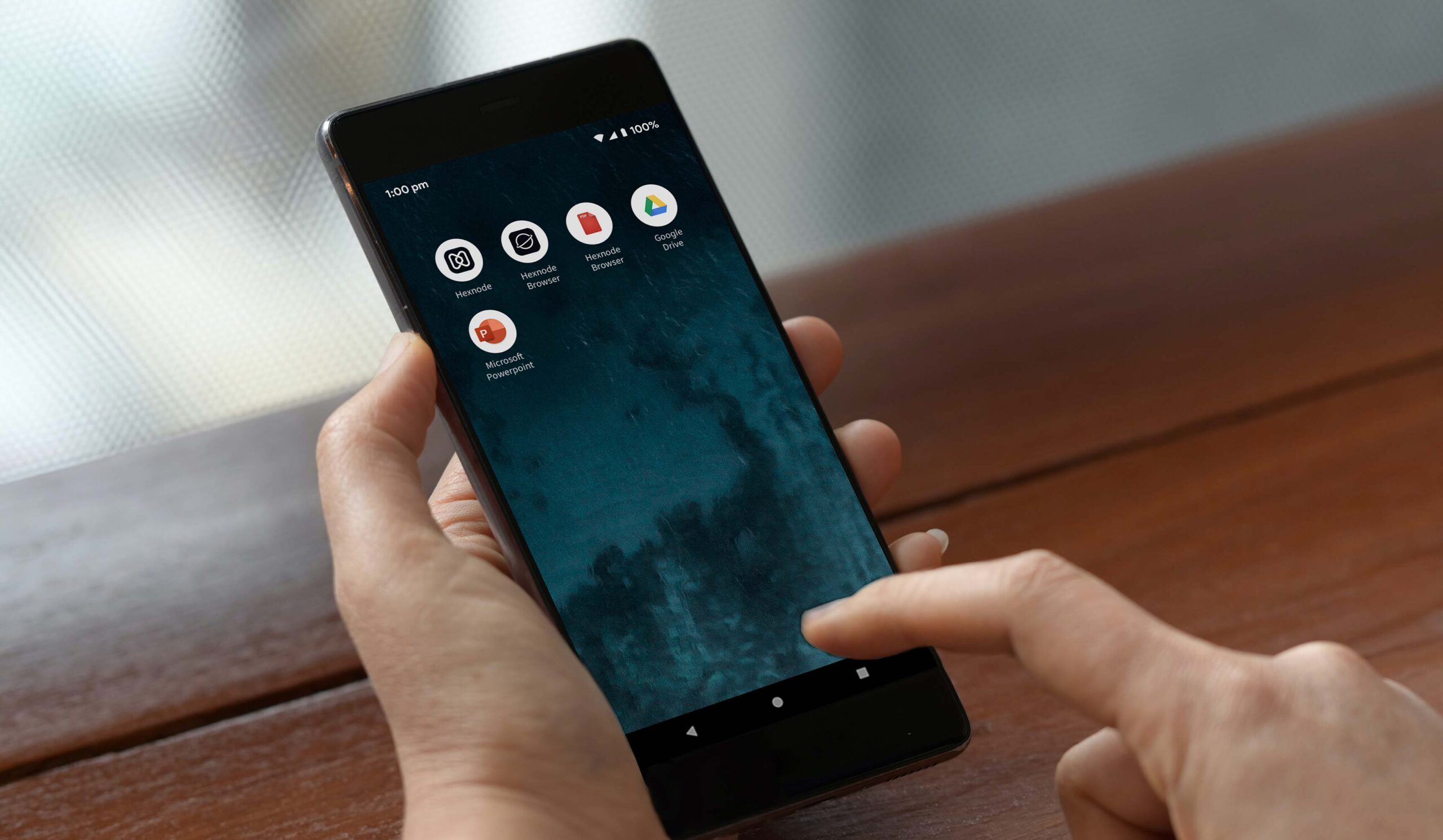 Locking down devices with essential applications
Depending on the use case, organizations may require the need for dedicated devices. These devices are locked to function in a single application or a set of whitelisted applications and will have just a few device settings enabled to ensure data protection and prevent users from making any unauthorized changes to the device. Dedicated devices can be used in a wide range of industries such as logistics, transportation, retail, healthcare and education.
Blacklist applications
Cybersecurity is a top priority among many organizations. In order to implement the most stringent measures, you may need to restrict the usage of certain applications for security reasons. MAM provides businesses with the convenience to blacklist applications that could be risky to maintaining data privacy and protection.
Set apps as mandatory
Setting an app as mandatory ensures that it is installed on the devices of end users who need them. This is a failproof method to make sure admins don't miss out on deploying essential applications. Any devices that don't have these mandatory apps installed would be shown as non-compliant, thus alerting admins on the number of users that have the apps installed.
Conclusion
Implementing a MAM solution within the enterprise is essential as it protects sensitive business information from being handled inappropriately. It also comes with multiple functionalities that fall in alignment with most of the requirements defined within BYOD policies. Mobile Application Management greatly reduces the chance for employees to be the next victims of a data breach.
MAM offers a more comprehensive approach in keeping business data secure. It helps in ensuring continuous application security with containerization and pre-defined configurations and restrictions. The more secure and accessible the applications are, half of the workload that you take in maintaining application security would be taken care of.
Simplify app management with Hexnode
Try Hexnode free for 14 days to secure and manage applications within the enterprise.
sign up