Kiosks are one of the greatest innovations that have dramatically changed the way we live. They are a normal part of our everyday life that makes life easier and quicker for people in a variety of scenarios. When used in business environments, they can provide a purpose-specific mode for doing a particular task without any interventions. This can improve the efficiency of your business.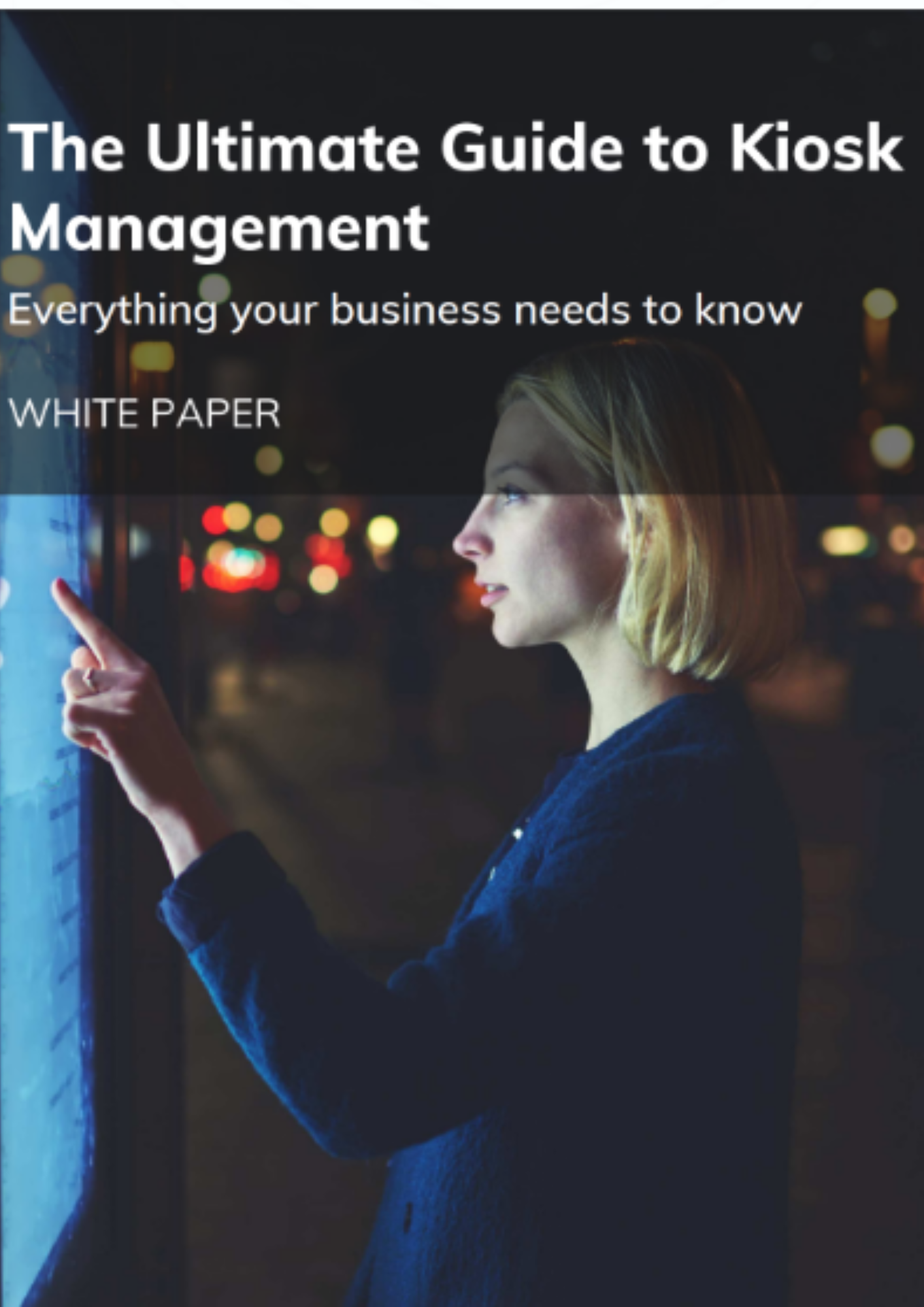 Featured Resource
The Ultimate Guide to Kiosk Management
Leaving kiosk devices unmanaged opens a lot of threats leading to the compromise of sensitive data stored within those devices. Learn how you can adopt the right kiosk management strategy for your business.
Download White paper
Kiosks have many forms and functions. They come as stand-alone stations or wall mounts. They have a wide variety of applications. It's their flexibility as well as the convenience that make kiosks such a potentially beneficial tool for most businesses.
Common types of kiosks
Self-service kiosks
Widely used for providing services such as paying bills, filling out application forms and so on. Some of the most common applications include deposits and withdrawal machines at banks, self-ordering at restaurants, appointment check-in and pay for the prescription in hospitals, airport-parking kiosk.
Information kiosks
Utilized purely for information. Usually used in areas like malls or theme parks with high population density to provide details regarding the area. Patient kiosk in hospitals which holds information about general health is another example.
Internet kiosks
Provides internet access to the public. The primary function is to provide quick access to email and other web services. These types of kiosks manage themselves and possess automatic capabilities such as rebooting themselves after a power outage. Typically placed at airports, libraries offering free public access, hotel lobbies, medical waiting rooms for getting fast access to web pages.
Advertisement kiosks
Kiosks provide a greater opportunity for advertising purposes. They easily garner customer attention, enable the presentation of the complete product line, help with branding, improve customer experience, help validate product ideas, and effectively increases the customer base. They can be Digital Signage systems, or they can be interactive which means they can feature the benefit of being touch/interactive standing displays allowing users to engage with them. This provides an effective platform to reach consumers in places such as shopping malls, airports, cafes, etc.
Devices dedicated to specific setups in organizations
For corporate use, devices can be restricted to a particular set of work apps ensuring that employees aren't navigating out to other areas that are not meant for them. Such type of work-specific kiosk devices saves time, prevent employee distractions, and provide easier access to the tools they need to perform their tasks.
In more and more scenarios, kiosk machines are making a big difference in our fast-paced life. The positive return on investment they provide has boosted the popularity of kiosks in all spheres of our lives.
Kiosks and Businesses

Every company has a specific set of use cases that they expect their employees to do from a device. But having too many features available on the device can distract the employees and affect their productivity. Accessing any unsecured websites or apps can even put corporate data and devices into trouble. For such businesses, kiosk mode, a mode with added security, and fewer distractions come into handy.

Try Hexnode for your kiosk systems

Kiosk mode is especially useful when the devices are shared between multiple users or when they are dedicated to serving a particular use case. Kiosk mode features enable organizations to ensure that devices are used only for work purposes during work hours. Organizations can set up devices to perform a specific use case. This allows them to get the most out of a device while having the employees confined to only specific features the device can perform. Kiosk devices offer numerous benefits to the organizations that employ them as well as the end users who work with them.
Benefits of kiosks to organizations:
Increases employee productivity by helping them to focus on specific tasks getting more things done in lesser time.
Restricted usage to work-only apps, constrained scope of device usage, and limited access to the internet drive incredible data cost reduction.
Increases the security of devices and data as the device users are prohibited to surf the internet or download malicious apps which may result in data expose and cyber threats. .
Increases overall operational efficiency and accuracy of process management.
Prevent distractions and any scope of loss of productive hours..
Reduces time and cost of support as employees cannot use corporate devices for personal needs.
Can be customized to integrate specific enterprise needs which enhances the device usability.
How to make a kiosk?
There are some traditional lockdown mechanisms built into each popular operating system including iOS, Android, and Windows.
Guided Access mode
Guided Access is a parental control feature but acts as the quickest way to put an iOS, or iPadOS device into kiosk mode. It temporarily locks down an iPad, iPhone or iPod Touch device into just a single app. Other hardware options like touch screen and sleep/wake up button can be enabled or disabled. If the sleep/wake button is enabled, anyone can turn on the screen which will take them directly to the app in Guided access mode without the need to enter any PIN.
How to enable the Guided Access mode?
Go to Settings > General > Accessibility > Guided Access.
Tap Passcode Settings and set a PIN. You can choose to use the same PIN that's used for unlocking the device as guided access PIN or go with a different one.
Choose whether to exit guided access using a touch ID.
Launch the chosen app and triple click the home button once loaded.
When the guided access screen appears, enable/disable options like touch screen and sleep/wake button.
Press Start in the top right corner to begin the guided access mode.
How to disable the Guided access mode?
To end the Guided Access mode and regain full access to the device, triple tap the home button and enter the guided access PIN. Press End at the top left corner.
Limitations of Guided Access mode
Some critical hardware functionalities could not be disabled.
Anyone can quickly press the home button and guess the guided access passcode to bypass the lockdown mode.
If a user attempts to reset the device by pressing the home button and sleep/wake button together and holding them, the device will boot back and ask you to sign in with your PIN. You'll have to re-enable Guided access mode manually for the chosen app in this case.
The Guided Access mode is classified as a learning feature by Apple and is intended for use in schools. The Guided Access mode is not a recommended solution for purpose-specific and secured kiosk use cases.
App pinning
Starting from Android 5.0 Lollipop, Google introduced App pinning to lockdown Android devices to run a single app in the forefront. The App pinning feature helps users to pin a selected app temporarily to the device screen. Navigation buttons like the home button and the recent button will be disabled even though they will be visible. Any app can be pinned to the screen and keep it in view until it is manually unpinned.
How to pin an app to the screen?
Go to Settings > Security.
Tap on Screen pinning > Turn it ON.
Launch the app you're going to pin to the screen.
Tap on the overview button and click on the blue pin button.
Tap on start to pin the app to the screen.
How to unpin the app?
Tap and hold the back button and home button at the same time. The app will be unpinned taking you to the lock screen.
Limitations of app pinning
Any user can long press the home and back buttons to unpin the app from the screen.
There will be a proactive toast message shown on the device to unpin the screen.
There is no provision to restrict those apps which open from the pinned app.
It is easy to access the notification panel.
Assigned access
Assigned access in Windows is a feature that locks the screen and launches a particular app above the lock screen. Assigned access restrict a specific local standard user account to using a single UWP app and provision the device into a state with a locked down user experience. The users won't be able to get to the start menu, desktop, or even the Settings app.
How to set up assigned access?
When you configure the assigned access from PC Settings, you can create the assigned access account during the set up if the device is running Windows 10, version 1809. If the device is running Windows 10, version 1803 or earlier, the assigned access account should be already created, that is, you must select an already existing account as the assigned access account. Follow the below steps to set up assigned access:
Steps for Windows 10, version 1809
Go to Settings > Accounts.
Select Other users > Set up a kiosk.
Choose assigned access and click on Get started.
Name the assigned access account. If there is an already created local standard user account an option to choose the already existing account will be provided.
Select the app to run in the assigned access account and close.
The chosen app will be launched once you log in to the assigned access account.
Steps for Windows 10, version 1803 or earlier
Go to Settings > Accounts.
Select Other people > Set up assigned access.
Choose an already existing local user account.
Select the app to run in the assigned access account and close.
The chosen app will be launched once you log in to the assigned access account next time.
How to disable assigned access?
Go to Settings > Accounts > Other people/Other users.
Click the Set up assigned access link.
Select the account currently under assigned access and choose Don't use assigned access.
Limitations of assigned access
Some keyboard shortcuts like Ctrl+Alt+Del are not blocked giving attackers the ability to interrupt the system.
Certain downloads cannot be prevented so this can result in malicious downloads which may compromise the user data.
It is not a scalable method. Having to manually going to Settings to enable assigned access won't work for a large bulk of devices.
Kiosk mode and MDM
---
With MDM, turning a device into a kiosk is simple. MDM features allow IT administrators to control these devices remotely and lock down the device to a particular usage or a set of work-related apps. Any Android, iOS or Windows devices can be configured to work in a restricted, purpose-specific mode. Now, Apple TVs can also be locked to a single app with the tvOS kiosk policy.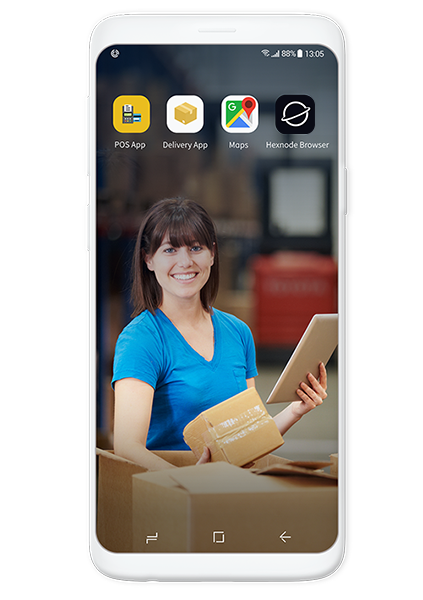 Android kiosk mode
Kiosk policies for single app and multi-app lockdown.
Can disable hardware and software buttons to prevent users from using these keys to break out of kiosk mode.
Peripheral controls – Volume and brightness controls along with network and app-based restrictions.
Web kiosk settings – allow users to access only a set of websites which are whitelisted by the organization. There is a lot of Advanced options for WebView to build a perfect website kiosk.
Android kiosk browser – Hexnode browser can tie over the limitations of WebView such as no address bar, inability to upload files etc. The browser opens only the whitelisted URLs and multi-tabbed browsing is possible.
Hiding app icons – App icons can be hidden from the kiosk launcher. This can prevent users from tampering with apps by running them in the background.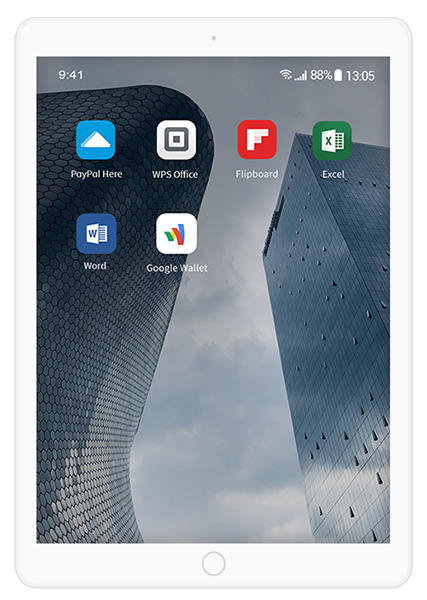 iOS kiosk mode
Single app and multi-app kiosk modes.
Restrict the devices to specific websites thus preventing unnecessary browsing.
Can set up an app in autonomous single app mode which will enter the kiosk/single app mode once logged in to and will exit the single app mode once the user finishes working with that app.
iOS WebView, a browser that allows users to open whitelisted web apps and websites.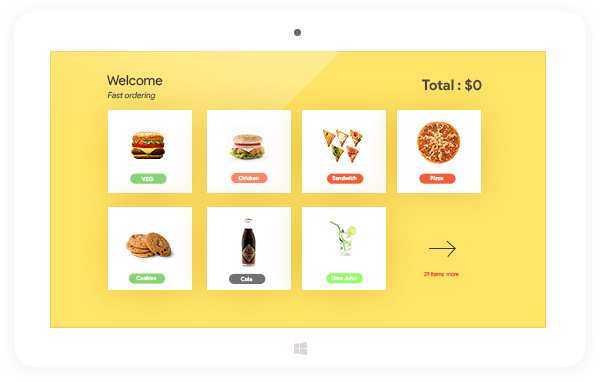 Windows kiosk
Single app kiosk mode allows admin to run a UWP app in full screen inside a restricted local user account.
Multi app kiosk mode help to restrict a local standard user account to more than one essential apps.
Apple TV single app kiosk mode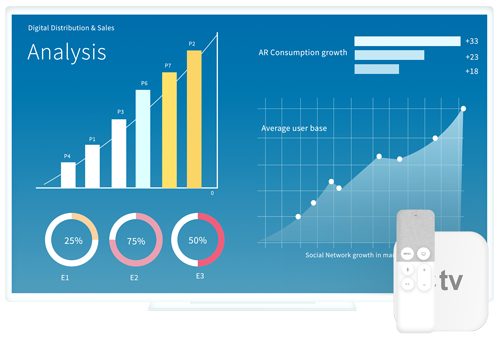 Apple TV kiosk
Enterprise apps can be added to kiosk mode on supervised tvOS devices.
With MDM features, managing devices in kiosk mode is an easy task. Hexnode MDM has a set of additional restrictions and settings specific for the kiosk mode. Moreover, kiosk mode provides enhanced security and manageability for corporate data and resources as the users won't be able to access anything beyond the assigned apps and features.

TRY HEXNODE FOR FREE
Get started with our cloud-based UEM solution and manage your kiosks remotely. Start your trial in just a few short steps!
SIGN UP NOW