With over 2.5 billion monthly active users and an 85% share in the global mobile operating systems market, Android is clearly the world's most popular operating system. However, Apple's iOS still dominate the corporate world. The main reason being increased security. Ever since the launch of Android for Work (which was later renamed as Android Enterprise in 2017) Google has been giving Apple a run for their money. Before I dig deeper into that let's look at what Android Enterprise is and how it can change the way you work.
What is Android Enterprise?
Android Enterprise is an initiative developed by Google that enables the use of Android devices and applications in the work environment. It provides a set of consistent APIs to manage and secure Android devices for corporate usage. It was launched in 2014 as an optional solution which manufacturers can make use of, if necessary, with 5.0 Lollipop. Since the release of Android 6 Marshmallow, Android Enterprise has been a mandatory component for all manufacturers.
Why choose Android over Apple?
Cost: This is one of the obvious reasons. It is no surprise that iPhones and its status quo come with a high price. It can be suitable for the top management but most SMBs cannot afford the cost of an iPhone for all its 100 or 1000 employees. On the other hand, the average cost of an android phone is 63% less than that of an iPhone.
Familiarity: Out of the 4.68 billion mobile users in the world 2.5 billion use Android phones. Hence it is safe to assume that most employees will be familiar with the Android interface.
Global availability: Android phones are widely available in almost all developing and developed countries.
Revolutionizing features offered by Android Enterprise
Android Enterprise: How it's winning over corporates
BYOD? COSU? COPE? COBO? What is the buzz all about? Ever wondered why you need a separate laptop for work when you already own one? Or why you cannot take your work to home?
SECURITY! Enterprise data could contain a lot of corporate secrets. A breach of this data can put the firm at high risk of financial losses or damage its credibility. Hence data protection is the most sought out feature of enterprise solutions and it's the one that gave Apple a win over Android for all these years. However, Android Enterprise enables you to combine both your personal life and work life with its Profile Owner mode providing enhanced security for the work profile and no privacy breach. In this mode, Android enables business containerization by installing a separate work profile in the device and giving complete control over this work profile to the IT admin. Applications in the work profile can be distinguished by the badge attached to their icons. This feature makes organizations ready for the Bring-Your-Own-Device (BYOD) culture wave.
Do not wish to mix them both? Want your device to be completely dedicated for work? That is also possible with Android Enterprise. The device owner mode makes sure that your device is completely locked down for corporate ownership. The IT admin will have complete control over the device and can remotely lock or wipe the device if compromised. The device owner mode is designed for corporate owned devices in order to get on board with the Corporate-Owned-Business-Only (COBO) policy.
As you can see, with the appropriate implementation of Profile owner mode or Device owner mode organizations can extend support to BYOD and COBO policies respectively.
Highlighted features of Android Enterprise: Profile owner and Device owner
Feature
Profile Owner
Device Owner
Data Separation
Complete separation of work and personal data
(Admin has no access to personal data – Privacy assured)
All data is corporate controlled
Passcode
Device passcode (pin/ pattern/password) and work container passcode (pin/ pattern/password)
Device passcode (pin/ pattern/password) only
Encryption
Admin can mandate encryption
Admin can mandate encryption
Hardware security management
Not applicable
Admin can restrict mounting external media and data transfer through NFC
Managed Google Play
Admin approved app store in work profile
Ensures that only approved apps can be installed on the device
App installation
Silent installation in work profile only
Silent installation with no user intervention
App uninstallation
IT admin can restrict uninstallation of apps in work profile
IT admins can specify the apps that can be uninstalled
Factory Reset Protection
Enabled by default
Enabled by default – can be bypassed using an MDM
Encryption
Admin can mandate encryption
Admin can mandate encryption
Remote lock and wipe
Applicable
Applicable
Corporate Policy
Supports BYOD and COPE
Supports COSU and COBO
**The above mentioned are only the highlighted features. Apart from this, Android Enterprise provides numerous restrictions and controls which support corporate usage. Check it out in detail here.
Sounds promising doesn't it? All the popular MDM or UEM agents that you can name extend support for Android Enterprise. Even Samsung has incorporated the Android Enterprise API. Which means you can enable both Samsung Knox and Android Enterprise features on your Samsung device!
Android Enterprise Recommended
Android Enterprise Recommended is a validation program run by Google for Android devices, vendors and carriers that support Android Enterprise. It gives a list of devices/EMMs that satisfy Google's elevated set of requirements for Android Enterprise. The program is being extended to cover MSPs and Carriers this year. With this list, organizations can choose the best device suitable for their work requirements. You can find Hexnode on the list of Google verified EMM vendors for Android Enterprise!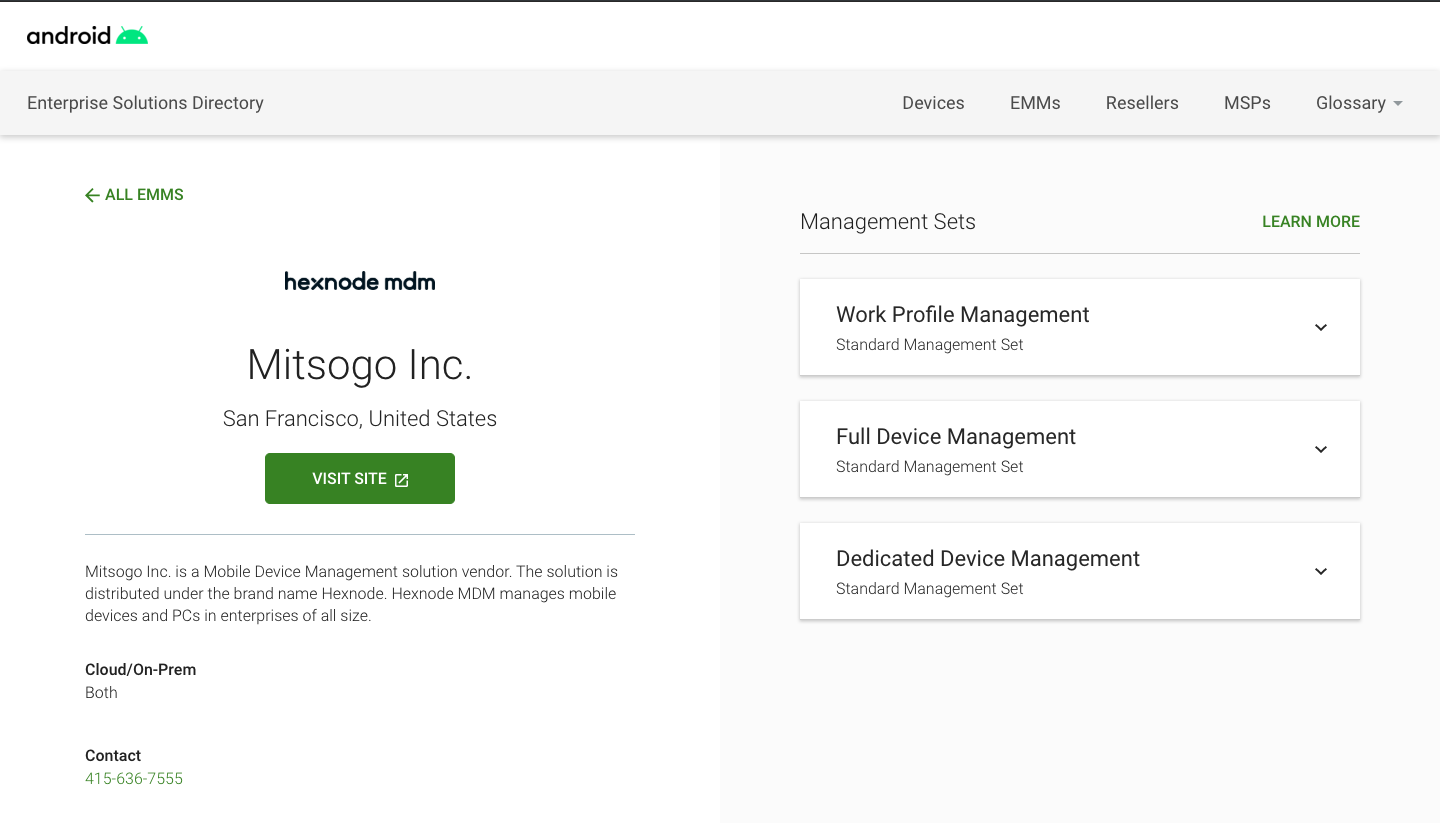 Step into the future
With the deprecation of Google's Device Admin API, the message is being spread that Android Enterprise is the future for corporate Android Management. To add to its existing glory Google has planned to release some more features of Android Enterprise along with the latest version of Android Q to make our lives easier. These include enhanced security and IT control. You can know more about this in Google's official blog post.
Google has always made it clear that Android Enterprise is only the base layer and that OEMs could built on it.This is where OEMConfig comes into the picture. OEMConfig is an application that work around the AppConfig community which contains APIs developed by the original equipment manufacturer (OEM). This application is hosted on the Play Store and can be distributed to devices through EMM.Since OEM supports AppConfig, organizations can configure OEM settings while distributing the app itself. With the help of OEMConfig EMMs can provide advanced control over enterprise devices on top of the base layer of Android Enterprise.
Hexnode MDM and Android Enterprise
Hexnode MDM provides a platform to implement Android Enterprise in your organization effortlessly. With Hexnode, it is possible to manage and control all your endpoints remotely. Hexnode offers easy enrollment and concise management of Android Enterprise devices. Here are some of the features offered by Hexnode.
The integration with Hexnode will provide you with a comprehensive solution for all your enterprise requirements.