The first-ever Android TV was released by Google back in 2014. It was their response to Apple's widely acclaimed tvOS. As the platform grew and more apps arrived, the reputation for Android TVs quickly increased and more and more TV manufacturers adopted them. Today, over 80 million devices actively use the Android TV operating system. And what's more, with the release of Google Assistant, Google Chromecast integration, and the availability of over 5000+ supported apps on Google Play Store, there is nowhere else for Android TVs to go but up.
With so much success, the next move for Android TVs is pretty obvious. That's right, Android TVs have begun their move to the enterprise, and like the case of all other platforms, this move brings about the need for a solid Android TV management strategy.
Manage Android TVs in the enterprise with Hexnode UEM
What is Android TV management?
Android TV Management refers to the process of enrolling, configuring and managing Android TVs in a restricted environment, usually performed remotely from a centralized console.

Why Android TV in the enterprise?

Contrary to popular belief, the functionalities for Android TVs aren't just limited to your good ol' video streaming services from your living room or bedroom. Like all intelligent technologies, they've evolved. Today, Android TVs are used in a wide array of industries ranging from business, education, retail, healthcare, logistics, and just so much more. Their screen mirroring functionalities with Chromecast and automated control using Google Assistant open up a wide variety of possibilities in the enterprise. Here, take a sneak peek at the potential benefits of Android TVs in the enterprise.



And the list doesn't stop here. There's just so much untapped potential out there for the commercial use of Android TVs for so many industries. However, there's just as many risks. Imagine the security risks of leaving these devices unmanaged. Open Wi-Fi networks, malicious websites, excessive use of data, harmful apps and content, device theft, data breaches, it's just horrifying, isn't it? This is exactly why businesses must employ a Unified Endpoint Management solution. This way, IT can keep a close eye on all their Android TV devices, wherever they are.
Benefits of UEM for Android TV management
What are the benefits of employing a UEM for Android TV management, you ask? I think a more suitable question would be, what are the drawbacks? The answer is none. But for the benefits, here you are.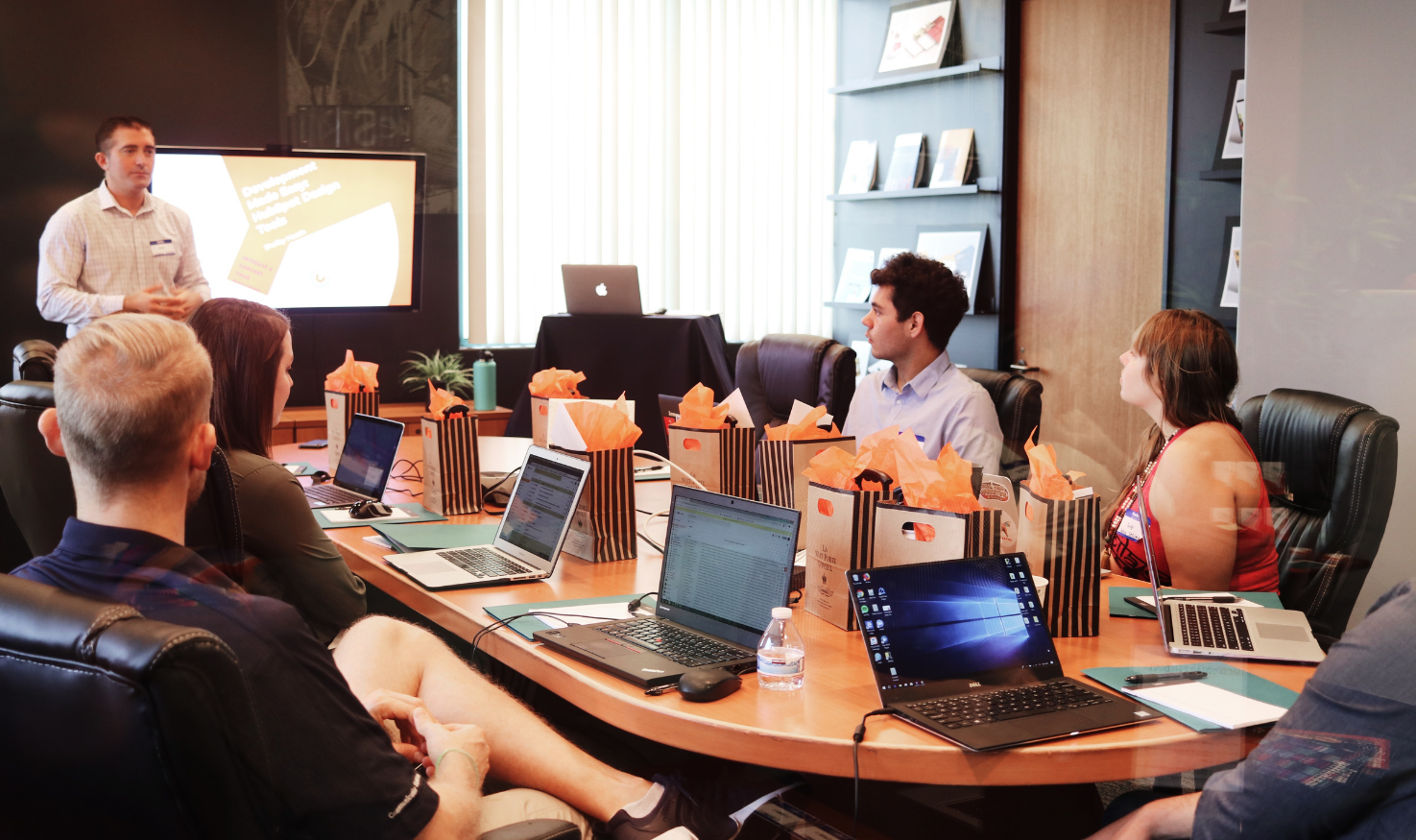 Android TV management in the enterprise
Keep track of your Android TVs
With a UEM solution like Hexnode, keeping track of all your devices has never been easier. Set device names, view device information (including version, model, enrollment status, network information and more), group devices according to your departments, schedule and generate reports on device status. IT can efficiently perform all this from one centralized console.
Easily push apps and content to all your Android TV devices
With a UEM's application and content management functionalities, IT can quickly push the essential apps and resources to the required Android TVs, and securely delete or uninstall them when no longer necessary. What's more, they can even set up customized app stores with the essential work apps to improve user productivity.
Restrict device functionalities according to business requirements
What if you wanted your devices' Wi-Fi and bluetooth to be turned on at all times when within the corporate perimeter? Or what if you want to prevent your Android TVs screen from ever turning off? Or to prevent your device from booting up in safe mode? All this and more are made possible with Hexnode's UEM solution.
Lock down device to a set of apps, or use them as digital signage
Need to lock down your device to just the required apps and functionalities? Or do you want to convert your Android TV into a screen that displays your brand image and logo? Or maybe lock the device down to a specific website? Whatever the requirements, IT can easily configure and push them using a UEM.
Track down your lost device. If compromised, enforce lost mode or remote wipe actions
Now what if somebody decided to steal your Android TV. It is a possibility. With a UEM's location services functionalities, IT can track down and recover your lost device. Alternatively, they can lock the device in lost mode or even push remote wipe actions to prevent any corporate data from falling into the wrong hands.
The absolute guide to Unified Endpoint Management (UEM) in enterprise
Android TV management with Hexnode UEM
With Hexnode, enterprises can support the entire lifecycle management of Android TVs including,
Enrollment and provisioning
Policies and Configurations
Security Management
Application and content Management
Network data management
Kiosk Management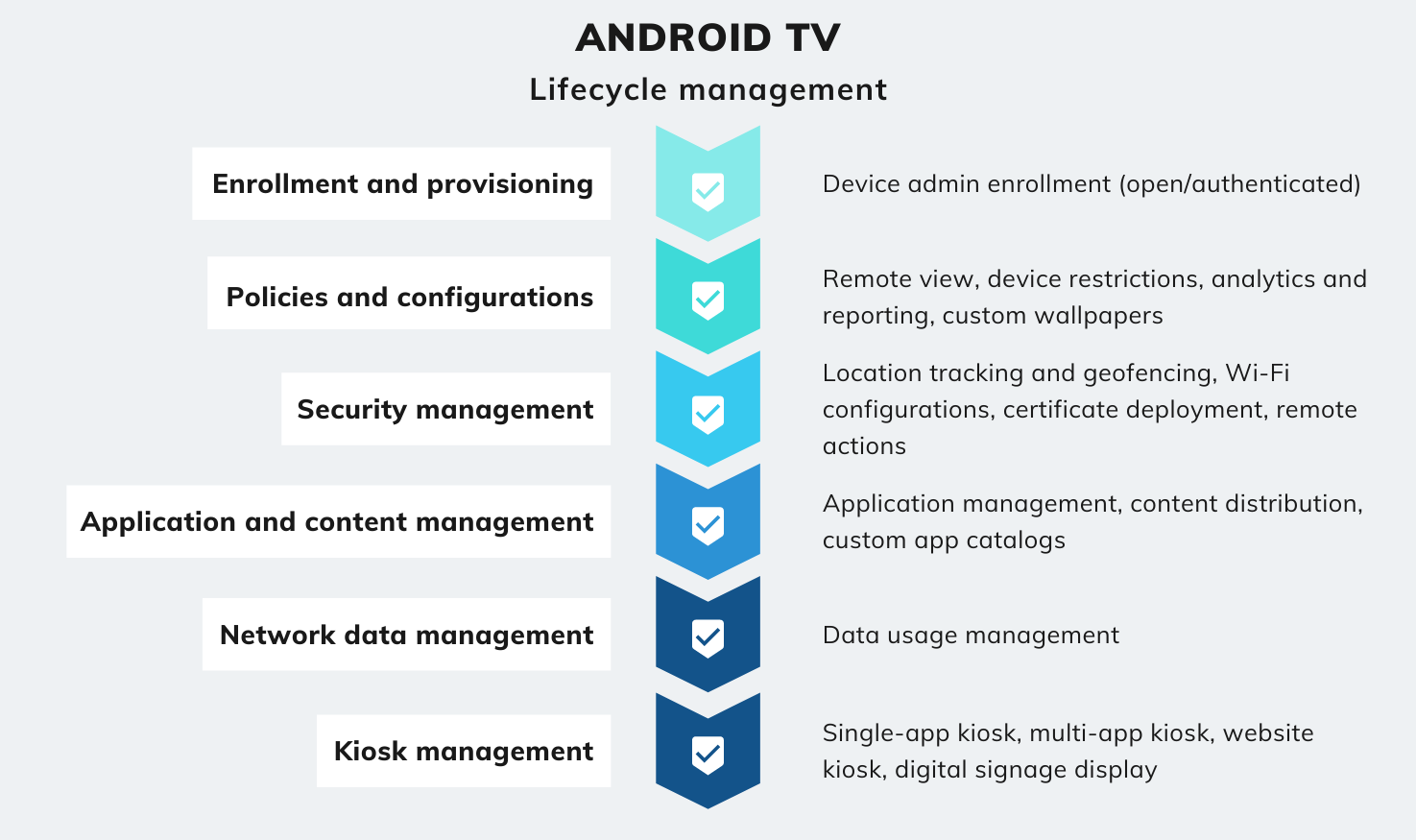 Android TV lifecycle management
Enrollment and provisioning
The first step in any Unified Endpoint Management strategy involves enrolling and provisioning the devices to your company portal. With Hexnode, IT can easily deploy Android TV devices through either open/authenticated or pre-approved enrollment processes to the Hexnode portal.

Policies and configurations
With Hexnode UEM, businesses can set up device management policies and configurations, including device restrictions, as well as generate detailed reports based on device status, and remotely view your Android TVs' screen, all from one central console.
Security management
Hexnode enables IT to secure and protect their Android TV devices with the help of security policies such as Wi-Fi configurations, certificate deployment, lost mode and remote wipe actions, location tracking and geofencing, and more, ensuring that the corporate data on these devices are never breached.
Application and content management
Application and Content Management is an integral part of any strong UEM solution. With Hexnode, IT can efficiently distribute and manage both store and enterprise apps, as well as files and content of any format, on their Android TV devices.
Network data management
Why rack up unnecessary data charges for your business when there are ways to easily prevent this. With Hexnode's network data management policies, organizations can effortlessly control network data usage for their managed Android TV devices, and significantly reduce their overhead expenses.
Kiosk management
Locking down your Android TVs into a specific set of apps, websites or functionalities enables enterprises to limit user interaction on the devices and provides a productive environment, free of distractions for your employees. It also allows enterprises to convert their Android TVs into budget-friendly digital signages.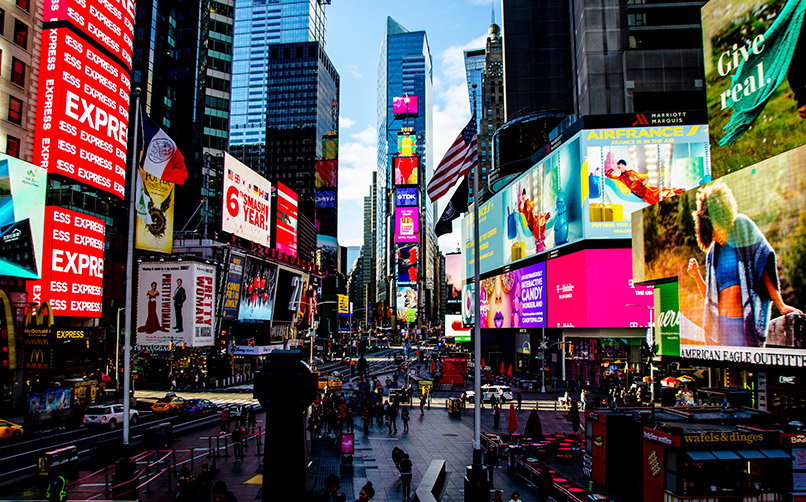 Android TVs as digital signages
Summing up
With their immense success in the commercial markets, Android TVs have opened up endless possibilities in the enterprise with the help of their screen mirroring functionalities and digital signage capabilities. However, without a solid device management strategy, these devices can also pose pretty serious security threats to your enterprise. Not to worry. With Hexnode's Android TV management solution, Businesses can quickly eliminate these threats and ensure a secure and productive environment for your corporate Android TVs.