Android devices are popular because they're reliable, secure, and open. It can be effectively used for businesses, no matter what the business, it's a strong platform that everyone prefers to use. Hence, its safety, security and reliability must be double-checked. This is where the concept of Android MDM can be applied.

As the saying goes, "No competition, No progress". Good and healthy competition pushes us to achieve more. So is the case with these Android MDMs.
With so many Android MDM alternatives, how do you choose?
Don't worry! To make your research easier, we have made a list. Let's have a look at the top 10 competing Android MDM solutions.
1. IBM MaaS360 with Watson
MaaS360 Mobile Device Management is the first cloud-based MDM solution that fully supports the Samsung MDM API. Watson AI integration offers artificial intelligence-based security features and reports. It helps in simplifying, and augmenting a wide range of complicated endpoints and mobile settings.
Pricing: IBM MaaS360 has four plans: Essentials, Deluxe, Premier, and Enterprise, with pricing ranging from $4, $5, $6.25, and $9 per device each month, respectively.
Trial-Period: 30 days free trial
2. Citrix Endpoint Management (Earlier XenMobile)
The Citrix Workspace app is designed for Android versions 7 and higher. Citrix's 'Worx' applications, which are available for Android, provide a collection of Citrix-powered apps that can be customized and are targeted at enhancing workplace security.
The Citrix endpoint management service may be used to manage 'Worx' apps. Citrix Endpoint Management utilizes user context restrictions based on role, location, or device to protect sensitive data. The system is sophisticated, utilizing machine learning and analytics to assist in identifying high-risk user behavior.
Pricing: starts at $2.25 per month per device
Trial Period: It offers a maximum of 60 days trial to its customers
3. ManageEngine Mobile Device Manager Plus
The ManageEngine MDM provides a lot of options for Android device management. The two main types of Android devices supported include:
Samsung devices and
Non-Samsung devices.
The Non-Samsung devices are further divided into:
Container Management and
Complete Device Management
Pricing: Standard edition starts at $495 per year for 50 devices.
Trial-Period: 30 days free trial
4. Esper
The Esper solution is designed for practically any device running Android 6.0 or later. Esper's CI/CD (continuous integration/continuous deployment) pipelines allow organizations to release software updates regularly without concern of damaging a device or causing an issue for consumers.
Pricing: starts at $4/device/month and they also offer custom pricing for their customers for custom enterprise solutions.
Trial-Period: It offers a free trial for its customers.
5. Scalefusion
Scalefusion has simplified device management for Android devices by using a dashboard that has a minimal learning curve. It provides location monitoring, certificate administration, content management, network settings, and other capabilities for Android devices.
Pricing: $2.00 – $4.00 per device per month.
Trial-Period: 14-day Free Trial
6. Miradore
Miradore is a cloud-based mobile device management software that offers an intelligent method to manage Android devices, both company-owned and personal. Distributing business-critical apps, automating device management across different operating systems, and protecting company data are all made easier with Miradore.
Pricing: Miradore has two subscription plans: free and premium. The premium edition costs $2 per month per device.
Trial-Period: 14-day Free Trial of its premium plan for users to test their features out.
7. Microsoft Intune
Microsoft Intune boosts mobile productivity even though it takes a very long time to understand all the different parts which may change at times. Intune can be used on both personal and corporate devices. Once enrolled, the devices will receive the policies and profiles created by the organization.
Pricing: As part of Microsoft's Enterprise Mobility+Security E3 package, pricing starts at $8.80 per user per month.
Trial-Period: 30-day free trial is available for all the users
8. MobileIron
MobileIron is an MDM solution that allows admins to control device access to resources like email, calendar, contacts, and other central apps. IT admins can set up devices with the required settings to allow access to Wi-Fi networks, email accounts, and applications using MobileIron.
Pricing: starts at $4.00 per device per month. It also offers a 12-month contract option.
Trial-Period: 30-day free trial
9. SOTI MobiControl
Soti's MDM, MobiControl enables enterprises to centrally manage and watch over devices. It enables the configuration and deployment of managed apps, including OEMConfig apps, in settings without access to the Google Play Store or the Internet.
Pricing: ranges from $3.25 to $90 per device each month.
Trial-Period: 30-day free trial
10. Hexnode
The Unified Endpoint Management (UEM) software, Hexnode, streamlines management of all types of Android endpoints, from mobile phones to XR devices, and allows a variety of endpoint management features. Android Enterprise (AE) and Hexnode allow enterprises to establish extensive control over every controllable feature of a device.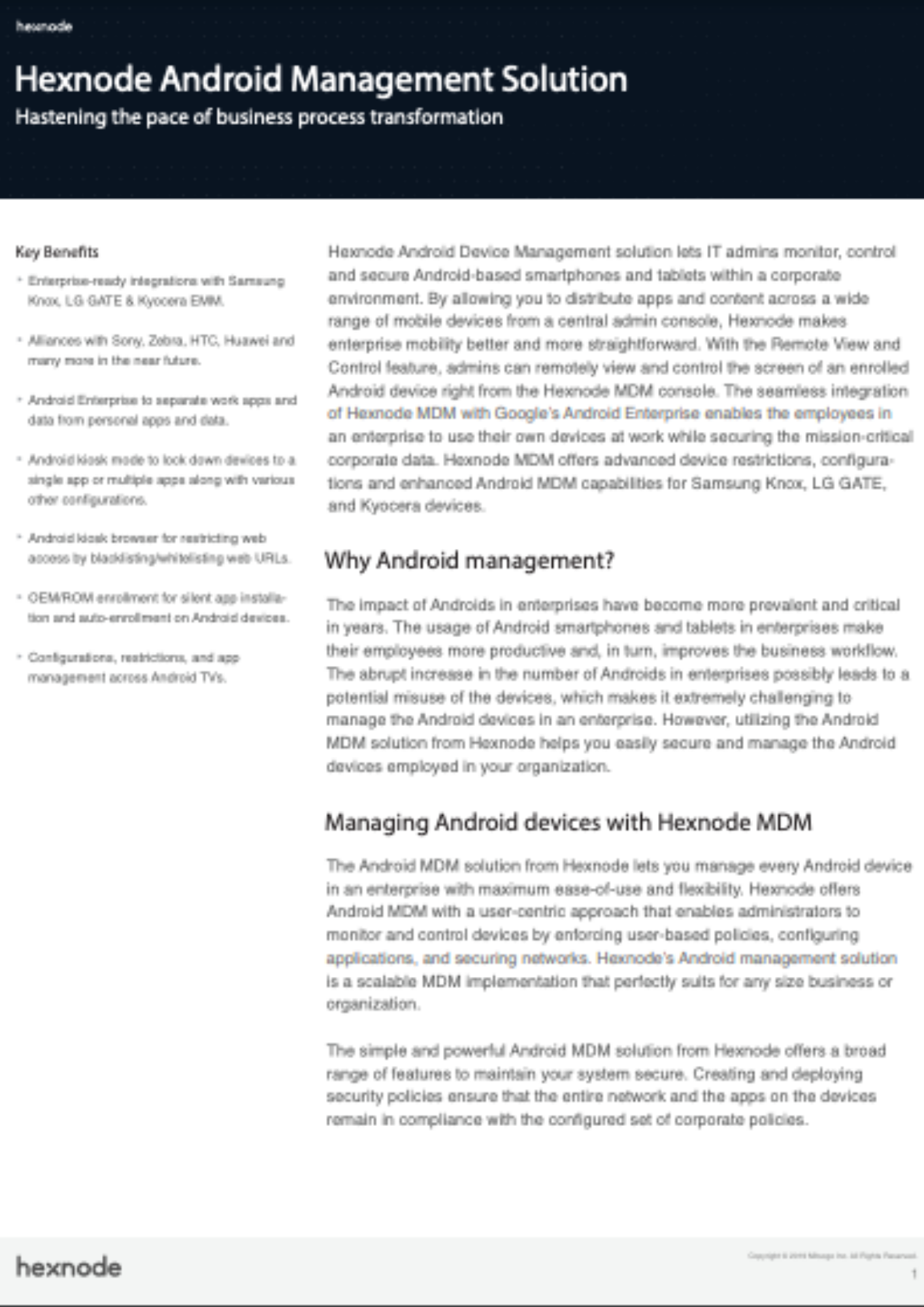 Datasheet
Hexnode Android Management Solution
The Android MDM solution from Hexnode lets you manage every Android device in an enterprise with maximum ease of use and flexibility. Get started with Hexnode's Android Management solution to improve efficiency, increase productivity, save time and overhead costs of managing your corporate devices.

Download



Pricing: It offers 5 plans: Express, Pro, Enterprise, Ultimate, Ultra. The price range starts from $1.08 per device per month for the Express.
Trial-Period: 14-day free trial
Conclusion
Android MDM is a complete solution for all enterprises that ensures both productivity and mobile device security. From limitless mobile experiences to limited control over just corporate data and apps, Android provides flexibility to have control over the devices in an organization. MDM solutions help organizations to deploy, configure, and manage corporate endpoints from a centralized console.
Get started with Android Device Management
With Hexnode, you can securely manage Android devices. Try out the 14 day free trial.
SIGN UP NOW
Disclaimer
All product and company names are trademarks™ or registered® trademarks of their respective holders. Use of them does not imply any affiliation with or endorsement by them.