Smartphones have revolutionized the modern world and, with them, the payments space. As a result, the need for physical cash is ever diminishing, and we are moving towards an all-digital revolution.
While these digital payments also include online purchases, most can be attributed to brick-and-mortar stores. This is supported by the fact that in both 2020 and 2021, only 19.1% of sales accounted for the total online market in the US.
This shows that the significant population shopping offline requires a more secure, efficient point of sale system, and mobile point of sale (mPOS) is just the right fit.
What is mPOS?
mPOS is a wireless device that can take payments from anywhere with an internet connection. mPOS systems are typically the size of a regular smartphone and can be easily bundled with swiping machines to support all forms of digital payments.
mPOS vs POS
POS refers to the entire system, whereas mPOS refers to a mobile point of sale. mPOS systems are built specifically for tablets and phones rather than desktop PCs. In addition, POS systems connected to various transaction peripherals, including credit card readers, receipt printers, and scanners from the go.
mPOS, on the other hand, gives the user the option to choose the additional add-ons. So, in the simplest of mPOS devices, all you need is secure mPOS software installed in a smartphone, and you're good to go. Hence, eliminating the need for hefty POS systems.
How do mPOS systems work?
Any smartphone or tablet may be turned into a mPOS with the help of an mPOS app. When a business owner registers with an app, the vendor often gives the business owner a card reader that connects to the audio port on the mobile device to process debit/credit cards. An mPOS can be used as a stand-alone device linked to the business's bank account.
Uses of mPOS
Mobility
As the name suggests, mPOS solutions help the business owner to go mobile. It cuts the need for traditional POS systems with sleek mobile devices. This makes mPOS solutions extremely popular in mobile outlets like food trucks, fairs etc. In addition to this, sales agents and delivery agents with COD orders also use mPOS solutions.
Mobility also means setting up multiple billing counters in stores, for the days with higher demand because a long line can make a customer reconsider their buying option. In addition to this, having a mPOS makes it easier to move the filling stations around—this way, the store can find the optimal place inside the store to drive maximum profits.
Efficient accounting and inventory
mPOS makes record-keeping more efficient. This led to well-organized inventory management and accounting, which was impossible with standard cash registers. Employees can check inventory category-by-category and the availability of stock using mPOS. This information can then be provided to consumers, making it a seamless and streamlined process, resulting in customer satisfaction.
Accounting is much more tailored with a capable mPOS software, which gives the business owners insights into analytics like cashflows, type of payments, and categories of products most sold. This helps them make informed decisions to drive profits.
Cost-effective
mPOS is a cost-effective solution in comparison to traditional POS systems because:
Businesses relying on outdated point-of-sale systems are costly to repair, maintain, and update.
External peripherals like printers, cash registers etc for traditional POS systems can be chunky and costly.
mPOS systems can be programmed to function automatically; this means customers can ideally bill their purchases themselves and make the whole experience contactless. This way, mPOS systems also save the payroll costs that a business incurs for billing goods.
Ease of use
Merchants can use their existing tablet or phone instead of installing and learning new POS technology. They can download the mPOS app and connect it to a card reader via Bluetooth or USB, and they are good to go.
Maintenance
mPOS systems require little to no maintenance as they are mobile devices fitted with extra gear. On the other hand, traditional POS systems can face a lot more problems with their hardware.
Drawbacks
Unwarranted use
The devices used for mPOS are usually just regular smartphones or tablets, which means they have the usual functionality and are easy to misuse. Moreover, access to all the features on the devices can also make the employees unproductive.
Security
When you use regular smartphones and tablets for payments, they don't just bring the positives of a smartphone like mobility and reliability but also the security challenges of regular smartphones.
Although their drawbacks call for major concern, we can fix them with a capable UEM.
What is a UEM?
UEM helps users manage all of their organization's endpoints from a single place. Furthermore, these endpoint devices are cross-platform, allowing you to secure your hardware, software, and data across several platforms. As a result, UEM can handle a broader range of devices, regardless of the operating system. As a result, a UEM like Hexnode is a perfect fit for any business, with its superior management capabilities and excellent customer support.
Sign up for free trail
Secure your mPOS endpoints with Hexnode UEM

Sign me up!
UEM x POS
Enterprise app deployment
Firstly, having a UEM makes deploying enterprise apps to corporate devices easier. Once updated to the Hexnode portal, the enterprise app can be deployed remotely to all the managed devices without human intervention.
Through Hexnode, a user can configure app-specific settings. The business owner can configure various features and functionalities in various supported apps.
Hexnode has features to blacklist and whitelist apps
Blacklisting: This feature lets you block out unauthorized apps through the Hexnode portal
Whitelisting: This feature lets you access only those pre-approved apps by the business.
With blacklisting and whitelisting, the users can restrict non-productive and potentially malicious apps.
Data Management
Hexnode helps you manage data on the devices right from the portal. You can also push device-specific resources to enrolled devices. This can all be done remotely with Hexnode, while at the same time, you can be sure about the security of your data.
Restrictions for security
Hexnode lets the business owners have granular control over the enrolled devices. Through the Hexnode portal, we can place various device restrictions by restricting access to features like cameras, maps and many other features, which can be tailored to the device user. This can help block out potential malicious entry points for malware and, in some cases, help with productivity.
Hexnode allows businesses to configure their network security setting by giving them control over the device's wi-fi, VPN and APN settings. You can remotely configure and enable a device's network security settings to restrict devices from connecting to unknown wi-fi networks and configure an always-on VPN.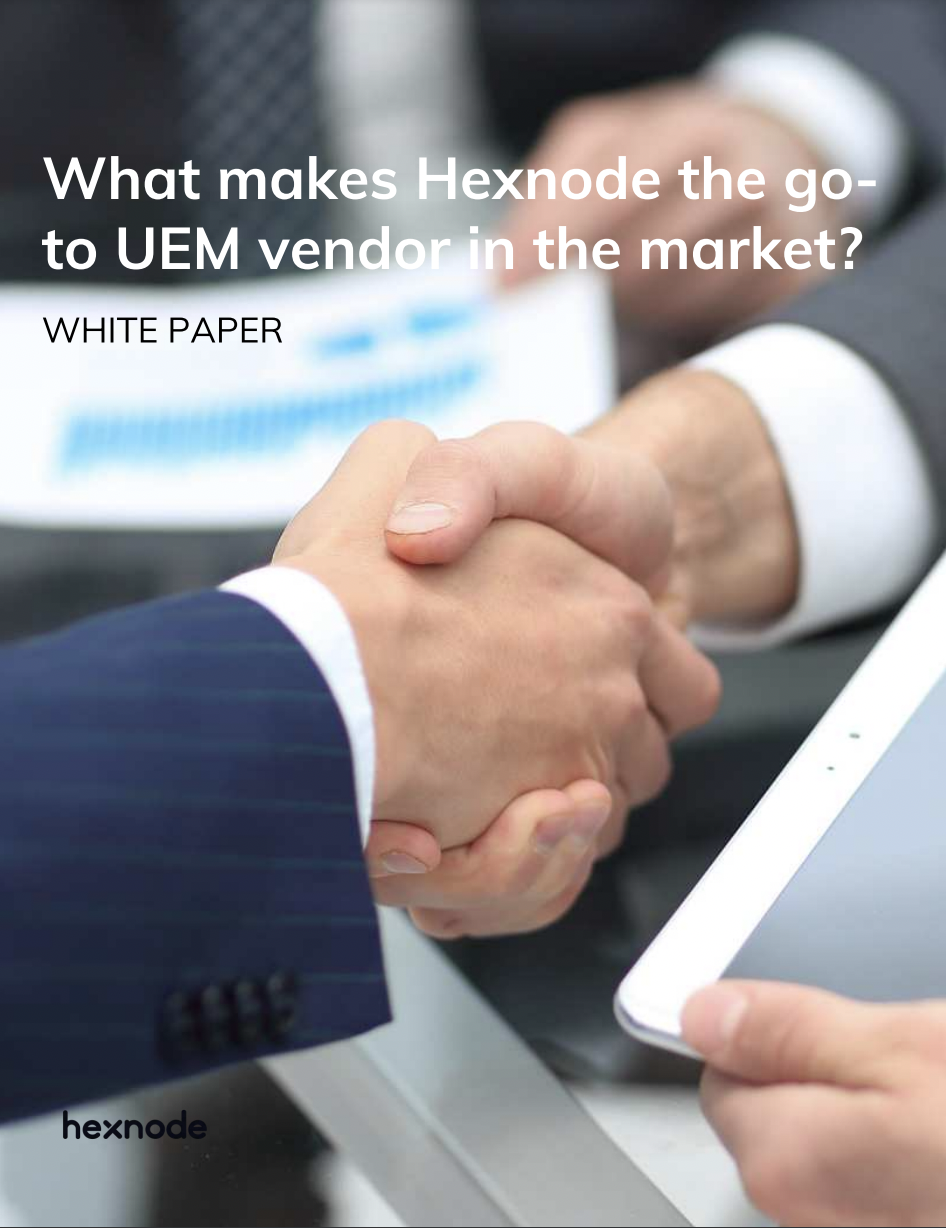 Featured resource
What makes Hexnode the goto UEM vendor in the market?
Enterprises require device management strategies as the number of devices deployed is increasing at a rapid pace day by day. Get to know what makes Hexnode the go-to UEM vendor in the market!
Download whitepaper
Conclusion
A lot of new mPOS solutions are actively replacing traditional POS solutions. It is estimated that the mPOS Terminals Market will Grow With a CAGR of 17.9% between 2020 and 2030. Fully embrace this change by securing your mPOS devices with Hexnode