The global demand for Unified Endpoint Management solutions has been increasing steadily by the years. Companies have identified flaws that come with manual device management procedures. There have been losses in revenue due to these methods not being efficient enough. As a result, businesses ranging from small-scale to large scale have begun using UEM solutions to reduce unnecessary workload with device management across their respective organizations and have taken to remote-based solutions.
Industries like transportation, travel and logistics are but a few that have realized the need for complete digitalization. Unified Endpoint Management was identified as the solution. These industries did suffer major blows during the COVID-19 pandemic, and this also highlighted the necessity for better device management to improve their operational efficiency.
I'm not going to make a list of merits/demerits citing stats from every-which-where, throwing numbers in your face. Instead, we're going to run by a bunch of stories centered around a single protagonist. A protagonist called Hexnode UEM; we're gonna learn about how Hexnode helped in the digitalization of travel and transportation.
Airplane!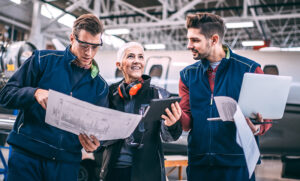 Western Airways
Western Airways is a well-respected Texas based airline that's been around the block for almost 5 decades. To keep up with the times, Western Airways needed a solution to manage their fleet of devices, mostly iPads. Western Airways has provided iPads to flight crews as EFBs (Electronic Flight Bags) in order to avail flight charts and work-specific apps to each crewmember. The technical administrator at Western Airways needed a solution to keep track of the devices.
Enter our protagonist. Pushing relevant apps, tracking device location, distribution of apps using Apple's VPP program, device wipes, Hexnode UEM had the lot. Western Airways employees were able to manage their devices with the help of Hexnode, while managing to cut costs, deploy devices and apps. This helped improve the overall productivity and operational efficiency throughout the entire organization.
Now I'm sure you'll have gotten an idea of what a UEM can do for travel. On to the next one.
Aboard the ship down under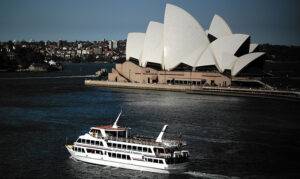 Captain Cook Cruises
From the Land of the Free to the Land Down Under, Captain Cook Cruises, based in Sydney, Australia, had their fair share of business with hundreds of visitors using their ferry service daily. The ship's crew was equipped with mobile devices which helped them scan tickets. The software provides them with information like the payment status of tickets, headcount etc. The mobile devices were given under orders to use it only for work purposes.
However, due to lack of restrictions on these phones, they were used for recreational purposes as well. Productive hours went down, data usage costs went up. There had to be a way to steady the (metaphorical) ship. Hexnode UEM, sporting its robust Android Kiosk Mode made sure these devices were locked down to specific apps and functionalities. Location tracking and reports were also used when required.
As expected, the ship was steadied. Data costs went down considerably, employee productivity went up, Captain Cook Cruises' operations became as efficient as ever. Courtesy of your friendly neighbourhood UEM.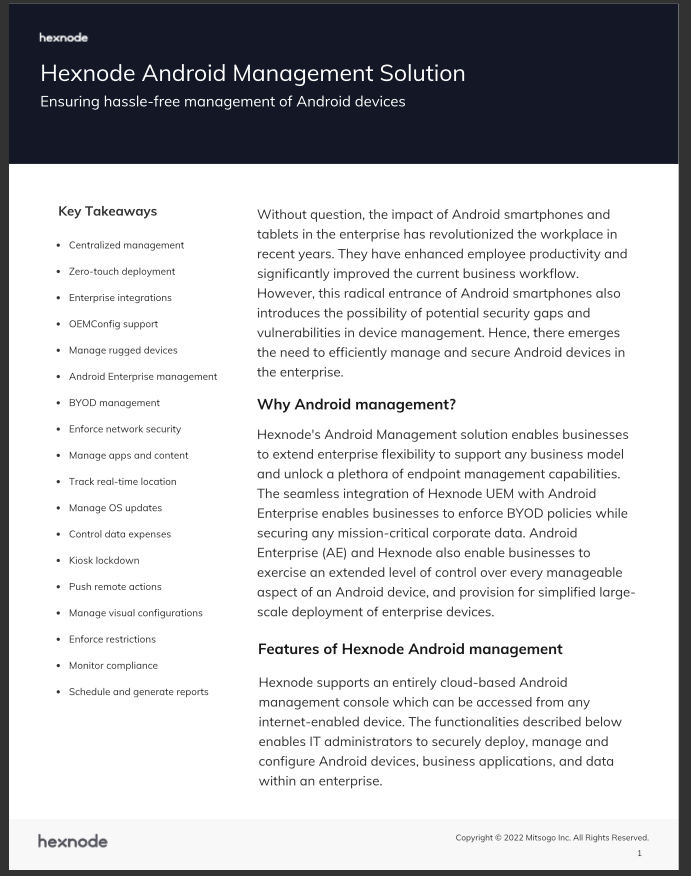 Featured resource
Hexnode Android Management
Learn about Hexnode's Android Management solution that lets you manage every Android device in an enterprise with maximum ease of use and flexibility.

Download the datasheet
Country Roads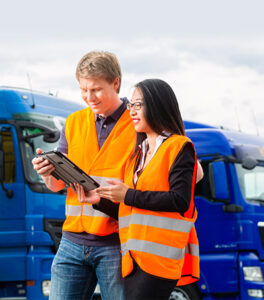 Melher Transport Inc.
Making our way back to Texas, we take a look at Melher Transport Inc. A sizeable organization by any standards, they provided state-of-the-art solutions and used innovative technology to make their trucking and freight shipping establishment as tightly run as possible. But the bigger the operation, the harder it is to manage. The management team found it difficult to manage the supply chain and its fleet of devices needed for tracking shipments accurately.
It wasn't just about using devices to calculate distance covered, driving hours, date, time and tracking geographic location, the costs that came with the increased usage of mobile devices and data went up.
With the mobile data management solution provided by Hexnode UEM, devices could be easily tracked and managed, with data usage limits set on each device, along with reports provided to supervise the usage of data on each device. The restrictions offered by Kiosk lockdown made sure that only the required apps were accessed on each device, serving only the purpose it was intended to.
Considerable decrease in data costs, considerable increase in productivity hours for both staff and drivers of Melher Transport led to its operations running like a well-oiled machine.
Five-star service for Four Star Freightliners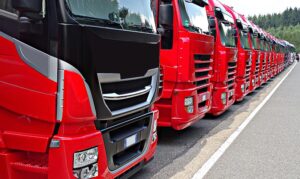 Four Star Freightliner
As mobile technology started quickly taking over the transportation industry, Shun Patrick Sheffield, the Sr. IT Director at Four Star Freightliner and his team realized the need for an appropriate device management strategy in their organization to replace the manual device management methods previously employed.
After realizing that an MDM solution was the most sensible way to move forward, they chose Hexnode UEM as the tool of their choice. With Hexnode, Shun and his team could easily deploy various device restrictions such as limiting the use of Wi-Fi, Bluetooth, Camera, and so on. Hexnode helped them to deploy store apps as well as enterprise apps to the devices dispersed over a large geographic area. Features such as remote installation, clear application data/cache, blocking apps and so on helped center the focus of employees on using the devices provided to them for the intended purpose.
The kiosk lockdown feature for both iOS and Android devices and its various functions built in made Hexnode kiosk mode a robust and cross-functional lockdown solution. Waiting times in truck dealership operations saw a steep decrease as the entire system became automated, making the IT department's job a lot easier. Four Star Freightliners were able to adapt to the digital era and improve the quality of their operations.
Biking in the Big Apple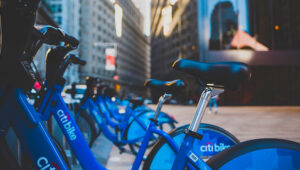 Motivate International Inc.
One of the biggest bike-sharing systems in the world, Motivate International Inc. and its app, Citi Bike was very popular in New York, with 9 bike share systems across the US as well. The IT managers at Motivate International came up with a requirement for a solution that can manage the devices deployed to the employees in the marketing and operations department. The cell phones and tablets needed to be prepared for work and work alone.
The team wanted to manage Android devices owned by the employees and restrict them from using social networking apps or other apps for entertainment. They wanted the devices to run only work-related apps and disable the employees from installing other apps. The devices consisted of Samsung and Nexus phones and tablets. That's where Hexnode UEM came in.
Being able to push the company's own enterprise app into employee devices as well as have their own wallpaper in each phone, Motivate International benefited the most from the Android kiosk mode, which locked down the device to specific apps and functionalities. The Hexnode Kiosk Browser made sure users were unable to access websites not authorized by the IT Admin. The device fleet was secure, work devices were locked down to focus on work-specific applications, and device management became easier. Maximum results with minimum effort.
UEM in transport and travel
Five stories. One protagonist. Lives made better one policy at a time. With Unified Endpoint Management used to manage, deploy and secure corporate resources and devices, the transportation and travel industries that used on-site procedures that were prone to error and rise in overhead costs and manpower will now eradicate all flaws in an attempt to make the entire system remote. Maximum results, minimum effort. It's the new trend. A trend that'll last for the foreseeable future.
The features offered by UEM – Kiosk Mode, app management, location tracking, device remote actions make sure devices don't get compromised and your IT team can stay on top of any situation that arises. Business operations can go off without a hitch. The impact that UEM can make on business operations is considerable in the short term, but what it does for an organization in the long term is more profound than you think.
Device management with Hexnode UEM
Enhance business operations with Hexnode UEM.
Tap to sign up