Hey there! Did you know that offices can also benefit from the amazing features of iOS kiosk devices? These high-tech machines are not just for retail and hospitality businesses anymore. With features like checking in for meetings, reserving conference rooms, and ordering office supplies, iOS kiosks can revolutionize the way employees interact with their workplace. They can also enhance communication and engagement by displaying company news and gathering feedback through surveys.
Incorporating an iOS kiosk into your workplace is a win-win solution for both your business and employees. So why not give it a try and see how it can benefit you?
Oh, wait there!! With numerous iOS kiosk devices to choose from, how can you determine which one is the most suitable for your business needs? 🤔 Let's jump right in and find out!
Considerations for picking an iOS kiosk device
When considering how to pick the best iOS kiosk device, there are several factors to keep in mind. We'll need to determine our organization's needs and goals for implementing a kiosk device. This could include providing self-service options for customers, streamlining employee workflows, or controlling device usage in public spaces.
Once we've established our goals, we can then evaluate the available iOS kiosk devices based on factors such as cost, hardware capabilities, security features, and software customization options. So, let's take a closer look at the different factors to consider when evaluating kiosk features.
A. Device features and capabilities
Size and form factor
When choosing an iOS kiosk device, it's important to consider the physical size and form factor. Think about where the device will be located and how much space you have available. Will it be mounted on a wall or placed on a countertop? Will it need to be portable or stationary? Indeed you'll want to choose a device that fits your specific needs.
Processor and RAM
Another important consideration is the device's processor and RAM. These components will determine how fast the device can run and how many apps it can handle. If your intended usage of the device involves running complex applications, such as utilizing it as digital signage, it is advisable to opt for a device that features a powerful processor and plenty of RAM. It's because digital signage requires a significant amount of computing power to process high-quality visuals and run multiple programs simultaneously.
Storage capacity
The amount of storage on the device is also important to consider. If you plan on storing large amounts of data, such as videos or high-resolution images, you'll need a device with plenty of storage space. Therefore, make sure to choose a device with enough storage to meet your needs.
Display quality and resolution
A high-resolution display will provide better clarity and detail, making it easier for users to interact with the device. Consider the lighting conditions in the location where the device will be placed and choose a display that can handle those conditions.
Camera and microphone quality
If your iOS kiosk device will be used for video conferencing or other communication purposes, you'll want to choose a device with a high-quality camera and microphone. Look for devices with at least a 1080p camera and a high-quality microphone to ensure clear and crisp audio and video.
B. User experience
Ease of use
User experience is another important consideration when choosing an iOS kiosk device. You want to choose a device that is intuitive and easy for users to navigate. So, select devices with simple interfaces and easy-to-use controls.
Customization options
Depending on the organizational needs, the kiosk device can offer customization options. For instance, this could include the ability to change the device's wallpaper, add custom logos or branding, or customize the device's interface.
Security features
Well, security is a major concern when it comes to kiosk devices, especially those that handle sensitive data. Look for devices with built-in security features such as password protection, device locking, and encryption.
Connectivity options
Finally, consider the connectivity options of the device. Will it need to be connected to the internet? Furthermore, will it need to connect to other devices or peripherals? Make sure to choose a device with the necessary connectivity options to meet your needs.
Overall, choosing the best iOS kiosk device requires careful consideration of a range of factors. It includes the device's features and capabilities, as well as the user experience. By carefully evaluating the needs and the available options, we can select a device that will meet our requirements and provide a reliable and effective solution for our business or organization.

Securing and managing iOS kiosk devices
iOS kiosk devices have revolutionized the way businesses and organizations operate in today's world. From retail stores to museums and airports, kiosk devices have found their use in various settings.
For instance, consider a fashion store that wants to promote its latest collection. With the help of an iOS kiosk device, the store can display images and videos showcasing the collection, provide product information, and allow customers to place orders directly from the device. This not only enhances the customer experience but also improves the store's sales.
Similarly, iOS kiosk devices influence airports and transportation hubs, museums and galleries, hospitals and healthcare facilities. To manage and secure these iOS kiosk devices, businesses and organizations can use a Unified Endpoint Management (UEM) solution like Hexnode UEM. Hexnode UEM provides a simple and intuitive platform to manage and secure iOS kiosk devices. With Hexnode UEM, businesses and organizations can remotely manage iOS kiosk devices, enforce security policies and monitor device usage.
Lockdown your iOS devices with Hexnode UEM
Benefits of using Hexnode UEM
Imagine having the power to control your iOS kiosk devices from a single, easy-to-use web portal. With a UEM solution like Hexnode, you can easily set up, manage and monitor your devices with just a few clicks, but that's not all. By using a UEM to lock down your iOS devices into kiosk mode, you open a whole new world of possibilities. Additionally, you can customize the settings to suit your needs, add additional security features and monitor usage to ensure that everything is running smoothly.
With Hexnode, iOS devices are locked down securely, so you don't have to worry about any external interference. Hence, you can rest easy knowing that your kiosk is fully-fledged and ready to take on anything that comes its way.
Some of the features offered by Hexnode for the iOS kiosk device are as follows:
Deployment of iOS devices using over-the-air enrollment.
Restrict iOS devices into Single App, Multi App, or Web App Kiosks.
Replace the device's home screen with a custom screen containing selected apps.
Keep track of device location by enabling location tracking, allowing the IT admin to be updated on device location at all times.
Configure compliance rules and receive instant email updates if the device goes out of compliance.
Broadcast important messages remotely to device users using Hexnode Messenger.
Customize kiosk devices by adding a custom lock screen message and configuring the wallpaper.
Remotely view iOS kiosk devices deployed anywhere in the world using the Hexnode Web Portal.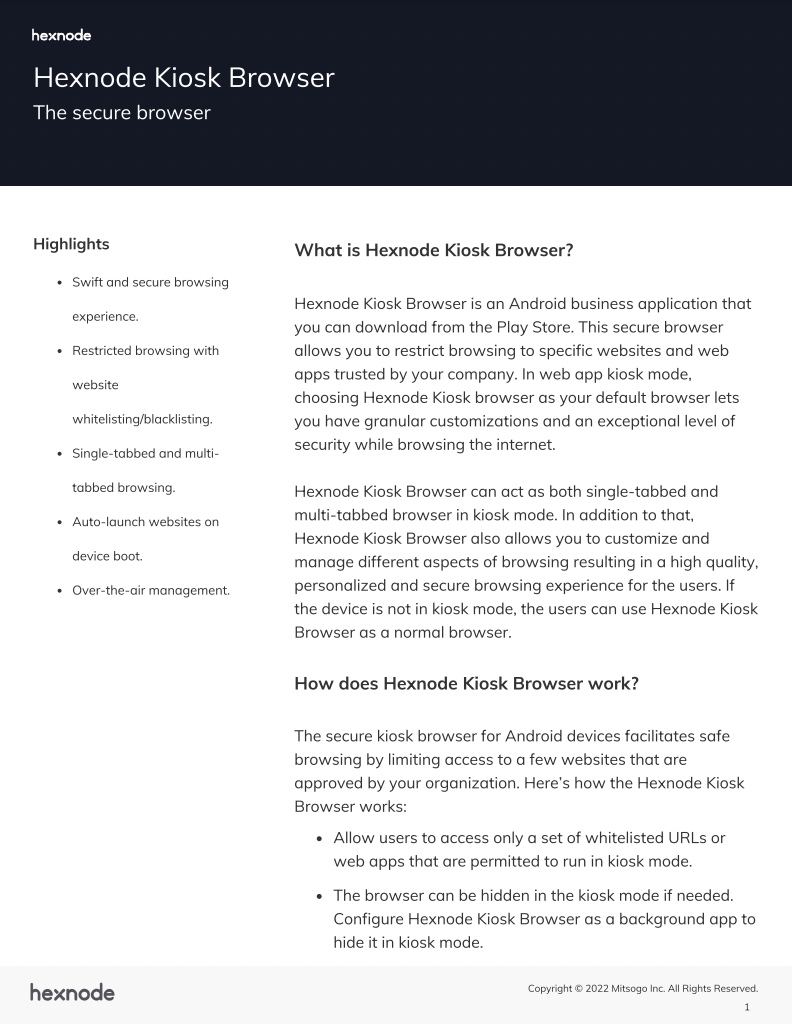 Featured resource
Hexnode Kiosk Browser
Understand the full capabilities of Hexnode's Kiosk browser for your organization and implement cutting-edge web browsing features with top-notch security.
Download datasheet
Hexnode's iOS kiosk lockdown modes
Hexnode UEM offers several options to cater to different business requirements. It includes:
Single App Mode:

With this mode, devices can only run one full-screen app at a time. Even when the device reboots, the locked-down application still runs. The accessibility options set up in the kiosk policy are the only ones that can be changed in the device settings. This single app mode is great for situations where you want to limit the device to one specific app.

Multi-App Mode:

In this mode, users can only use a restricted group of whitelisted apps on the device. They won't be able to see any of the other installed apps. Instead of opening the device's home screen, a personalized start page showcasing the whitelisted apps will launch. This multi-app mode is perfect for scenarios where you want to limit app usage to specific apps only.

Autonomous Single App Mode:

The Autonomous Single App Mode is a feature that locks an iOS device into a single app, preventing interruptions from other apps or notifications. This mode is perfect for online tests, as it prevents accidental closures of the app. However, it's not supported by some App Store apps since their code manages their behavior and doesn't allow for the necessary level of control. Therefore, only a limited number of apps support this feature.

Web App Kiosk Mode:

Hexnode UEM also offers a web app kiosk mode. Some of the features of this mode include the ability for the device user to browse chosen web app URLs in full-screen mode. To view the web URLs on the whitelist, IT administrators can use either the Hexnode Browser Lite or Safari browser. Additionally, Hexnode Browser Lite offers advanced options for deleting the cache and refreshing the page. This can help ensure that the user's browsing experience remains smooth and efficient. Overall, the web app kiosk mode is a great option for businesses that rely on web-based applications and want to limit device usage to specific URLs.
So, whether you're running a business, managing a public space or just need to keep your devices secure, Hexnode has got you covered. Get started today and take control of your iOS kiosk devices like never before!
Conclusion
There are many modifications offered by kiosk settings that allow organizations to carefully control every part of browsing and lock down devices to one or more websites. Cost, hardware capabilities, security features, software customization possibilities, user experience, and support and maintenance options are just a few of the many variables that should be carefully considered when choosing the best iOS kiosk device for your organization.
Don't just focus on the initial purchase cost. Consider the long-term value of the device, including maintenance and support. By aligning these factors with your organization's goals and needs, you can make an informed decision that will lead to a successful kiosk deployment. An optimal iOS kiosk device can greatly improve your organization's customer experiences and help achieve objectives efficiently and effectively. So, choose wisely and see your organization soar! Also, don't forget to check out our upcoming blogs for more insights. We'll catch you later! Buh-bye👋🏻

Start your free trial today!
Check out Hexnode's 14-day free trial to experience the very best of device management in your organization.
Sign up now