All of us rely on our phones every day; if I ask a person, what is it about their phone that makes them want to check it at every opportunity they get, there will be a host of answers from Mail, Instagram, call, but the more straightforward answer would be, the applications. All of what you interact with on your mobile phone are applications or apps, for short. If you pay attention, every time you install a new app from the play store or the app store, you get a pop-up asking for a bunch of permissions, which are app permissions.
App permissions are the key features that enable applications to work on our devices. If an app does not have the permission it needs, it will not be able to function correctly.
What are app permissions?
App permissions control what data and features an app can access on a device. For example, the permission to access your camera will allow an app to use your phone's camera but will not allow the app to send messages on your behalf; the user must grant permission to some of these essential features. These permissions are critical for security and safety. In addition, by allowing apps to access certain features or data on your device, you're giving them the ability to improve your experience. For example, an app that needs to access your location might be able to provide better results if it knows where you are. Similarly, an app that needs to access your contacts might be able to provide more accurate results if it has that information. But, of course, there are also risks associated with granting app permissions.
The Risks
If an app can access sensitive data, it could potentially misuse that information. As a result, it's essential to be thoughtful about the permissions you grant to apps. But overall, app permissions provide a valuable way for apps to improve your experience while using them. Therefore, enterprises need to control the permissions on their devices if they want to keep their data secure.
Have you ever wondered why a game needs access to your camera, microphone, and location? Well, it might be an actual requirement for the app's functioning or may just as well be a ploy to steal your data. You, the user, must always be on your toes about what gets approved and what doesn't.
Although ideally, you should be scrutinizing all the permissions, and be wary of apps that request permission for:
Audio
Location
Contacts
Camera
Calendar
Messages
Biometrics
Cloud storage (Read or Write access)
App permissions x Enterprise
App permissions can give enterprises much control over the data that employees on their devices access. However, unlike individuals, enterprises face a more significant risk of a massive breach since a small mistake can cause a breach that can crawl through the entire ecosystem infecting all the devices in the network.
So, it is essential to manage the permissions of all the devices in your network. However, when your enterprise is dealing with many devices, configuring permissions on individual devices can be time-consuming and difficult. That's where UEM comes in. Unified endpoint management (UEM) solutions allow enterprises to manage permissions on all endpoints remotely.
UEM for app permissions
UEM helps you manage app permissions by allowing you to remotely control permissions for all the devices in your fleet. This way, you can ensure that only the app with the necessary permissions can access sensitive data. In addition, UEM also provides robust device management capabilities. This includes remotely locking and wiping devices when they are lost or fall out of compliance. As a result, UEM provides a secure and convenient way to manage app permissions and keep your devices safe.
Although there are some caveats to restricting permissions, some apps may not function as intended or have limited functionality due to lack of access. Still, the silver lining here is that being an enterprise means having specific goals. Hence, being able to restrict permissions individually from a remote portal gives you better control over each part of your network, drastically lowering your risk of a breach.
With Hexnode UEM, enterprises can centrally manage app permissions for all Android and iOS devices in their fleet.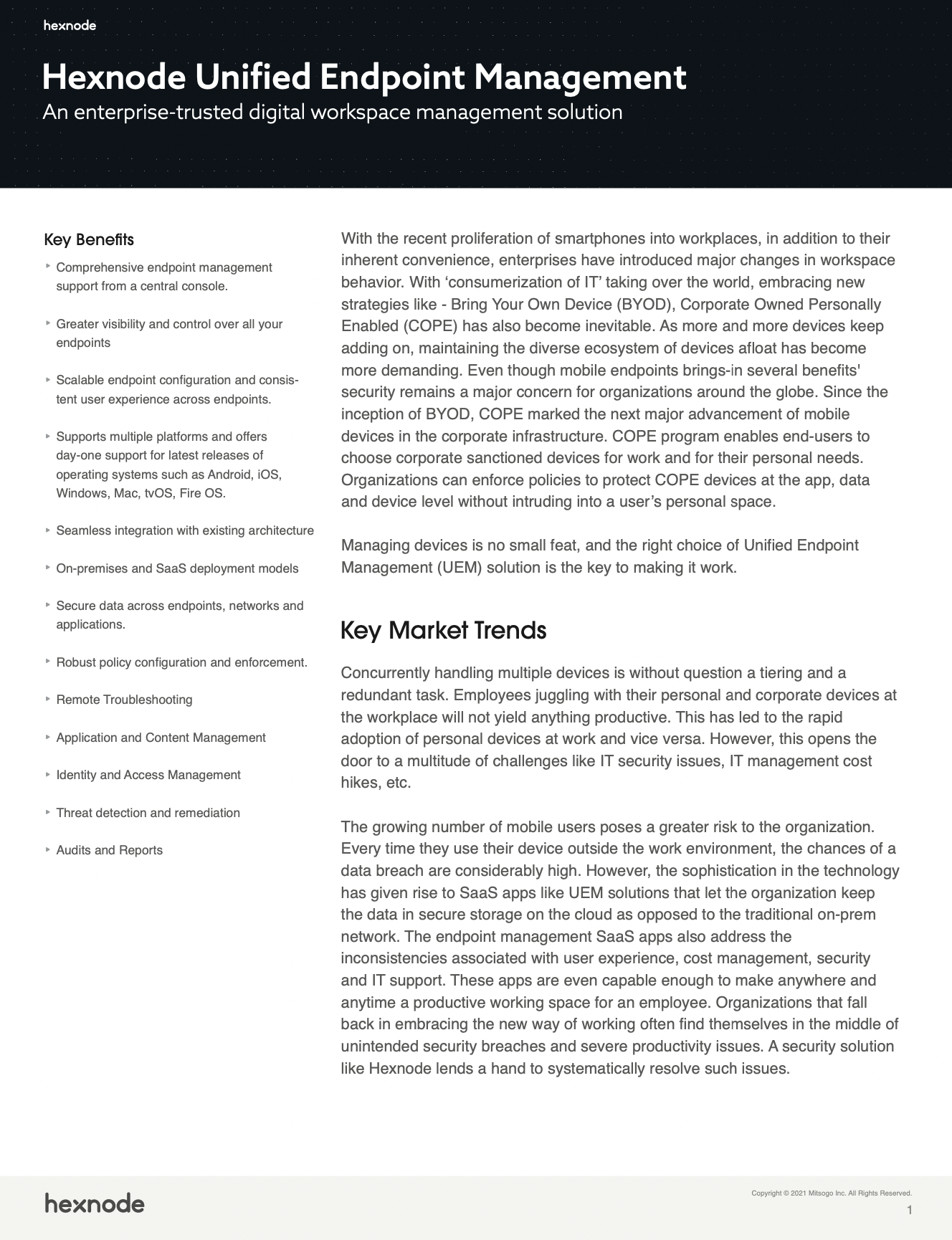 Featured resource
Hexnode Unified Endpoint Management
Managing devices is no small feat, but the right endpoint management solution can make this process a whole lot easier!
Download datasheet
Hexnode UEM has a host of management capabilities, including the ability to configure app permissions . The best part about managing the app permissions remotely from the hexnode portal is that the app need not even be installed on the device when configuring the permissions.
Hexnode also offers comprehensive security features like app blacklisting and whitelisting, ensuring that only approved apps are allowed to run on endpoint devices.
Blacklisting: Through Hexnode, you can blacklist apps; when an IT admin blocks an app, the user is restricted access to the app/site that was blacklisted. This way, a corporate can block potentially malicious or unproductive sites.
Whitelist: Whitelisting is the counterpart of blacklisting. Here, when a website is added to the whitelist, the user is granted access only to the sites that are mentioned in the whitelist. This is an effective way to block all the apps that are not required for work.
Conclusion
In conclusion, it is important for enterprises to manage the app permissions of all the devices in their network. Unified endpoint management (UEM) solutions like Hexnode provide a comprehensive UEM solution that provides enterprises with the ability to remotely control app permissions for all the devices. So next time when you install a new app and come across permission requests, keep in mind that with every 'allow' you press you're giving the application better access to your device.
Try Hexnode for free