Did you know that adopting a strong onboarding strategy can boost employee productivity by as high as 70%?
Also, did you know that these new employees are 18x more likely to be loyal to their employer?
As we enter into 2022, innovative companies have begun to understand that building an effective employee onboarding strategy is more than just the standard phrases of 'welcome aboard!' and 'please fill out these forms.' Instead, they have to make these processes more interactive, engaging, streamlined, and automated.
The key here is to connect with the new hires, make them feel welcome, and ensure that the onboarding goes forward seamlessly – it isn't enough to simply add them to your team and hand out tasks from day one. You must set expectations, equip them with the tools and skills to perform their daily work, and assign them with mentors to guide them.
So, how can you ensure that your organization prepares its new hires correctly?
The answer is with an employee onboarding strategy.
What is employee onboarding?
Employee onboarding is the process of integrating new hires into your organization and providing them with the tools and information they need to become productive members of the team. It helps your new hire get familiar with your company, its environment and culture, mission and values, and ultimately makes them feel welcome and included.
Why is an efficient employee onboarding strategy crucial?
The onboarding process is the first interaction a new hire has with their company. If the onboarding experience fails to captivate your new hires, you've more or less squandered your chances of delivering an excellent first impression.
Moreover, if your onboarding experience does not live up to your employees' expectations, it might reduce their overall engagement and retention rates and ultimately compel them to quit early. Nobody likes that. Nor do they want that to happen, which is why it is crucial to devise an efficient employee onboarding strategy.
A memorable onboarding experience doesn't just make employees feel welcome, it also equips them with everything they need to connect and start working with your team from day one. What's more, automating and streamlining the onboarding process reduces the workload on your HR and IT teams and helps them shift their focus to other critical assignments.
Benefits of enforcing an employee onboarding strategy
Improve employee retention rates
Recent studies on the impact of employee onboarding revealed that a successful onboarding process improves an organization's employee retention rates by as high as 18 times. Moreover, these employees were found to be 30 times more likely to have high job satisfaction and 48 times more likely to feel highly supported by their company. These metrics speaks volumes on how crucial it is to have a great employee onboarding strategy ready.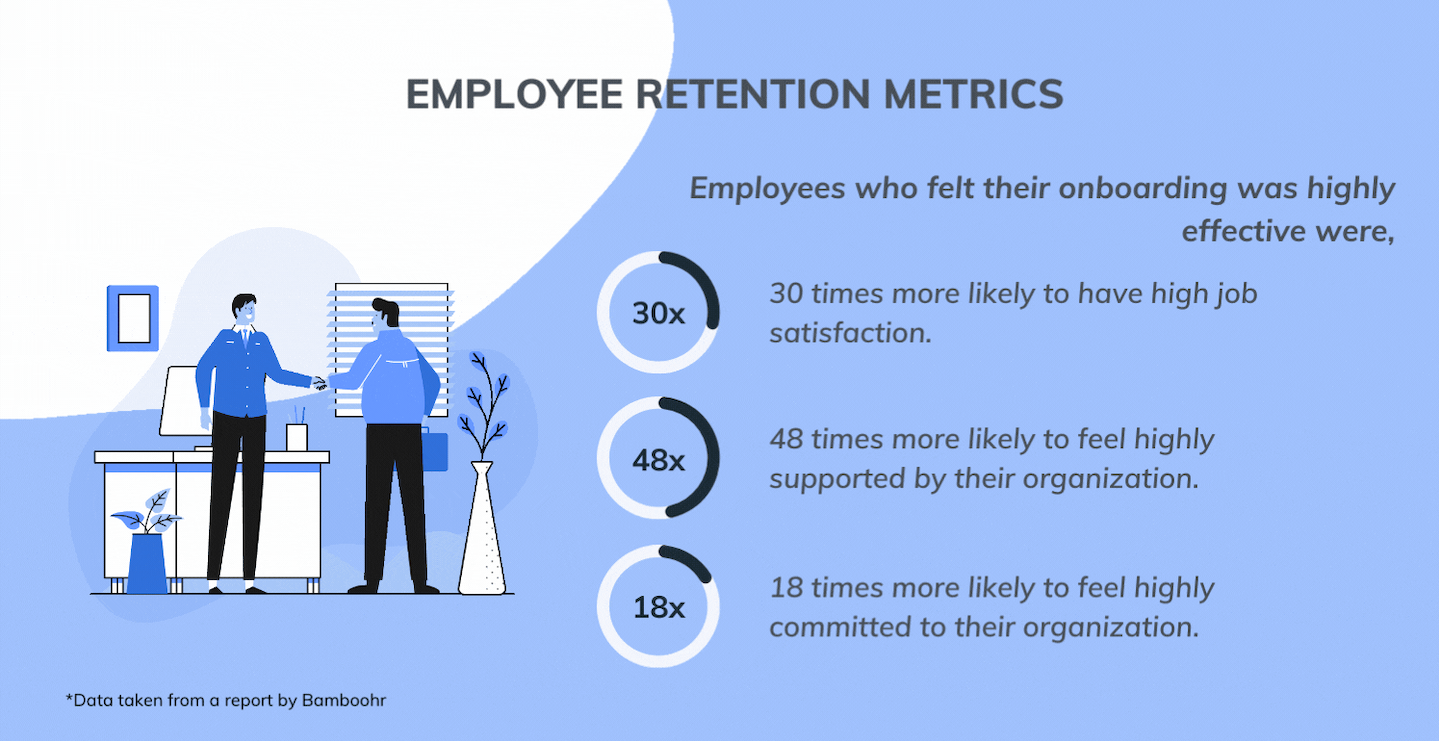 Employee retention metrics
Improve employee engagement
Moving on, the same study also points out the impact a successful onboarding strategy would have on an organization's employee engagement metrics. The study has shown that a whooping 91% new hires who underwent successful onboarding felt a strong connectedness with the team, compared to the 29% who had ineffective onboarding. Moreover, 89% of new hires who underwent successful onboarding felt strongly integrated into the company's work culture, compared to the 59% who had ineffective onboarding.
Ultimately, a successful onboarding strategy improved employee engagement within organizations by a solid 33%.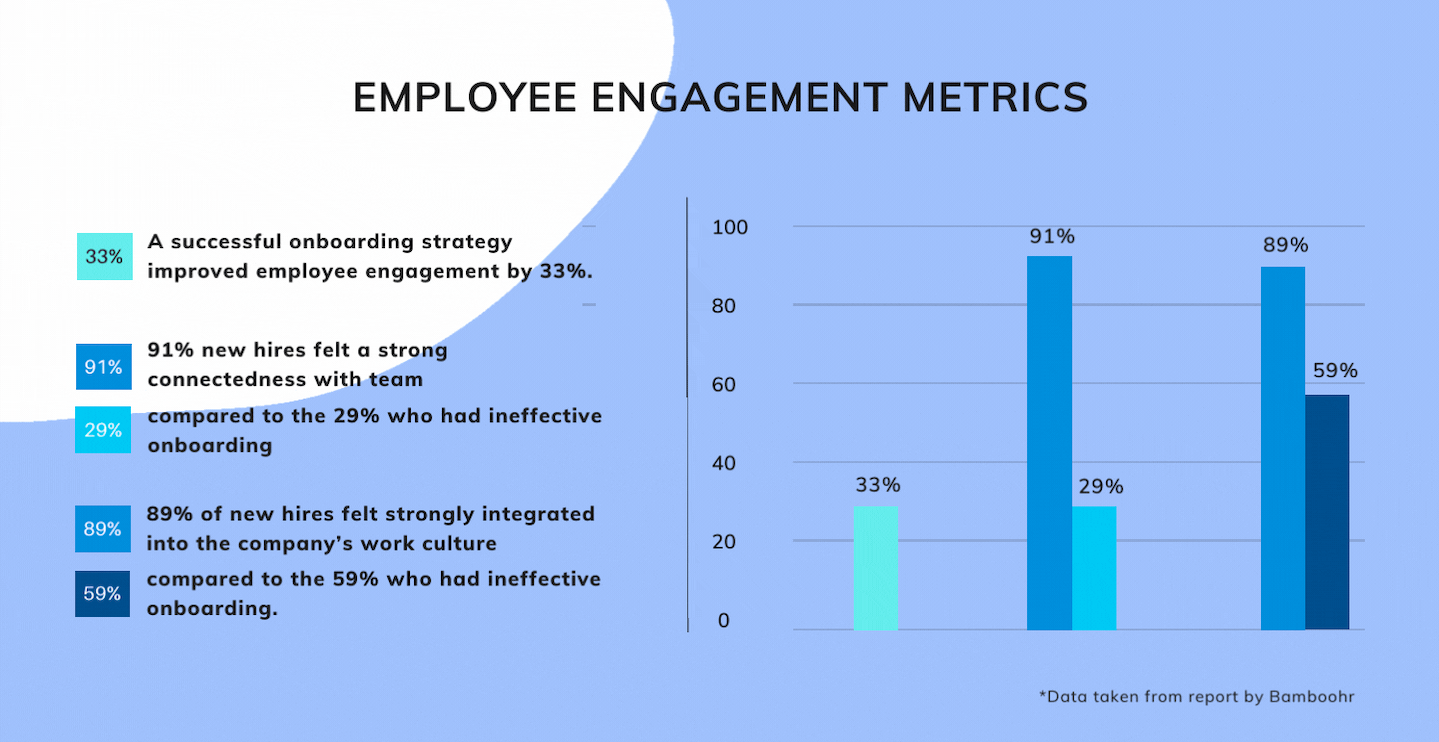 Employee engagement metrics
Streamline the onboarding process for IT and HR
When performed manually, handling all the paperwork for new hires takes up a considerable amount of time out of your HR and IT teams. which is why it would be a great idea to automate these processes. According to a CareerBuilder survey, HR managers lose an average of 14 hours a week manually completing tasks that could be automated. Moreover, when companies automated onboarding tasks, they experienced 16% better employee retention rates, and new hires experienced an 18% improvement in job performance.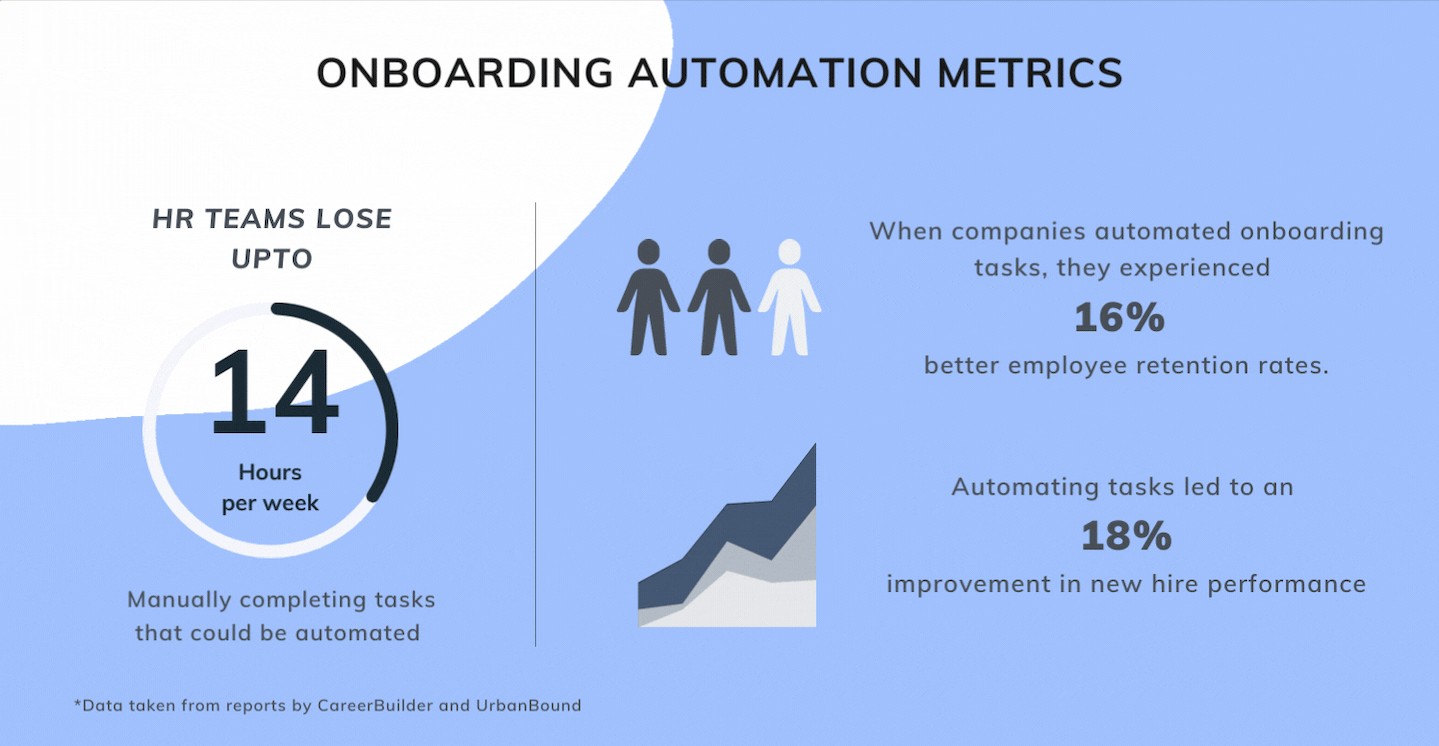 Onboarding automation metrics
How does employee onboarding work?
Formulating and enforcing a successful employee onboarding strategy isn't easy. It involves a lot of planning and research, not to mention testing it out in an internal workspace and resolving any errors before being pushed live. That being said, we've analyzed the specifics of implementing an employee onboarding strategy and have broken it down into three distinct divisions.
Planning
Planning involves assessing your audience and formulating the best course of action to implement your onboarding strategy. This involves initiatives such as determining the nature of the onboarding process (if it's gonna be virtual, in-person, or hybrid), determining the size of your new hires and their requirements (what equipment do they need, what apps and services do the new hires need access to), defining the objectives and expectations of your onboarding process (how long should the onboarding process be, what kind of training do we give new hires), and more.
Executing
Once a plan has been laid out, the next step is to execute the said plan. You must establish a schedule and timeframe for completing your onboarding process, identify which onboarding tasks must be prioritized first, deploy devices and essential equipment for your new hires, and develop learning materials for them.
Reviewing
Continuously reviewing your employee onboarding strategies and evaluating them for any potential weaknesses is crucial to achieving a successful and complete onboarding plan. You must regularly ask for feedback from your new hires, and assess all your onboarding processes and tools periodically.
7 steps to improve your employee onboarding strategy
Well, without further ado, here are 7 crucial steps to improve, automate, and personalize your company's overall employee onboarding strategy.
1: Automate the paperwork process for new hires
HR managers are burdened with enough tasks as it is. Automating the repetitive elements of your onboarding processes enables you to both reduce the burden on HR, as well as streamline the overall process and make the onboarding experience memorable for your new hires. Your automation processes can involve the deployment of online employee contracts with e-signature capabilities to support compliance, automated dispatch of information on policy, benefits, expectations, role information, and more, with the help of content management tools.
2: Streamline the deployment of work devices to new hires
New hires who join your organization will require new devices and equipment to perform their work. Depending on your company policies, these devices may be BYOD, fully corporate-owned, or even a mix of both. In such cases, clearly communicating device options and policies can help streamline the onboarding of new devices. Moreover, you can use the assistance of a Unified Endpoint Management (UEM) solution, along with zero-touch deployment tools including Android ZTE, Samsung KME, Apple Business Manager (ABM), Windows Autopilot, and more, to seamlessly deploy work devices to new hires.
3: Add them to all relevant network and communication channels
Make sure your new hires are added to all the right communication channels, email groups, and messaging apps (e.g., Slack, Microsoft Teams) so they don't miss out on any important messages or updates. Send a message to inform your team of new hires' arrival. Schedule a meeting with your IT team to get your new hire set up with their technology and software. Using a UEM, you can automate the setup of email accounts, update contacts and calendars, push login credentials for Wi-Fi and VPN, and more.
4: Assign a welcome buddy
The first few days for a new hire can be quite intimidating. Assigning a welcome buddy greatly helps alleviate such stress. This buddy system involves pairing a new hire with a buddy at work who can show them the ropes, introduce them to the right people, and share tips and advice to help them get more comfortable in the workplace. In fact, 56% of new hires who met with their onboarding buddy at least once in their first 90 days indicated that their buddy helped them to quickly become productive in their role.
5: Provide access to training videos and important resources
By providing new hires with all the important applications, resources, training videos and updates, you ensure that these hires become productive from day 1. With the help of a UEM solution, IT can securely deploy any app, content or resource across any device. Moreover, IT can enable employees to self-serve and choose the apps they require, by deploying custom app stores.
6: Create an agenda for the first week
Set expectations for your new hires by outlining a clear list of objectives they must meet for the first week. This provides a target for employees to work towards, thereby improving their overall engagement and productivity.
7: Ask for feedback and regularly review your onboarding process
No onboarding strategy is ever truly complete until you review your onboarding strategy and evaluate it against the goals you had set before onboarding. Comparing the results with your goals enables you to identify weaknesses and improve upon your overall strategy. Moreover, by soliciting feedback from your new hires on the employee onboarding process, they can point out areas to refine and enhance, thereby enabling you to develop your strategy even more.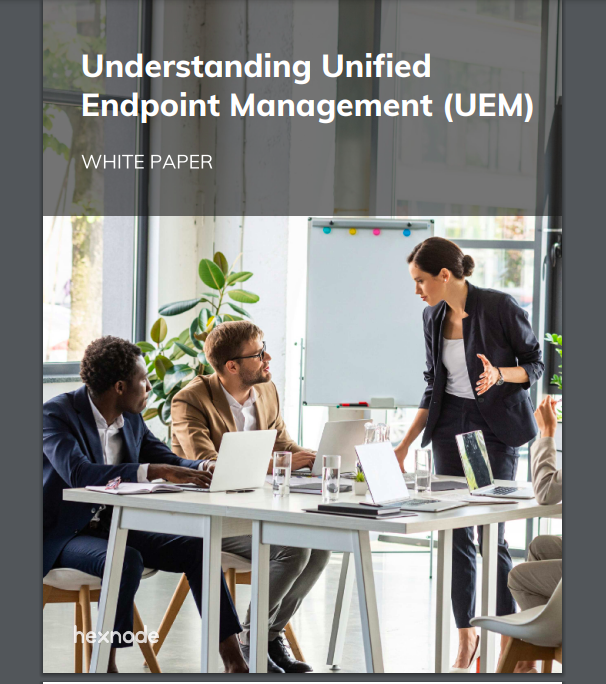 Featured resource
Understanding Unified Endpoint Management (UEM)
Managing and maintaining security across hundreds of corporate devices is not an easy task for an IT team. Unified Endpoint Management (UEM) solutions have made the whole device management process simpler for enterprises and the IT admins.

Download White paper
How UEM can help streamline the employee onboarding process
Adopting a Unified Endpoint Management solution to assist with employee onboarding can go a long way to help organizations reach their goals. It helps IT streamline the employee onboarding process, securely deploy the required tools and resources, authorize and securely authenticate access to these tools, monitor and troubleshoot issues for new hires, and more. Let's take a detailed look at each of these processes.
Device provisioning
Zero-touch deployment
Most UEM solutions come equipped with zero-touch deployment tools that help IT admins securely deploy out-of-the-box work devices to employees. Since setting up these devices requires no involvement from the end-user, IT can ensure that device assignment goes forward seamlessly for new hires.
BYOD management
The need to manage BYOD devices in the enterprise has risen tremendously in sync with the growing change to remote work environments. A UEM solution enables organizations to secure these devices with the help of BYOD management strategies and functionalities including work profiles, containerization, and more.
Resource deployment
App and content management
A UEM solution equips organizations with the ability to streamline the deployment of work apps and resources, including videos, documents, and more to corporate and BYOD devices. Moreover, IT can also easily remove or update content on these devices with the help of app and content deployment tools that come integrated with a UEM.
What is Mobile Content Management and how does it shield your enterprise data?
Custom app stores/app catalogs
Companies can also enable new hires to self-serve by deploying custom app stores with a list of enterprise approved apps, that provide new hires the ability to download and install just the apps they require, with the help of a UEM solution.
Whitelist/blacklist functionality
Companies can also block specific app or websites that may reduce productivity from being installed or viewed on company devices by your new hires, by pushing whitelist or blacklist policies on specified devices.
Network security
Push Wi-Fi and VPN configurations
A UEM solution enables IT to remotely push Wi-Fi and VPN configurations to employee devices, or even deploy digital certificates, thereby eliminating the need of physically sharing sensitive network credentials with new hires. Moreover, IT can also configure devices such that they are blocked from connecting to unsecured Wi-Fi networks.
Configure user accounts
IT can seamlessly automate the configuration of user accounts on employee devices, including email and ExchangeActive sync account, calendar, and contacts, to ultimately reduce the workload on IT teams and end-users, who would otherwise have to configure these accounts manually on each device.
Identity and access management
Passwords and biometrics
Organizations can enforce strong password policies on employee devices as well as on work apps on BYOD devices by pushing password rules with the help of a UEM solution. This in turn, prevents unauthorized access to corporate devices and applications for new hires.
MFA and SSO
MFA provides an additional layer of security into your authentication processes and SSO enables organizatons to streamline authentication. Together, they ensure secure and fast authentication into your business resources. Hexnode enables third-party authenticator apps such as Google Authenticator and Microsoft Authenticator to secure access to the management portal by enabling MFA. Moreover, Hexnode's integration with Okta makes it simple for businesses to manage access to corporate resources and apps. Businesses can use Okta directory credentials to securely enroll devices to Hexnode and use SSO and MFA to enable quick identity validation.
How to ensure business security with identity and access management (IAM)
Active Directory
With Hexnode's seamless integration with Microsoft Active Directory (AD) and Azure Active Directory (Azure AD), organizations can easily maintain and manage employee information and ensure secure access to user data.
Device monitoring and troubleshooting
Remote access commands
A UEM solution equips organizations with a suite or remote access commands and functionalities to help with monitoring and troubleshooting issues for new hires. This includes features such as lost mode, device wipe, remote restart/shutdown, script deployment, remote app launch, and more.
MDM remote access: The essential tool for real-time troubleshooting
Generate reports and audits
A UEM solution enables organizations to generates reports on devices, users, compliance, locations, applications, data management, audit history, and more, thereby enabling IT to ensure that the new hires and their devices conform to corporate regulations.
Monitor compliance
With the help of a UEM solution, IT can define compliance settings to ensure that new hires' endpoints conform to corporate requirements. They can also set the level of security required by enterprises, and if devices fail to meet the requirements, can flag them as non-compliant, and lock them down.
Final note
Two years on from the start of the global pandemic, businesses have found themselves having to adapt radically and frequently, in order to meet the growing needs of the new generation of remote and hybrid workforces. HR and IT professionals must embrace these new models and ensure that the highest levels of employee engagement are maintained while onboarding employees through virtual and in-person onboarding strategies. Implementing and getting used to the latest technology to enforce streamlined and automated onboarding is key to making the most out of the new work models.