If you are new to the MDM space there must be a part of your thinking, is this really necessary? Here are a few pros and cons of having an MDM solution for your business.
Pros and Cons of MDM
Pros:
Remote Management
Manage your devices and users remotely from the centralized MDM console. You can authorize or unauthorize devices and users remotely by monitoring their usage.
Easy Device Updates
Manage your corporate devices from a single console. Push applications and device updates remotely to your devices.
Data Backup and Security
MDMs can facilitate better security through remote data backup and device management. Shutting down, disabling and wiping sensitive information when a device/user is compromised can be a life saver for some corporations.
BYOD management
In an environment where the employees use their personal devices for work, its impractical to manage it without an MDM. MDMs allow for the containerization of work and personal data. The organization can only manage the work data keeping the employee's and company's privacy intact.
Kiosk and Signages
MDMs allow for easy conversion of devices into kiosks and signages. They also provide a high level of added customization in the kiosk mode. When compared to dedicated kiosk software the added capability of device management and monitoring is why an MDM is better for kiosk management.
Cons:
Cost
The only negative about an MDM solution is the cost associated with it. It can feel like a lot but it's basically something that pays for itself. With highly specific and customized packages and plans most of the vendors are now overcoming this hurdle.
Hexnode MDM
Hexnode MDM is the device management offering from Mitsogo Inc, a San Francisco based IT service provider founded in 2013. Hexnode is famous for its kiosk lockdown capabilities and comprehensive platform support. Hexnode MDM's extensive vendor partnership supports integration with several manufacturers like Samsung Knox, LG GATE, Kyocera, Honeywell etc.
Hexnode's complete MDM solution has received several accolades like the Gartner Peer Insights Customers' Choice for Unified Endpoint Management tools multiple times over the past years, G2 has recognized Hexnode as a high performer and Momentum leader of Fall 2019 in the EMM, MDM, MAM category. Hexnode is also the key innovator in the MarketsandMarkets global forecast (2018 – 2023) report for the MDM market.
IBM MaaS360
MaaS360 is a cloud-based product that was created by Fiberlink Communications and later acquired by IBM in 2013. Its headquartered in Pennsylvania, US. IBM was also one of the first companies to introduce AI into their MDM for analytics.
Like most MDMs MaaS360 allows users to integrate mobile devices with enterprise systems and can be managed from a central unified console. It also provides security measures such as passcode policies, encryption enforcement, geo-fencing and detection and restriction of jailbroken and rooted devices. Mobility Intelligence dashboards allow device monitoring and report generation.
Hexnode MDM vs MaaS360
Meets Requirement
Android, iOS, iPadOS, macOS, Windows, FireOS are supported by both Maas360 and Hexnode MDM. The support for ChromeOS is available in MaaS360 while it's in the works for Hexnode MDM.
MaaS360 has a couple missing features for iOS management when compared to Hexnode which includes, SCEP and network usage rules. MacOS configuration is where MaaS360 takes a huge step back. Crucial features like management of smart card authentication, setup assistant, time limits, screensaver, dock, airplay and app configurations are lacking. For windows devices the ability to set a list of mandatory apps and have them pushed remotely to the device is also unavailable on MaaS360.
Location tracking takes a hit with the location history feature missing in MaaS360. It also lacks app management capabilities likes downgrading apps to older versions and managing a play store layout setup for work profiles.
Another major drawback for the IBM product is its kiosk capability. The lack of multi app kiosk on windows devices, multi app, web app and advance website settings in iOS devices, digital signage display, screensaver configuration and advanced kiosk management in Android devices can be a deal breaker for enterprises looking to utilize the kiosk side of an MDM.
Ease of use
There is a common nomenclature and UI style followed by most MDM vendors. The adherence to it makes it easier for users to migrate seamlessly.
MaaS360 has a fairly complex UI, it's not just about the extra clicks needed to get the job done but the difficulty in completing the objective and finding the required features.
Hexnode, on the other hand, is much easier to adapt to and use. An extensive set of help documentation with step by step instructions and videos will help you get things done if you ever get stuck, and trust me it rarely happens.
Quality of Support
IBM boasts a superior customer support capability with the introduction of Watson an AI-powered chatbot. It looks appealing on paper but when it comes to real-world applications it's just an assistant to fetch you the specific data you asked for that is commonly found on the dashboards of most MDMs. It does alleviate the need for contacting the customer support for smaller issues but the major concerns will have to be manually addressed. It is based on AI so it might pick up in the future.
As far as the normal support is concerned, it's all well and dandy until you make the purchase. Their after-sales support is often criticized for lacking the quality and rapidness in their responses.
In the case of Hexnode, it provides a 24/5 dedicated support to help and address customer concerns. The high-quality documentation will help you with most of your doubts but if you ever find yourselves stuck they are just a call away. Hexnode has been dubbed as one of the friendliest vendors not just because of the chat support but also because of the customer success managers that always put the customer first. Unlike other vendors, Hexnode MDM's service doesn't end at purchase.
There is no concern too big or too small for the team of MDM experts. The commitment to providing the best after-sales support like feature addition on customer request is unmatched. It's one of the strongest aspects of the product, making it a good solution for organizations looking for a long-term partnership.
Product direction
MaaS360 is one of the most established MDM solutions, they were associated with quality and robustness which isn't case anymore. The lack of any clear innovation and the inability to keep up with the rapidly changing market has taken its toll on the product.
Their biggest breakthrough was the addition of Watson AI to their product and rebranding it as 'IBM MaaS360 with Watson', but it has received criticism for being an over-glorified AI chatbot used as a marketing gimmick of sorts.
Hexnode MDM has always been focused on delivering a complete and flawless solution for mobile device management. Hexnode is focused on adding new features, developing rapid feature support for the new releases, and attending to customer requests for a rapid resolution.
Hexnode is one of the most rapidly growing MDM vendors. The introduction of zero-day support for new OS updates and releases, integration of IoT, ChromeOS, etc this year is a step in the right direction.
Plan Pricing
MaaS360's pricing starts at $5 per device and goes up to $9 per device per month. This makes MaaS360 one of the more expensive MDMs in the market. The high price isn't justified by the features or quality they provide and has been a reason for the migration of several existing customers toward newer and better solutions.
Hexnode MDM prices its plans from $1 to $5.8 per device per month with a 15-device minimum. Hexnode MDM also provides bulk corporate discounts for large scale companies. The lower price with extensive platform support and free chat support will also make it an ideal solution for small and medium businesses.
| | | |
| --- | --- | --- |
| User Ratings | Hexnode | MaaS360 |
| Meets Requirement | 9.0 | 8.1 |
| Ease of Use | 8.8 | 7.6 |
| Ease of Setup | 8.5 | 7.2 |
| Quality of Support | 9.7 | 7.6 |
| Product Direction | 9.1 | 7.3 |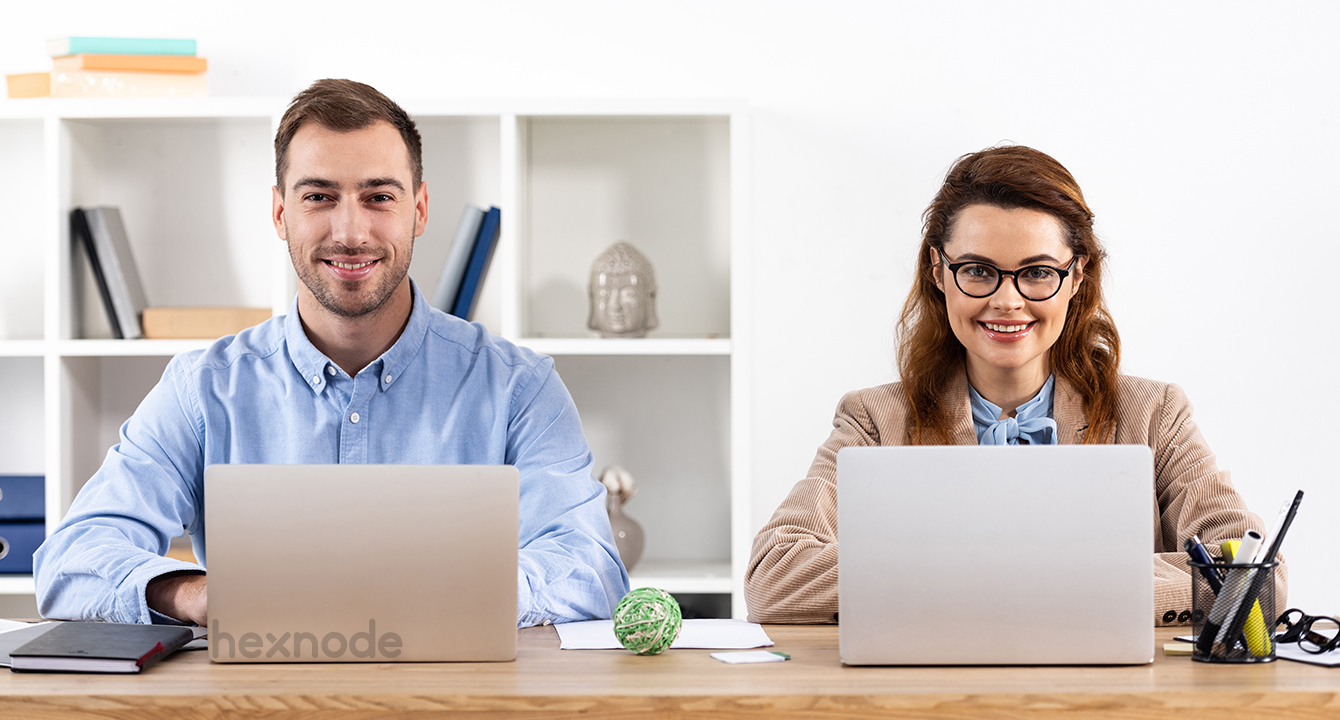 | | | |
| --- | --- | --- |
| Feature | Hexnode MDM | MaaS360 |
| Advanced Kiosk Capabilities | ✅ | ❌ |
| SCEP | ✅ | ❌ |
| Advance macOS Capabilities | ✅ | ❌ |
| ChromeOS | ❌ * | ✅ |
| Windows multi-app kiosk | ✅ | ❌ |
| Pre-approved and ROM/OEM enrollment | ✅ | ❌ |
*Releasing Soon
What our customers had to say about Hexnode
Don't just take my word for it here is what customers had to say:
"Intuitive and ease of use. Went thru 3 different MDM's before picking this one. MaaS 360 is garbage compared to Hexnode"
"This software was the easiest to get hooked up to our DEP and MacMini, and it was super simple to configure. Feature packed, and helps even the leanest IT Departments to deploy a viable MDM solution."
"Online portal is extremely easy to use and the enrollment process is very simple. Changes made in the portal are applied immediately across all devices. The search function is really thorough and has all of the options that I needed."
MaaS360 was one of the industry leaders until alternatives like Hexnode came into the market. These new MDM solutions elevated the bar for the existing vendors. Some vendors were able to step up and face the challenge while some like MaaS360 came second best at everything. Not to take anything away from one of the OG MDMs, but it hasn't been a good decade for them.
Disclaimer
All product and company names are trademarks™ or registered® trademarks of their respective holders. Use of them does not imply any affiliation with or endorsement by them.