Nearly 70% of enterprise data breaches begin with an endpoint. In a pandemic-struck workplace, endpoint management and security often turn cumbersome. Endpoint management solutions are being adopted widely as a measure to mitigate these vulnerabilities. These solutions can work effectively with even complex IT setups. Improved productivity and seamless application management are just a few of the bonuses you get when you deploy endpoint management solutions at your business.
MDM vs. EMM vs. UEM: Are they the same?
Contrary to popular belief, MDM, EMM, and UEM are significantly different from each other. Therefore, a business should understand the differences on offer and measure its IT needs to choose the correct management solution.
MDM
Mobile device management or MDM is a term that refers to solutions that allow the management of enterprise devices. In addition, they can support remote device management and monitoring across multiple operating systems. Devices can be enrolled and configured to meet company policies and requirements.
In terms of security, admins can mandate device encryptions and perform actions like wipe, control, and remote view. In addition, admins can enforce password policies along with other device restrictions to secure corporate assets. Finally, VPN, APN, WI-FI, and other network configurations can be implemented to ensure that the devices don't connect to potentially weak networks.
EMM
EMM or enterprise mobility management solutions is a combination of MCM (Mobile content management), MAM (Mobile application management), MSM (Mobile security management), MEM (Mobile expense management), and MDMs. In addition, EMM solutions provide identity and access management and containerization capabilities.
EMMs act as a solution to enterprise woes regarding the implementation of BYOD and COPE. The containerization of work profiles allows devices to maintain two separate profiles that have no relation whatsoever. Additionally, MAM capabilities will enable the management of rugged devices via OEMConfig.
UEM
UEM or unified endpoint management solution acts as a comprehensive endpoint management service. It allows the management of smartphones, tablets, desktops, laptops, IoT devices, TVs, and wearables from a single unified console. As a result, UEMs are ideal for enterprises that deploy and maintain a variety of devices across their workforce.
UEMs provide features like no-touch deployment, advanced kiosk functions, and seamless integration with third-party apps to sync and automate the console with your existing software services. In addition, they support deployment styles like CYOD (Choose your own device) and COBO (Corporate-owned business only), which are common in modern enterprises.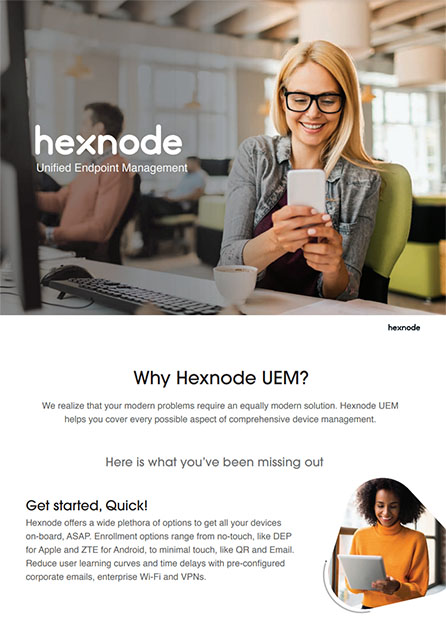 Featured Resource
Why Hexnode UEM
Hexnode offers a powerful suite of features to get all your devices on board and make them work-ready. Download the brochure to learn how Hexnode is the right solution for modern-day enterprise mobility problems.
Download Brochure
Hexnode vs Kandji: More differences than similarities
Hexnode UEM and Kandji MDM may share some similarities, but they are entirely different regarding the available features and the target audience. Kandji MDM is targeted at small to medium businesses that rely entirely on iOS and macOS devices. Hexnode UEM, on the other hand, is ideal for companies of all sizes and all device types.
Hexnode UEM
Hexnode UEM is an award-winning unified endpoint management solution from Mitsogo Inc, a San-Fransisco-based IT service provider founded in 2013. Hexnode's list of accolades includes Gartner Peer Insights Customers' choice for Unified Endpoint management tools, high performer and momentum leader of fall 2019 according to G2, and the key innovator in the MarketsandMarkets global forecast (2018-2023) report for the MDM market.
Hexnode UEM boasts an extensive list of strategic partners, including Samsung, LG, Kyocera, Honeywell, etc. In addition, Hexnode is famous for its advanced kiosk capabilities and comprehensive platform support, which is sought after by businesses of all sizes from around the globe. Hexnode strives hard to simplify endpoint management to make it more accessible to every business.
Kandji MDM
Kandji is an Apple-only MDM service provider from San Diego, California, launched in October 2019. The product is the brainchild of a group of Apple IT admins and enthusiasts who wanted to solve the regulatory demands of growing businesses. Even though the product is just a couple of years old, they can pride themselves on building a solid MDM that gives the Apple MDM veterans a run for their money.
Kandji completed its Series A funding in October 2020, followed by a Series B in April 2021. They are backed by businesses like Greycroft and Okta, which is promising for the future of the product. Kandji's efforts in striking a balance between oversimplified solutions and mind-numbingly complex solutions have attracted a lot of attention which is impressive for a product in its infancy.
Deployment and setup
Hexnode offers one of the most streamlined device deployment setups aided by a getting started wizard. The deployment methods include zero-touch enrollment, Android Enterprise enrollment, Knox enrollment, ROM/OEM enrollment, Email or SMS enrollment, and more. In addition, the extensive support for the enrolment method ensures seamless migration for businesses that already use other endpoint management solutions.
Hexnode UEM's user interface follows international nomenclature making the platform self-explanatory. It only takes a few mins for new users to get things up and running with Hexnode. Hexnode has worked hard to make the platform as simple as possible without compromising features.
Like Hexnode, Kandji deploys an autopilot-like deployment method called liftoff that turns a mac into an enterprise-ready device right out of the box. In addition, Kandji's UI inspired by Apple, significantly improves on what other Apple MDMs like Fleetsmith offer. Finally, the prebuilt blueprints offered are generic but can be put to good use with a few tweaks.
Management and Features
The management of Apple devices is in high demand, which turns enterprises to an Apple-only MDM. Unfortunately, this practice causes enterprises to leave their other endpoints unattended. However, it doesn't have to be a lot; a few isolated endpoints can become the source for security breaches, so enterprises are looking to move towards a UEM solution.
The lack of platform support also affects the implementation of BYOD and CYOD. For example, without containerizing work profiles and personal profiles on user devices, device management may interfere with the users' regular usage, which stirs up more than just inconveniences.
Hexnode UEM provides a solid kiosk solution for Apple devices, including single-app kiosk mode, multi-app kiosk mode, web app kiosk mode, and autonomous single app kiosk mode. Hexnode also provides advanced management possibilities with dynamic groups.
Kandji focuses a lot on pre-built automation and compliance templates. They want users to be able to manage devices with a single click. Kandji also hosts an MDM+, their proprietary macOS agent that extends the MDM capabilities to try and match EMMs. In addition, they provide an auto apps feature which is a library of applications that is pre-packaged, hosted, and auto patched by Kandji.
Support
Hexnode is famous for its rapid response to customer queries. Hexnode provides 24 x 5 chat, email and calls support to accommodate its clients from across the globe. Hexnode's unmatched customer support was one of the key selling points for the company in its early stages. In addition, Hexnode provides detailed documents like guides, blogs, infographics, whitepapers, etc., which serves as detailed self-help for users looking to understand the technical side of the UEM.
Kandji, on the other hand, uses a ticketing system to address customer queries which isn't exactly the fastest, but they do their best to get your questions answered quickly. Their help documentation addresses most of the fundamental questions users raise, but it only covers general industrial insights.
OEMConfig
Though this may not be a fair comparison against an Apple MDM, OEMConfig has become one of the key reasons enterprises opt for UEM solutions. This is because OEMConfig leverages the app configuration capabilities of Android devices to provide dedicated feature support from the OEM.
Hexnode UEM was one of the first vendors to implement OEMconfig support to enhance device management of vendors like Samsung, Kyocera, Datalogic, Honeywell, etc. The support for OEMConfig helps businesses that rely on rugged devices like shipping, manufacturing, warehousing etc.
Pricing plans and trial
Hexnode UEM offers its users five pricing plans to choose from based on their enterprise requirements. The plans start at $1 per device per month and go all the way up to $6 per device per month. Hexnode also offers custom pricing plans and packages to enterprises looking to deploy a significant number of devices with Hexnode UEM. Hexnode also allows the users to test out their complete platform free for 14 days for up to 100 devices. The trial provides users with a first-hand experience of how the product works without any commitments.
Kandji's pricing plans are different from what most endpoint management solutions offer. They charge $400 for every 100 devices, which can be selected in multiples of 100. The strange pricing plan can be a deal-breaker for businesses as managing 101 devices cost the same as 199. They also offer bulk pricing for enterprises looking to deploy over 3000 devices. An API license cost of $150 is added on for plans that accommodate under 400 devices. In addition, Kandji provides an optional 14-day trial to test out their platform.
What our customers had to say about Hexnode
Don't just take my word for it here is what customers had to say:
We were using another MDM software before Hexnode and it has been a huge step forward in the control features and ease of use for the same price. The cherry on the cake is the super efficient support !
It was so easy to start – simply create the portal, enroll a device, and it's online and operational. Associating policies was pretty easy as well. Compared to something like InTune where everything has to be 100% setup first, Hexnode allowed us to even do testing, and push out updates almost instantly to ensure our configurations were exactly what we wanted
For someone with experience with MDM setup, Hexnode is easy to configure and setup. All of the configuration options are laid out in a logical way and all features work as expected. They are actively developing the product and the technical support is excellent.
Our Verdict
Kandji MDM is a pretty decent MDM solution given its relatively recent launch. The feature list pales in comparison to pros like Hexnode, but the tool is promising and may be at par with the competition in 5-10 years. However, for an established enterprise looking to scale rapidly, promises might not cut it. They need genuinely useful features to manage all their endpoints seamlessly, making Hexnode UEM the clear choice.
Disclaimer
All product and company names are trademarks™ or registered® trademarks of their respective holders. Use of them does not imply any affiliation with or endorsement by them.