As a corporation or an IT manager deputized with finding an endpoint management solution for the office you might be wondering why you can't just get one with the fancier name or from a fancier company.
Why is choosing the right UEM solution important?
Selecting the most suitable solution is important because a UEM is an investment that safeguards your corporate devices and the data on those devices besides managing them.
Factors like scalability, quality, etc should be considered while selecting a product.
Scalability: UEM's are a kind of 'set it and forget it' solutions. It can be a headache having to migrate providers. When you select your UEM, always choose a product that can rapidly grow and support the latest management functionalities.
Quality: Several UEMs may look the part but their quality and execution are far behind their appearance. Poorly developed UEM products may get the job done but can cause problems like device performance issues and higher data requirements in the long term.
Pricing: Some UEMs may sound cheaper on paper but as your organization grows and you look for more functionalities the costs can change drastically.
Support: UEMs are going to be used and navigated regularly and you may find yourself confused at times even with the best solutions. The help documentation and support are a very important aspect to vet before dedicating your resources.
It's always crucial to weigh your options before committing.
Hexnode UEM
Hexnode UEM is an award-winning enterprise mobility and endpoint security provider from San Fransisco. The Hexnode UEM platform for unified desktop, mobile, and workplace IoT management has been used in over 105 countries–from SMBs to large corporations and governments. Hexnode always prioritizes the delivery of a user-centered solution for the management of endpoint.
Enterprises of all sizes have leveraged Hexnode's prowess in device management to drive business productivity and compliance. Hexnode's solutions adapt to the most complex of business environments. Hexnode sets the industry standards and always stays a step above the rest of the vendors who still follow the legacy device management approach. Zero-day support for the new OS updates and features is the cherry on the cake.
Citrix Endpoint Manager
MDM developer Zenprise was acquired by Citrix Systems, Inc an American multinational software company in 2013. Citrix merged their Citrix Cloud Gateway MAM software with MDM functionality of Zenprise to create Xenmobile.
Xenmobile was rebranded into Citrix Endpoint Manager which now hosts their MDM and MAM capabilities. The software aims to increase productivity by allowing employees to securely work on both enterprise-owned and personal mobile devices and apps.
Hexnode vs Citrix Endpoint Manager: Why is Hexnode UEM the better offering
Meets Requirement
Hexnode UEM and Citrix Endpoint Manager support platforms like Android, iOS, iPadOS, macOS, Windows, and FireOS. The support for ChromeOS is available on Citrix while Hexnode has announced a release for it later this year.
Citrix Endpoint manager may support all the platforms but the extent of features supported is considerably lower compared to Hexnode UEM. The ability to manage network data usage, the configuration of Global HTTP proxy, web content filtering, email configuration, device wallpaper management, etc for android devices are unavailable on Citrix endpoint manager.
Email configuration on windows, google configurations on iOS and ipadOS, Global HTTP proxy and conference room display on tvOS, smart card authentication, screensaver, time limits on macOS are just some of the features that Citrix endpoint manager fails to provide.
Kiosk management is another aspect where Hexnode UEM is miles ahead of Citrix. Kiosk exit settings, kiosk background apps, advanced website settings, kiosk peripheral settings, screensaver kiosk, and digital signage display mode are unavailable for android devices on the Citrix platform.
Multi app kiosk mode, web app kiosk, autonomous single app mode, and advanced kiosk setting are unavailable on iOS and ipadOS devices while single app kiosk mode on tvOS devices are also missing. The major lack of kiosk capabilities can be a deal-breaker especially for schools, and businesses that utilize the kiosk capabilities of UEM.
Ease of use
The ease of use for a UEM depends on both the user interface and the features for monitoring and management. A common way to manage devices is by grouping them. Groups help push policies and monitor devices easily. The capability of dynamic grouping and custom grouping along with the manual and auto-sync present on the Hexnode UEM is a requirement for organizations that have a large device count.
Citrix endpoint manager also lacks app management features like app catalog, app downgrade, and play store layout setting. The negatives on Citrix are amplified by a fairly complex UI that will confuse migrating users and leave new users clueless. Hexnode UEM's UI adheres to all the commonly used UEM workflows and nomenclatures to ensure a seamless migration.
Ease of Setup
In the case of device enrollment, pre-approved enrollment and custom ROM enrollment are unavailable on the Citrix platform. This forfeits the ability to ensure complete control over a device by flashing a custom ROM. The lack of pre-approved enrollment can prove costly when you are faced with the bulk deployment of new devices.
Additionally, Hexnode UEM provides a getting started setup wizard to aid users to get their enterprises setup easier. This step by step assistance alleviates the need for any help especially when you are a first-time user.
Quality of Support
The step by step guide and help documentation, the setup wizard, the simple and self-explanatory UI, if all these still seem confusing then just ring up a customer support executive from Hexnode UEM. Hexnode has been dubbed one of the friendliest vendors to work with, not just because of the chat support but also because of the customer success managers that always put the customer first.
There is no concern too big or too small for the team of MDM experts available at your disposal 24/7. Unlike other vendors, Hexnode MDM's service doesn't end at purchase. The commitment to providing the best after-sales support like feature addition on customer request is unmatched. It's one of the strongest aspects of the product, making it a good solution for organizations looking for a long-term partnership.
Citrix provides 3 types of support options, standard, priority, and priority plus. The priority options are premium services. Based on the UI, and complexity of the product it won't be surprising if you spend a lot of time with the support team. This, when compared to the high-quality free support service from Hexnode can feel like an avoidable expense.
Product direction
The core negative for Citrix is how they have handled the growth of their product. The management solution has shown great potential but the blatant disregard for customer requests and perfecting the product before expanding has dragged them down a lot on the UEM ladder. Several technical aspects that could boost performance and user interactions are still not available.
The once-great product has failed to live up to the standards of the modern consumers resulting in the below-par review among users. Hexnode, on the other hand, is more focused on rolling out a complete and perfect solution for device management. They add features requested by customers and new features available to the current software and aims to make it a well-oiled product rather than a feature crammed service where you end up paying a lot more for features you don't need.
Their determination and action have spoken louder than words and has become the go-to destination for corporations looking to migrate from services like Citrix. The introduction of zero-day support for new OS updates and releases, integration of IoT, ChromeOS, and many other features have been announced. The rapid growth of the product in the past few years has translated into the quality it delivers with rapid product expansion.
Plan Pricing
Hexnode prices its plans from $1 to $5.8 per device per month with a 15-device minimum. The lower price with extensive platform support and free chat support makes it ideal for small and medium businesses. Large scale companies love Hexnode for their bulk corporate discounts.
Citrix prices its plans from $6 per device per month and provides a 30-day free trial for testing the product. The pricing is a little high when the lack of features is taken into account. They also have just a single pricing plan available making it harder for users looking for just a handful of functionalities. They also have a 25 device minimum for licensing.
| | | |
| --- | --- | --- |
| User Ratings | Hexnode UEM | Citrix Endpoint Manager |
| Meets Requirement | 9.0 | 8.2 |
| Ease of Use | 8.8 | 7.4 |
| Ease of Setup | 8.5 | 6.2 |
| Quality of Support | 9.7 | 7.9 |
| Product Direction | 9.1 | 4.8 |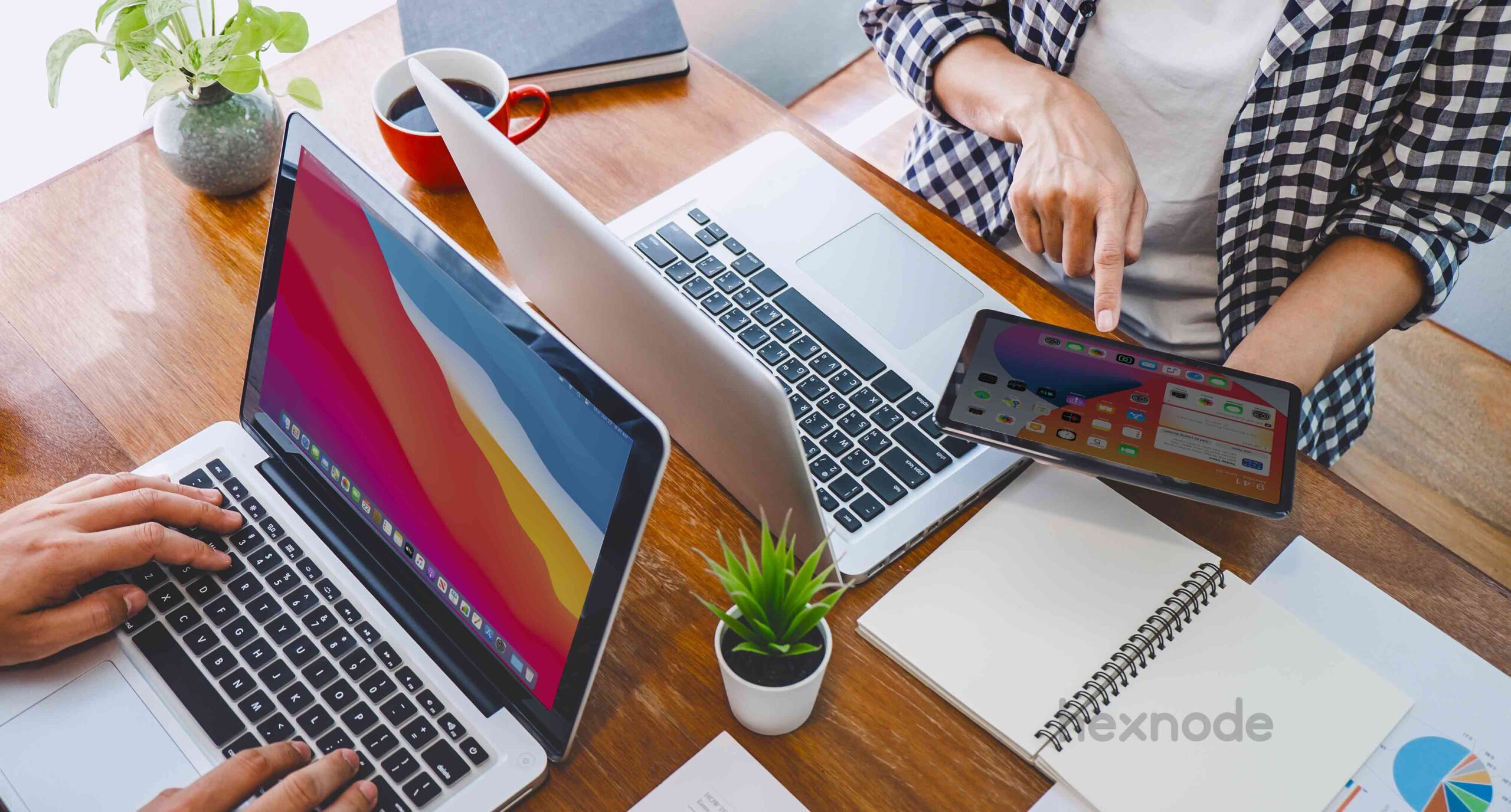 | | | |
| --- | --- | --- |
| Feature | Hexnode UEM | Citrix Endpoint Manager |
| Advanced Kiosk Capabilities | ✅ | ❌ |
| Global HTTP proxy | ✅ | ❌ |
| tvOS kiosk | ✅ | ❌ |
| ChromeOS | ❌ * | ✅ |
| Custom and Dynamic grouping | ✅ | ❌ |
| Pre-approved and ROM/OEM enrollment | ✅ | ❌ |
*Releasing Soon
What our customers had to say about Hexnode
Don't just take my word for it here is what customers had to say:
Hexnode has been really helpful they have made sure that my needs are met and solved by them. if you need anything additional added to you're platform they will make it possible. I 100% recommend Hexnode to my business and clients! it's been a real pleasure working with Hexnode.
The ease of use. Very user friendly and easy to navigate. After sales support is also great and they really listen to what the customer wants. In my case, they really listened to my requests of 2 specific features and implemented it.
It helps us secure many mobile application which contains the SPI data. The security is good, User Interface is good. It is a very good product.
The lack of optimization of the product leading to higher data requirements and device power is still a drawback for Citrix, and the product direction isn't helping when compared to a product like Hexnode UEM that is excelling in these fields the choice is pretty self-explanatory.
Disclaimer
All product and company names are trademarks™ or registered® trademarks of their respective holders. Use of them does not imply any affiliation with or endorsement by them.