Harry- "Professor, what is that?" 
Dumbledore- "An 'A-team' that was responsible for pulling off a dope conference third time in a row, spanning across three days. Let them rest."  
After an astounding HexCon22, currently, we lay on our office bean bags knowing that all of our efforts have ripened like a field of golden harvest. The third time's a charm and with two feathers on our hats already, we got more hopeful about this year's edition. Building from the foundations of HexCon20 and the magnanimity of HexCon21, this year, we got into a groove. Thanks to your never-ending support and encouragement throughout all these editions.  
After a lot of careful eavesdropping, some smooth-but-introverted conversations and totally-not-creepy observations from my desk, I am finally allowed to spill the beans on what went behind our flagship event, this year. I shall let some unforgettable pop-culture references do the talking. 
 

"I'll be back" – The Terminator

 
The last edition before HexCon22 skyrocketed in terms of participation, speakers, and fun. The end of our CEO's last keynote meant that life will roll back to regularity the next day. People started reminiscing about 'running around for HexCon' days. This year, the story has got its own sweetness and spice; the latter being contributed by distance as this time, various teams were working from two major locations. 
This means, whatever tea has to be spilt or brewed, was majorly done over chats and calls. The topic of HexCon22 was like a hidden message piled beneath a stack of notifications. A lot had to be cleared before we started acting on it, including the Hexnode Partner Summit 2022. After getting a green signal from our team leads and managers, we started getting ready for another HexCon sequel.
*Alexa, play Eye of The Tiger by Survivor* 
 

"Sometimes I'll start a sentence and I don't even know where it's going."- Michael Scott

 
It was a common ball game for us to hear phrases like 'something new', 'off the wall', and 'engaging' being thrown around. The third edition of HexCon meant there will be new attendees expecting something different and some old participants expecting something better! 'The Future in Focus' ticked off as an appropriate theme after various inputs. 
To commence with the planning of HexCon22, a stage had to be set. 
"Think outside the box!"
*Designs the box*
This year, the visual theme of our website and all of our social media posts followed a very cool, snazzy design. Upon engaging with the brains behind the quest, the designs team mentioned the idea of a fun gathering (you and us) that is uniting once again. 
We were envisioning a design that emanated vibrancy and fun. We made sure we maintain the balance between going contemporary and our signature elements.

– Aakarsh B, UI/UX Designer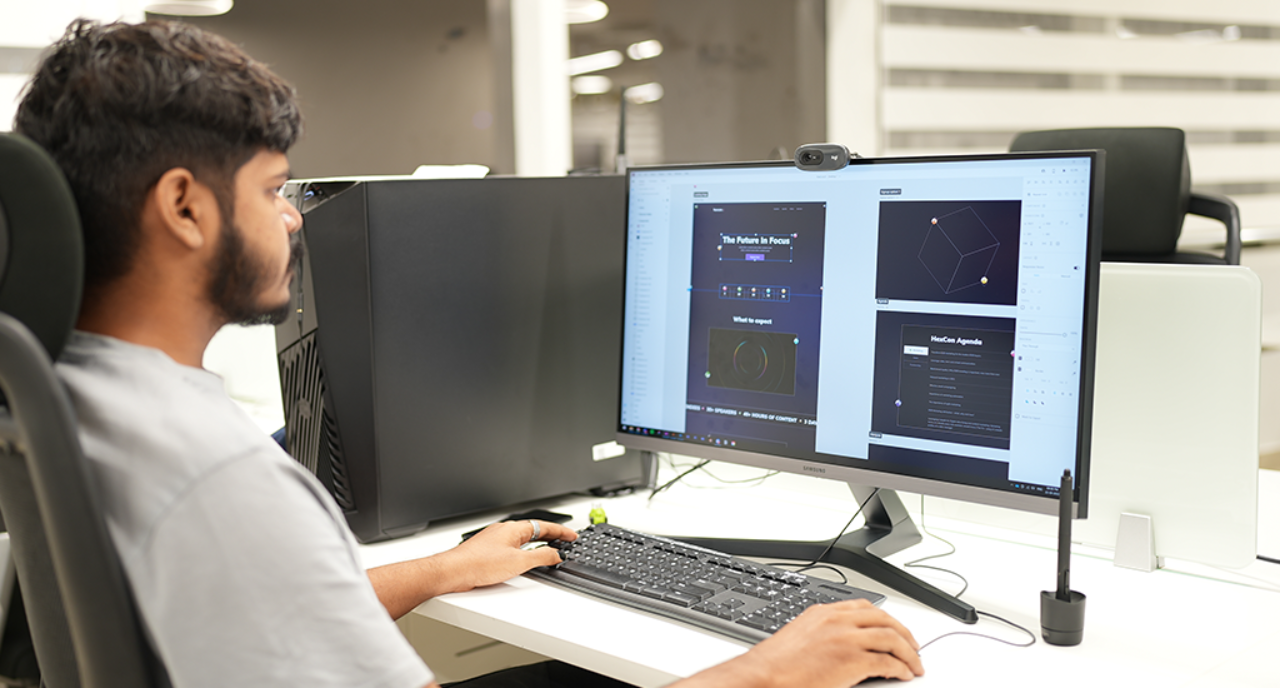 The HexCon22 website work in progress
You get the first look at our next HexCon from our website. The website team is responsible for building our stage. After weeks of rigorous development, iterations and a lot of ideations among the marketing and designs teams, we launched the announcement of HexCon22. 
Meanwhile, a list of speakers was curated and confirmed. HexCon22 had been somewhat put together. It was time to make you guys ready. The marketing teams set out on a social media cruise and crunched on the numbers. 
"I'm going to make him an offer he can't refuse" – Vito Corleone

 
With every team member on a marketing spree, we let the word spread. This year, the new AR filters on Facebook and Instagram were a step further in our campaigns. And with your love, support and participation, we could garner an impressive audience. I mean, you can't really refuse a HexCon invite now, can you? *wink* 
As for behind the scenes, it's all setting up the Hubilo platform, getting all the banners and images ready, planning out social media, making sure everything goes live and stays active, etc.

– Serene Benson, Social Media Specialist
We're just two days away from the @thehexnode conference #HexCon22! The @phosphorusinc team & I are excited to take part; I'll be presenting on #xIoTSecurity #OTSecurity #IoTSecurity. https://t.co/umIaipYUx1#Cybersecurity #xIoT #IoT #OT #PhosphorusCybersecurity pic.twitter.com/RSA9bQuejg

— Brian Contos (@BrianContos) September 19, 2022
 

"Hakuna Matata" – Timon & Pumba

 
For everything to go well, we looked over all kinds of possible slips and took a walk down the memory lane from the previous HexCons for more insight. The number of days left was countable and preparation was in full swing. Countdowns became more regular and people had been awake, burning the midnight oil. From new recruits to executives, one can feel the excitement brewing in the pantry, the bullpen, and the increased consumption of coffee. 
A week before HexCon, all teams were assigned their roles and responsibilities and schedules were revised. One could find themselves in multiple group chats, all related to the execution of HexCon22. It was quite evident that we couldn't hold our horses anymore, but after months of hard work, it was time to take it easy. A live countdown with our CEO, Apu Pavithran and CMO, Rachana Vijayan, marked the beginning of reaping the benefits of our year-long efforts. 
 

"Ready. Set. Go!" – Apu Pavithran, CEO

 
On the 21st of September, at 10 AM CST, HexCon22 was LIVE. The event may be virtual, but the fun was real. Chats were buzzing with your reactions and the leaderboard was shuffling names of the most active attendee. Yours truly had a decent rank. I was more of a witness to observe behind the scenes for this blog. This year, our gold sponsors, Keeper and Bullitt Group, the manufacturers of Cat® phones, hosted their virtual booths on our platform. 
Day 1 set the tone for how the rest of the event was about to take place. We were glad to offer our attendees a myriad of insightful sessions by renowned luminaries. Active participation and delightful comments poured in. By Day 2, most of us had switched our coffee to juice; we were somewhat relaxed and started focusing on the fun side of hosting a virtual event.

The audience engaged actively over LIVE chat
On Day 3, all eyes were on the leaderboard towards the end. Nevertheless, the air was stirred with mixed emotions. In a few hours, we will be concluding an event that was once a hot topic in our schedules for months. Together, we all watched our CEO deliver the closing keynote and officially wrap up HexCon22.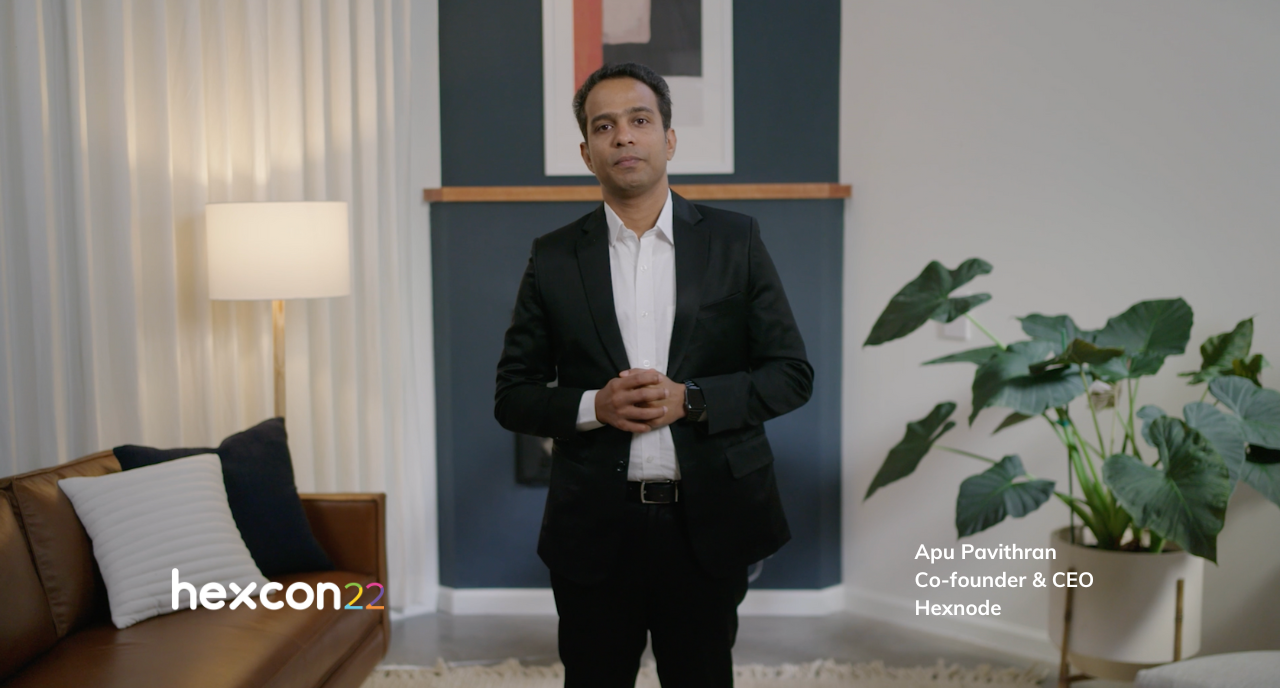 Our CEO, Apu Pavithran, closing the curtains for HexCon22
 

"Hasta la vista, baby" – Terminator 2

 
The first question that popped into all of our minds after the event ended was whether the next edition will be in-person. The thought of it injects adrenaline into our system but hosting this virtual event was an entirely different kind of fun. Curating a global cybersecurity conference spanning three days with over a hundred speakers, innovators and field experts is a fulfilling achievement. There have been countless glitches but as they say- "The greater the obstacle, the more glory in overcoming it".  
I'm extremely proud of this year's edition! It's a tough feat, to manage and onboard 100+ speakers – Speaker research, topic research, etc etc. That's only a part of the entire process. It's an amazing achievement and the team deserves the win! HexCon22 feels like a culmination of months of hard work, grit and persistence.

– Archana Sebastian, PR Specialist
And my dear readers, as the curtains close once and for all, we would like to extend our heartfelt gratitude for your participation. Missed out on HexCon22? You can stay up-to-date with all the sessions by signing up on our website!  
See you all next year!