Devices have become integral components of our enterprises. Our workspaces are now a combination of various device types. With changing times and work models, our devices have gained the least expected attribute – mobility. With these changes, device management solutions have become so vital that we have begun seeing them as indispensable elements for securing devices rather than some random entity.
Device management is no longer an alien term in enterprises. We rely on them for app and content management, device security, kiosk lockdown, remote control, geofencing, expense management, containerization and a lot more. With these features, managing devices of employees working from remote locations from a single console is no more a distant dream. It has made work more flexible while ensuring that the devices and data remain well protected.
Utilizing the chance for a do-over in device management
The need for device management solutions in present-day enterprises needs no special emphasis. We are all familiar with device management solutions and their basic features like passwords, encryption and many others, but is that all you need to manage your enterprise devices smartly? Well, if I had a chance for a do-over in device management, I would focus on some of the less explored features of device management capable of bringing about significant changes in enterprises.
Prioritize device grouping to segregate and manage devices rather than managing them as a whole
Managing devices from a single console have its benefits. However, it can become a bit cumbersome when you have many devices to manage. So, it would be lifesaving to group all your devices based on the type of tools the employees need or the conditions you were to impose on these devices. But even then, constantly monitoring device status and modifying required policies can be a challenge, resulting in many errors. In this case, dynamic groups with members varying depending on the changing conditions play a significant role. In such cases, these policies will only be valid for devices that satisfy the group conditions at that particular time, making the whole process much more manageable. This is where device group management becomes significant.
Ensure security of all network connections without leaving behind any connection type
Present-day enterprises are greatly reliant on technology. It won't be wrong to say that they can't survive without the Internet. The Internet has dramatically reduced human effort. With cloud-based data storage and record-keeping, the human effort has significantly reduced while increasing productivity at the same time. Even though this is a great advantage, it also has its shortcomings. Securing all network connections is another major challenge, with the Internet becoming the indispensable element. With different connections available, we are in a state where we can't leave any of these connection types behind. Some of these include:
On-Demand, Per App or Always On? Choosing the right VPN for Apple devices
Managing BYOD and corporate devices under a single roof
While managing corporate devices we need to be extra cautious as vulnerability in a single endpoint is all it takes to expose the organization. So, robust device management strategies are a must for managing these devices. But often too much of segregations can make the whole processes a lot complicated. With a unified console for managing both corporate and BYOD devices the whole process becomes even easier.
Make the most out of remote threat management features
Though there isn't any doubt regarding the importance of the internet in our everyday lives, it has unknowingly brought a notorious entity to the limelight – security threats.
Threat management is one aspect that needs due consideration in device management. You are subjecting your enterprise to a huge security risk by neglecting this risk.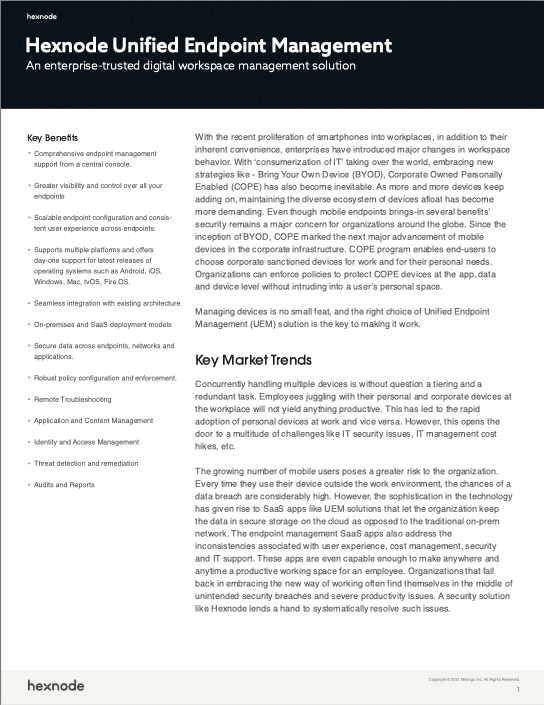 Featured resource
Hexnode Unified Endpoint Management
Hexnode UEM goes beyond delivering basic mobile and desktop management capabilities to meticulously manage the plethora of mobile devices in your organization. Get started with Hexnode's UEM solution to manage all your endpoints from a central console.

Download datasheet


So, by remotely configuring important threat management aspects, you can be sure that your device has all the required settings in place to protect your device and hence your enterprise data.
Focus more on app logs and use them to simplify the process of device troubleshooting
We have all been in situations when our devices didn't quite respond in the ways it was expected to. Unfortunately, troubleshooting device issues as and when they appear is not always easy. At times figuring out the root cause of an issue can seem almost impossible. But having logs of app behavior can simplify the whole process. With logs, you can easily find the root cause of issues and detect abnormal device behaviors, simplifying your device troubleshooting process.
Deploy configurations to all required devices in bulk to secure your apps, saving much of the valuable time
What would you do if you had certain work applications that required a specific set of configurations? If it were for a device or two, manually configuring them would have been an option. But for 100s or 1000s of devices, that would indeed be the least of options you would be interested in. In such situations, features that can help you push these features to all your devices in bulk can come in handy. That's where features like custom configuration profiles play a significant role.
How to deploy custom configuration profiles on Apple devices
Struggling with device management?
Sign up for a 14-day free trial and explore Hexnode UEM's device management capabilities.
SIGN UP NOW!