Microsoft 365 Defender is an integrated and cross-domain threat detection solution that helps in preventing, detecting, investigating and remediating threats across Microsoft 365. It is a part of the umbrella term "Microsoft Defender", which comprises Microsoft 365 Defender and Azure Defender. 365 Defender helps to stop attacks before they happen. Then it automates threat resolution across the domain.
Secure Windows devices with Hexnode
How's it useful for the end users?
The user base can be mainly divided into two demographics. Regular and Corporate users.
Microsoft Defender overall is a lot useful for regular users. It offers
Real-time threat detection
Firewall and network protection
Protection against phishing sites
System performance reports
Hardware security
Parental controls
And the best part, it's all free of cost. Although there are some 3rd party applications that could surely outperform Microsoft Defender antivirus, it has the advantage of offering the whole package and being reasonably reliable.
In business settings Microsoft 365 Defender is used which comes with so many more features for organizations. It comprises of
Microsoft Defender for Office 365
To safeguard your organization against malicious threats posed by email messages, URLs etc.
Microsoft Defender for Endpoint
Unified endpoint platform for attack prevention, detection of breaches, automated investigation, and response.
Microsoft cloud app security
A comprehensive cross-SaaS solution bringing deep visibility, strong data controls, and enhanced threat protection to your cloud apps.
Microsoft Defender for Identity
Identity Protection automates the detection and remediation of identity-based risks in your cloud-based Azure AD.
In the Microsoft 365 security center, which is a security console, you can monitor and respond to threat actors and strengthen security posture across your identities, email, data, endpoints, and apps with Microsoft 365 Defender.
Let's focus on Microsoft Defender for Endpoint for now.
Microsoft Defender for Endpoint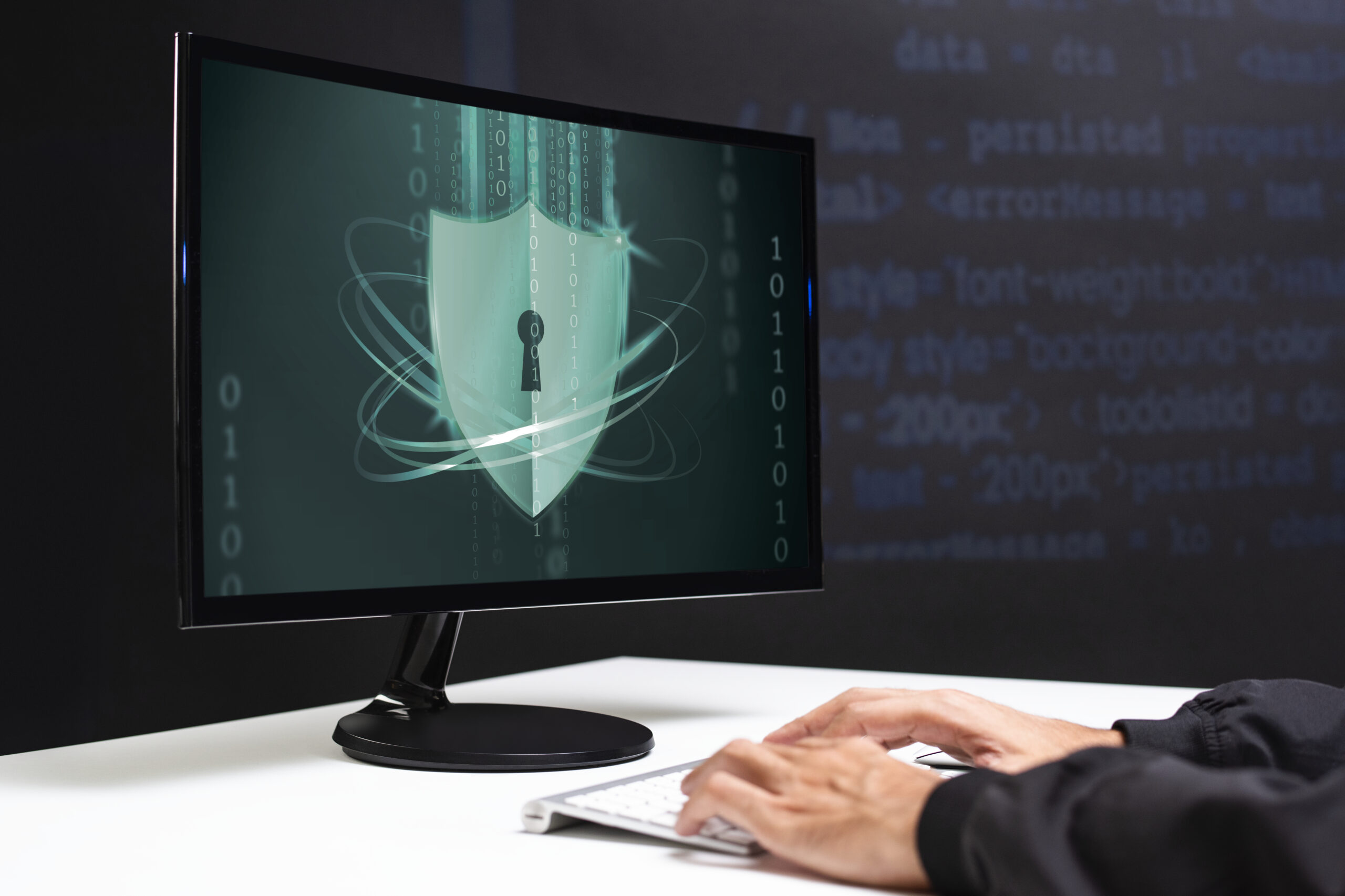 Endpoint security with Microsoft Defender for endpoints
The Microsoft Defender for Endpoint is divided into 7 different aspects.
Threat and vulnerability management
Usually, in organizations, it takes a lot of time between threat detection and remediation. It goes through the process similar to detection -> prioritization -> remediation. The process becomes a lot more efficient when you can reduce the amount of time in these stages, here comes Threat and vulnerability management. It helps organizations detect threats and endpoint vulnerabilities faster in real-time using sensors, instead of agents or periodic scans.
The intelligent prioritization of threat vulnerability is done automatically based on the threat landscape, sensitive information on vulnerable devices, and business context. As soon as the threats are prioritized, IT admins get the notification about the risk along with the suggestion for risk mitigations to follow, so they can evaluate it and push the required configurations to their devices thereby improving the organizational resilience.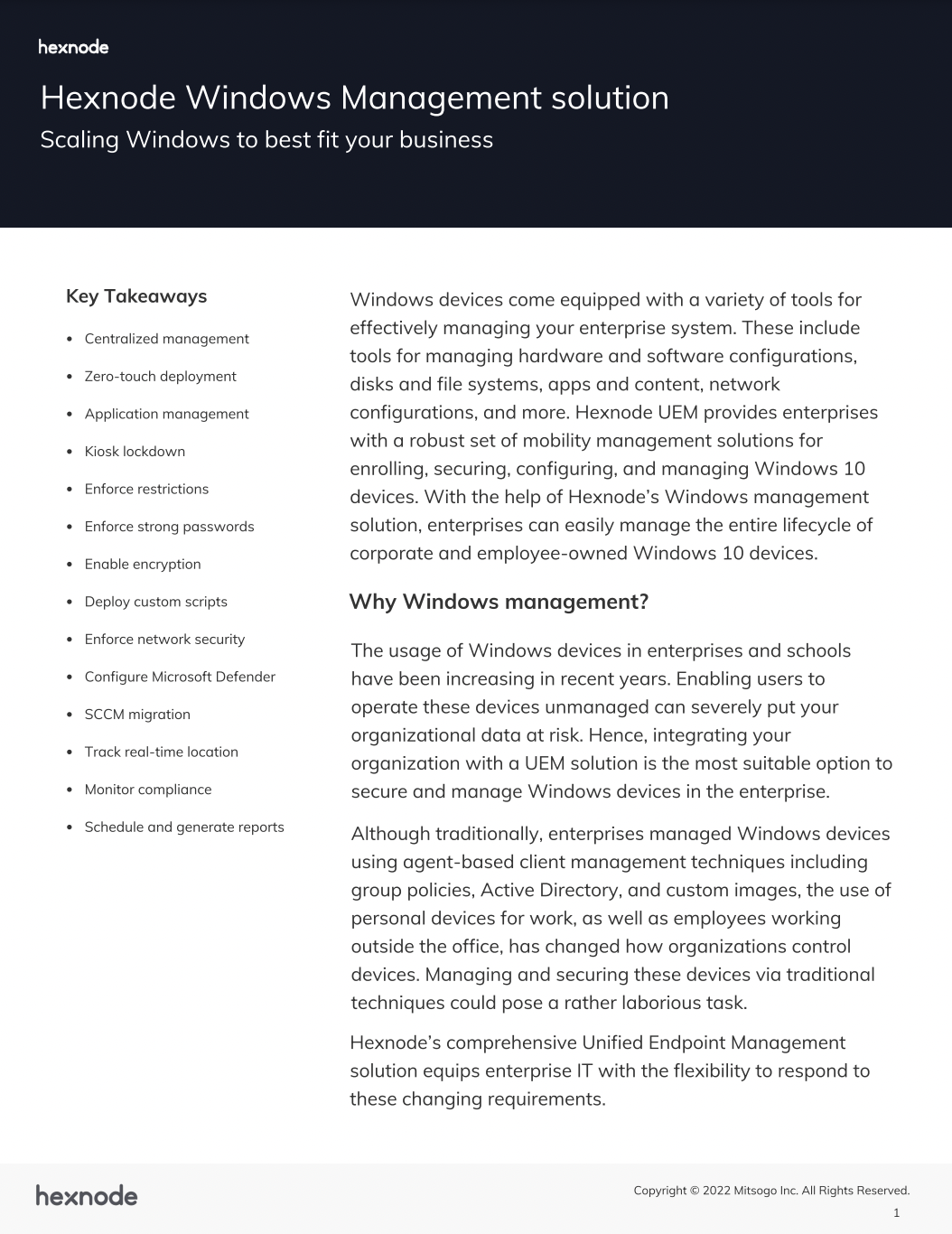 Featured resource
Hexnode Windows management solution
Get started with Hexnode's Windows management solution to improve efficiency, increase productivity, save time and overhead costs of managing your corporate devices.

Download datasheet
Attack surface reduction
This reduces the places where your organization might be exposed/vulnerable to attacks, without limiting the users' productivity. It has a rich collection of capabilities for achieving this like
Hardware isolation
Application control
Ransomware protection
Controlled folder access
Network protection
Web protection
Exploit protection
Device control
Next-generation anti-virus
The Attack Surface reduction helps in neutralizing threats before they impact your devices, whereas the Next-generation antivirus blocks attacks before they do any damage. Microsoft Defender Antivirus is the next-gen protection component in Microsoft Defender for an Endpoint. It uses behavior monitoring, heuristics, and real-time threat protection to detect and block malicious files and file-less threats. Thanks to cloud integration, it enables detection and blockade of new-age threats almost instantly.
Endpoint detection and response
Defender for endpoint continuously monitors on endpoints to alert on suspicious activity. It provides the required tools to visualize and investigate pieces of evidence quickly.
Data from all endpoints are stored for 6 months which helps security for investigation purposes.
You can write flexible queries and turn them into custom detections.
You can also use the built-in sandbox which allows the security team to submit suspicious files. It returns the full report about the file capabilities.
So, you can understand the scope of the attack and take appropriate actions.
Auto investigation and remediation
Automation of investigation and remediation allows for taking action before it's too late. It not only helps the security team to go from alert to remediation but also to scale it up. It uses the AI built into Microsoft Defender for an Endpoint for the mentioned purposes. It intelligently detects whether to take action, performs necessary actions, and decides if additional investigations are needed. This process continues till the system deems it's safe.
Microsoft threat expert
This is a threat hunting service that helps your organization so that critical threats that are unique to your organization won't get missed. It provides expert-driven insights in two ways
Targeted attack notifications

Provides special insights and analysis to help identify quickly and accurately the most critical threats.

Experts on demand

You could reach out to a technical consultant of Microsoft to gain some additional clarity regarding the situation. You could book the consultation from the windows security center itself.
Management API
Although on its own Microsoft 365 Defender is good enough as you could do anything from the security console, Microsoft also provides APIs so organizations can integrate Microsoft Defender with their already existing security solution.
For example, Hexnode, one of the leading UEM solutions, integrated some of the features of Defender using APIs into their console making a unified security management solution. From Hexnode's console, you can configure
Defender application guard settings

This helps in browser isolation whenever the user opens a website that is not trusted by the organization by controlling

Clipboard settings and its behavior
Access to camera and microphone
Saving downloaded files
Virtual GPU
Data persistence

Defender security center

In which Windows defender settings are controlled like

Account protection.
App and browser protection.
Enabling or disabling windows defender security center UI features etc.

and easily push these configurations to your required devices.
In summary
Microsoft 365 Defender is a complete suite of solutions for all security-related issues at the organizational levels with features like endpoint security management, cloud app security, protection against identity-based risks, malicious email, and URLs. As an added advantage for the IT, Hexnode makes it easy to remotely configure the settings on Microsoft 365 Defender.