Zero-touch management solutions have become increasingly popular as the number of companies with remote work options grew. Zero-touch management is a fast, efficient, and easy way for IT teams to manage employee devices.
Try out Hexnode's Zero-touch management features
Why is Zero-touch management necessary?
There has been an exponential growth in the number of devices used in corporate organizations and managing all these devices has become a major priority for companies because without proper monitoring and managing the devices can be used in any way employees want.
Owing to this increase in the number of devices, on-premise or legacy device management methods are not suitable anymore. This is because most on-premise or legacy methods would require admins to physically configure the devices.
Zero-touch management helps sort this out by letting IT admins manage a high number of devices remotely from a single portal.
Zero-touch management can make device management simpler for organizations having multiple offices as well as those that encourage remote/hybrid work. IT admins can handle devices even if they are in other countries using Zero-touch solutions.
What are the practical uses of Zero-touch management?
Zero-touch device management has many practical uses.
When new employees join a company, the IT admin has to manually sit and configure each and every device. Using Zero-touch management, devices can be configured and be made ready to use even before the employee switches on the device. In this way, all the employee has to do is switch on the device and log in.
Zero-touch management makes troubleshooting a lot easier. For example, if an employee contacts the IT team to report a bug in a device, the IT team would either have to collect the device or send an expert to the location to check on the device. With Zero-touch management the IT team can monitor devices over the air and guide the employee on how to fix the issue.
Zero-touch management offers remote app management that helps simplify app distribution and configuration. For example, if an employee needs a new app to test out its features, the IT team can use Zero-touch management to send the app to the device remotely without manually handling the device.
Zero-touch management essentials
Now that you have an idea of what Zero-touch management is and how it is useful for businesses, it is important to know the most important elements of Zero-touch enrollment. Well, some of the most important features of Zero-touch management include:
Zero-touch deployment or enrollment
The most important part of Zero-touch device management is the remote deployment of devices. Zero-touch deployment makes sure that the device user doesn't have to do anything to set up the device as the configurations are set even before the device is switched on.
Different Zero-touch enrollment methods are available for the various operating systems: Zero-touch enrollment (ZTE) for Android devices, Automated Device Enrollment (ADE) using Apple School/Business Manager (ASM/ABM) for Apple devices, Samsung Knox Mobile Enrollment (KME) for Samsung devices, and Autopilot for Windows devices.
Remote app distribution and management
As mentioned earlier, manual deployment and configuration of apps is a very tedious task, since the IT executives have to manually do it on each and every device.
With the introduction of solutions like Volume Purchase Program or VPP for Apple (a part of ASM and ABM) and Managed Google Play for Android devices, remote app distribution has become possible. UEMs can also help you control all aspects of app management like restriction of apps, setting in-app configurations and permissions, and so on.
Remote policy deployment
Zero-touch management solutions must have a remote policy deployment feature. IT administrators can use this feature to control different aspects of devices. From Wi-Fi settings to password complexity, IT admins can configure a wide range of device features using policies.
Scalability
Scalability should be a major consideration when selecting a Zero-touch management solution. The number of endpoints to be managed might vary depending on a variety of factors, such as the number of user accounts, employees, and devices. Device management solutions should be scalable so that onboarding and management of these new sets of devices will be easy for the IT department.
Ability to automate regular or periodic tasks
Routine operations such as device scans and health checks, are a huge load for the IT team and are prone to human errors. Zero-touch management solutions should be capable of automating these types of routine tasks. By automating these tasks, human errors can be kept at a minimum. Location-based automation and device compliance-based automation are some of the few ways in which task automation is done using a UEM.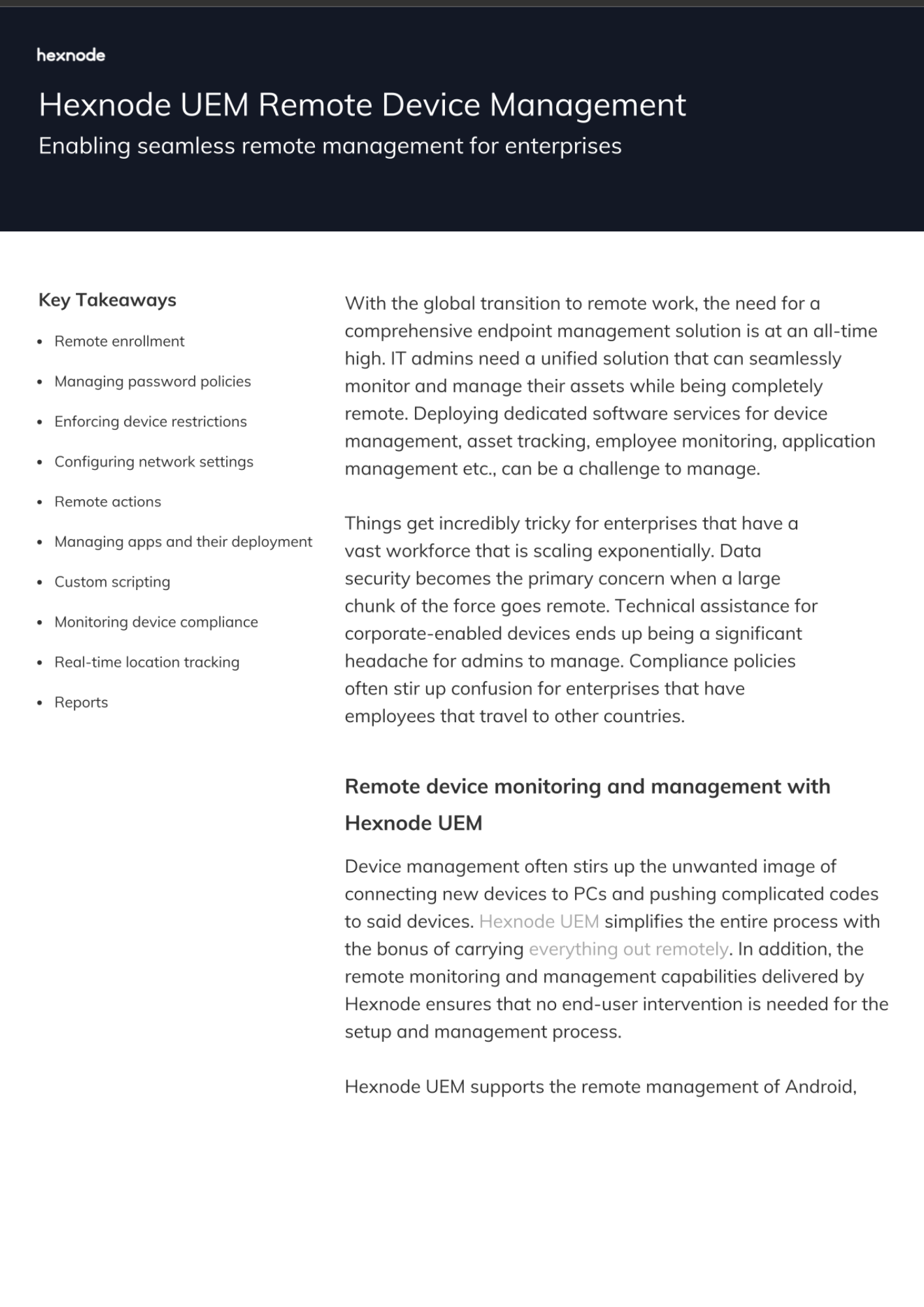 Featured resource
Hexnode UEM Remote Device Management
Download the datasheet and get to know about Hexnode's Unified Endpoint Management solution to manage all your endpoints with zero end-user intervention.
Download datasheet
Hexnode and Zero-touch management
Hexnode is a Unified Endpoint Management system that offers all of the above-mentioned Zero-touch device management capabilities, as well as a lot more. Some of the Zero-touch management features offered by Hexnode include:
Zero-touch device deployment
Hexnode supports Zero-touch deployment on multiple platforms.
Automated Device Enrollment for Apple devices
To enroll your Apple devices in Hexnode, you can use Automated Device Enrollment (ADE) with Apple Business Manager (ABM)/Apple School Manager (ASM). This is Apple's remote deployment software. ADE aids with the deployment of devices in bulk by applying the management profile and configurations automatically upon device startup, making them ready to use right away.
Android Zero-Touch Enrollment for Android devices
Android's Zero-Touch Enrollment (ZTE) method is useful for organizations with a lot of corporate Android devices to be deployed. It is an over-the-air method that enrolls devices into the mobility management solution once the devices are powered on and connected to the network.
Requirements:
Devices purchased from a Zero-touch reseller partner or a Google partner.
Devices running on Android 9.0 and above.
Devices that are compatible with ZTE.
A corporate Google account.
This method is specific only to Samsung devices running Knox version 2.4 or higher. Just like the other Zero-touch deployment methods, KME also lets organizations enroll large groups of devices without having to manually configure each.
Requirements:
Samsung account
Knox portal account
Samsung devices running Knox version 2.4 and higher
A mobility management provider like Hexnode, that supports KME.
A KME-supported browser (Internet Explorer, Chrome, and Firefox)
Suitable firewall exemptions to extend beyond your local and protected network domain and securely connect to the Knox Mobile Enrollment server.
Enrolling an Android device using a custom ROM with Hexnode MDM as a system or privileged app is a foolproof way of enrolling Android devices into your device management tool. Enterprises that work with OEM vendors employ this enrolment approach.
A device is built with a specially customized ROM (Android firmware) that grants Hexnode UEM app all permissions and privileges. When the user turns on the device for the first time, it will be immediately enrolled in Hexnode UEM. On this device, the Hexnode UEM app will function as a standard system or privileged app.
Remote app management
Hexnode supports app management on all major operating systems, namely Windows, iOS, macOS, tvOS, and Android. From deployment to configuration, Hexnode lets you manage nearly every aspect of app management. Using Hexnode you can silently push apps to devices without disturbing the employees.
Hexnode supports the bulk distribution of apps in Apple and Android devices using the Volume Purchase Program (VPP) and Managed Google Play respectively. Apart from this, Hexnode also lets IT admins distribute apps on Windows devices. You can even distribute in-house apps to devices using Hexnode.
Apart from app distribution, you can also specify in-app configurations for Android as well as Apple and specify app permissions for Windows devices using Hexnode. Hexnode also allows IT admins to uninstall apps and restrict app installations on employee devices.
Remote policy deployment
Policies help IT teams change device features like Wi-Fi settings, Bluetooth settings, USB settings, password settings and so on. Hexnode lets IT executives associate policies to devices in a seamless fashion. With Hexnode, you can define configurations and restrictions for all your iOS, Android, Windows, Mac, and Apple TVs using a single policy.
Hexnode lets organizations manage a wide variety of device features using policies. From basic security features like password complexity and device encryption to advanced network settings like website filtering, Hexnode lets you control almost all aspects of device management using policies.
Perform remote actions on devices
Remote actions are commands that are sent to devices managed through the Hexnode UEM portal in real-time. These actions allow an administrator to do remote management operations across an enterprise's devices, users, groups, and domains.
Depending on the operating system and device configurations, remote actions may change. Organizations can select one at a time or in bulk to perform actions on them based on their needs. Some remote actions offered by Hexnode include locking a device, displaying an alert message on a device, and shutting down a device.
Automation
With the help of certain features like custom script execution and geofencing, Hexnode can assist IT teams in automating a variety of functions, such as locking down or shutting down devices when they are not in use, clearing a device's browser history, automatically changing device settings based on the location of the device and much more.
You can automate the policy association process using Hexnode. This means that, instead of manually associating a policy with each new device, the admin can automate policy assignment based on a set of pre-defined criteria.
Geofencing is a feature offered by Hexnode that lets you associate policies to devices automatically based on whether a device is inside or outside a specified location.
Hexnode also has a scheduled reports feature, which presents detailed reports on device health, device status, user reports and so much more to the IT team automatically. This is extremely helpful for remote device monitoring and device auditing on a regular basis.
Scalability
Scalability is the last thing you should worry about if you are using Hexnode UEM. You can scale up from a few hundred to a few thousand devices easily as you grow.
In conclusion,
Now that you have an idea of what Zero-touch management is and what the basic requirements of a Zero-touch management solution are, be extremely careful while choosing one for your company.
Device management can be a nightmare if you choose a device management tool that doesn't cater to your company's specific needs. So, while choosing a Zero-touch management solution for your needs be sure to check if it fulfills all your needs.
Sign up for a free trial
Sign up for a free trial and explore the zero-touch management features offered by Hexnode
Sign up