Before we discuss about why it is important, let us lay some ground work on what inventory management actually means. Inventory/asset management is quite a common word in retail where all the inventory that's being managed are physical goods. Managing these goods means for the most part tracking stuff from the number of units sold to their location history. But IT inventory management gets a whole another meaning. IT asset management is mainly divided into two parts hardware and software. While hardware is about tracking, monitoring and managing the devices in an IT network, software deals with the apps that are to be run in devices in the network
So, why is it necessary? The following are some reasons to prove why
Good inventory management saves time in getting the necessary info available like device status, location, apps in the network, etc.
It provides easy and remote access to devices and therefore management becomes easier.
Helps in keeping the organization updated with their assets' health status.
Tracking and logging the changes/actions made to the device, so in some unfortunate event, it is possible to track back to the root problem.
Keeps the device safe from foreign apps.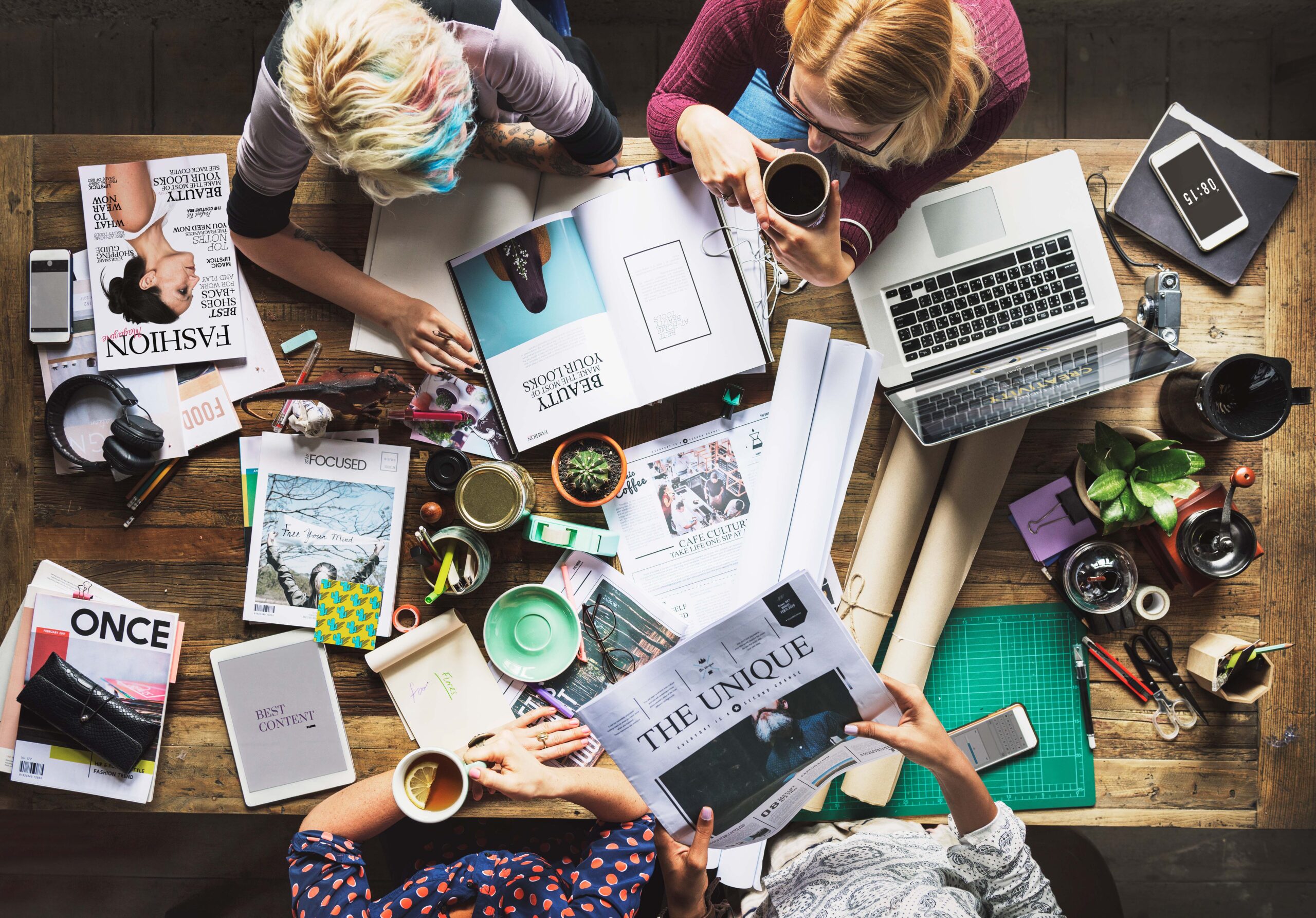 Daunting and messy without IT asset management
Let's see how a UEM deals with hardware and software inventory management.
Improve productivity with UEM's asset management
Hardware IT asset management
As mentioned above, hardware inventory management is very important especially when you don't want to deal with unnecessary complications with managing the devices in your network. Even the simplest tasks of managing devices can quickly turn daunting without inventory management.
Multi-platform support:
A UEM could solve many of the inventory management issues and managing devices becomes even easier if the portal to manage these devices is intuitive and provides easy access to all its features. Support for different platforms is also a must because, more often than not organizations use devices from different platforms for various use cases. So, a UEM like Hexnode which supports many platforms like iOS, Android, Windows, macOS and tvOS could be beneficial.
Enrollment options:
Enrollment process is the first task to follow before getting started with inventory management. Making this process easy will certainly reduce the friction in adding devices to the network.There are many different ways to enroll a device and each of them comes in handy for different scenarios. Some allow you to enroll your devices quicker and easier with minimal interaction with the device itself and some others help in gaining maximum control over your assets. Having options allows us to choose the right type of enrollment for the particular use case.
Hexnode UEM supports almost all platforms with different enrollment options for each. Some of the notable examples: Apple Business/School Manager, Apple Configurator, Android Enterprise, Android ROM, Android Zero Touch enrollment, Samsung KME, Open and Authenticated enrollment. Users can choose their preferred way based on their needs and also don't have to worry about the compatibility of their device. Thanks to the integrations Hexnode has made—with Okta, Google Workspace, SCCM, Microsoft AD etc.—which makes enrollment process easier through ways like syncing users across platforms. An exhaustive list of Hexnode integrations is here if interested
"User interface is really clean, really easy to understand"
David Vorobyov
IT Admin at The Huntington
Dashboard interface and reports:
Dashboards in general are underrated. A very intuitive dashboard can be handy for inventory management. It allows to know just the info we need at a glance. It is also important for the dashboard to update the info in real time. They are simply just a great time saver for displaying the necessary info right in front of our eyes. A good UEM console not only accomplishes that but also allows you to generate all the data you see as reports. We can all agree that detailed reporting goes a long way in managing corporate asset information. An elaborate reporting features lets you generate wider range of reports with even the most granular data based on the specific actions taken on the device.
For example, Hexnode UEM portal enables you to view the list of devices that are in the network, filter list based on their platform, activity, ownership and enrollment status and ensure easy access to your devices. A list of users, device groups, user groups and directory services are also available with just a single tap.
The dashboard is also very customizable to show only the relevant information at that particular moment. It also enables the admin to take actions on devices either individual or in bulk. Hexnode also supports generating various types of reports like device reports, user reports and reports based on compliance, location etc., can be generated on command or scheduled to any email of choice. Action reports and Audit reports logs each action taken on a device and every interaction between the device and the MDM server. All reports can also be downloaded in PDF or CSV form for easy exportability.
"We can see the battery level for the iPads and we can send customers alerts if the iPad is about to go offline with Hexnode."
Hamza Whitmore
CTO at Skyline Dynamics
Notifications:
Notifying admins about a change in device's status is a useful feature that every UEM should have. It enables you to take the appropriate action according to the situation immediately. Concerned parties will get notified when the device goes out of compliance, uses a mock location, entered or exited the kiosk or simply if the device is running low on battery etc. Hexnode allows to notify both the admin and the enrolled user via e-mails when any specific action is performed. Admins can choose which actions to be notified for and who should be notified whether the user or the admin themselves or both.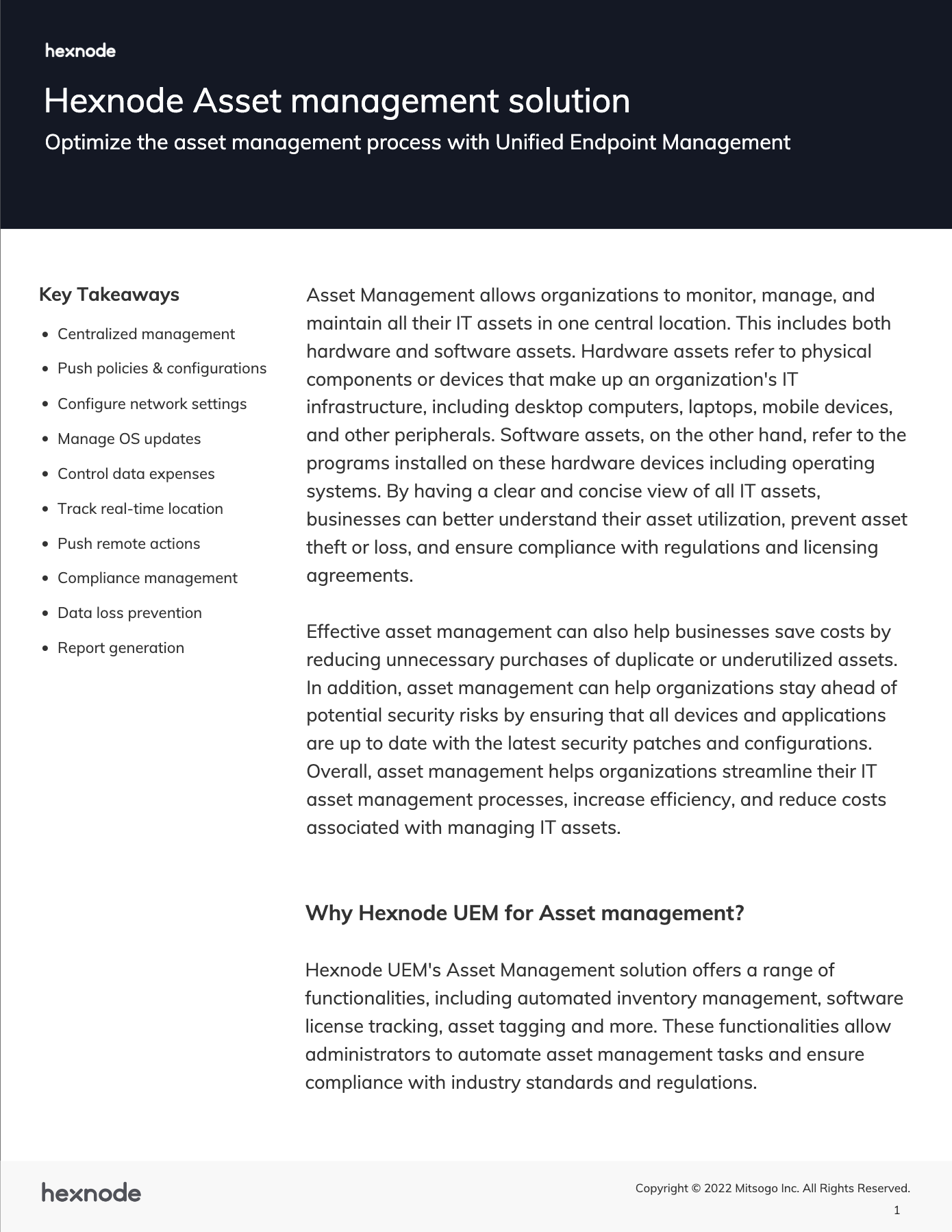 Featured resource
Hexnode Asset management solution
Have a look at Hexnode's asset management capabilities by taking a quick detour to check out Hexnode's asset management datasheet.

Download datasheet
Software IT asset management
App inventory:
A UEM's app inventory houses all the apps that are going to be deployed to the devices. It's a repository in which the admin's choice of apps can be added or removed if deemed necessary. Store apps, web apps, managed google apps and even enterprise apps can be added to this repository. These apps can later be pushed to devices via a policy or from the actions tab. Info about the apps like publisher, license type, category, price, version, status etc. are recorded in the inventory and is available to view in the app dashboard. Just as the dashboard for devices, it is also customizable and you can filter the search based on various parameters available. The apps' whole life cycle of onboarding, configuring, deploying, monitoring and retiring can be managed from the console itself.
"…Hexnode helped us save some time in device management, and also made it a lot easier for internal app distribution"
Jacob Carter
IT Support at AudiçãoActiva
App restrictions:
There are various ways to manage the apps on your device. You can Blacklist or Whitelist apps for said devices and can even set them as mandatory apps. Based on the appropriate actions, admins can control precisely which apps to stay in the network. Therefore, UEMs need to have a proper and secure app management system and it is something that Hexnode is very fond of. Along with the ability to blacklist, you can also set apps as mandatory and they will get installed into the devices automatically, provided the enrolled device supports the automatic installation. The mandatory apps are pushed into the device through policies. Upon removal of these policies, the apps get uninstalled from the devices associated, if the option for the same is enabled. Hexnode also allows for manually updating apps simply by pushing an .apk file and a prompt to install the file appears immediately on the device. Managing apps need not be done individually every time. App catalogs and groups help in managing apps in bulk.
Grouping applications:
Ability to create apps groups makes management easier. These group of apps can later be used in different ways. For example, you could blacklist or whitelist the entire group. These groups are also useful in installing apps in bulk, when certain policy with mandatory group is added. App groups are also useful for a quick multi app kiosk. Hexnode UEM not only supports app groups but also app catalogs which helps administrators create a custom app store in the Hexnode app. Users of devices can download their necessary apps from the Hexnode itself instead of the app store, so you can be sure that all your devices run secure apps. Admins can also create a custom playstore layout for the Android Enterprise devices.
Managing app licenses:
Managing app licenses is also a part of software inventory management. In Hexnode you can do VPP app license management. All the apps purchased from VPP are available to view in Hexnode console. Info about a particular VPP app like number of licenses, associations, free/used licenses, user and status are also available. Along with the app details, all the ABM accounts added to Hexnode is recorded. Admin will have the authority to cancel or revoke these licenses. App updates can be made automatic or manual. Renewal of VPP license is done by uploading the renewed token file. Renewal of license for other paid and supported apps can be done by pushing scripts in Windows and macOS and through app configurations in Android and iOS. Check out this blog to know more about them.
In summary
IT asset management helps in managing and maintaining corporate assets from both hardware and software perspectives. With asset management, organizations must be able to keep their devices in check and make sure there aren't any unwanted apps or devices in network to pose security threats or to decrease the productivity.
Any hardware inventory management system should have an intuitive dashboard to view necessary information at a glance and log all information and actions as reports for future use. Support for multiple platforms and easy enrollment are a nice touch for an asset management system as they lower the management burden.
A good software inventory management system keeps track of all the apps in the network. It maintains all the apps in the inventory, groups them accordingly for taking actions in bulk and perform app restrictions. It also manages licenses for necessary apps.
Real-time inventory management is hard and when done improperly could end up costing a lot of time and money. But a capable UEM like Hexnode eases this process, reduce the burden of managing corporate assets, therefore, becoming an ideal solution for IT asset management.