In the wake of the widespread shift to remote work, organizations across all walks of the industry have had the immediate need to address and resolve the changes in work styles when working from outside the office. In response to these changes, content collaboration technologies have advanced and risen tremendously in the enterprise.
Nearly 80% of workers are using collaboration tools for work in 2021, up from just over half of workers in 2019, according to the Gartner, Inc. Digital Worker Experience Survey. There is an increase of 44% since the pandemic began.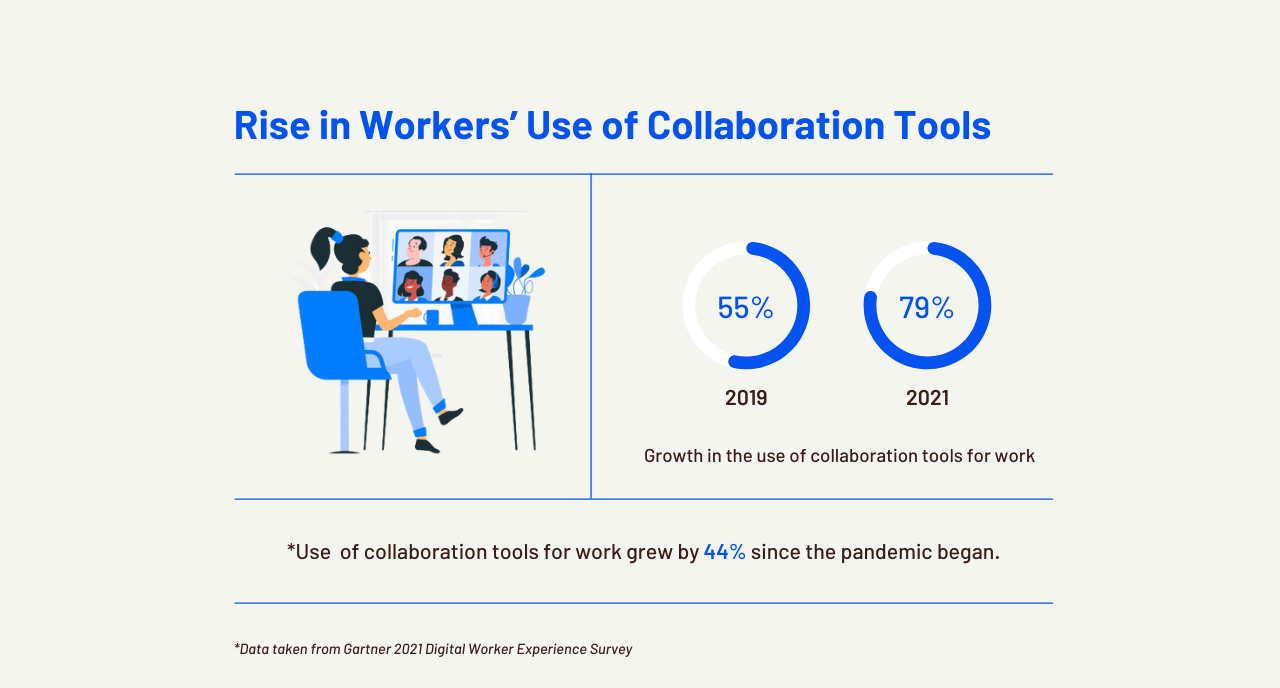 Growth in the use of collaboration tools for work
However, as the popularity of any new technology rises, so do the risks associated with it. Data breaches and attacks on content collaboration tools and platforms have increased by a significant amount, and it has become more crucial than ever to secure and manage these tools, platforms and services.
This blog covers all the essential aspects, tools, best practices, and steps your organization must adopt to effectively secure, monitor and manage its content collaboration infrastructure.
What is content collaboration?
Content collaboration refers to the process of accessing, sharing and collaborating on company files within a managed and secured enterprise environment. For organizations that maintain a remote workforce, this collaboration and sharing of files are essential to the company's day-to-day activities. Moreover, as technology has advanced, content collaboration tools must now also support securing, restricting, and managing the collaboration activities within an organization.
What are the benefits of content collaboration?
Today, many companies rely on employees to work together as part of a team to deliver outstanding work while maintaining a healthy and meaningful workplace environment. Content collaboration across endpoints help teams achieve their goals and enable employees to keep pace with the requirements of their tasks. Here are a few benefits of implementing content collaboration in the enterprise.
Save time and improve productivity
Content collaboration processes enable organizations to save considerable time on projects and improve overall productivity. For example, collaborative document editing enables multiple people to open, view and edit the same document. In addition, reviewers can write comments and provide feedback directly on the document. Such processes enable teams to complete projects in a significantly shorter time. According to a communications and collaboration technology report by Forrester (2020), collaborations can drive 10% productivity improvements and also enable employees to save 5-10% of their time, which ultimately translates to around two to four hours in a 40-hour week.
Improve employee engagement
Content collaboration is key to improving employee engagement in the workplace. Employees perform at their best when their work is valued and appreciated. As a result, sharing ideas and opinions contributes to the overall success of the organization. Moreover, improving employee engagement can directly help reduce absenteeism and increase employee retention and job satisfaction.
According to a report from Jabra (2019), effective communication systems helped increase the retention rate of valued employees by as much as 450%. Moreover, a Wrike survey (2019) found that 85% of employees with access to collaborative management tools were more likely to perceive themselves as happy in the workplace.
Encourage and simplify problem solving
Timely and effective problem solving is one of the most important traits an organization expects from its employees. It enables teams to be productive and reduces time spent on assignments. Employees that collaborate on tasks and have a strong collaborative culture are less likely to face difficulties while solving problems within their organization. In fact, according to the Gensler workplace survey (2019) promoting effective team building and collaboration was rated the highest-ranked aspect of a great workplace. It was chosen by 43% of respondents in a survey.
Improve efficiency for remote teams
When the pandemic began, around 71% of workers were found to be working from home during the outbreak. Of these workers, 54% wants to continue working from home after the outbreak. This figure signifies the impact remote work has on our corporate environment, and why organizations must take measures to adopt online collaboration tools in the workplace. In fact, according to a report by Deloitte (2018), when workers collaborate, 73% do better work, 60% are more innovative, 56% feel more satisfied, and 15% work faster.
What are the risks associated with content collaboration?
Risks from data breaches and social engineering attacks
Depending on the industry you're associated with, enterprises may use several platforms for content collaboration among their employees. However, the frequency of usage of these platforms in multiple business processes increases the likelihood of employees ignoring company security policies, falling for social engineering attacks, and opening up chances for data breaches. In fact, according to Identity Theft Resource Center (ITRC) research, data breaches through September 30, 2021 had already exceeded the total number of events in 2020 by 17% (an increase from 1108 to 1209). Moreover, Verizon's 2021 DBIR shows that 36% of breaches in 2021 involved phishing and social engineering techniques. These figures call out the importance of securing and managing your organization's content collaboration environment.
Cyberattacks in 2021 that locked targets on the high-profile organizations
Risks from shadow IT services
Shadow IT refers to the use of software, tools, applications, and services that are managed outside of, or without the knowledge of your organization's IT department. The use of content collaboration tools by employees, which are not managed by your organization, can open up serious vulnerabilities in your environment. Fuelled by remote work and the growth of cloud-based services, shadow IT has grown exponentially in recent years. Although the use of shadow IT services may boost employee productivity and engagement, it also raises serious security risks to your organization, as these services are not managed by your IT department and introduces the chances of potential data leaks, compliance violations, and more.
Risk of leaks from data sharing
With content collaboration being adopted at organizations from every industry, the capabilities and functionalities of these services have expanded to include collaboration on all kinds of devices and locations. The BYOD trend especially opened up the usage of content collaboration tools to a great extent. However, sharing content including sensitive documents and files across such devices also increases the risk level of document leakage by a significant amount. Moreover, newly adopted collaboration platforms may introduce uncontrolled ways of sharing data both internally and externally. The number of pathways susceptible to unauthorized access has increased and hence, it is essential to secure your collaboration tools and endpoints against employee mistakes and potential attacks.
Risks due to inappropriate access
Introducing collaboration tools into your enterprise environment without managing and assigning privileges for your employees, brings about the possibilities of compliance and privacy risks into the fray. The likelihood of inappropriate access, uncontrolled viewing, duplication, and storage of sensitive and confidential data increases significantly. Moreover, the proliferation of sharing options due to uncontrolled access opens up the chance of potential vulnerabilities and data breach concerns.
Risks from unclassified data
Classifying data refers to the process of structuring data according to its importance, uses, and purposes. Data can be fundamentally classified as confidential, personal, and sensitive data. Once such classifications have been assigned to the data, organizations can allot security policies, access privileges, and appropriate controls based on the severity of the classification. However, organizations, and collaboration platforms that do not classify data or leave them unstructured, open the chances of bringing about privacy, reputational, and compliance risks related to non-classification of data.
What are the essential tools to secure content collaboration on endpoints?
Unified Endpoint Management (UEM) solution
The foremost and primary tool your organization will require to secure content collaboration on endpoints is a Unified Endpoint Management (UEM) solution. A UEM equips organizations with an entire suite of tools and capabilities that enables IT to support the entire lifecycle management of endpoints, starting from device deployment and configuration to decommissioning.
App and content management tools
The next tool your organization will require is an app and content management solution. Most UEM solutions come pre-equipped with an app and content management tool, that enables organizations to secure, monitor and manage the collaborative content on endpoints. Using an app and content management tool, IT teams can easily configure, deploy, or remove the collaborative apps and content from managed endpoints.
What is Mobile Content Management and how does it shield your enterprise data?
Identity and Access Management (IAM) software
You cannot call your content collaborative processes completely secured, until you enforce an Identity and Access Management (IAM) solution to securely authorize and authenticate employees. An IAM solution ensures that users are properly authenticated before providing them access to collaborative resources. Many UEM solutions come pre-equipped with IAM tools, that enable IT to further streamline the set-up and configuration processes involved, and ensure seamless access management capabilities.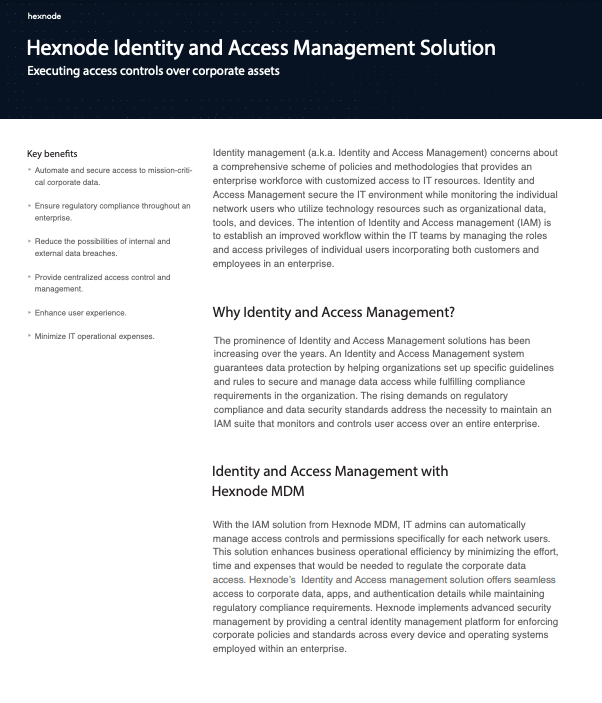 Featured resource
Hexnode Identity and Access Management Solution
Identity and Access Management secure the IT environment while monitoring the individual network users who utilize resources such as organizational data, tools, and devices. Read this guide to get more insights on IAM solution and secure your devices.

Download datasheet
15 steps to secure content collaboration on endpoints using UEM
1: Encrypt and containerize content
Adopting a UEM solution enables organizations to encrypt corporate data and containerize the content stored on BYOD devices. This, in turn adds a layer of security to the collaborative content stored on company and personal endpoints.
2: Enforce strong passwords on endpoints
It has been repeated multiple times throughout the history of IT security processes that passwords are the first line of defense for your security infrastructure. The same goes for your endpoints. Employing a UEM solution enables IT to enforce strong password rules on all company endpoints, and thereby secure that data stored on these endpoints.
3: Configure Wi-Fi, VPN, and Firewall on endpoints
Securing and filtering the collaborative content on your network endpoints involves protecting these endpoints from threats online. A UEM solution enables IT to push Wi-Fi, VPN and Firewall configurations to ensure strong network security, while also restricting endpoints from connecting to unsecured networks.
WPA vs WPA2 – Are you adopting the right wireless (WiFi) security?
4: Update endpoints to the latest OS
When new vulnerabilities and flaws are introduced within the collaboration platform, the endpoint, or the enterprise network, patches and updates are introduced to counter and mitigate these vulnerabilities. A UEM solution enables organizations to enforce and manage said updates and patches on all the corporate endpoints, thereby preventing vulnerabilities from taking advantage of your systems.
5: Maintain access privileges for content collaboration platforms and services
6: Authenticate employees with MFA and streamline authentication with SSO
Once you have assigned access privileges for your employees, you must introduce a system to securely authenticate and verify the access for these employees. Adopting a UEM solution enables organizations to authenticate employees using MFA and streamline the authentication process with the help of SSO.
Reinforcing cybersecurity with Multi-Factor Authentication (MFA)
7: Configure corporate accounts on endpoints
A UEM solution enables organizations to configure corporate accounts on endpoints, including email, ExchangeActive, calendar, contacts, and more, thereby enabling IT to streamline and secure collaboration processes.
8: Enforce remote content distribution
Employing a UEM solution to help deploy, remove and manage apps and content on corporate endpoints enable organizations to help assist with content collaboration processes and optimize costs and overall productivity.
9: Deploy custom app stores
With the help of a UEM solution, organizations can push customized app stores on corporate endpoints to help employees find, download and install all the corporate apps required to collaborate with their teammates.
10: Prevent content sharing across unauthorized channels
An essential aspect of securing content collaboration in the workplace involves restricting and managing content sharing across internal and external channels. Using a UEM solution, organizations can ensure that endpoints are blocked from sharing confidential content through unauthorized channels.
11: Delete outdated and inessential content from endpoints
Once collaboration tasks and processes have been performed and completed, it is crucial to delete all the inessential content from the endpoints in order to prevent chances of data leaks. A UEM solution enables IT to remotely wipe or remove the managed apps and content from corporate endpoints.
12: Manage and secure corporate backups
The backup and storage processes of an organization's collaborative data must be controlled and secured such that only a select few individuals with the right credentials may have access to it. A UEM solution enables organizations to restrict data backup creation or storage on specified individual endpoints.
13: Enforce geofence, lost mode, and corporate data wipe
It is crucial to ensure that the collaborative content stored on corporate endpoints be locked and secured when outside the workplace. A UEM solution enables organizations to set up virtual geofences, track the location, and lock down corporate endpoints when they move outside the specified fences. Moreover, it enables IT teams to remotely lock down and/or perform corporate wipe actions on lost or stolen devices.
Geofencing and Hexnode MDM : Your mentor on device management
14: Monitor app logs, list of installed apps
Securing collaborative apps on company endpoints is another essential aspect that every organization must adopt. A UEM enables organizations to manage and monitor apps, beginning from monitoring logs during app installation process, to maintaining a list of all installed apps on endpoints.
How to spot managed configuration issues using the app feedback channel?
15: Monitor compliance, perform regular audits and generate reports
Once all security policies and configurations have been set up to secure content collaboration on endpoints, it is essential to periodically monitor the status of endpoints and ensure they are in compliance with these policies. A UEM solution enables organizations to monitor compliance, perform regular audits and generate reports on endpoint status.
What are the best practices to secure content collaboration in the workplace?
Classify data and set up corresponding access privileges
Classifying data enables organizations to structure content according to its purposes, and enables IT to assign access privileges and appropriate controls based on the contents' level of the classification. By limiting and assigning the right employees to the right content, organizations can avert any potential threats that may have occurred due to misuse of access.
Perform periodic assessments to evaluate your security strategy
As technology evolves at a rapid pace, new vulnerabilities are constantly introduced into the system and new patches are rolled out to counter and mitigate these vulnerabilities. Hence, it is essential to periodically evaluate your organization's content collaboration environment to identify any potential gaps or vulnerabilities in your security policies and immediately apply the required updates and patches to mitigate any possible threats from entering the system.
Survey user experience and find the optimal balance between speed and security
Although it is crucial to ensure the highest level of security for your organization's content collaborative environment, it is also equally important to ensure that your security and authentication processes do not burn out a significant chunk of your employees' time. It is important that organizations find the optimal balance between speed and security in their authentication procedures. Enforcing tools such as SSO can enable organizations to streamline their authentication processes and ensure the least possible time is wasted in such processes.
Peeking into the future of workplace content collaboration technologies
With the growing adoption of cloud-based content collaboration tools in the enterprise, the modern workplace is evolving and new innovations in collaborative technology are being rolled out swiftly. These innovations may incorporate next generation technology including Artificial Intelligence (AI) and virtual reality (VR). For example, VR and AI technology may be adopted to create virtual spaces and smart voice assistants that help you optimize collaborative tasks, simplify appointment scheduling, and more, ultimately enabling you and your team to focus more on innovative and crucial assignments.
However, every new and innovative technology brings about its own associated risks. Without implementing a proper strategy to secure and manage new collaborative processes, you could leave yourself vulnerable to cyber-attacks and data breaches.
Equipping your strategies with a strong endpoint security solution is crucial to protecting your collaborative environment and ensuring your data doesn't fall into the wrong hands.