Amazon came up with its first set of Kindle tablets in the late 2011s. Along with the tablet came a new operating system, Fire OS, tailor-made for all Amazon devices to come. Initially introduced for the Kindle tablets, Fire OS gained more popularity and found its way into every Amazon Fire device, tablets and phones included. Fire OS was built on the Android Open Source Project (AOSP).

Explore Hexnode's Fire OS management capabilities

Amazon's Fire tablets can be a great addition to your business since it is easy to use, cheaper compared to other leading tablets, and gives almost everything an Android tablet can give you. But there are significant differences between Android and Fire devices, the main one being the different app stores. Android devices have Google Play Store, whereas Amazon Fire devices have the Amazon App Store. A lot more differences are there.
What is a single app mode?
Okay, if you have gone through our other kiosk blogs, you probably know what single-app mode is. But for the ones who are new to the world of kiosks, we will help you out with what single app mode is.
Single-app mode is when you decide to lock down a device to a single app, which means only one app can be accessed on the device. People usually lock down devices to a single app when they need a specific outcome from the device, to increase productivity or to increase security.
Why use Amazon Fire OS devices for your single app kiosk needs?
Talking about Fire OS devices without talking about Android devices is a difficult thing to do. Since Fire OS is developed using AOSP, the devices using Fire OS are kind of similar to Android devices even though there are differences here and there.
For example, some apps that are developed for Android devices will work smoothly on Fire OS devices. Amazon even introduced a dedicated service called the App Testing Service for developers. Developers can use this service to see if their Android app will work on Fire OS or not, before hosting it on the Amazon App Store.
Fire OS devices are a great choice when budget is a primary concern. And for the price range it comes in, the devices offer a lot more than other devices. Also, Fire OS management is pretty similar to Android management. So, all in all, Fire OS devices can be a perfect addition to your enterprises.
But let me give you just one heads up. If you are a company that uses Google services extensively, you might want to look for other options. Amazon Fire devices normally do not support the use of any Google services on their devices.
Why should you use Hexnode for locking your Fire OS devices in single app mode?
Using a kiosk software is the most popular way to lock any device in kiosk mode. This might make you wonder what Hexnode, a UEM, is doing here, in a kiosk-related blog. Hexnode provides kiosk features for Fire OS devices just like it does for the other platforms. You can use Hexnode to lock down your enterprise Fire OS devices to single-app mode. And Hexnode does it in style.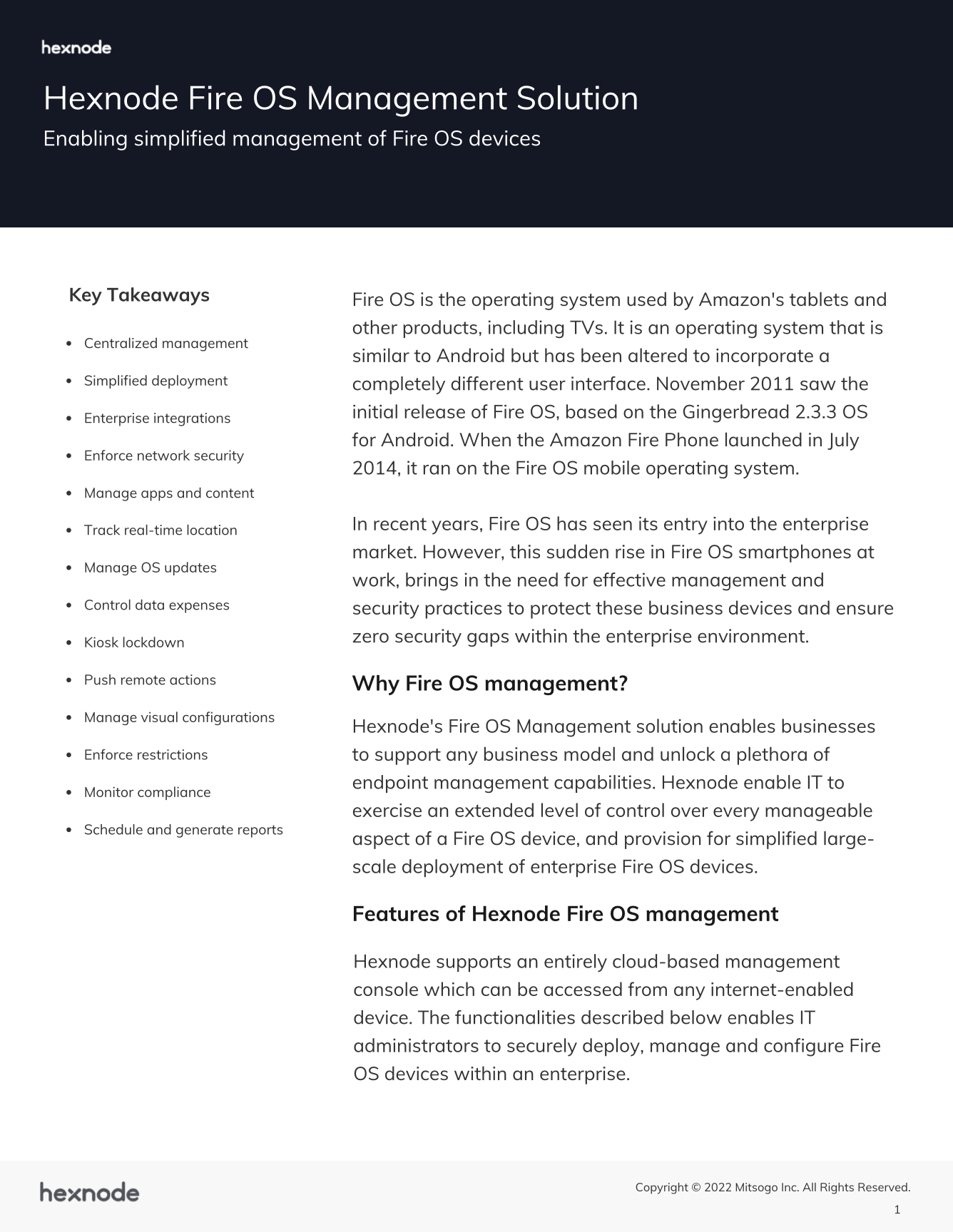 Featured resource
Hexnode Fire OS Management Solution
Hexnode's Fire OS Management solution enables businesses to exercise an extended level of control over every manageable aspect of a Fire OS device, and provision for simplified large-scale deployment of enterprise Fire OS devices.
Get the datasheet
Apart from locking your devices in single-app mode, Hexnode offers a lot in terms of Fire OS kiosk management. We can go off-topic just for a moment to see what all Hexnode offers in terms of Fire OS kiosk management.
App Management
To lock devices in kiosk mode, you need the app to be installed on the device, right? With Hexnode, you can remotely deploy apps to Fire OS devices before locking them in the kiosk mode. You can also do it after locking the device in kiosk mode, but the installation happens in the background, and it won't be visible till you exit the kiosk.
File Management
Just like apps, you can also push files to Fire OS devices using the Hexnode device management portal.
Hexnode Kiosk Browser
This is Hexnode's response to all the secure browsing problems. Hexnode Kiosk browser secures browsing by limiting users only to a list of whitelisted applications. The browser is available for single and multi-app kiosks.
Hexnode Messenger
IT teams are often required to send broadcast messages to a huge number of devices at a time, it can be notifications, reminders, or something like that. Using the Hexnode Messenger, IT admins can do this task and display messages on multiple devices at the same instant.
Hexnode Kiosk Peripheral Settings
Normally when a device is locked in kiosk mode, the device settings can't be accessed in the device. With the Hexnode Kiosk Peripheral Settings, IT admins can configure the kiosk in such a way that the users will have access to the required settings. Apart from that, the IT team can also configure other settings like screen settings and also enable or disable buttons like the volume buttons, the power button, and so on.
Remote actions
Hexnode has a lot of remote actions using which IT admins can perform certain tasks on the target device. Let's see a few that will help you with kiosk management: remote view, remote wipe, and lost mode. Remote view lets you monitor and view any and all enrolled Amazon Fire tablets. This helps IT teams simplify troubleshooting. The other two features can help you in the event of a lost device. If a device gets lost, the IT teams can ensure data loss prevention using the remote wipe and lost mode features.
Kiosk Screensaver
For tablets locked in kiosk mode with Hexnode UEM, image files can be used as screensavers. JPG and PNG are the supported file types for the photos.
Background app settings
Some apps are required to run in the background for a kiosk to function normally. Using Hexnode, these background apps can be configured and set up so that the kiosk app won't be affected in any way.
With Hexnode you can also lock your Fire OS devices in multi-app kiosks, browser kiosks, and digital signage. You can call browser kiosks and digital signage extended versions of single app kiosks, since the device is locked with the browser app for browser kiosk and image or video or PDF viewer for digital signage.
How to lock your Fire OS device in a single app mode using Hexnode?
First, you have to ensure that the devices are enrolled in the Hexnode UEM portal. To know more on how to enroll your Fire OS devices in Hexnode UEM, click here. Once your device is enrolled, you can proceed with the following steps:
Create the policy on the Hexnode management portal to lock down the device in kiosk mode.
Add the app or file shortcut to which you want to set the device in single app kiosk mode.
Click done.
If the app you chose is a store app, ensure the app is installed on the device before the policy is pushed to the device. You can remotely push the app using Hexnode before you push the policy to the device.
If the app is an enterprise app, the app will get installed on pushing the policy to the device.
You can push the policy to devices in two ways. One is where you associate the policy right when it is made and the second is where the policy is associated a while after it is made. For the first way, the devices or list of devices are selected during the policy creation, so right when the policy is finalized, it gets deployed to the devices. For the second way, you can choose a device or groups of devices to which the policy is to be applied and then apply it to them after the policy is made.
Once the policy is pushed to the device, go to the Manage section where you can see all the devices in your organization. Then select all the devices on which the kiosk mode has to be enabled and then click on the Enable kiosk action.
Congratulations, your Fire OS devices are locked in single-app kiosk mode.
In conclusion,
That's it folks, that is all there is to know about Fire OS single-app kiosk mode. From what a single-app kiosk is to how to set it up, I think we have talked about everything there is to lock your enterprise Fire OS devices in single-app mode. So, what are you waiting for, try out Hexnode's free trial and see for yourself what is possible in terms of Fire OS kiosk management.
Try Hexnode for free!
Sign up for a free trial and explore Hexnode Fire OS management features.
Sign up