Frontline employees are the members of the workforce who have direct contact with customers or clients. From delivering goods and helping customers select an item from a shop to logistics management, frontline workers have to execute all critical field tasks.
Digitization of frontline workforce has always been a tough job for organizations. This could be owing to the harsh conditions under which they work, which could cause electronics to break down quickly.
The introduction of rugged devices revolutionized the frontline workforce's digitization. These devices could withstand all rough conditions that could come up in frontline workers' line of work.
The need to manage these devices also grew as more workers were given smart devices like phones, tablets, and hand-held computers. Managing frontline workers is not an easy task as the frontline workforce is always on the move and it is difficult for the IT team to manage devices that constantly move from one location to another.
Remote management tools are vital for managing your frontline workforce. Without a remote management tool, it would be a tough task for IT admins not only to manage frontline workers' devices but also to keep track of the company's IT resources deployed to the frontline workers. So, while choosing a remote management tool for your company be sure it can perform all the actions and features you need.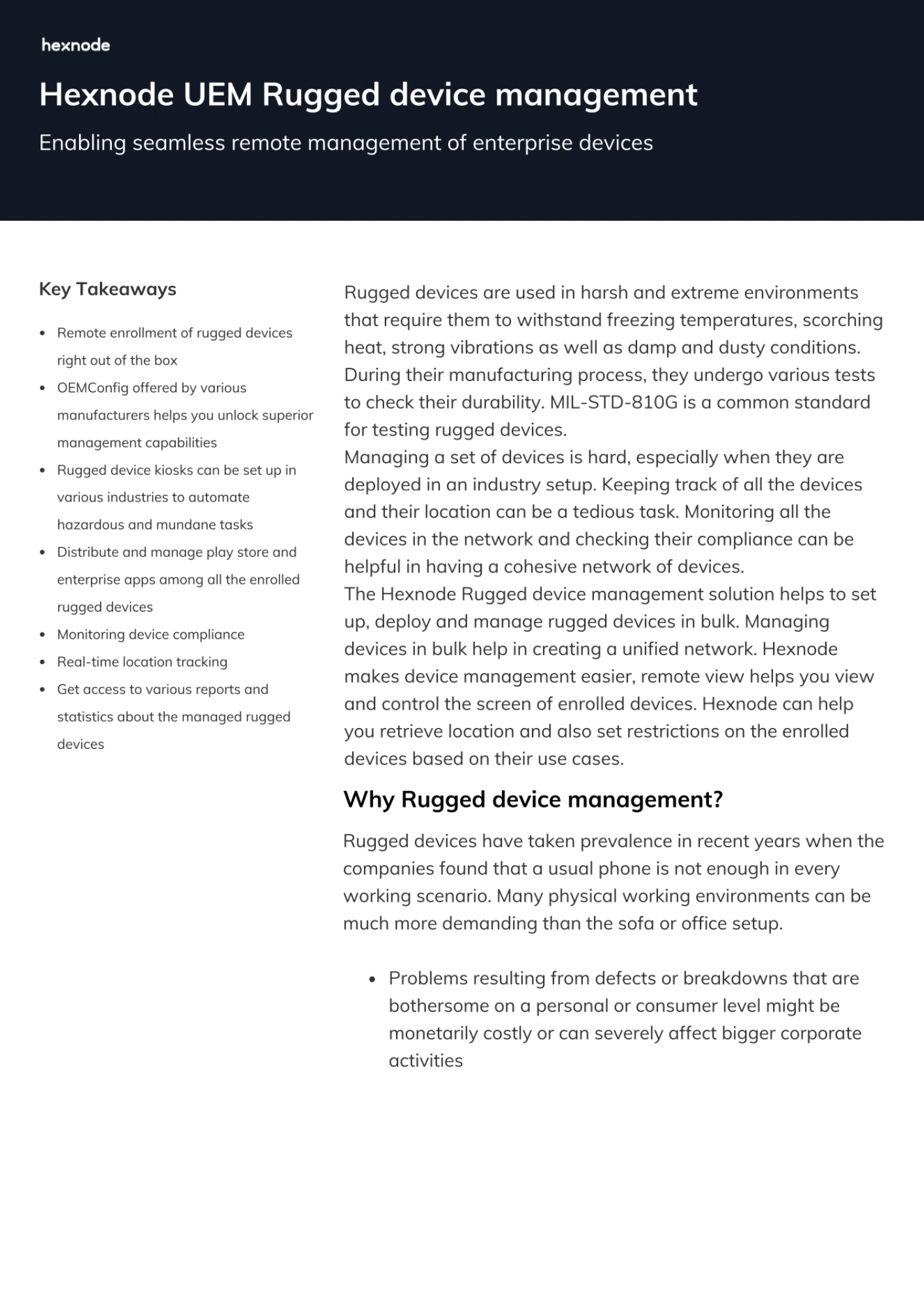 Featured resource
Hexnode UEM Rugged device management
Rugged devices are most useful in harsh and remote environments, unlike everyday use devices, they are built for particular purposes. So, it is important that a management suite catering to their specific needs is used.
Download datasheet
What is a remote action and why is it useful?
Remote actions are commands delivered to devices from a mobility/device management solution such as Hexnode to conduct a specific task, such as locking a device or scanning its location. These actions enable an administrator to perform remote management operations across all devices, users, groups, and domains in an organization.
IT admin can manage key tasks on employee endpoints using remote actions, even if they are at a different location. IT admins can also keep track of an enterprise's endpoints and their health via remote actions and monitoring technologies.
Essential remote actions for frontline workforce management
Some remote actions for frontline workforce management are:
Mobility management tools have to scan devices to get device details like battery levels and device location. Once the device is scanned the details are updated in the management portal from where the IT admins can view it.
Scanning devices helps IT admins keep track of employee devices and make sure that the device is still connected to the management portal. Retrieving device location is extremely important as it helps organizations make sure devices are within company limits and also helps in locating lost devices.
Lost device management actions
One of the major issues organizations face while digitizing frontline workers is lost or stolen devices. In such cases, the risks are very high since if the device gets into the wrong hands, then valuable company data can be misused.
So, it is important to make sure that your mobility management solution has remote actions to secure these devices. Here are some actions to secure lost devices:
Using this action, you can force a screen lock on a device and make sure that even if the device was unlocked initially, it can be locked at any time.
The remote ring capability will play a sound on the devices from a distance, which might help locate a misplaced gadget. Even if the device is muted, this feature will initiate a sound on the device.
Lost mode refers to locking down the device to a custom screen and only a password set by the admin can unlock the device. This action can be used to ensure that the device is made obsolete to unauthorized individuals even if the device password is discovered.
The wipe device action is normally used as a last resort in case of a lost device. If the device contains critical information and it would cause serious damage to the company if it gets in the wrong hands, the data in the device can be wiped clean using this action.
App management actions
When it comes to remote workforce management, app distribution and management is a very essential tool to have in your arsenal of mobility management tools. Without a remote app management tool, it would be very difficult for IT admins to install, uninstall and set up apps on employee devices.
Hexnode provides a few app management actions that might come in handy. Some of these actions include:
Install and Uninstall apps
Using this action, organizations can remotely distribute and revoke apps on frontline workers' devices. So, if a new app is to be delivered to the frontline workforce, it can be done remotely with a single click. Also, if an app is found unnecessary on an employee's device, then it can be removed with ease.
Sometimes apps might stop functioning properly and the reason might be one among many. It is very important to find out what caused the trouble and find the fix for the issue to ensure the smooth functioning of the frontline workforce.
App Feedback channel is a feature specific for android devices, which helps organizations collect logs and statuses of apps using a UEM. This can help admins find out what went wrong.
You can use the remote launch app capability to start an app on your device over the air. This action lets you launch the app from afar and keep it open on the device. Remote launch app action allows you to keep the app alive in kiosk mode, provided it is set as a background app.
Toggle/enable kiosk mode
Kiosk mode is a popular feature in frontline workforce management as sometimes these devices have to be locked down to a single app or a few apps. Using this action, admins can ensure that kiosk mode is switched on in all kiosk-enabled devices. It can also be used to exit a device from kiosk mode.
Broadcast messages are very useful to convey important messages to a lot of people at once. Using the Send broadcast message action, you can send messages to employee devices as a pop-up message. These messages will be saved on the device for future reference.
Switch off and restart a device
Shutting down devices can come in handy in multiple cases, like saving battery life and doing regular maintenance works.
The same goes for the restart action as a remote restart is essential for many cases like to test out a new addition to the device or for troubleshooting purposes. Manually shutting down or restarting a bulk of devices is not ideal, so organizations can make use of this action to do so in a lot of devices together.
Troubleshooting actions
Solving issues regarding employee devices is a huge headache for IT admins, as in most cases they would have to inspect the device manually and find out what is the issue with the device and then come up with a solution.
With the help of troubleshooting actions, admins can remotely figure out what is wrong with the devices and find a solution for it. Some actions offered by Hexnode are:
Device logs, stack traces, and other diagnostic information are frequently included in a bug report. For device troubleshooting, you can create device bug reports and share them with your IT admin.
Enterprise admins can use Hexnode's remote view action to view and monitor devices remotely in real-time. This action allows you to view a device's screen remotely from the Hexnode console. The device's real-time monitoring aids in promptly diagnosing and fixing problems reported by users.
The remote control action is similar to remote view, but apart from just seeing the screen you can also control the device and perform actions on the device, like opening an app or changing the settings on a device.
Keeping devices updated is an absolute must if you take device security as a major concern. This is because almost every OS update will have a security update too ensuring protection against existing threats.
Manually updating the OS in each and every device is not only time-consuming but can disrupt the workflow in the organization. This action lets admins remotely update OS on devices either individually or in bulk without disturbing the users or slowing their productivity.
The device details tab contains further details about the devices enrolled in a UEM, such as hardware specifications, enrollment data, device specifications, network specifications, and so on.
Exporting device details allows the administrator to keep track of particular devices and track device-specific information. As a result, the business can verify device compliance and identify the details of the whole fleet of devices, allowing for more effective device management.
Reset password
Reset password is a very useful action as it not only helps in resetting passwords in devices where the owner forgot the password but also in replacing a weak password with a strong one. This action helps organizations enforce a strong password habit in an organization.
Conclusion
Managing your frontline workforce is not an easy task, but with the right devices and management tools, you can increase the productivity of your frontline workers. Most frontline workforces might be in a different location to that of the IT staff, so having a remote monitoring and management tool is absolutely necessary to manage these employees.
Sign up for a free trial
Sign up for a free trial and explore Hexnode's collection of remote actions.
Sign up