Let me take you back to a primitive office, one set in the early days when information technology was still a newborn. Like any office, you can find an IT admin here. A person who manually configures each device and needs to attend to each and every person reaching out to him. If you are an introvert, being that IT admin would indeed be the last thing you want. His role doesn't end with device configuration; it goes a long way from troubleshooting device issues and application management to even more complicated ones like ensuring that corporate resources are accessed by authorized users alone.
Back then, all our processes were time-consuming. Though we always had the same 24hrs earlier, it was as if our whole life revolved around a few tasks like these. But with technological advancements, we have all realized that only by automation and other smart methodologies to reduce its duration will we have enough time to spend on more important things that require our attention. Why spend hours and hours on a task when you can finish it in an hour or less. With tools like remote desktop management solutions, this actually began making sense.
What is a remote desktop management solution?
Remote desktop software lets you connect to, interact with or control a computer located anywhere in the world from the location of your choice.
Unlike screen sharing software that lets you share your screen for specific purposes like video conferencing or presentations, remote desktop software differs in that it is helpful for secure remote access along with many similar functions. It also helps you to configure devices, troubleshoot them and even access these computers outside the office in case of necessity.

Benefits for enterprises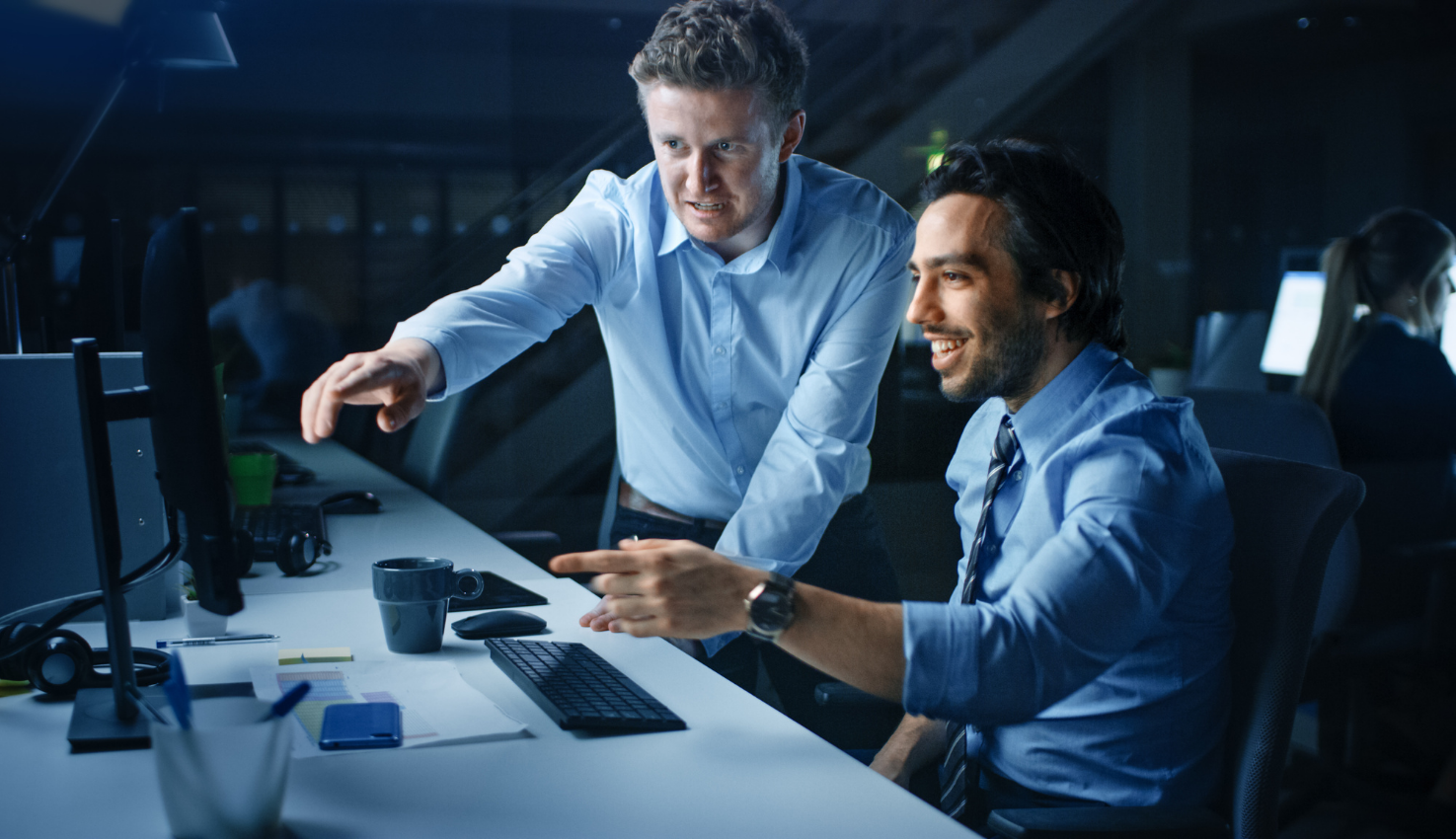 Remote desktop solutions offer a lot of benefits for enterprises
With Remote desktop management solutions, enterprises have witnessed improvements in several areas. Accessing devices from anywhere at any time has become a reality now. Even though remote desktop management software wasn't a new term in the tech world, it was during the pandemic that its popularity increased many folds. According to reports,
It has eliminated many time-consuming processes involving manual device troubleshooting, pushing configurations etc. Some of these benefits include:
Promotes remote working
We have learned a lot from the pandemic. One of the key takeaways being that remote work is here to stay and that we should become accustomed to it. With remote management software, IT can easily ensure that the employees remain productive and efficient irrespective of where they are working.
Improved productivity
With remote desktop management, you can save time by automating simple tasks like configuring end devices and pushing configurations remotely. Further, with device troubleshooting, much of IT admins' time is saved as they don't need to be physically present with the device to solve these issues.
Improves security
With tools like remote desktop management solutions, the most time-consuming tasks can now be completed in much less time. But another factor that can never be compromised in the process is security. Most remote desktop management solutions have built-in security features. Being equipped with the best security practices, all connections remain secure. Also, with efficient monitoring and reporting features, you can ensure that your network remains secure.
Enhanced teamwork
Team environments often require sharing information in real-time. With integrations with Active directory and similar tools, sharing different data types is easier, further simplifying the whole process.
Increases value
You can save a significant amount of your time with remote management software. This means you can focus on tasks of a higher priority, thus resulting in a more productive and valuable team.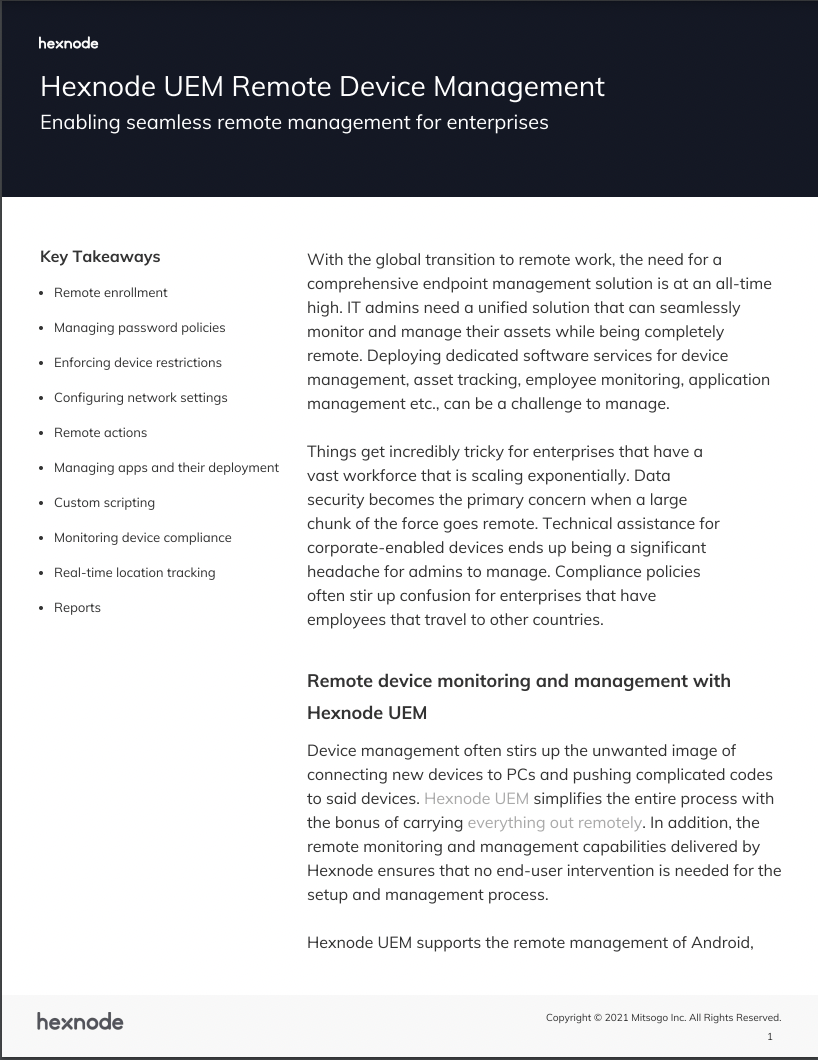 Featured resource
Hexnode UEM Remote Device Management
With remote work, endpoint management solutions have become a necessity for enterprises. Get started with Hexnode and know how to securely manage all your remote teams.

Download Datasheet
Features to look for in a good remote desktop management solution
A remote desktop management software, as the name suggests, should have the capability to manage devices from anywhere or from the location of your choice. But is that all? Let's have a look at some of the features that give remote desktop management solutions the 'good' attribute.
Ability to manage a wide range of remote connection technologies and protocols
It's easier for the IT admins if it's possible for them to manage most of the tools they work with from a single pane. With this, the time spent switching between applications can be significantly reduced.
Secure storage of passwords and other sensitive information
Sysadmins often have many credentials to manage. All this sensitive information needs to be stored securely. Sometimes this sensitive data is stored in multiple platforms like spreadsheets or password managers, going against security and compliance best practices. It's often recommended to have a solution with a centralized vault that makes securing sensitive data easier.
Task automation with scripts
Most of an IT admins' daily task involves repetitive tasks like remotely pushing configurations, fetching device information etc. With scripting admins can easily save much time and effort by remotely executing these commands.
Manage roles, permissions, and user security rights
Another important criterion is the role-based access control aspect. This feature helps administrators separate duties and ensure that only users have access to data they are required to have access to. This helps strengthen security of data as well as compliance. With the right solution administrators will be able to manage users by setting rights to users as per the requirement.
Integrations
Completely migrating users from directories like SCCM or active directory is indeed going to be a difficult task. So going by the more feasible option, it's often recommended to choose a software that supports integrations, rather than going through the rather impossible task of user migration and other subsequent steps.
Some general features that need to be considered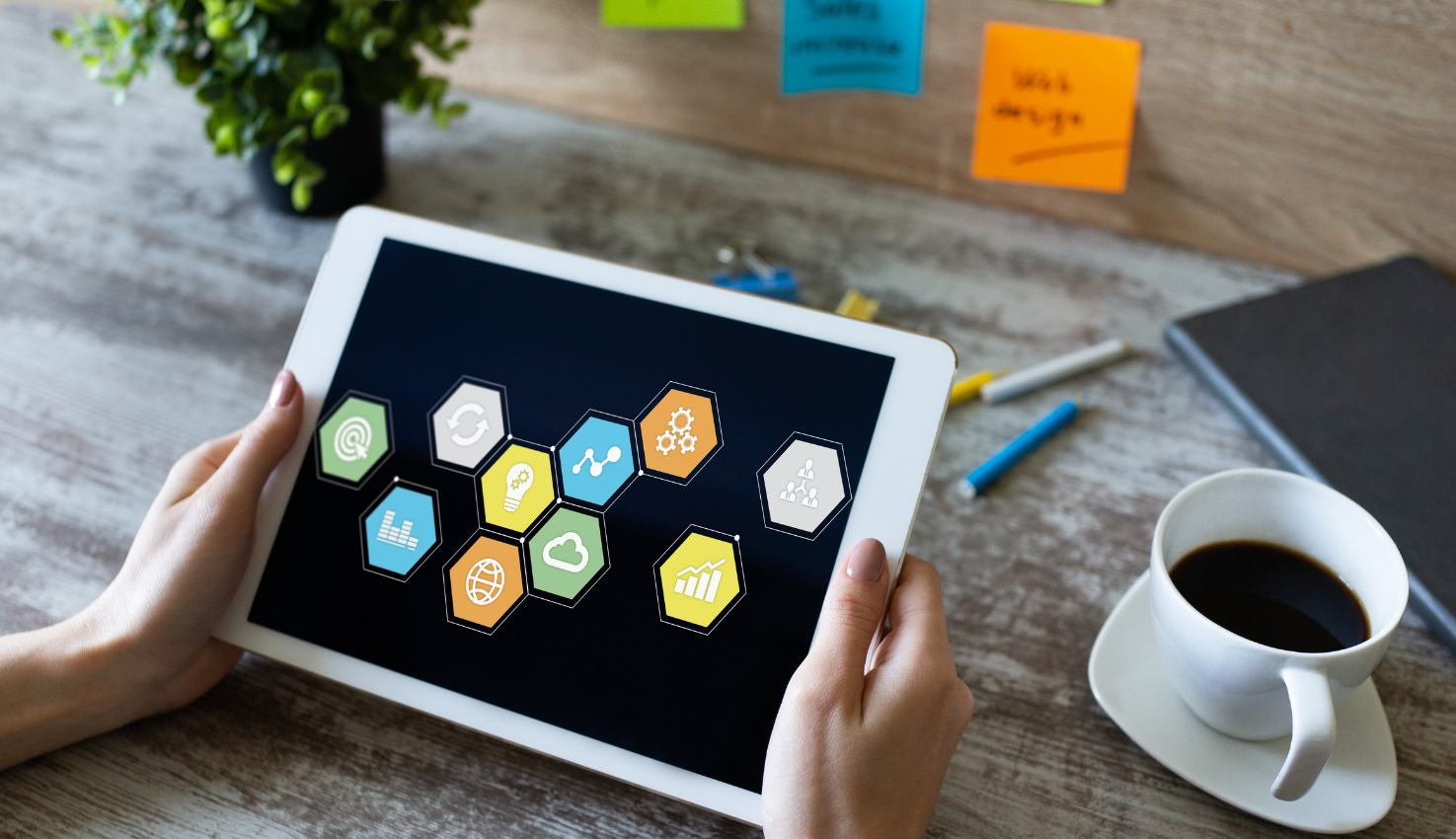 A good solution should also be qualified enough in a lot of general factors
In addition to the above features, some other essential aspects need equal attention. Some of these features include:
Usability
Irrespective of its purpose, a quality that is a must for any software is its ease of use. Even if the software is packed with useful features, we won't choose it if its interface is not user friendly. A simpler interface makes it easier to understand things and also makes the whole learning process a lot easier.
Functionality
The solution should have all the essential features that you need for your purpose. In addition, some of the required features like remote file management, greater file transfer speed and compatibility with several operating systems are worth looking out for.
Security
Security should always be at the top when choosing any product. Without a secure means to access data you are putting your company information at significant risk. And this is totally unacceptable for any organization, big or small, as it often involves a huge amount of data requiring complete protection.
Support
All software implementations involve an initial learning phase. Even if this curve is low, it often requires some help and guidance. A support team that's always there to help you can eliminate all hurdles as and when they appear, making the whole process a lot smoother.
How does Hexnode help with remote desktop management?
Technology is changing rapidly. A lot of new device types are emerging now and then. However, when we take a closer look at the enterprises, only a few elements have remained unchanged. And desktops belong under that special category. Some of Hexnode's remote desktop management features are listed below:
App management
Most of the work you do can most often be completed with the help of a few applications. But even then, it's imperative to have a proper app management framework. Sometimes, an unwanted application is all it takes to expose the device to malicious actors. So this makes application management even more necessary. With Hexnode, you can easily manage all your applications, enforce required apps or block unnecessary ones. You can also create custom app logs or apply custom app configs as per your requirement.
Modern desktop management for driving digital transformation
Security
The need for security in enterprises needs no special emphasis. However, the pandemic and the switch to remote work and the increasing security incidents have forced us to put security at the top of our priority list. You can completely secure your organization with Hexnode and its features like multi-factor authentication and work container segregating personal and work data. Further, you can define your own rules with customizable compliance options and be alerted when your device goes out of compliance.
Remote access and troubleshooting
Hexnode's remote view enables administrators to remotely view user actions on devices managed by the organization from their own devices. It gives the admin a real-time account of issues and helps them in giving timely support to the user. Furthermore, a provision for monitoring user actions helps in easier decision making and helps in taking remedial measures in case of any unexpected flaw at the user end.
MDM remote access: The essential tool for real-time troubleshooting
Conclusion
In this fast-paced world, implementing time-saving options has become the need of the hour. A remote desktop management tool is one such tool capable of simplifying a lot of time-consuming processes. With Hexnode's remote desktop management feature, the effort is further reduced. Its features like remote view and control, remote device configurations and troubleshooting and many more make the whole process easier. Moreover, with Hexnode by the side, you can manage all your desktops remotely while ensuring that the process is secure and efficient.
Struggling with desktop management?
Sign up for a 14-day free trial and explore Hexnode UEM's device management capabilities.
SIGN UP NOW!