Until recent years, Apple TVs were not extremely widespread in office settings. The major reasons for this were that managing Apple TVs was difficult a few years ago, and there weren't many uses for Apple TVs in enterprises.
With the addition of new management features and other applications that are useful in corporate settings, Apple TVs found their way into conference rooms and educational institutions.
Explore Apple TV management features with Hexnode
Why is there a necessity for Apple TV management solutions?
With the fourth-generation Apple TV and tvOS 10.2, Apple added tons of management features. This contributed to the increased use of Apple TVs in offices and educational institutions.
Apple TV management is currently a huge deal because of its widespread use in conference rooms, classrooms, businesses, and many other industries. Particularly with larger organizations that employ a large number of Apple TVs.
You can set up conference room screens, push apps, set up security settings, and much more with the right Apple TV management solution.
You can manage your Apple TVs efficiently and effectively with the help of a solid device management solution. A lot is possible with a good device management solution, from distributing configuration profiles and changing other settings to remote monitoring and device health tracking.
Top Apple TV MDMs
With the rising need for Apple TV management, a lot of leading MDM providers began to support Apple TVs. Let us have a look at some of the leading Apple TV management solutions available.
Jamf
Jamf is a complete enterprise management solution for Apple TVs that offers a wide range of management features for Apple TV. With their elaborate training videos and live phone support, Jamf proves why they have been a leader in device management for a long time.
Pros of Jamf:
Easy device enrollment with both Automated Device Enrollment and Apple Configurator 2 enrollment.
AirPlay permission and settings are configurable with Jamf and you can easily set up conference room displays.
With Jamf you can deploy configuration profiles to your Apple TVs.
In-house app deployment is also possible through Jamf.
Jamf provides Single App lockdown feature for Apple TVs.
Jamf also provides its users with a lot of remote management actions to control their Apple TVs like restart and data wipe.
Cons of Jamf
A very sophisticated setup procedure might confuse the user.
The UI is slightly outdated.
With Jamf, it is very difficult to distribute VPP licenses to Apple TVs.
App management features for Apple TV other than distribution of in-house apps are not solid.
Mosyle Manager
Initially designed as an iPad management solution, Mosyle Manager evolved into a one-stop shop for Apple device management exclusively for K-12. Even though a bit new to the device management field, Mosyle Manager is revolutionizing Apple device management in the educational sector.
Pros of Mosyle Manager
You can enroll your Apple TVs easily using Apple School Manager.
VPP license distribution is easily possible through Mosyle Manager.
Deployment of both store apps and in-house apps is possible.
Setting up a conference room display is very easy with Mosyle Manager.
Configure AirPlay settings over the air using Mosyle Manager.
Cons of Mosyle Manager
Exclusive for K-12.
Distribution of configuration profiles is a bit tricky for Apple TVs.
Single App kiosk lockdown is not possible.
Very few remote management actions are available for Apple TVs compared to other Apple TV MDMs.
Simple MDM
Simple MDM is also an Apple-exclusive MDM that provides an abundance of management features for mainly Macs, iPhones, iPads, and Apple TVs. Just like Mosyle Manager, Simple MDM was also first launched in the early 2010s. As the name suggests, Simple MDM was launched with the aim to simplify device management.
Pros of Simple MDM
Easy device enrollment with both Automated Device Enrollment and Apple Configurator 2 enrollment.
Distribute VPP licenses and also in-house apps through Simple MDM.
Enforce app-level restrictions using Simple MDM.
Remote management actions like device restart, data wipe and much more are possible through Simple MDM.
Push OS updates to your older Apple TVs.
Deploy configuration profiles to Apple TVs.
Cons of Simple MDM
Although you can lockdown your Apple TVs into single app modes, the process of doing it is a bit difficult.
Configuration of AirPlay settings is not seamless with Simple MDM.
Setting up your Apple TV as a conference room display is not that simple with Simple MDM.
ManageEngine
ManageEngine Endpoint Central is a UEM solution that sums up all departments of endpoint management. ManageEngine Endpoint Central offers both cloud-based as well as on-premise solutions for your endpoint and security management needs.
Pros of ManageEngine
ManageEngine offers simplified enrollment using Automated Device Enrollment program as well as Apple Configurator 2 enrollment.
You can easily configure basic features like remote lockdown and single app mode on your Apple TVs using ManageEngine
Deploy configuration profiles to your Apple TVs using ManageEngine.
App deployment for Apple TV is available for ManageEngine users.
Cons of ManageEngine
AirPlay configuration is difficult using ManageEngine.
It is really hard to configure your Apple TVs into conference room displays.
App management features are limited for Apple TV.
VPP license distribution is difficult with ManageEngine.
Matrix42
Matrix was founded in 1992 and it offers multiple solutions, Unified Endpoint Management is one of those features. Matrix42's UEM solution aims at simplifying automation in device management without compromising security.
Pros of Matrix42
Matrix42 offers both automated as well as on-premise enrollments using Automated Device Enrollment and Apple
Configurator 2 respectively.
Configure restrictions on your Apple TV devices like restricting device pairing, device sleep, and so on.
Matrix42 lets users deploy configuration profiles to their Apple TVs.
Manage OS updates on your Apple TVs easily with Matrix42.
Remote actions like remote restart and device rename are available using Matrix42.
Cons of Matrix42
Airplay configuration is not easy with Matrix42.
Setting up Apple TVs as conference room displays is also not easy with Matrix42.
With Matrix42, locking down your Apple TVs into single app modes is also very difficult.
App management for Apple TVs is a department where Matrix42 has to improve a lot.
Hexnode is a UEM solution offered by Mitsogo Inc, an IT-based company based in San Francisco, California. Hexnode has received a lot of recognition and awards for being a forerunner in mobility management.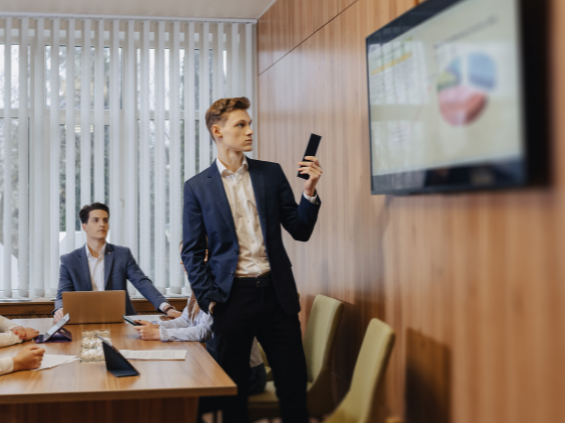 Featured resource
Transforming Businesses with Hexnode's Apple TV Device Management
Check out how Hexnode UEM provides the proper configurations and security policies to effectively manage these turnkey conference and classroom devices.
Download Whitepaper
Hexnode offers plenty of features for Apple TV management and thereby simplifies deployment and configuration of Apple TVs in enterprise setups.
Pros of Hexnode
Cons of Hexnode
Even though Hexnode has exclusive app management features for Apple TVs, the distribution of VPP licenses can occasionally be somewhat puzzling.
Hexnode does not support the configuration of TV remote settings.
In conclusion,
Choosing an MDM for Apple TV management is a challenging task since there are a lot of new and good Apple TV MDM solutions out there. And the introduction of tvOS 10.2 did not make this any easier. This article will help you in selecting the best Apple TV MDM for your enterprise.
Sign up for a free trial
Sign up for a free trial and try out Hexnode's Apple TV management features.
Sign up
Disclaimer
All product and company names are trademarks™ or registered® trademarks of their respective holders. Use of them does not imply any affiliation with or endorsement by them.