Our workspaces are changing day by day. It has parted ways with the age-old phenomenon of enterprises being restricted to a device type or two. Our present-day enterprises are open to changes and have begun accommodating new device platforms as and when they appear. Despite this huge shift, there is something that has still remained unaffected in our enterprise- the prevalence of Windows devices.
So even though we hear a lot of terms like MDM, EMM and UEM, what hasn't changed is the requirement we all look for in solutions – their capability to manage Windows devices efficiently.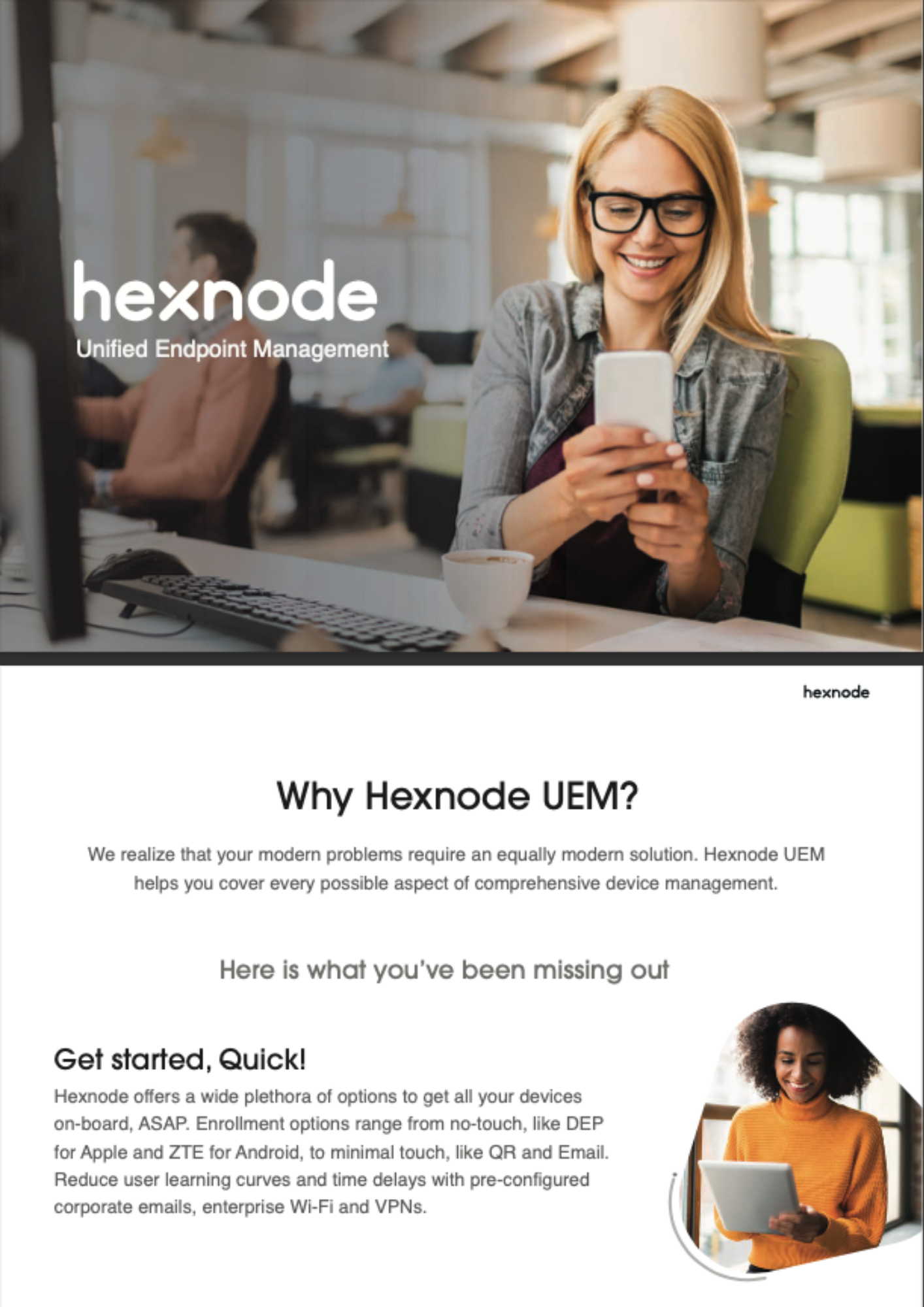 Featured resource
Why Hexnode UEM
We realize that your modern problems require an equally modern solution. Refer to the brochure to know more about UEM features and why UEM implementation may be the best thing to do right now!
Download Brochure
Top 10 Windows management solutions
Given below is a list of the top 10 Windows management solutions that make it easier to manage your enterprise Windows devices.
1. Hexnode

Hexnode UEM is a Unified Endpoint Management (UEM) solution from the San Francisco-based IT company Mitsogo Inc. It has bagged much recognition recently; some of these being, awarded the TECH CARES Award from Trust Radius, Expert's Choice Award in the MDM category by Finances online, mentioned as a noteworthy vendor in the Magic Quadrant for Unified Endpoint Management tools report, 2021 and more.

Further, it has also been recognized as the key innovator in the MarketsandMarkets global forecast (2018 – 2023) report for the MDM market and was included by Forrester as a mobility specialist in the Now Tech: Unified Endpoint Management, Q2 2021 report, and as a vendor to watch by KuppingerCole Leadership compass.

Hexnode offers features for Windows management, making it easier to manage the entire device lifecycle from its deployment to decommissioning. For example, it offers flexible enrollment methods allowing you to choose the one best suited for your use case. You can also simplify policy management by segregating devices based on BYOD or corporate, making it even easier to manage devices. Additionally, you can extend your management capabilities to include broader aspects ranging from user enrollment and security management to advanced functionalities like kiosk and co-management, all under a single pane at an affordable price.

Pricing: Starts at $1.08/device/month
2. LogMeIn Central

LogMeIn Central is a cloud-based remote monitoring and management solution that makes things easier for IT professionals by letting them monitor, manage, and secure their endpoint infrastructure without many hurdles. With this, you can easily manage your devices whether or not they are confined within well-defined spaces. It offers organizations speed, flexibility, and insights needed to increase productivity, reduce IT costs and mitigate risks. Another notable aspect is its ease of maintenance, and automated patching, making management much easier.

Pricing: Starts at $80/month
3. ManageEngine Desktop Central

ManageEngine Desktop Central is a Unified Endpoint Management (UEM) solution that centralizes the management of all your servers, desktops, laptops, smartphones, tablets, and POS devices. With automation, you can easily automate your routine tasks like installing patches, distributing software, imaging and deploying OS, managing your IT assets, and much more. It extends its support to Windows, Mac, and Linux operating systems. It also extends its support to mobile devices, helping them manage the iOS and Android devices in the enterprise considering the aspects like security, app and profile management, audits and reports among others.

Pricing: Starts at $795/year
4. Microsoft Endpoint Manager
Microsoft Endpoint Manager (MEM) is a Unified Endpoint Management solution combining the capabilities of former Microsoft System Center Configuration Manager (SCCM) or ConfigMgr with the mobile device management solution Microsoft Intune. It supports multiple platforms, including iOS, Android, Windows, and macOS, within a single solution. It also extends further, enabling endpoint protection from malware and other vulnerabilities.
Pricing: Starts at $10.6 per user per month
5. N-central
N-central is an all-in-one RMM platform that helps MSPs and IT professionals control, manage, and secure complex environments. Being a tool built with security in mind, N-central provides the visibility and efficiency you need to monitor your devices, provide excellent customer service and scale your business. By supporting Windows, Linux and macOS, it's easier for enterprises to monitor most device types. With N-central, you can proactively monitor everything on a customer network, including servers and workstations and even troubleshoot them. With features like MFA, antivirus and integrated endpoint detection, disk encryption etc., you can ensure that security is always given top priority. Further, with the ability to automate tasks, it's easier to customize policies based on requirements like customers, device type etc., thus simplifying a lot of tasks.
Pricing: Quote based
6. NinjaOne

NinjaOne, formerly NinjaRMM, offers IT management products that monitor, remediate, and enable MSPs and IT professionals to make business easier. Built with the aim of delivering a modern IT management experience; it mainly focuses on lowering the cost of onboarding users while maximizing the automation processes. It also offers many integrations like remote access, endpoint security, backup, and a lot more that make it easier to solve IT issues.

Pricing: Quote based
7. Citrix Endpoint Management
Citrix Endpoint Management unifies every app and endpoint into a unified view to deliver the much-needed digital workspace for a productive workforce. In addition, it extends its support to all your device platforms, including desktops, laptops, tablets, smartphones and IoT devices. With Citrix, you can simplify IT with Unified Endpoint Management (UEM), create a workspace experience that's simple, secure and easy to manage and also boost your Microsoft Endpoint Manager capabilities.
Pricing: Starts at $3 or $4 per device per month

8. Miradore
Miradore is a cloud-based UEM solution that simplifies the management of smartphones, tablets, laptops and desktops. It supports the management of devices running Windows 10 or 11 and 64-bit version of Windows 7/8. It supports versions of Windows 7 SPI and above and Windows 8.1 or newer. With two management modes, light and full, it offers management either through Miradore Client Software or a combination of both Miradore Client Software and MDM work account. Miradore offers features that cover aspects dealing with security, patch management, configurations, app management, automation etc.
Pricing: Offers a free plan and premium plan starts at $2/device/month
9. Workspace ONE
Workspace ONE, acquired by Air watch, is a Unified Endpoint Management (UEM) solution that hardens security, automates IT operations, and delivers a ready-to-work experience across Windows devices irrespective of the network it is connecting to. Its fairly intuitive interface makes deployment across the enterprises easier. Another highlight is its granular nature offering a range of customizations. It is available in standard, advanced and enterprise editions.
Pricing: Starts at $1.66/device
10. Scalefusion
Scalefusion is a Mobile device and Endpoint management software helping businesses secure their smartphones, tablets, laptops, rugged devices, point of sale (POS) and digital signages. It supports a wide range of operating systems, including Android, iOS, macOS and Windows 10 devices. It also extends support for dedicated devices, COPE (Corporate-owned Personally Enabled), and BYOD (Bring Your Own Device). It provides essential features to provision, secure and monitor your Windows 10 devices. Its diverse management modes make it easier to have granular control over the device. The intuitive interface and workflow are two of its major highlights.
Pricing: Starts at $2/device/month
Conclusion
Windows devices have undergone significant changes. We have seen them evolve into the present form prevalent in our enterprises. But, though it has changed, they have never been significant enough in creating the bifurcation essential for creating a new device platform. These cues are clear indications that the Windows devices are here to stay. And this indirectly indicates the need for securing these long-lasting endpoints, necessitating Windows management. Unfortunately, with many Windows management solutions available, it's often difficult to filter out the best solution for your enterprise use case. And I hope this process has now become much easier for you.
Disclaimer
All product and company names are trademarks™ or registered® trademarks of their respective holders. Use of them does not imply any affiliation with or endorsement by them.

Struggling to manage Windows devices?
Sign up for a 14-day free trial and explore Hexnode UEM's device management capabilities.
SIGN UP NOW!