Kiosks have more or less monopolized the storefront retail sector. From signboards and digital signage displays to self-checkout and other self-service kiosks, we have all benefited from its services as well. Locking down corporate devices into dedicated systems has shown tremendous promise. And many organizations have successfully harnessed this power of the kiosks to decrease risks and limit distractions, to increase productivity and device safety. So, it is hardly surprising that kiosk management software are in high demand. But with all the different vendors out there, how do you find the best fit for your business?

Click to explore the kiosk management features

The ideal way would be to get familiar with all the options out there, which may not necessarily be the most feasible. And the optimal option would be to refer to a list of best kiosks to get a sneak peek at all of your options. So here is a comprehensive list of the top ten kiosk management solutions for everyone looking for the perfect kiosk.
Top 10 kiosk management software
Hexnode
Platforms supported: Android, iOS, tvOS and Windows
Hexnode being primarily a UEM solution, is capable of overseeing the device from onboarding to eventual removal from the system and everything in between. The kiosk software supports Digital Signage Display, Custom branding as well as Autonomous single app mode (in the case of iOS devices) in addition to the normal single app, multi-app and website lockdown settings. Additionally, the customizable kiosk allows network and homepage configuration as well as location monitoring, dynamic group allocation, compliance checks and scheduling device scans.
Pros: A cost-effective kiosk solution with good management capabilities
Cons: Being a UEM solution, it can't be used as a kiosk software with other MDMs.
Free Trial: Available (14 days)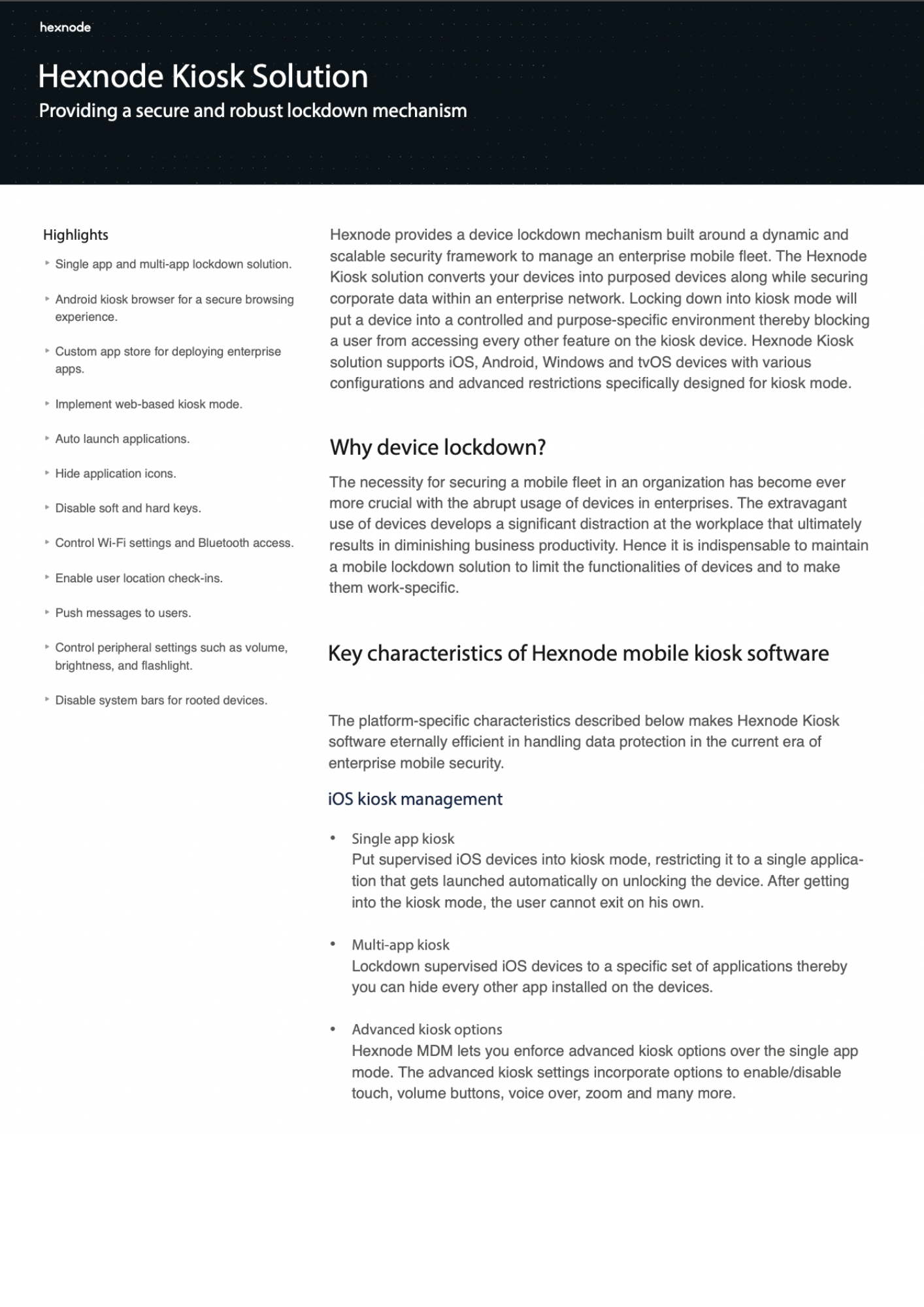 Featured Resource
Hexnode Kiosk Solution
A secure environment is indispensable for the functioning of Enterprises and kiosk solutions are the best tools for this purpose. Download the datasheet and get to know more about Hexnode's Kiosk Solution.
Download Datasheet
Esper
Platforms supported: Android
An end-to-end cloud-based kiosk solution that helps businesses deploy, secure and manage applications on Android devices, Esper offers remote control for debugging and diagnostics. With the help of advanced monitoring tools, they provide visibility into hardware, firmware and applications. It also detects battery, connectivity, and status failures using intelligent monitoring alerts. Esper is also capable of streamlining the single-purpose Android enterprise device lifecycle, including kiosks, tablets, smartphones, single-board computers (SBCs) and non-standard Android hardware.
Pros: Easy deployment and configuration
Cons: Lacks multi-platform support
Free Trial: Demo available.
KioWare
Platforms supported: Android and Windows
Fully customizable kiosk software which monitors the device health and notifies the users about potential security risks and incidents. It works by wrapping around the browser-based applications and securing the OS, thus limiting user access to specific applications. Ensuring device security with lockdown mechanisms, KioWare offers both on-premise and off-premise versions of the software. They also help secure the apps and the devices for industries large and small, including retail, libraries, healthcare, banks, and hospitality.
Pros: Feature-rich management (and kiosk) software.
Cons: Setup and configuration is relatively difficult, doesn't support iOS.
Free Trial: Free demo is available
Miradore
Platforms supported: iOS and Android
A simple yet powerful cloud-based Mobile Device Management platform that secures and manages company-owned and personal devices, Miradore's kiosk is easy to set up and use. The kiosk helps ward-off distracting applications thus leaving more room for productivity. Coupled with the device management capabilities, it improves safety by enforcing passwords and encryptions as well as initiating device lock and wipe if needed. It is simple, easily scalable and helps to stay up to date with the fleet.
Pros: Easy to set up and use. Easily scalable.
Cons: The web API can be a little restrictive.
Free Trial: Free version available
ManageEngine Device Manager Plus
Platforms supported: Android, iOS, tvOS, Windows and Chrome OS
Yet another kiosk management software, ManageEngine's Mobile Device Manager Plus improves employee productivity. It is backed up by strong management capabilities as a mobility solution, ensuring enterprise security. Furthermore,Serving both On-premise and SaaS versions of the product, the EMM platform makes it a good option. Additionally, It offers a plethora of other products from the parent company, providing a single solution for all device and network management needs.
Pros: The wide range of other products offered by ManageEngine and their seamless co-existence.
Cons: The user interface and documentation could use some work.
Free Trial: Available
Download the infographic on kiosk mode
NoviSign
Platforms supported: Android, ChromeOS, Windows, Samsung Tizen and LG webOS
A cloud-based solution that helps to manage and broadcast content across kiosk devices in multiple locations over the air. The reliable and easy-to-use software also includes a dashboard that allows real-time monitoring for easy device tracking and their screens. Additionally, NoviSign allows firms to download reports on device health and user activities as well as download content from a centralized database. The kiosk software also supports functionalities like a virtual queue, website integration, interactive polls and more.
Pros: Cost-effective, scalable, reliable, easy to use, supports Onsite printing.
Cons: Does not support iOS
Free Trial: Available (30 days)
Epos Now
Platforms Supported: Windows, Mac, Android, and iPad
A cloud-based Retail Management solution that includes electronic scale integration, barcode and credit card scanners, a staff time clock, age verification, and the ability to discount items or void transactions. The solution not only makes the most out of the kiosk management but also offers integrated inventory management, customer management, and retail accounting to provide a complete retail experience for the retailers.
Pros: Perfect for retailers as it comes with all the required functionalities in a single package
Cons: Being a retail management solution it is not preferred for a more general requirement
Free Trial: Available (30 days)
Scalefusion
Platforms supported: iOS, Android, and Windows
Another cloud-based kiosk software backed by Management functionalities, Scalefusion allows the IT admin to lock down any devices, preventing unauthorized access and limiting excess data costs. The software locks down iOS, Android and Windows devices to secure them as well as increase productivity by removing distractions from the environment. The solution can be hosted both on-premise and in the cloud and offers a customizable kiosk with room for custom branding options such as restricting hardware keys.
Pros: Customizable kiosk, supports Digital Signage Display.
Cons: The licensing structure is a bit messy and the license numbers can become a bit of a hassle when attempting to add new devices
Free Trial: Available
Clearwave
A cloud-based comprehensive patient engagement platform, and self-service kiosk, that helps track patient visits and capture patient data. Clearwave facilitates real-time patient check-ins as well as appointment scheduling, both online and through a chatbot, directly from the patient portal. This ensures a fast and flexible user experience for the patients who opt for self-service with the kiosk. In addition, Clearwave also offers features such as insurance eligibility and verification checks, custom forms for data capture, claims management, self-service patient check-in, and more.
Pros: Unified solution for patient data monitoring and self-service check-ins.
Cons: Designed specifically for the medical industry and uniquely adapted to its needs and hence not useful for other industries.
Free Trial: Demo available
Codeproof
Platforms supported: Android and iOS
An Enterprise Mobility Management software that offers kiosk management for iOS and Android devices. Codeproof's kiosk management software helps to improve productivity and prevent device misuse, which includes accessing undesirable apps and websites, as well as excessive data usage. In addition, the software also offers facilities such as Digital Signage display and self-service kiosks.
Pros: Simple and robust, with good management features
Cons: Has a slight learning curve
Free Trial: Available
Looking for a kiosk management software?
Start your 14-day free trial to experience the very best of kiosk management with Hexnode.
Sign up now