Every year, technology lovers around the world anticipate Apple's World Wide Developers Conference, or WWDC, as the company unveils plenty of new features. Last year's WWDC also had a few surprises in store. Among other important features, Apple announced the release of Apple Configurator for iPhones.
Now, as any Apple admin would know, Apple Configurator 2 used to be an exclusive Mac app that helped in the deployment and management of Apple devices for businesses and schools. Using Apple Configurator 2, admins could deploy and assign iPhones, iPads, and Apple TVs to users in their organization.
Well, it's not exclusive to the Mac anymore. With the introduction of Apple Configurator for iPhone, it is now possible to add macOS devices to Apple Business Manager (ABM) or Apple School Manager (ASM) to enable Automated Device Enrollment.
Prior to the introduction of this feature, only Macs purchased directly from Apple or their trusted resellers could be added to ASM or ABM. Now, any Macs satisfying the above requirements can be added to ABM or ASM.
Requirements to use Apple Configurator for iPhone
There are certain requirements both the Mac as well as the iPhone used should fulfill so as to take advantage of this new feature introduced by Apple.
The iPhone used should be running on iOS 15 or later.
The Mac to be added to the ASM or ABM should have either a T2 security chip or Apple Silicon chip and should be running on macOS 12 (Monterey) or above.
You must have a Managed Apple ID with at least Device Enrollment Manager Role.
How to add Mac to ASM or ABM using Apple Configurator for iPhone
With the introduction of Apple Configurator for iPhone, onboarding of Macs to ABM and ASM has become a lot more accessible than earlier methods, which required you to buy Macs from Apple authorized resellers. Here is a step-by-step description on how to onboard or assign your Macs into ASM or ABM:
First, install the Apple Configurator app on your iPhone.
Use your Managed Apple ID to log in to the app.
When prompted, grant access to use camera.
Once that is done then go to the app settings and specify how the Mac should connect to the internet. Options available:

Share network: When this option is selected, the Mac will connect to the same Wi-Fi as the iPhone. If you select this option, make sure the iPhone is connected to the correct Wi-Fi network.
Configuration profile: Here, a configuration profile with the Wi-Fi settings can be pushed to the Mac. Once the Mac is switched on, it will connect to the specified network.
You can also use an ethernet cable to connect your mac to the internet.

Once the app is all set, switch on the Mac.
In the initial setup page, choose a language and stop, meanwhile launch the Apple Configurator app on your iPhone.
Hold the phone near the Mac till an assign screen appears on your Mac.
Using the iPhone camera, scan the pattern that appears on the Mac screen. This pairs the Mac device automatically to the ASM or ABM, but if the process fails, use the Pair Manually button in your phone. This prompts a 6-digit code to pop up on the Mac screen. Enter it on the phone app when asked, and this will add the device to the ABM or ASM.
Once the Mac is added to your ABM or ASM portal, the device status will be visible on the app menu at the bottom left corner. The devices added can be assigned to MDMs or UEMs, using the ASM or ABM portal as required which will help organizations manage their devices even easier.
What makes the Apple Configurator for iPhone such a handy tool?
A general question everyone might have is why is this app so useful when there is already a Mac-specific app that does the same job and much more. Well, there are 2 main reasons why you should use this app even if you are using Apple Configurator 2:
The first reason is that this is a completely wireless process. While using Apple Configurator 2, the device that is to be added has to be connected by cable to the Mac you are using the app on. As for this app, all you have to do is scan a code that appears on the Mac's screen and the device will be assigned to ASM or ABM.
The second one is that any Macs, irrespective of where it was purchased from, can be added to ABM or ASM. The fact that all devices can now be added to ABM or ASM is remarkable because not all businesses purchase their Apple equipment via Apple resellers.
One small problem with the app is that it can't be used to create Configuration Profiles. Even though you can't create any configuration profiles using the app as you would do with the Apple Configurator 2 app, you can deploy configuration profiles to Macs. You can save profiles created in another device onto the iPhone and use the Apple Configurator app to push it to Macs.
What happens when a device is assigned?
As soon the device gets added, the configuration profile used is assigned to the device and the device enrollment procedure is initiated on the device. Once the device enrollment is completed, the device settings assigned will be configured as per the instructions on the Configuration Profile pushed.
What if I have a large fleet of Mac devices?
When it comes to advanced mobility management, just using Apple Configurators and Configuration Profiles might not be enough.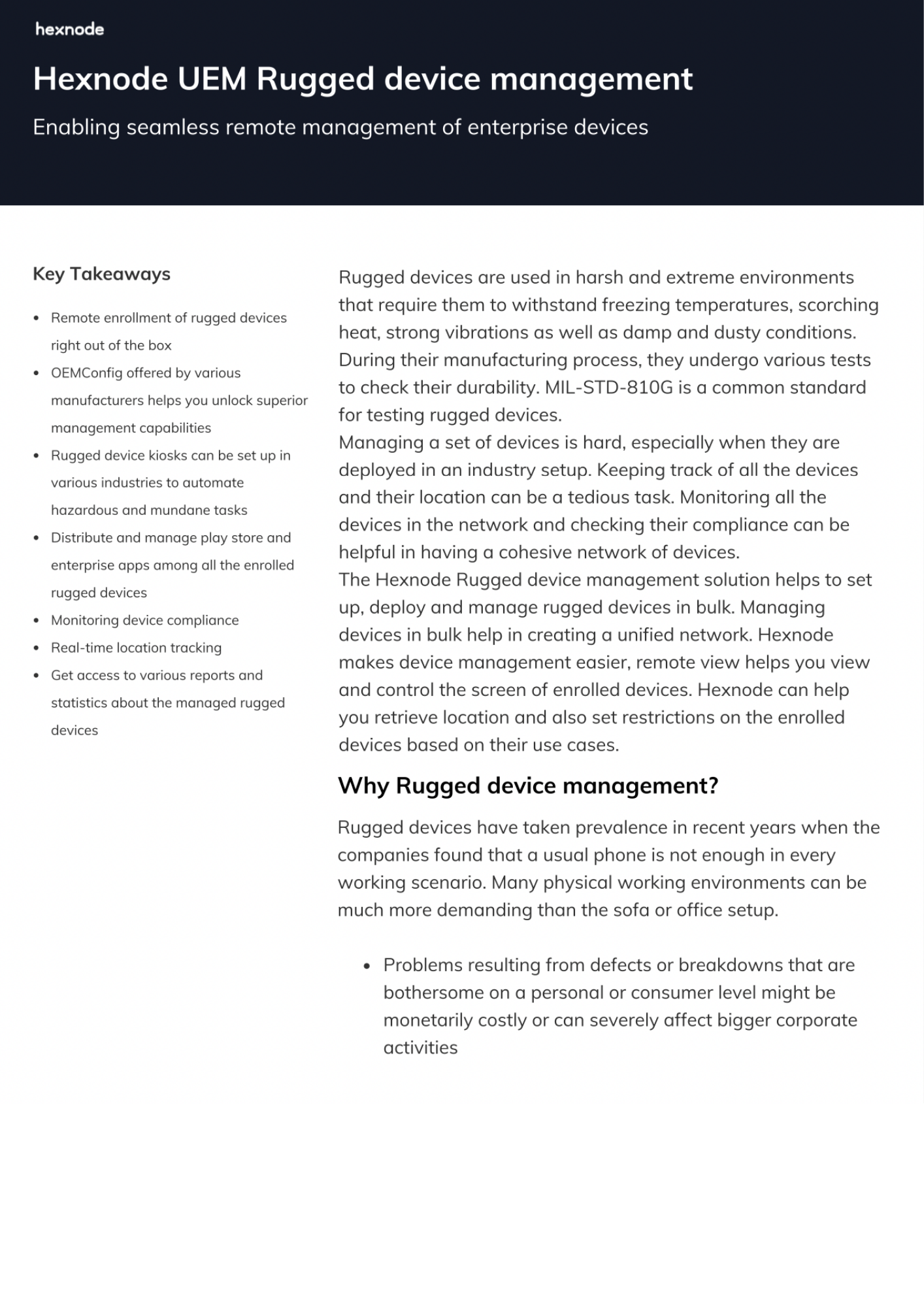 Featured resource
Hexnode Mac Management
Mac devices are dominating in our Enterprises. Despite its benefits, it also has issues that need attention. We need effective management methods to ensure the safety of our corporate and customer data in these devices.
Download datasheet
A mobility management tool like Hexnode is absolutely necessary to manage every aspect of your endpoints. Even though Apple configurator can help you manage Apple devices, a UEM like Hexnode provides a more all-round approach to mobility management.
Apart from device settings, UEMs can also help admins configure other settings, like network settings, security settings and so on. Also, UEMs can manage every device in an organization, whether it is an Apple device or not is not a problem.
Sign up for a free trial
Sign up for a free trial and explore the Mac management capabilities of Hexnode.
Sign up