If you search for software for hospitality industry on Google, you will find almost all results catering to hotels only. But we all know that there is much more to it. Hospitality businesses can highly benefit themselves if they choose the right set of software services. So, before we dive into further details of these software, let's learn a little about the industry itself.
What is the need of software for hospitality industry?
The software requirements of a firm alter over time as technology progresses. The firm needs to keep itself updated with the latest market technology to help provide better service to its clients.
Software for hospitality has a set of features that automates some or all of the labor for a hospitality organization. Using proper Machine Learning and Artificial Intelligence algorithms, companies can automate a task and thus increase revenue. Furthermore, it can help you save money by reducing the workforce and time needed.
Right now, we all are in a data-driven world. Every day, service-oriented firms handle a large amount of data in both physical and non-physical parts of their operations. A software simplifies data collection, analysis, utilization, and sharing. Deriving meaningful insights from this data would help the firm identify and act on the present issues.
These software also help improve efficiency and boost productivity by reducing the probability of human errors and performing the tasks in less time.
Businesses use several endpoints to function correctly. Device management software help to remotely monitor and assist the devices, thus ensuring a smoother performance.
Featured resource
Hexnode for hospitality: Incorporating UEM to secure guest experience
UEM solutions like Hexnode help hotels and resorts manage their technology infrastructure and devices more effectively. Have a look at how Hexnode secures the hospitality industry and ensures compliance with industry regulations and security standards.
Download the whitepaper
Must have software for hospitality businesses
Software help in various areas of a business. So, here we talk about the 5 software that your business must have if it caters to the hospitality industry.
Device management using Hexnode
Managing the corporate device is extremely important. IT admins have to ensure that employees use the device for work-related activities only. Hexnode UEM is the answer to various device management issues that you might come across. It helps organizations: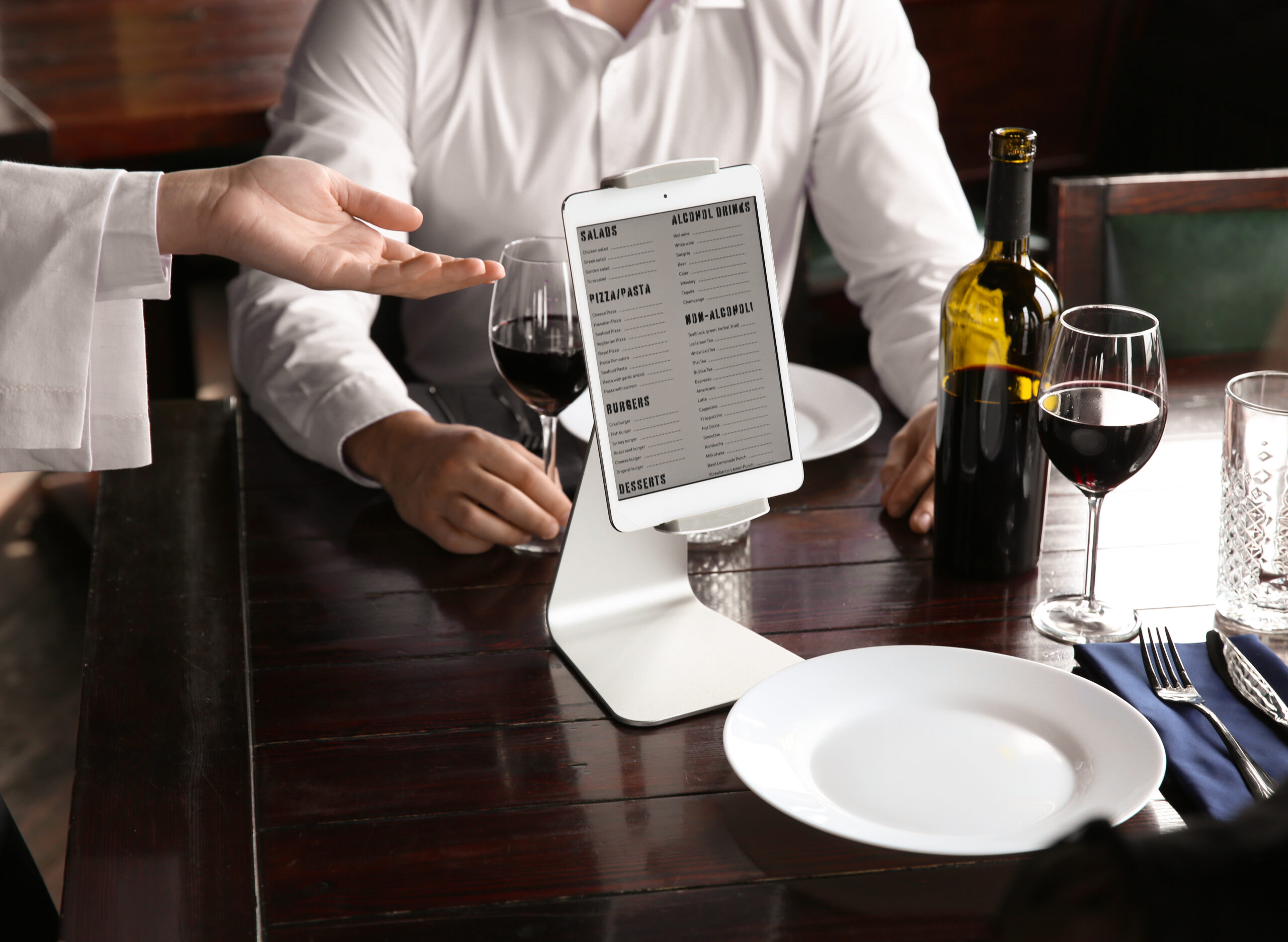 Tablet displaying menu using software for hospitality industry
Explore the various device management features of Hexnode
Project Management using Asana
Proper project management is another essential process to drive outcomes in a business. Asana is a popular project management tool that helps you to:
View the data in real-time and use dashboards to track team and project progress.
Furthermore, it assists you in planning, organizing, and managing your team's work from start to completion.
Asana also serves as a collaboration tool. Using Asana, you can organize team tasks, so everyone understands who is responsible for what.
Revenue Management System (RMS) using Salesforce Revenue Cloud
Revenue management uses statistics on performance data to assist businesses in forecasting the behavior of their clients. The data is then used to make proper pricing and distribution strategy decisions. This strategy allows you to optimize your inventory and maximize your revenues. One of the best RMS in the market is the Salesforce Revenue Cloud.
Firstly, it allows you to manage the entire revenue cycle, provide new purchasing experiences, and unify customer experiences.
Then, it extends beyond the capabilities of the Service Cloud. Revenue Cloud allows you to integrate the customer experience on the Customer 360 Platform.
Connect all touchpoints, from purchasing, paying, and renewing to continuous service. By using an automatic recurring billing system, organizations can increase cash collection.
Furthermore, it allows companies to be flexible regarding purchasing methods, monetization strategies, and continuing modifications.
Customer Relationship Management (CRM) software for lead management using Freshsales
Lead management is the process of moving potential clients through your sales funnel. CRM software helps you to optimize your lead management process and avoid losing potential prospects or clients. Freshsales (by Freshworks), a hospitality management CRM software, is a well-known tool that has helped quite a few businesses.
It enables your sales employees to respond to guest requests as quickly as possible.
Furthermore, combining it with customer support software enables sales and service teams to interact with one another.
Customer Management through personalized and relevant conversations helps improve their experience and earn loyalty. Freshsales offers a holistic view of your guest information in order. This includes their website visits and interactions, chat history, and sales activity undertaken by an employee.
Additionally, it also monitors the KPIs with a modern UI, which helps for better decision-making.
Property Management System (PMS) using Oracle Hospitality OPERA Cloud
A property management system for the hospitality industry is a tool that allows hotels or similar businesses to handle front-office functions such as online booking, guest reservation, order management, controlling room prices, and billing. Oracle Hospitality OPERA Cloud Property Management System (PMS) is a prominent hotel system providing all the tools, services, and connection choices needed to manage and expand a business.
It has a proven track record of hundreds of installations globally. Take on a wide range of activities and responsibilities.
Faster check-in and check-out, improve housekeeping and maintenance management and employ mobile devices to improve guest service anywhere, anytime.
Lastly, it allows to empower employees by letting them to use their devices to ask the chatbot questions about operations data or hotel statistics or to execute duties like check-in and check-out or cleaning room changes.
Conclusion
Software highly benefits the hospitality industry. Choosing the right set of software would help a business in every way. Unlike most other industries, the hospitality industry has to focus on the intangible aspects of running a service. So, it is crucial for businesses to ensure that their operations run smoothly and provide better client satisfaction.
Need to manage your devices?
Try out Hexnode UEM to efficiently monitor and manage your organization's devices.
Start your free trial now