What is SaaS?
SaaS stands for software as a service. It is a cloud-based software delivery model that assists users to implement new software over the cloud to help businesses with their everyday work.
In a SaaS model, the software is outsourced to a third-party vendor who is responsible for all the aspects of the software. This ranges from coding, monitoring, hosting, and updating to security and hardware if required. The shift towards a more cloud-based future was accelerated due to the pandemic.
How does cloud help?
Cloud technology simplifies the process of software deployment and management as the software is hosted on the internet. Of course, a cloud-based strategy is just as vulnerable as using an on-premises solution. Still, what makes it lucrative is that more integrations are readily available through the cloud than their on-premises counterparts.
Cloud is also a relatively cheaper alternative; this can be attributed to the enormous costs a company might incur if they have a native cloud setup. In addition, there is a higher desire to cut overhead and operational complexity, and there is a trend toward operating expenditures rather than capital expenditures. Cloud computing aids these objectives, and for many businesses, migrating to the cloud is the most cost-effective infrastructure alternative.
Security with SaaS
Cloud businesses used to run their own on-premises data centers and housed their whole operating environments on these servers. The whole environment, including the network, apps, and business data, was under the control of security teams.
Post the shift to the cloud, SaaS providers were responsible for the security of the underlying service, and the change to cloud-based apps provided some respite to security personnel.
Keep it lowkey
Cybercriminals prey on the most vulnerable networks. Making your company less appealing to them lessens the likelihood of an attack. Security isn't about striving for perfection; it's about being better than the competition.
Many businesses find that using an outsourced hosting company's software as a Service (SaaS) strategy is the easiest way to keep ahead of hackers. A specialized staff can spot security flaws and prioritize which ones need to be addressed first.
Be more competent
Adopting SaaS is the same as entrusting data to third-party companies. This may appear to be a significant risk, but there are benefits to credible and high-quality SaaS platforms.
The number of potential access points to your company's network grows daily. Employees can enter their employer's protected environment using their mobile phones, tablets, and personal desktop computers under a BYOD (bring your own device) policy. This exposes business systems to various vulnerabilities, external threats, and social engineering attempts.
In such cases, in-house IT systems are not capable enough to tackle sophisticated cyber-attacks at present.
Diversify your resources
Using SaaS services over the cloud means not having to maintain infrastructure or manage software upgrades. Businesses may avoid paying for in-house hardware and software licensing. They also don't require on-site IT personnel to manage and support the app. As a result, small businesses can deploy enterprise-level applications that would otherwise be too expensive. This allows the corporate to divert their resources towards other important business sectors.
Data backups and convenient access
Good SaaS solutions frequently back up customer data. If something occurs to the data on local devices, backup copies are available online anytime and from anywhere. For example, if a corporation is hit by ransomware, it may readily restore data from backups. The SaaS provider handles patches and updates silently in the background.
Fast and scalable
Unlike on-premises apps, which take longer to subscribe to and provision personnel, SaaS applications can be subscribed to and instantly provisioned.
Businesses may pay as they go for a SaaS product, and in most cases, they can handpick the features and only pay for the ones they need. Users may expand storage or other services without investing in hardware or software. In addition, SaaS programs are highly scalable, allowing organizations to add new features and services as they expand.
SaaS best security practices
SaaS apps are still vulnerable to attacks just like any other on-premises solutions, in-addition they live in the cloud which makes them tougher to monitor. Implementing healthy SaaS security practices can help you mitigate risks. They can be broken down into 5 major practices.
Enhanced authentication
Data Encryption
Active monitoring
Network Security
Situational awareness
But the irony about SaaS is that you can use SaaS to protect your SaaS environment. One of the best strategies among them would be to use UEM.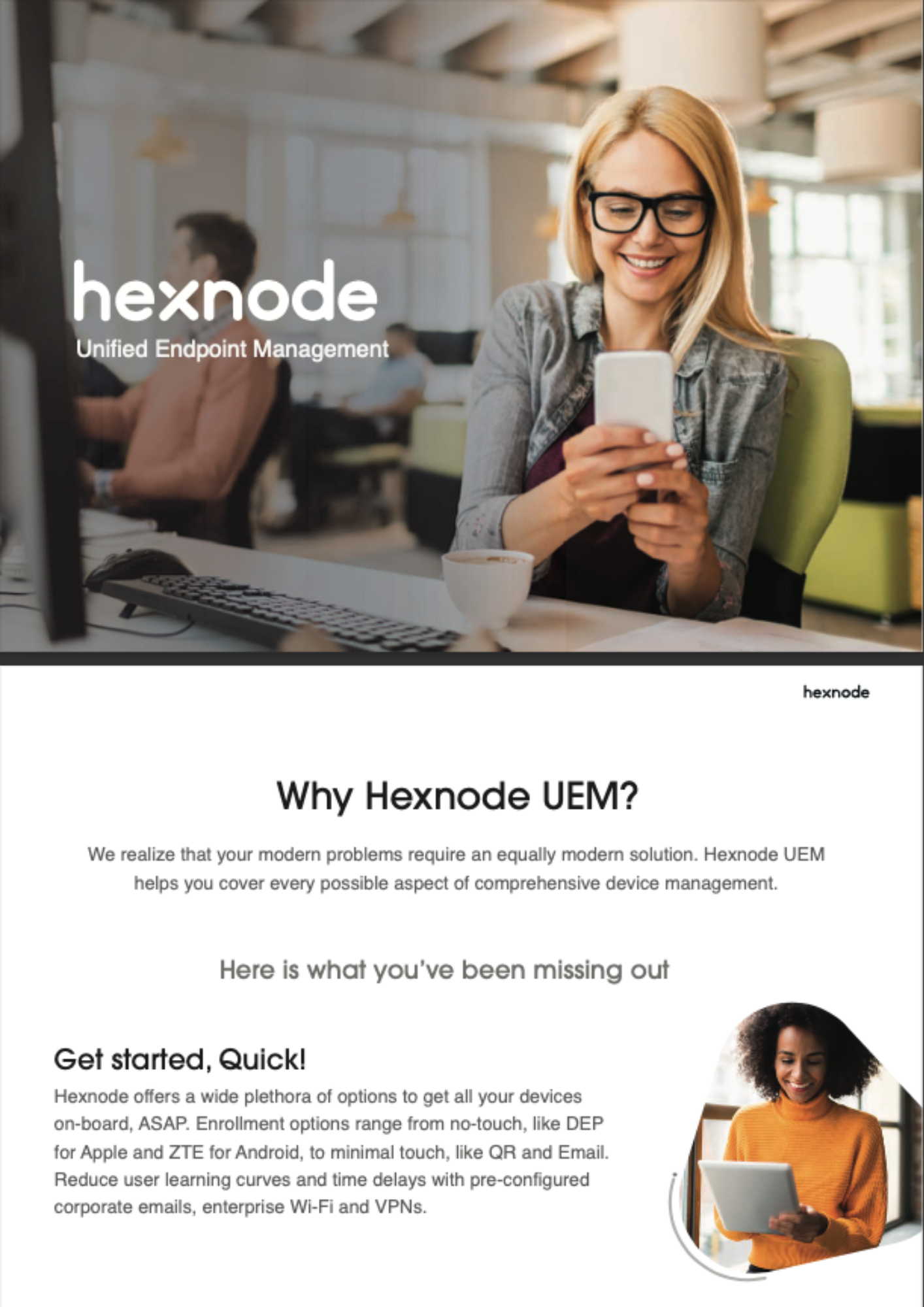 Featured resource
Why Hexnode UEM?
Hexnode UEM helps you cover every possible aspect of comprehensive device management. Refer to the brochure to know more about UEM features and why UEM implementation may be the best thing for you!
Download brochure
Secure SaaS with SaaS
Enhanced authentication
SaaS authentication refers to the protection of applications where providers can opt for various account security measures by deploying strategies like Zero trust, single sign-on, MFA etc. A UEM like Hexnode supports the addition of trusted certificates to the network for authentication. Other features like Single sign-on, Okta, and Azure directory authentication make it a bankable authentication tool.
Data Encryption
Data encryption transforms information into a code that can only be viewed by those with a secret key (also known as a decryption key) or password. In today's business world, encryption is one of the most extensively utilized and successful data protection solutions. Hexnode UEM offers data encryption for managed devices through Filevault and Bitlocker.
An essential part of having a competent security strategy involves monitoring the managed devices. Hexnode UEM's portal has a dashboard with quick information like the number of devices enrolled in the organization, the number of devices without a password, and the number of devices not compliant with organizational policies. The many monitoring features include Location tracking, the breakdown of the platform that the devices belong to among many others.
Network security is part of cybersecurity that deals with accessing and controlling data in corporate networks. Whether it is data in rest, motion, or use, network security is responsible for its safekeeping. Hexnode UEM offers management of Wi-fi, VPN, APN and other services right from the portal. This helps IT gain control over the network that the data flows through.
Situational awareness
Situational awareness is a crucial aspect of securing your data during adversities. With multiple new threats arising each day, it is a likely scenario that a business comes across a threat that has no immediate escape. Therefore, it is essential to have strategies in place to protect the most critical assets during such unforeseen circumstances. Having a UEM gives you deeper insights that help you make informed decisions during unforeseen circumstances.
Try Hexnode UEM