What is MDM?
Mobile Device Management (MDM) is a software that lets organizations set up, monitor and secure mobile devices used for work purposes. An MDM helps protect corporate assets, support BYOD, and provide end-users with safe and easy access to corporate content and resources.
MDMs let the IT team bulk-enroll a whole fleet of devices at once and have them ready for users from the get-go. IT can collect valuable information like device health, activity stats, device location, etc. Additionally, IT can push relevant apps, configurations, and content through the MDM to the target devices.
MDMs provide a simple solution to device security issues. It helps IT protect vulnerable devices by employing various security features that would be discussed at length further along in the article. By selecting the right MDM solution, you can save your IT admin countless work hours.
When you deploy an MDM, you have all the key information on your devices in one place. This helps you break out from fruitless iterations and improve end-user productivity. With a capable MDM, you can set up devices in Kiosk mode, manage apps, locate devices, manage configurations, or even turn your devices into task-specific hardware like an Electronic Logging Devices (ELDs).
How does an MDM function?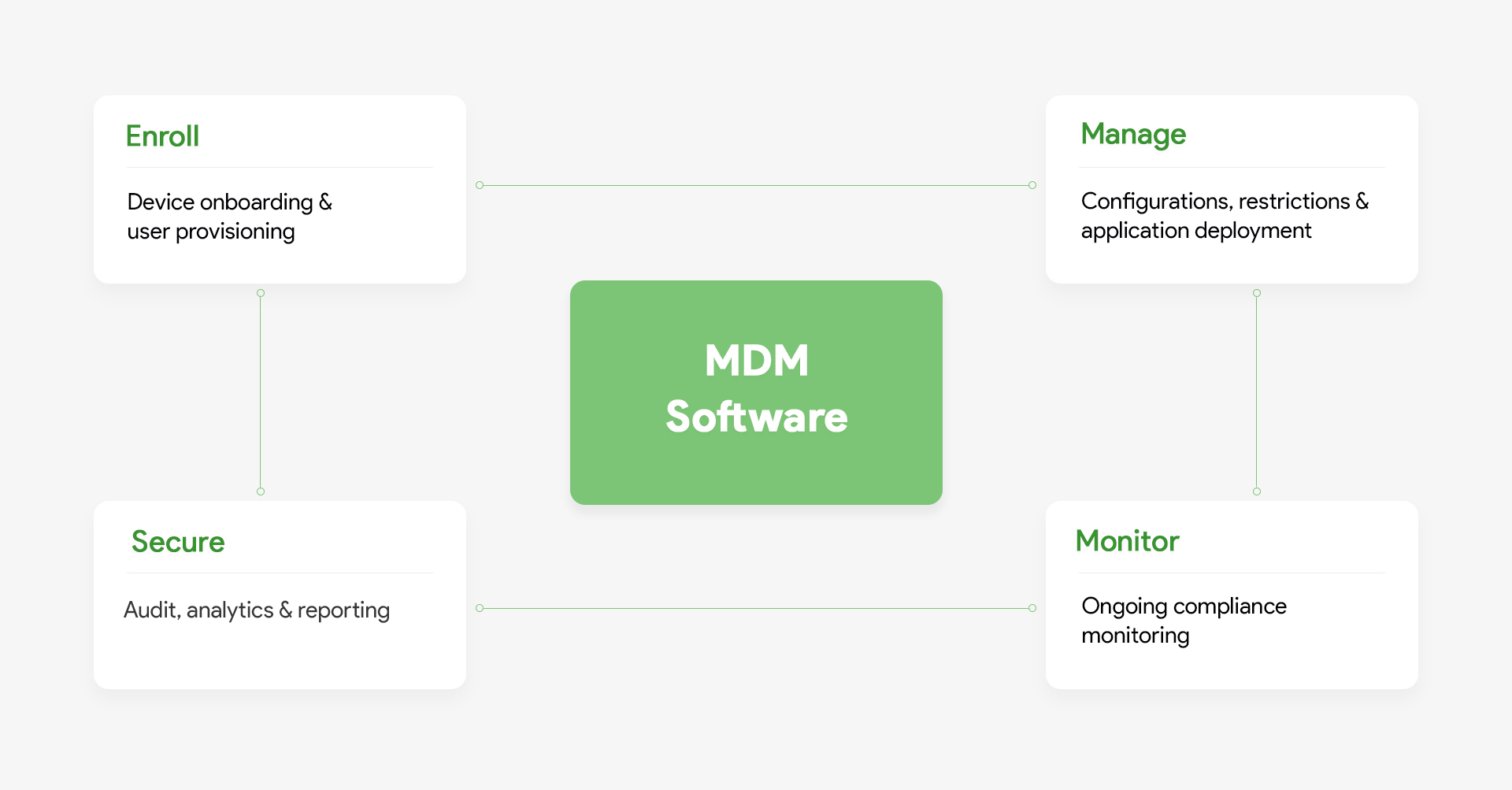 There are four phases in the device management life-cycle.
Enroll
Manage
Monitor
Secure
Enroll
Device enrollment is the first step towards managing devices using a mobile device management solution. It ensures that only authorized devices are registered for management. Enrollment is actually a two-sided affair. The configuration part at the IT's end and the actual onboarding steps at the device-end. There are ways to automate the device-ended stuff so that users can get started without having to worry about setting up device management. IT can configure an enrollment type that best fits their use case based on the platforms of enrolling devices, security requirements, and the extent of user interaction. Some of these settings might be platform-specific, and some common to all platforms.
Once those settings are configured, it's time to onboard the devices and assigns them to different users. The user can be assigned during or after onboarding, depending upon the method chosen. With Self-enrollment, the user can Onboard and assign a device to themselves.
Manage
Managing the enrolled device is the most decisive step of the bunch. This phase involves
The IT Admin deploying configurations, such as WiFi accessibility to enrolled devices.
Making available essential apps and content on the enrolled devices.
Setting up security restrictions, disabling distracting functionalities and configuring data loss prevention policies.
Setting up Geofencing and Telecom Expense Management policies.
Deploying relevant and essential apps and content to enrolled devices.
Monitor
This is an ongoing process rather than a step. In this phase, the compliance of the enrolled devices has to be diligently monitored. The compliance settings can be set by the IT admin and the criteria on these could vary according to the requirements of the organization.
Secure
The next step is to secure the data regarding the enrolled devices. This data would be available in the form of reports in the MDM management console. These reports provide details regarding all the enrolled devices, including their compliance status. This information is vital in the event of an audit.
What are the benefits of running an MDM solution?
Security
Mobile device management software provides a comprehensive security solution for a modern workplace. The key areas of security that would be covered are device security, data security, application, and content security. In addition to that, an MDM solution should also take care of containerization, device theft protection, and basic threat management.
In short, a Mobile Device Management Solution allows IT admins to protect confidential corporate data which might be present in an employee's mobile device. This is particularly crucial in the current cyber environment, with data leaks and malware attacks being the norm.
Ease of App Management
IT admins can easily deploy, set-up and control mobile apps on employee's mobile devices using an MDM solution. This level of app management ensures that all the devices enrolled under the organization have relevant apps. IT admin may also push timely updates for these apps through an MDM solution.
Remote Access
Deploying an MDM solution in your organization can open up avenues for remotely accessing employee's devices whenever needed. It allows IT admins to access and control enrolled devices wherever and whenever they want to.
Increase in Productivity
Web- Filtering is an inbuilt capability of an MDM solution. Through a method called "blacklisting or whitelisting", admins can pre-approve the websites that can be accessed on enrolled devices. This ensures that the employee uses the device only for work purposes and not for anything else.
Another restriction that can help curb workplace distractions is Telecom Expense management. With the help of this feature, the IT admin can place data usage restrictions on enrolled devices.
Education Industry
You can maximize the E-learning capabilities of your school by incorporating a mobile device management solution into the mix. Device inventory no longer needs to be a challenge for the IT dept. An MDM solution allows the IT admin to manage all kinds of mobile devices from a single platform.
MDM solutions also provide content management capabilities that would help teachers to send notes or other study materials directly to the students. These can be removed from the device, too, after the content has served its purpose.
A mobile device management solution can also be used as a tool to incorporate adaptive learning in your school. An MDM solution coupled up with an adaptive learning platform can produce an intuitive learning environment.
The admin can initiate a single-app kiosk lockdown on devices that are meant to house the adaptive learning platform. This limits the scope of the device to just the functionality of the platform.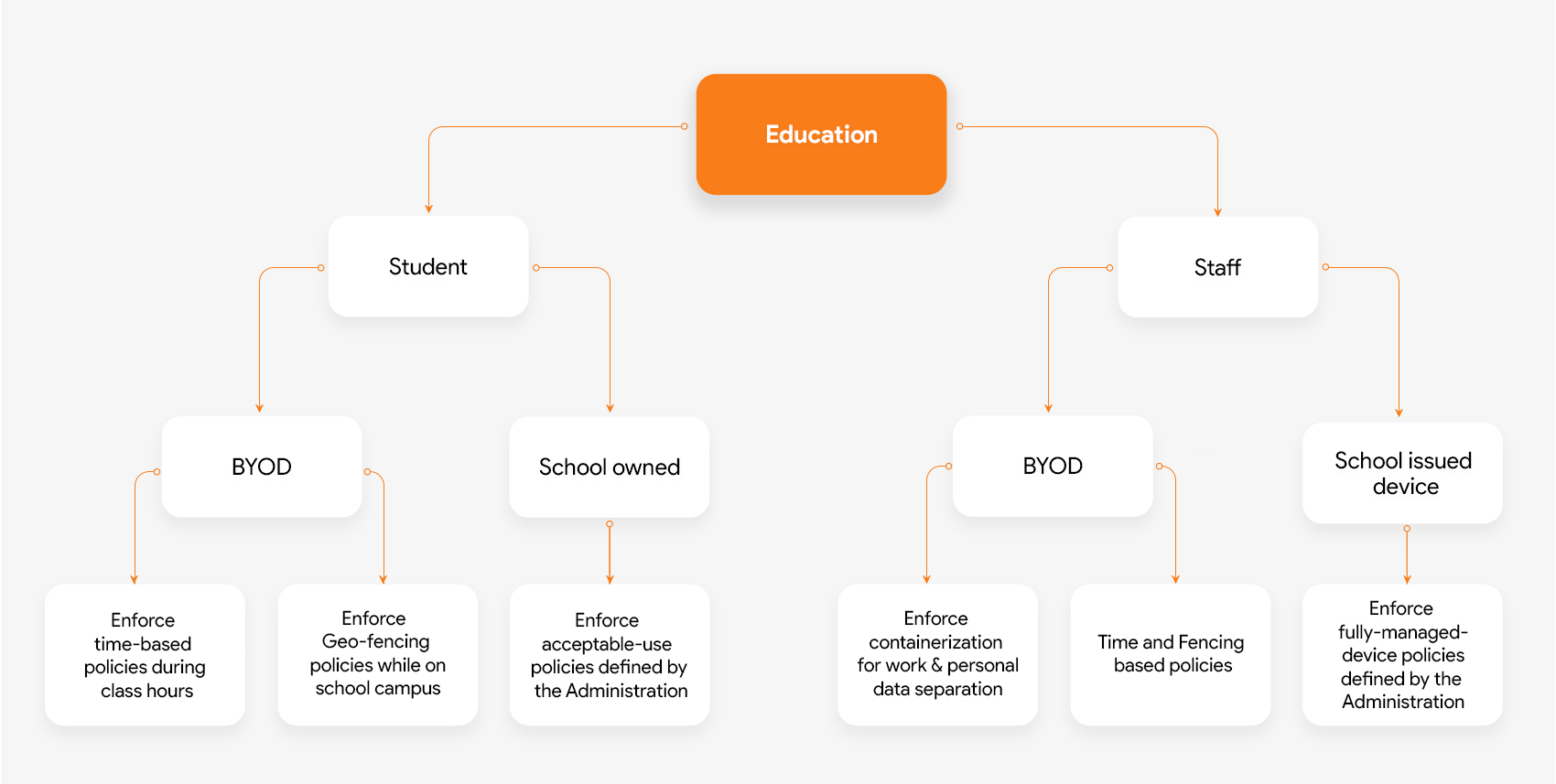 In general, there are two categories of devices in educational institutions that are governed under an MDM solution. Devices used by students and Devices used by staff members. The student devices can be further categorized into BYOD devices and devices provided by the school.
BYOD devices owned by students can be managed by
Time-based policy: This particular policy allows the IT admin to associate or disassociate policies based on time. Through this feature, certain apps or websites may be blocked on student devices during school hours.
Fencing based policy: This is another restriction-based policy where the compliance of the devices involved is determined using a Geofence. A Geofence is a virtual fence created around a geographical region, in this instance, the school compound.
When the device is school-owned restrictions and policies which are defined by the school administration are associated with the devices.
Devices used by staff members also have the same differentiation.
BYOD: Workplace containerization is invoked on BYOD devices to ensure work and personal data separation.
School Issued: Similar to devices issued to the students by the school, fully managed policies are adhered to while deploying these devices to the staff members.
Healthcare Industry
Gone are the days of case sheets, clipboards, and tedious paperwork. Healthcare organizations are quickly becoming tech-savvy, and mobile devices are here to save the day. The usage of mobile devices also has a positive impact on patients. In a study conducted by Zebra Technologies, 77% of the patients agree that they felt positive towards a medical professional using a mobile device in their care.
Now, where does a mobile device management solution factor in on this?
The data stored in a device enrolled under a Healthcare organization is bound to be extremely confidential. A device integrated with an MDM solution creates a platform in which such sensitive data can be collected, stored, and removed securely. This essentially streamlines the entire data collection process from patient admission to discharge.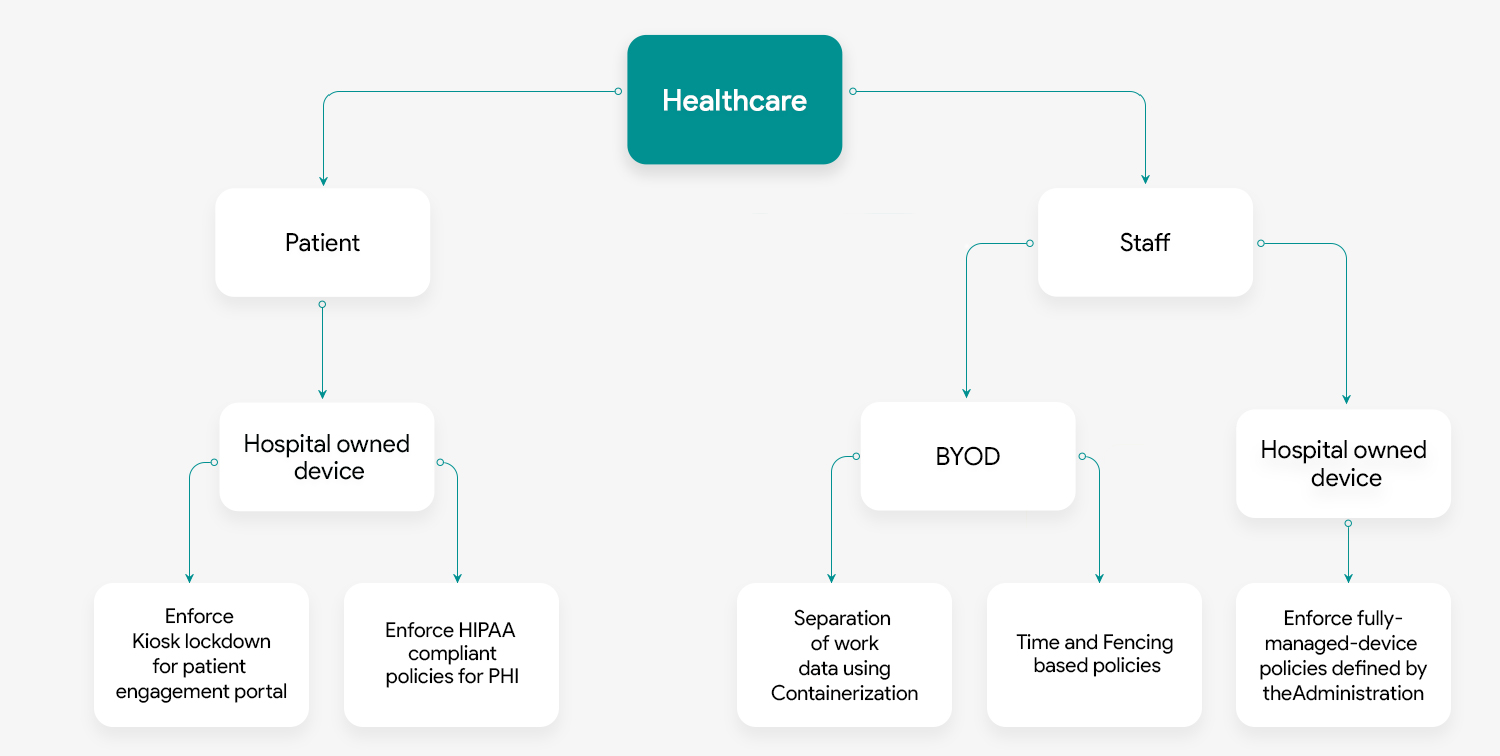 Usually, the two types of devices deployed in Healthcare organizations are the ones used by patients and the ones used by Medical staff.
The devices which are used by the patients are
Hospital Owned device: The IT department can essentially set up a patient engagement portal. This can help the organization to collect data from the patients in a less tedious manner. Also, accessing patient health information or PHI through an unsecured device is a direct violation of HIPAA. So, policies can be enforced on the devices in such a manner that, the devices remain compliant to HIPAA.
The managed devices used by the staff are:
BYOD: Staff members are allowed to use their personal devices for office purposes. This can be done by separating work data and personal data using containerization or invoking work profiles through time and fencing policies. Practicing BYOD in such a manner is a welcome delight for the staff.
Hospital Owned Devices: These devices come pre-configured with restrictions and policies mandated by the administration themselves.
Logistics Industry
Over the past few years, the logistics industry has started to adopt mobile devices as a means of managing the supply chain and keeping track of freight. This has increased the efficiency quotient of the entire operation but with it comes the complexity of device inventory management, data leaks, and overall security issues. A mobile device management solution helps the IT department of your organization to deal with these issues in a meticulous manner.
All the devices which are enrolled under the organization can be controlled by the admin from a singular place. Furthermore, the MDM solution's kiosk capabilities can be utilized to create Electronic Logging Devices (ELD).
Check out a real-life example from one of the titans in the logistics industry!
Retail Industry
The retail customer experience is facing a paradigm shift off late. Customers are looking for a streamlined in-store experience. Now, even though a personal touch is important in the retail business, sometimes it might cause hindrance or delays.
Automated POS (Point of Sales) is a rather simple solution to this problem. With an MDM solution in place, any tablet or mobile device can be converted into a POS. This can be achieved by utilizing the kiosk lockdown function of your mobile device management solution. The kiosk mode allows the IT admin to lock down the device to a POS application. This means that you no longer need to buy a dedicated POS device.
Learn more about Retail industry use cases!
Enterprise
As far as big enterprises or corporates are concerned, a Mobile device management solution is absolutely vital to their IT infrastructure. Especially in the current corporate scenario where digital workspaces are becoming the norm. Along with that, the BYOD trend is also on the rise, and there is no indication of it slowing down. With all these moving parts, a corporation's IT department needs a central console from where they can control and manage all these devices. An MDM solution provides exactly that and more. Integrating an MDM solution can improve device security, employee productivity.
EMM
Most Mobile Device Management solutions that are available in the market nowadays come with EMM capabilities. EMM or Enterprise Mobility Management is a much more evolved concept of mobile device management. It encompasses various facets of mobility management like Mobile Application Management (MAM), Mobile Content Management (MCM), Mobile Security Management (MSM), Mobile Expense Management (MEM), Containerization, etc.
With EMM capabilities equipped, MDM solutions are able to provide a much more comprehensive mobility management experience.
UEM
This is where most MDMs are now at or are aiming to be at. For now, this is the final frontier of mobility management. Unified Endpoint Management or UEM consolidates the management of all endpoints including smartphones, tablets, laptops, wearables, TVs and IoT devices providing a single pane to manage devices, apps, and data. UEM has the capabilities or both EMM and MDM. Along with it, several neat features like zero-touch deployment have been integrated to create a next-level platform for mobility management.
Choosing the right Mobile Device Management Solution for your enterprise is pretty hard, to say the least. It is highly likely that you might find multiple vendors, all offering MDM solutions that satisfy the criteria mentioned above. If you ever find yourself stuck in dead-end regarding this decision, do read our Top Ten MDM solutions of 2020 article for some clarity.