Last week I was in Florida with my mates and on reaching the hotel room for the check-in, we got held up for an hour. There was a mix up with reservations. So, to compensate us, the hotel provided us with something delightful. They gave us an option to choose from the hotel staff and services, and curate our stay like the way we need. They were even ready to accommodate a new service or staff based on our demands.
Woah that seems like a dream vacation that is too good to be true right! Well, it might still be a dream in the hotel industry. But in the software industry, Google does provide us with something similar, the managed Google Play store.
So, what exactly is Managed Google Play?
Managed Play Store in simple words is a personalized app store that is just for your Enterprise and its employees. Every app in this store can be personally selected and approved for use within the organization and there are options to add enterprise developed apps to it for easy distribution among users within the organization.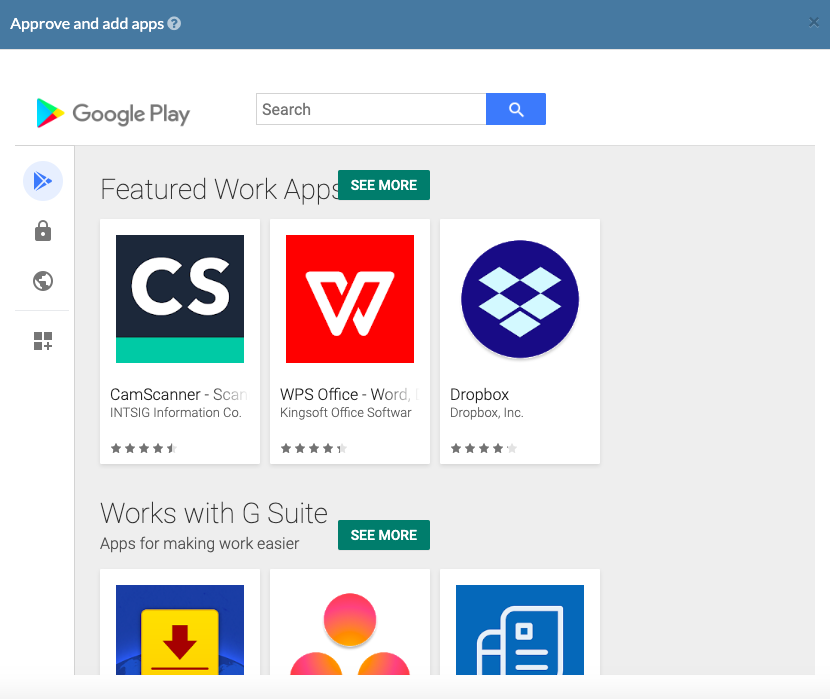 You might be wondering what's so special about that, there are plenty of third-party app stores. But when we consider facts, a survey in 2017 indicates that from all the millions of apps downloaded from the Play store only 0.2 percent has been reported as PHA, whereas third-party app stores are a haven of malware.
Role in Android Enterprise
Android Enterprise and managed Google Play are like spaghetti and meatballs, together they make an awesome combo. Managed Google Play is Android's take on a secure malware-free Play Store for application management. Here is a small list of managed Google Play features.
No need for multiple Google accounts
For using the Play Store, users have to sign up with their Google accounts. Managed Google Play eliminates the need for users to use their Google accounts. They can use the managed account of the organization that is used for Android Enterprise.
Silent app installation
Ever thought how easier it would be if installing apps on the devices required no extra effort from the user. That is made possible with managed Google Play, the Enterprise can just push the app from the device management portal and apps get installed on devices silently. No questions asked.
Approved apps only
Managed Google Play provides Enterprises or IT admins with an option to restrict the Play Store content. All the Google Play Store content is available in the managed Google Play but a stripped-down version of the Play Store, that suits the work environment is made available to the end-user. This helps the user focus only on work while using the work profile.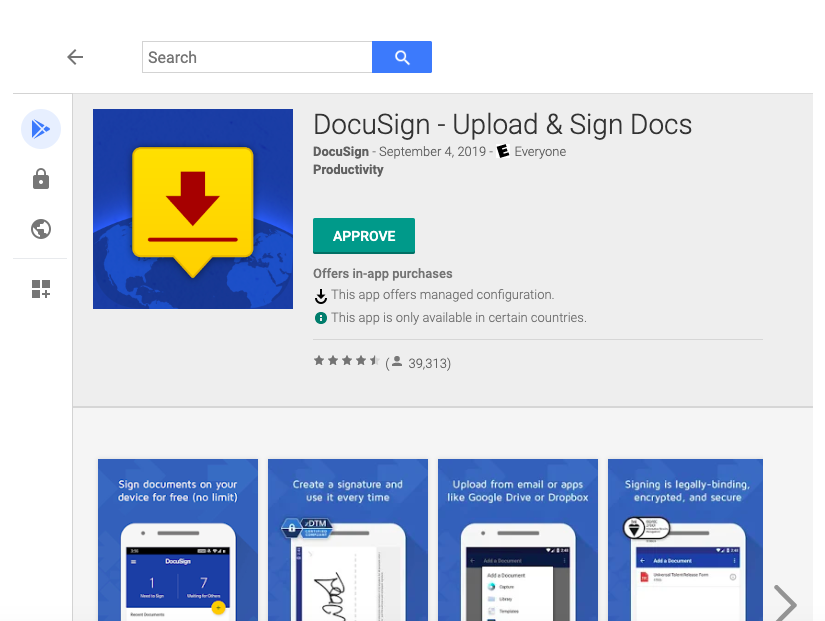 All this seems great, right? What if I tell you there is something better, that there is a way to do more with your managed Play Store?

To use managed Google Play the organization needs to be enrolled in an Android Enterprise, but did you know there were three different methods to enroll in Android Enterprise?
G Suite or Cloud identity.
Microsoft Office 365 or Exchange ActiveSync.
An EMM provider.
Of these 3-methods, Microsoft office and Exchange can't access managed Google Play, so that leaves us with G suite and EMM provider.
More features! Accessible with Hexnode.
Here is the list of all the extra features of managed Google Play which can be accessed using an EMM provider like Hexnode.
Private App distribution
Even in 2019, there are challenges with enterprise app distribution. So, Google took matters to its own hands and launched Managed google play iframe. The iframe provides tools for publishing private apps and web apps. Hexnode has integrated the iframe and now admins can easily configure apps and distribute them with the Google's secure platform without leaving Hexnode console.
App configuration
With Hexnode, you can customize a store app to suit your needs. There are options to allow/restrict certain features like file sharing and much more, the app has configurable settings.
Bulk purchase program
The Bulk Purchase Program (BPP) is Android's answer to Apple VPP. It answers the question, what does the organization do when an app is needed in bulk and it requires payment? Do we have to go through the painful process of letting every end-user purchase it or is there a possible way to get it in bulk with discounts? BPP is an answer to all those questions enterprises can strike deals with developers directly and get huge discounts for their apps and it eases the pain of letting every end-user purchase apps and licenses.
With managed Google Play's BPP, enterprises can purchase apps in bulk and distribute it via the managed Play store easily and more efficiently. It also allows the organization to reissue apps. However, this is only supported in the United States and Canada for now.
Store layout
This is a delightful feature. When enrolled in Android Enterprise it is possible to customize the Play Store layout (one with work badge) based on the preference of the organization. Hexnode provides the admin with features that help in adjusting the Home screen of the play store, app clusters and much more.
App permissions
App permissions like view networks, location, take pictures and much more can be modified with the help of Hexnode. With the help of these features' admin can have full control over the apps that are available to the user.
There are plenty of third-party app stores available in the market but managed Google Play stands out with its top of the line security and unique features. This makes managed Google Play store a better choice in the app store for the enterprise market. An EMM provider along with the managed Play Store makes things easier and provides the best end-user experience.