As a new IT admin, Jack had a lot on his plate and needed to make a good impression in his new role. He was confident in his ability to manage tasks, but his main concern was troubleshooting devices remotely. Being able to quickly and efficiently resolve issues with devices, regardless of location, was crucial for him to excel in his job.
Organizations commonly face many technical issues with devices deployed worldwide. Moreover, resolving these issues can be challenging without having physical access to these devices. That's why the struggles of troubleshooting end-user devices while on the go were becoming too much for Jack. He needed a solution that would allow him to work remotely while still being able to control Mac devices that are deployed worldwide. After much research, he discovered the magic of Hexnode UEM remote access.
With the power of this Mac remote access feature, Jack can work from anywhere and collaborate seamlessly with the end users. He can also manage the devices of the employees working from home and the devices deployed to the remote workforce.
Jack is now excited to share his knowledge and experience as he guides us in uncovering the secrets of setting up remote access on a Mac. As we join Jack on his journey, we will see how he has discovered the benefits of the Remote management features offered by Hexnode UEM and how he has been using it to maximize enterprise productivity. So, let's get right to it!
Setting up remote access for macOS
Jack is already a fan of the Remote View feature for macOS devices offered by Hexnode UEM. It allows him to connect to an endpoint's display in real-time, diagnosing and troubleshooting device-end issues. Still, he yearned for a seamless solution that would allow him to control and fix device issues remotely, eliminating the need for time-consuming onsite visits.
His desire has been fulfilled as Hexnode UEM now offers the Remote Access Control feature for macOS. With this new feature, Jack can now take control over devices from anywhere, ensuring IT operations run smoothly and securely. He can remotely control and troubleshoot devices deployed to field workers, even in kiosk mode, streamlining the process and saving valuable time for all parties involved. What more to say, Jack's search for the ultimate remote management solution has finally come to an end🥳.
Do you wanna unlock the mysteries of remote access on macOS like Jack? Then, let's walk through the steps and methods he followed to unlock the full potential of this powerful feature so that you too can access and control Mac devices from anywhere in the world.
Steps to enable remote access
Now, let's concentrate on the steps to achieve this remote access control:
First, head to the Manage tab and select your device from the Devices list.
Under the Device Summary sub-tab, locate the Remote View widget.
Verify the requirements and click on Start Session. The Start Session button may appear greyed out and unclickable if any requirements are not met. Additionally, if Remote View is disabled in the admin settings, the button will be disabled.
Once the Remote View session has begun, IT admins can Request Control by clicking on the option given above the session. This will prompt the user to accept or decline the request. The IT admin will control the user's device from anywhere upon acceptance.
Now, you're all set to control the devices with ease remotely.
Curious about the end user's experience with the remote access control feature? It's pretty simple. The user is prompted to click on "Accept" to grant permission to the IT admin. They can also use the Hexnode Remote Assist app to grant permission or select an alternate display screen for devices connected to multiple displays. All users place a great value on their privacy, emphasizing the necessity of getting consent before accessing a user's device.
To stop the remote control feature, the IT admin must choose the "Stop Remote Control" option given above the session. IT admins can easily manage and control the user devices with minimal effort from the user side. This minimal user involvement makes the process easy and seamless for both parties. Furthermore, it provides a hassle-free experience for IT admins to manage the devices and for users to comply with the access request.

Remote management features offered by Hexnode UEM
Hexnode UEM simplifies Jack's troubleshooting task by providing visibility into device activity. With this tool, admins like Jack can monitor devices regularly and receive notifications when policy violations occur, making it easier to keep track of and manage devices.
The remote management features of Hexnode UEM saves a lot of time for admins from traveling to employees' location and resolving their device issues. As we have seen so far, remote management offers Remote view and control options. With them, IT admins can also keep track of POS (Point of sale) or digital signages in real-time.
Apart from these, the main features that fall under this shade are:
Real-time assistance:

This feature allows users who require technical support right away. Users no longer struggle to be helped with setup or directed to the appropriate resources and content if they lack technical knowledge.

Remote troubleshooting:

This is an efficient way to spot and fix issues, allowing the IT administrator to experience the problem in real time. It is beneficial when dealing with devices that are acting up, networks that are not performing well, or apps that are not working correctly. Moreover, remote troubleshooting makes debugging and resolving issues much more accessible and efficient.

Remote action:

Using this feature, Hexnode UEM allows admins to execute commands on managed devices in real time. These actions help to perform various remote management operations, such as managing devices, users, groups and domains across an organization. In addition, organizations can selectively execute actions on individual devices or in bulk, depending on their specific needs.

Remote content management:

This feature allows IT admins to manage the content and resources on devices remotely without having physical access. It ensures that users have quick and easy access to the files they need. It also securely delete them when they are no longer necessary. Instead of directing users to the resource and risking interrupted access, admins can remotely push the files to a designated location on the device.

Remote messaging:

This helpful feature allows IT administrators to communicate with end users more efficiently by sending instant broadcast messages, personalizing them and providing device information for novice users. While troubleshooting, IT admins can also have a conversation with the device end-user using this broadcast message feature.
Maximizing productivity with remote access
Jack is the kind of person who is always on the lookout to stay ahead of the game. So, armed with the Hexnode UEM, he set out on a quest to explore the fascinating world of remote management for macOS devices. He learned how it could help him stay connected, productive, and at the top of his game no matter where he is.
One example of how Jack uses remote management is by working on projects with his team members in different parts of the country. He can access files and applications remotely. It allows him to make changes and share them with his team members in real time. This saves a lot of time and effort for both sides. Furthermore, this feature is beneficial when troubleshooting an issue, as he can remotely access the system and resolve the problem without being onsite. This reduces business downtime and improves productivity.
Now, why the delay? Join Hexnode UEM and experience the macOS remote management feature. Just like our young IT admin Jack, you too can experience the magic of seamless collaboration, instant troubleshooting, and unparalleled productivity with Hexnode UEM. Say goodbye to delays and hello to lightning-fast access and control of your devices from anywhere, at any time. Don't let distance or location hold you back any longer. Just unlock the full potential of your macOS devices today!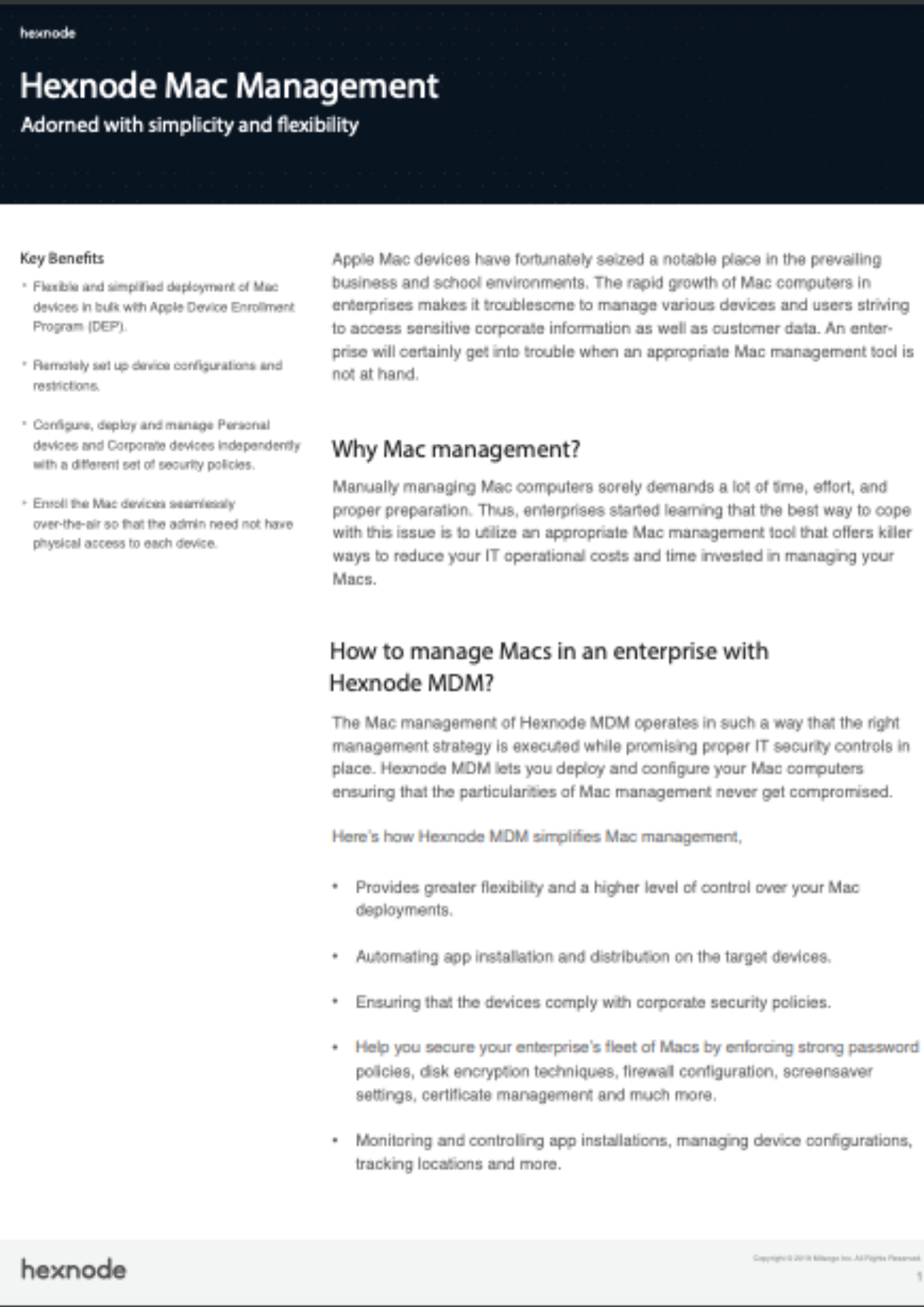 Featured Resource
Hexnode Mac Management Solution
Managing the large fleet of enterprise Mac devices can be tedious without an effective device management solution. Download the datasheet to learn more about Hexnode's Mac-specific management strategies.

Download datasheet
What else does Hexnode have in store?
Hexnode UEM streamlines the management of Mac devices by providing the necessary strategies and security measures. Using Hexnode, IT admins can easily set up and configure Mac devices. It ensures that the characteristics of Mac management are not compromised.
Hexnode UEM offers a comprehensive solution for Mac management, from setup to deployment, all from a single console. It helps to enroll and manage enterprise macOS devices, set policies and configurations, easily manage network settings and troubleshoot issues remotely. The benefits of using Hexnode UEM include the following:
Automatic distribution and installation of apps
Ensure compliance with company security guidelines
Enforce strict password regulations, disc encryption techniques, firewall setup, screensaver settings, certificate management, and many other security measures
Track device locations and monitor app installations, and more.
Hexnode UEM offers a comprehensive suite of features that streamline the management of macOS devices in the workplace. It results in a more efficient and productive environment. It also guarantees that the necessary policies and security checks are in place. These features help to protect the fleet of Macs in your company and keep your data secure. There is much more than Hexnode has in store for you! So, don't hesitate to explore more about Hexnode UEM and its features.
Summing up
In conclusion, the power of remote access for macOS devices is truly a game-changer for IT admins like Jack. With the right tools and methods, setting up remote access on your Mac can be easy and seamless.
So, why not take the leap and discover the benefits of remote access? Unleash the true capabilities of your Mac and elevate your productivity to new heights with Hexnode UEM's remote access feature. Happy remote accessing!

Securely manage endpoints with Hexnode
Try Hexnode's 14-day free trial and gain first-hand experience with our Mac management features.
Try out now