Most of you can relate to the feeling of awe when you are at the mall and an impressively made advertisement captures your attention. It can be a movie trailer or an advertisement for a brand or a shop. These advertisements are tailored to captivate audiences and attract customers.
Now as a store owner you might be wondering, "Where can I get one of those?". Frankly, it is available everywhere, but the cost of such displays may astonish you and usually you may end up realizing that the value it provides is not worth the investment.
There is also the option of buying ad spaces on dedicated signage displays which run only for a limited period and let's face it, it isn't much cost-effective either. So as a business owner, as a salesman or as a commoner who wants to turn a few heads, how can you set up a digital signage yourself, cheaply and efficiently?
Try Hexnode, a powerful cross-platform digital signage solution with built-in media controls and remote management capabilities.
No expensive hardware or legacy software–just turn your everyday Android devices into digital billboards looping a playlist of signage-driven content.
When and where should you use these signages?
Retail Stores
Own an exclusive brand store? Own a fashionable retail chain? Want to drive in more customers to your local business? Want to show offers, deals, and new arrivals?
Set up a flash signage and attract your target audience today! As an added bonus in times of high demand or low staff support, these signages can also double up as a self-service kiosk and can be switched as per requirement easily via Hexnode MDM.
Restaurants
Show off your yummy food. Show off the stylish cooking and the ingredients that go in. You can never go wrong with a pictorial/video representation of your food in enticing those hungry shoppers who stroll by your store.
Posters are so 2019! Follow the trend and upgrade your ads to signages. No labor to update, no printing cost or delays and switch between ads seamlessly. It's always happy hours for your customers ?.
Banks and other financial institutions
Signages can help you display a detailed list of your offers, new interest rates, upcoming promotions, partnership deals or maybe just a logo or a poster to spice up the décor.
It is a known fact that people visiting these offices are transacting money and what better way to let them know that you are at a location that is technologically advanced.
Malls and Movie theatres
Malls attract a large crowd and as a business, it is important that their eyes lay on your ads more than your competition's. Setting up a digital signage kiosk and turning the visitors to customers is very important especially during such difficult markets.
Cinema halls can use these displays to show movie posters and trailers so that the viewers can get an idea of what they are missing out on.
Hotels
The easiest way to make your hotel feel like a luxury getaway. Guests love to be treated like royalty and what better way to appeal to their senses other than strategically placed signs.
A story of your rich heritage, a look into the luxurious amenities you provide, a sponsor's advertisement and so much more. Revamp your public space with futuristic signages and captivate your customers.
Information Displays
These displays are commonly used in public transport or information locations, airports, offices, hospitals, etc.
Airports, trains, subways, etc, can use these signs for showing information like arrivals, departures, delays, etc. They can also be used to display maps and charts in public places.
Hospitals can use these to spread awareness against common diseases and their symptoms. WHO (World Health Organization) and the CDC (Center for disease control and prevention) have purchased ads in signages across several countries to spread awareness of the COVID –19 pandemic spread to the public.
Government offices and similar locations have also leveraged signages to spread public awareness messages.
How can you set up a digital signage?
Now that we have established when and where you can use these signages let see how you can set some up yourself.
Hexnode's Digital Signage solution is currently available for only Android devices. Worry not because you can leverage Hexnode's kiosk capabilities to set up signages on other platforms also, but we will get into that later on.
To set up a digital signage, select a set of android devices (OS version 4.4+) preferably with larger screens with mounts for these devices so that you can set them up at convenient locations.
Enroll them in Hexnode MDM portal via the array of enrollment methods available which includes self-enrollment, Zero-touch enrollment,  Samsung Knox enrollment, etc.
Create a kiosk lockdown policy by navigating to policies > kiosk lockdown > android > digital signage.
From here you can add the files you want the signages to display. Hexnode supports JPG and PNG formats for images, MP4 and Matroska(MKV) for videos and MP3 and Ogg for audio.
You can customize the display by using options like muting audio, setting up a custom background music, setting screen resolution and orientation, brightness and sleep time for the signages.
The files can be displayed in a specified order, looped (single or whole group) and can even be shuffled so that the content looks fresh every time.
Select the devices you want these signages to run on and click apply and… Viola!
It's as easy as that, you have set up a signage in just a few minutes and the best part is that its cost-efficient as Hexnode's pricing starts at $1.00 per device per month, certainly a very small investment indeed.
Workarounds for other platforms
Hexnode's Single app kiosk capabilities extends to iOS devices, iPadOS devices, Windows devices, and Apple TVs. IOS, iPad and Windows devices also support multi-app kiosks. Using these kiosk capabilities, you can turn almost any device into a digital signage by following a few easy steps.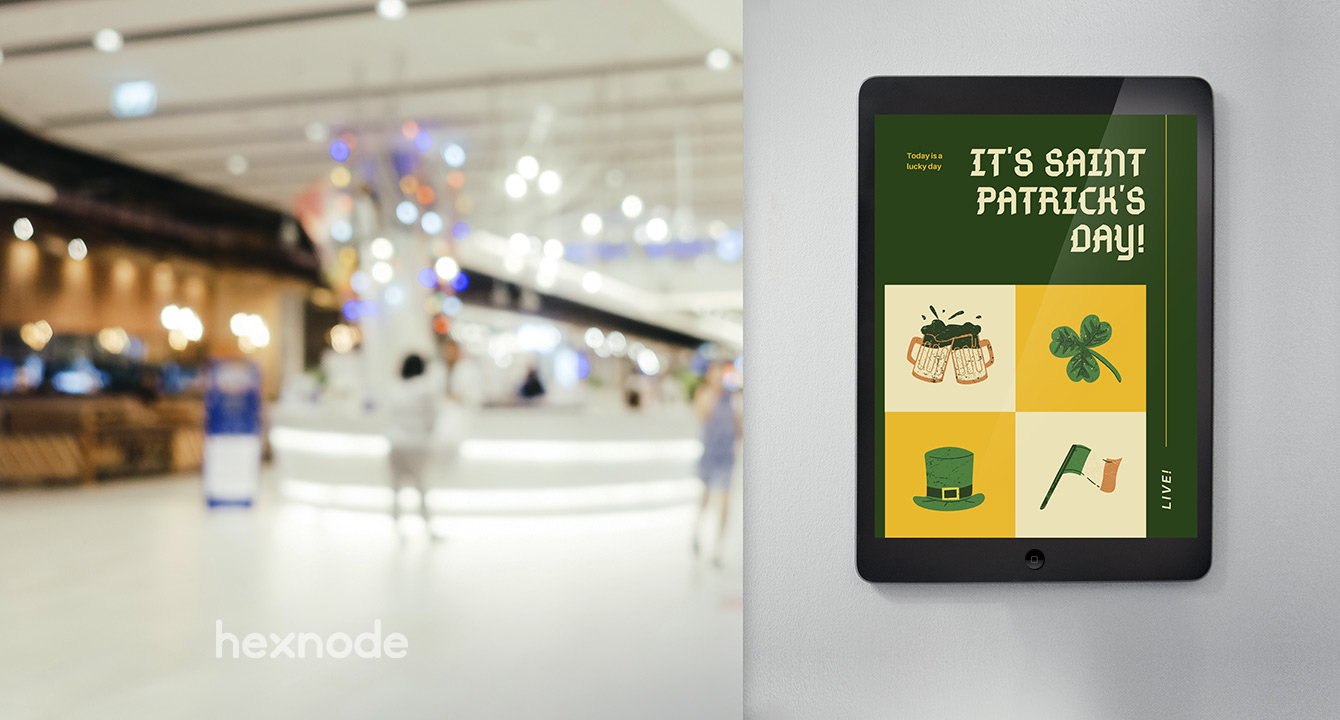 Enroll the devices into your Hexnode MDM portal via the variety of easy enrollment methods.
Create a kiosk lockdown policy by navigating to policies > kiosk lockdown > select platform > single app kiosk
Select a video or photo gallery application (native or 3rd party) to lock down the devices. You can also use a custom-made application for this. Select the videos, images or audios you want to play through the application (loop, shuffle, speed, orientation, brightness and more can be controlled from most applications).
Apply the created policy on the required devices.
Your signage is ready to go.
Advanced kiosk restriction features like disabling touch, screen orientation, device buttons can also be used.
IOS devices also have an autonomous single app mode that can launch a single app without any interference. This is highly recommended if you are planning to use iOS or iPadOS devices as signages.
The bigger form factor of Apple TVs makes them highly desirable as signages.
Maximizing the kiosk and device potential
The major benefit of using Hexnode for Signages is the flexibility it provides. Besides acting as a digital signage, the devices can also be used as a self-service kiosk in most cases. These kiosks are ideal in shops and locations were a temporary increase in customer demand or a decrease in the available workforce is a common occurrence (usually seasonal businesses).
Retail Self-service checkouts are common in chain stores and grocery stores. They can help with a faster checkout during long queues.
Quick service kiosks are popular in restaurants, this can free up some staff during rush hours to work on other tasks.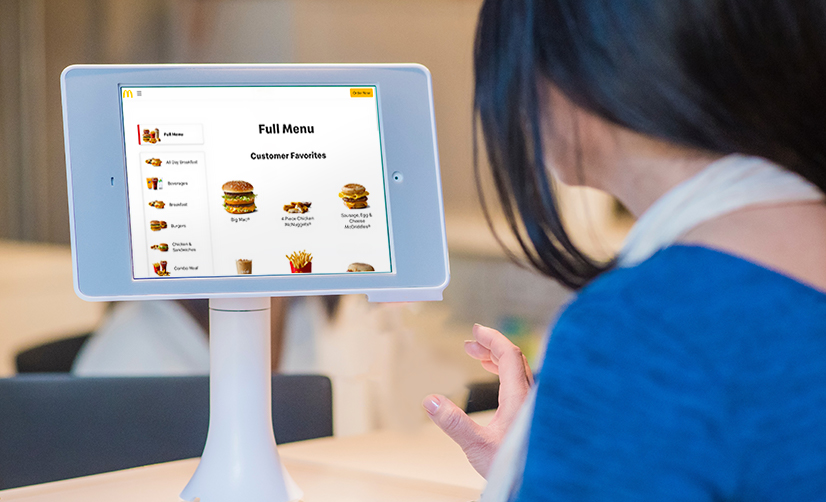 Check-in Check-out kiosks are popular in hotels, resorts, and airports especially during night time when they are a little short-handed.
Survey and Feedback kiosks are popular in service locations and help provide a richer customer experience by taking into account their suggestions.
Self-service banking kiosks are everywhere and a few flexible devices will assist you further.
Public information kiosks are better if they are interactive and can provide the requested information seamlessly.
Healthcare and government locations also benefit from the added help in managing queues and addressing basic concerns.
The digital signages can be modified to work as a self-service kiosk by simply disassociating the policy connected to the devices and associating a kiosk policy for the required devices.
Grouping of devices in the Hexnode portal can make this transition seamless.
A detailed read on how to set up the devices as a self-service kiosk is also available here.
Summing up, Hexnode MDM provides a way for businesses big or small to reach out to their target audience with their promotions and products better and with the added self-service capabilities there isn't really much to think about. You are basically getting 2 services at a very low investment. A crucial investment that could potentially create a huge impact on your returns. Act now!