Apple TV was not considered an enterprise gadget or a corporate product until a few years back. This was because there weren't that many applications for an Apple TV in a business setup. With the addition of business-friendly features, Apple TV began to make its way into offices.

From streaming online content to being used as digital signages and kiosks, Apple TVs are gaining more popularity in enterprises. Another major use of Apple TV is for conducting business presentations and meetings. Since there is no need for a cable or any adaptors, Apple TVs provide a more modern conference room display.

Explore Apple TV management with Hexnode

With Apple's AirPlay feature, businesses can set up the perfect conference room display using Apple TVs. AirPlay lets users stream photos, videos, or audio on Apple TVs from any Apple device.
Why does your conference room need an Apple TV
Apple has introduced a lot of business-centric features for Apple TVs.
Airplay is one of these features. AirPlay lets you mirror or share anything over the air from your Apple devices like iPhone, iPad, or Mac to an Apple TV. This eliminates the process of connecting and tethering devices to the conference display and also reduces the use of additional cables and adaptors.
Another major advantage of sharing or mirroring content through AirPlay is security. Apple makes use of AES encryption for protecting content that is mirrored using AirPlay. This way, no unauthorized person can access the content being shared through AirPlay.
People who use Apple TV with AirPlay have expressed concern that any Apple device can connect to the Apple TV, but this is no longer the case. You can use a password protection feature so that when a device connects to your Apple TV for the first time, a password is required.
Apple TV is better than most other smart TVs out there. Apple TV provides unparalleled security as Apple encrypts all the data that is accessed through Apple TV and also encrypts data shared using AirPlay. Another reason to choose Apple TV is that it is portable and connects to any display with the help of just an HDMI cable.
Apple TV's superior display, sound qualities, and dedicated processors are just further bonuses to its benefits. Apple TV's remote includes an interactive touch interface and is equipped with Apple's very own voice assistant, Siri. So, you can also control your Apple TV using voice commands.
AirPlay and Conference Room Display Mode
If you have ever considered using an Apple TV in a meeting room or as a business device, then the Conference Room Display Mode is ideal for you. This mode is carefully curated by Apple for people who want to use Apple TVs in meeting rooms and conference rooms.
To turn on Conference Room Display Mode on your Apple TV, just go to the settings page, then:
Click AirPlay –> Conference Room Display.
Select the Conference Room Display option on the next page to turn on the mode.
Once it is turned on you can set up certain settings like:
Require PIN Every Time – If you enable this, anyone connecting to the Apple TV via AirPlay will be prompted to enter the PIN displayed on the TV.
Preview – Show a sneak peek at how the display will look.
Custom Message – You can display a customized message at the bottom of the box containing the AirPlay instructions.
Select Photo – Select one of Apple's or your photos to use as the background for the Conference Room Display.
Once all the settings are configured, just restart the device and the device will open Conference Room Display instead of the home screen. The Apple TV will display instructions on how to connect an Apple device to the conference room display using AirPlay.
Apple also lets you lock the Apple TV into Conference Room Display and blocks users from exiting until a 4-digit passcode is entered.
Open Settings on Apple TV.
Go to General > Restrictions, and enter the passcode if required.
Make sure the Conference Room Display is set to Restrict in the list of restricted items.
Use Hexnode to turn your Apple TVs into conference room displays
When you are using Apple TVs in your organization, having a device management solution like Hexnode to manage Apple TV devices is a must. You can make use of Hexnode to easily turn your company's Apple TVs into conference room displays.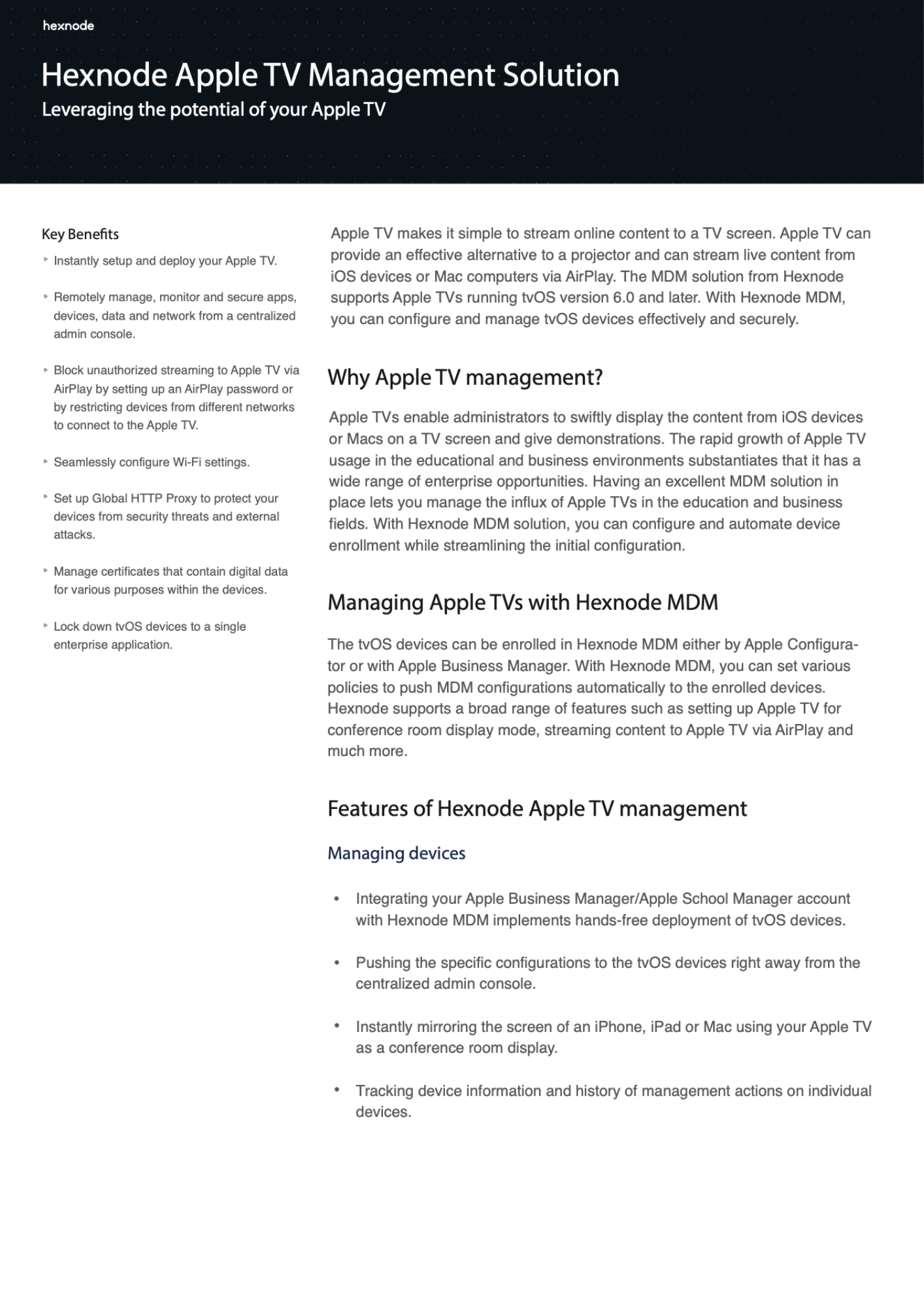 Featured resource
Hexnode Apple TV Management Solution
Apple TV makes it easier to stream online content to a TV screen. With Hexnode, you have everything covered, from setup and deployment to locking your tvOS device to a single application.
Download datasheet
To do this, you have to first enroll your Apple TVs in the Hexnode console. Once set up, Hexnode lets you set up a conference room display on your Apple TV remotely.
Apart from setting up a conference room display on your Apple TV, Hexnode lets you configure additional settings on the device as well.
You can set up Wi-Fi networks and proxy servers for your Apple TV and ensure that it automatically connects to the specified Wi-fi network and no other. Proxy servers act as an intermediary between devices and the internet. It hides the IP of the devices and also ensures that traffic flows only through a secure proxy server.
You can also configure security settings like AirPlay Security and deploy certificates. Using AirPlay Security settings, you can control:
Access type: You can specify what types of devices can connect to an Apple TV via AirPlay.
Security type: You can specify how secure the connection between your Apple TV and another device should be.
Password: You can specify a password that has to be entered by devices trying to connect to your Apple TV.
Hexnode also lets you remotely monitor and check up on Apple TVs. So, IT admins can easily troubleshoot issues with conference room displays.
In Conclusion,
Apple TVs are much more than just entertainment devices. If you are working in an Apple-friendly office and you need displays for conference rooms, Apple TVs might be the best option.
As previously stated, Apple TVs support AirPlay, which allows you to quickly connect other Apple devices to your Apple TV over the air. The completely wireless and secure sharing of content from other Apple devices makes it a perfect addition to your meeting rooms.
Sign up for a free trial
Sign up for a free trial and explore Apple TV management features offered by Hexnode.
Sign up