Amidst the buzz and anticipation, the HexCon23 kick-off was nothing short of fascinating, with the opening keynote unveiling this year's theme- Championing Growth. Hexnode's annual user conference, HexCon- now in its fourth year, captivates the essence of a united progress in the cybersecurity world. Since its inception, HexCon has been the stage for all tech enthusiasts, cybersecurity experts, and endpoint management aficionados to Grow, Learn and Evolve. As they say, "Many hands make light work", we try to encapsulate the spirit of community and togetherness that is palpable at HexCon23. 
The virtual room reverberated with chats and reactions from around the world. The stage was set for the board of directors to grace the occasion and reveal Hexnode's roadmap for the future. Reaching the culmination of months of toiling, now coming to fruition, yours truly sat down for the official flagging-off of HexCon23- commenced by Hexnode's Founder and CEO, Apu Pavithran. 
Championing Growth: The Heart of HexCon23
Growth is not static; it continually evolves. We are committed to a perpetual journey of growth, setting new standards to aspire to, every year.

~Apu Pavithran, Founder & CEO, Hexnode. 
The welcoming lines in the inaugural keynote was a masterclass in setting the tone for the entire conference. Apu talked about the growth of digitization, widespread adoption of cloud technology, and the evolving security strategies of businesses that leaves us with no choice but to embrace and champion growth in every way possible. Workplaces saw a transformation because of hybrid work, which blurred the lines between convenience and security. Hexnode has been able to roll out an array of features that has been serving as a catalyst to the intricate security issues this new shift has brought in. 
The heart of HexCon23 lies in the collaborative atmosphere; the strength of a united community working to navigate the complexities of the tech landscape. It serves as a reminder that even the most complex technology endeavours may be rendered more manageable and gratifying by a community's support and cooperation in today's continuously evolving and innovative environment. 
Hexnode Connect 2.0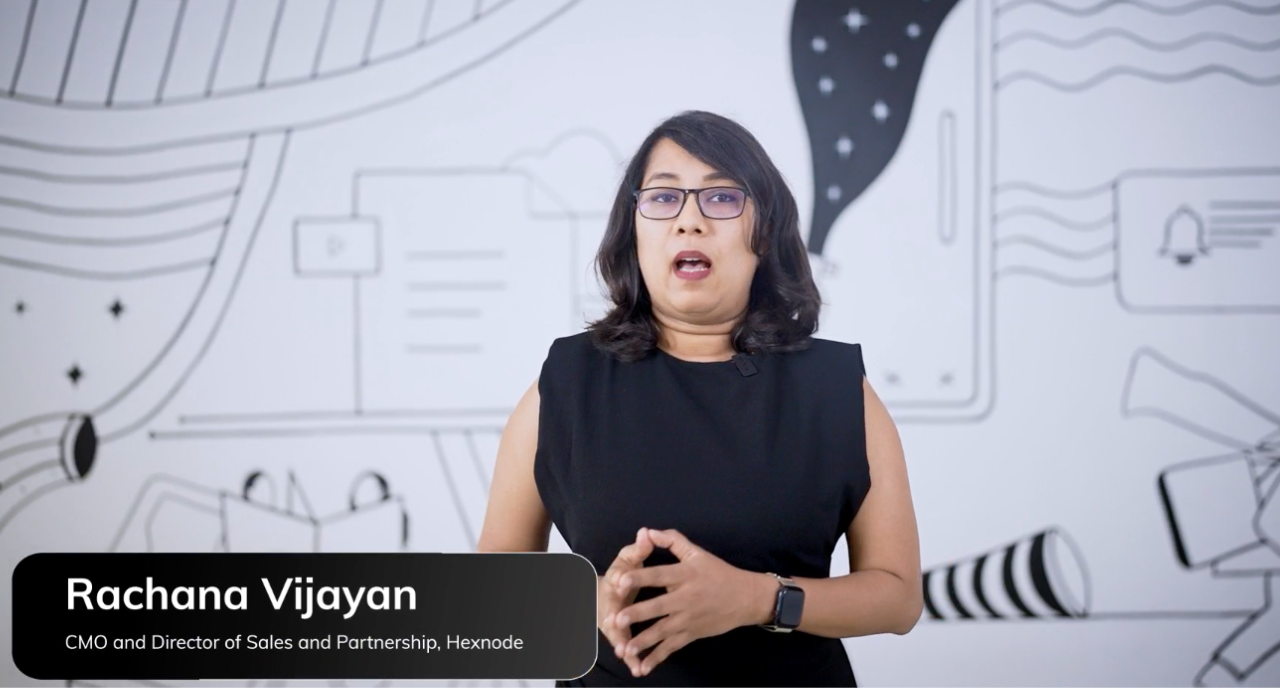 Rachana Vijayan K, CMO and Director of Sales & Channel Partnerships

This brings us to a new development being rolled soon as told by Rachana Vijayan, Chief Marketing Officer, Director of Sales, Marketing and Channel Partnerships at Hexnode. Hexnode Connect 2.0, an overhaul of the Hexnode Forums, intends to enhance the overall experience of our users by giving them access to their own explore feed, which will provide tailored content depending on the topics or members they follow.
The addition of gamification elements for active site contributors, such as badges and community ranking are definitely worth the wait! 
Digital Employee Experience

 
HexCon is that annual occasion where we look back and discuss about the features we've added in the previous months. It's a time for introspection, evaluation, and, most importantly, a conversation about how we can keep innovating and serve our community more effectively in the future- in the words of Bijo Paulose John, Co-founder and Chief Operating Officer and Sahad M, Co-founder and Chief Technology Officer at Hexnode. 
Hexnode Access
It enables users to log in utilising cloud-based identity providers like Google Workspace and Microsoft Entra ID (formerly known as Azure AD). IT administrators can change the login screen, add help links, and set up network connections remotely, right from the login screen. 
Manage local user accounts on macOS
Admins can see detailed information on each of these local user accounts and execute remote actions help secure them. We have now added more actions to expand local user management capabilities–actions like changing password, changing user role, deleting a user and more.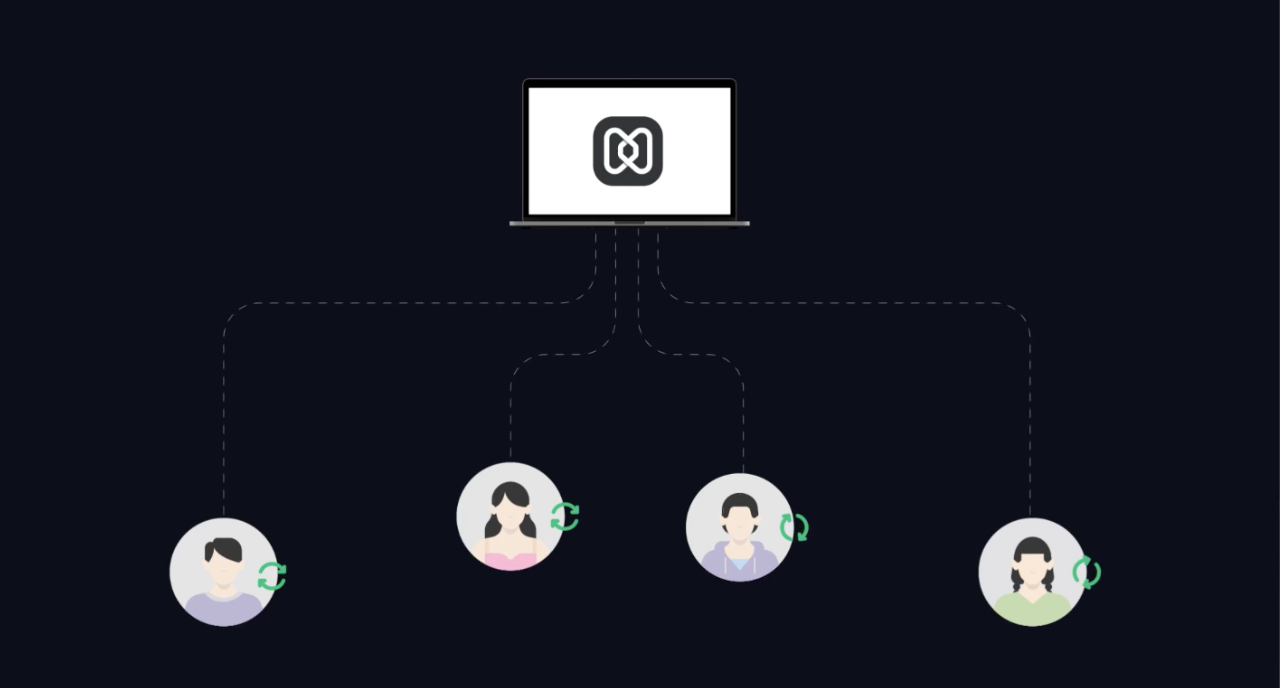 Manage local user accounts on macOS

Remote Control for Windows and Macs
Admins can remotely view and troubleshoot issues on employees' Windows and Macs. This not only saved a lot of time and effort but improved the overall employee experience. 
Awards and Accolades
Each year, HexCon stands as a yearly testament to the significant advancements Hexnode has achieved, solidifying its reputation as a recognized entity in the Endpoint Management field. Our CMO, Rachana Vijayan listed out the following accolades- 
Hexnode has been included in the Unified Endpoint Management Landscape report, 2023 by leading research and advisory firm, Forrester.

 

Listed as a Notable Vendor in Gartner 2022 Midmarket Context: Magic Quadrant for Unified Endpoint Management Tools.

 

Secured recognition as G2's Leader Spring 2023, Leader Summer 2023 and Leader Winter 2023 reports.

 

Covered as the Front Runners 2023 by Software Advice.

 

Featured in the Leaders category 2023 by GetApp.

 

Top rated 2023 by TrustRadius, Top rated feature in Mobile Device Management and Security.

 

Gold Medal 2023 in Enterprise Mobile Management by Software Reviews.

 

Quality Choice Top ranked solution 2023 & Trusted Vendor High market presence in 2023 by CrozDesk.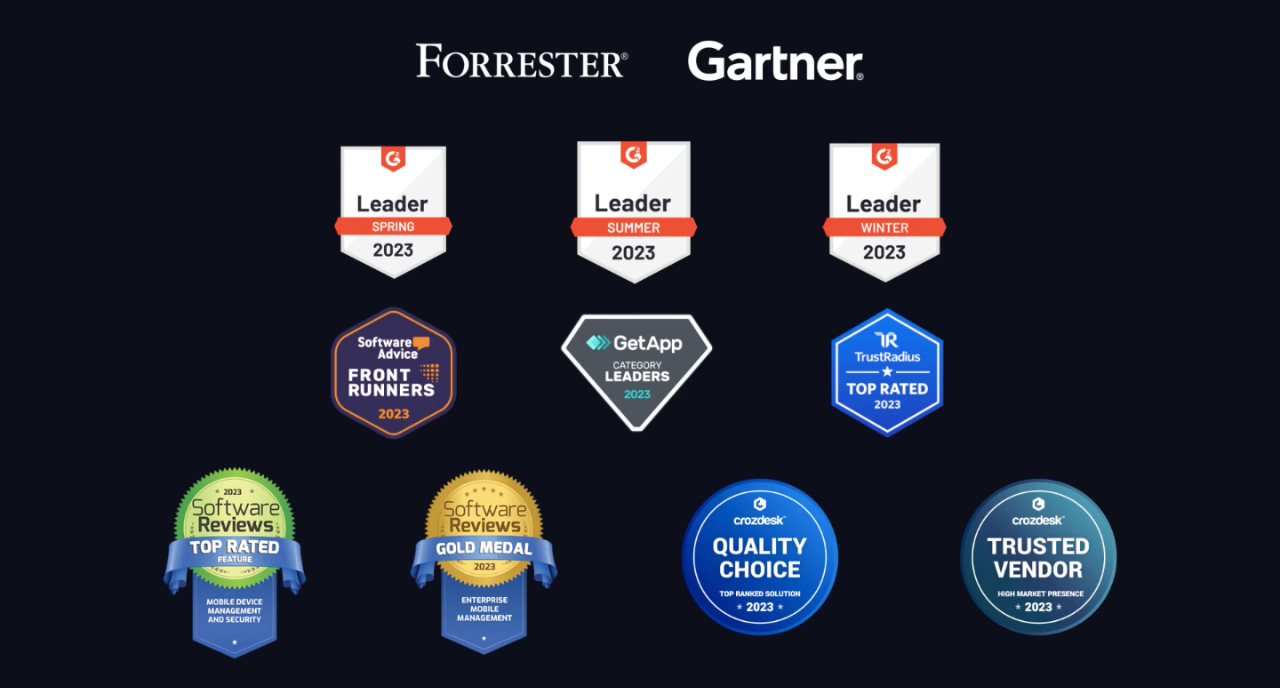 Awards and accolades

Hexnode's path to earning these awards has been marked by unceasing innovation, steadfast dedication, and a strong commitment to addressing the changing demands of our valued community. Moving forward, the board of directors lead the way with gratitude for the acknowledgment they have received and an even deeper commitment to keep establishing new benchmarks in the endpoint management industry.
The journey ahead
Now, for the most intriguing part. Our COO and CTO, Bijo and Sahad showcased Hexnode's roadmap for the future- some new developments to be rolled out in the interest of IT admins. Bijo took the lead with Windows Autopilot- a seamless enrollment experience in Windows similar to DEP in Apple and Zero Touch in Android. Admins will be able to automatically enroll their fleet of Windows devices into the Hexnode portal on signing in with Azure.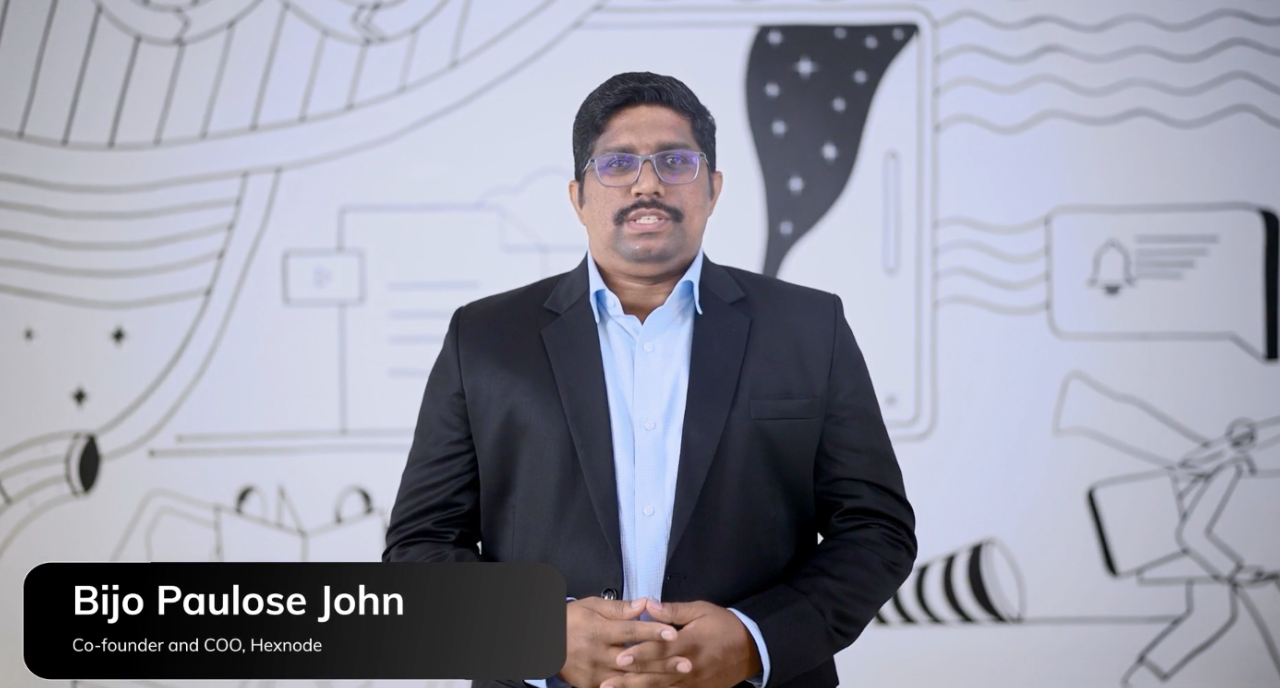 Bijo Paulose John, Co-founder & Chief Operating Officer

Then comes Local User Management on Windows devices. Just like local user management in Mac, admins will be able to manage Local users in windows, create, modify, delete a user account, change password, activate/deactivate account and a host of other actions.
Furthermore, Bijo mentions that Hexnode will soon extend the Hexnode Access onto Windows devices for that additional layer of security, like Mac devices. Users can be provisioned on their devices with their Microsoft Entra ID/Google Workspace cloud credentials.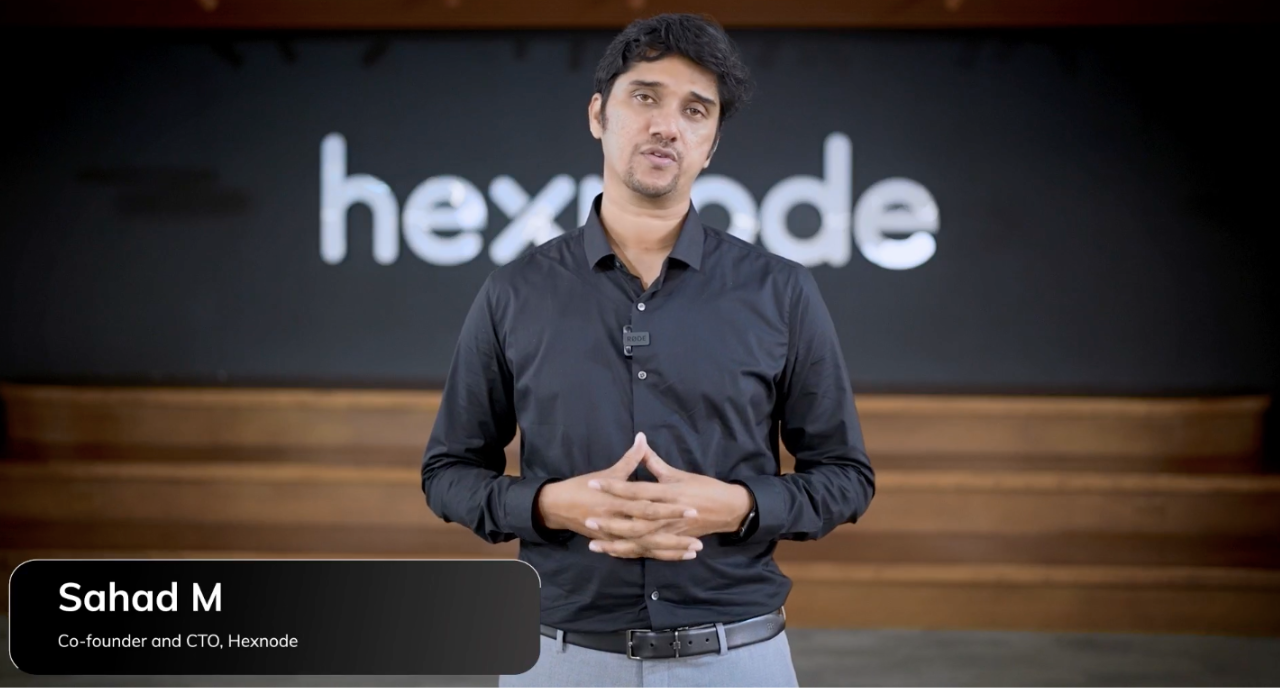 Sahad M, Co-founder & Chief Technology Officer

Taking the dialogue forward, Sahad talked about some new advancements for iOS and Android. To access work email, contacts, and calendar with additional configurations not often available on other clients, Hexnode will develop its own set of applications. This is done to offer an extra degree of protection to corporate operations daily.
Moreover, the CTO mentions the launch of Automated Scripts for Mac, continuing the theme of improved automation and efficiency. Admins will have the option of having scripts run automatically at predetermined intervals or in response to user actions like logging in or out. 
Moving the keynote ahead, Rachana announced three new integrations with Hexnode- Drata, Vanta and Check Point. Drata collects Hexnode data via API, simplifying compliance monitoring. Vanta ensures easy compliance confirmation, and Check Point integrates with Harmony Mobile for risk assessment. 
And… the excitement is only beginning!
Apu concluded the opening keynote promising three days of cutting-edge insights from industry's best and the brightest. In a while, you will be (h)ex-posed *wink* to a treasure trove of ideas, meaningful conversations and loads of networking opportunities. Here's a quick conclusion to this blog because there's a lot to catch up in 50+ hours of exclusive content, delivered by 80+ speakers. 
Watch out for this space for the latest updates on HexCon23. See you all there at HexCon!
Stream now!
It's never too late to sign-up for exclusive content, on-demand! Register and gain access to over 50+ hours of insightful talks & much more!
Sign me up