HexCon21, Hexnode's annual user conference has kicked off with a bang. After a challenging but productive year, we got a little ambitious and decided to try and pull off a grand cybersecurity event with speakers and experts from all over the world. We wished to create a safe virtual space for all the security enthusiasts, our customers and partners to learn, discuss and have fun. So far, it seems like we are succeeding. The event is taking place from 21st to 23rd September 2021. The preparation for HexCon21 has been going on for months, but the event officially began at 10 AM Eastern Time on 21st September with an informative keynote speech from our board of directors.
Apu Pavithran, the founder and CEO at Hexnode, started by welcoming everyone to HexCon21. He also expressed his gratitude to all the attendees for taking out time from their busy schedules to join the event. Quite a few things were discussed in the keynote speech, and to those who missed it, we have listed out the highlights here.
The journey of Hexnode
Apu reminisced about the humble beginnings of Hexnode and talked about the consistent growth of Hexnode over the past years. With around 100 percent growth in revenue and 200 percent growth in customer-count year on year, Hexnode is on a steady path. The Hexnode team has also expanded to offices around the globe.
Accolades and rewards
Hexnode is a notable name in the UEM industry. This has been recognized by some leading analysts and research firms. 2021 brought some well-deserved recognition to Hexnode.
The UEM solution was given an honorable mention in Gartner's Magic Quadrant for Unified Endpoint Management 2021. Gartner had also mentioned Hexnode as a "Notable Vendor" in its Midmarket Context: Magic Quadrant for Unified Endpoint management.
Forrester, the leading global market research company, included Hexnode as a Mobility Specialist in Now Tech: Unified Endpoint Management report for Q2.
KuppingerCole Leadership Compass listed Hexnode as a vendor to watch.
Hexnode was recognized as a High Performer in the latest G2 Grid for Unified Endpoint Management. G2 also crowned Hexnode as a High Performer in the MDM category in its 2021 winter, spring and summer grid reports. Hexnode made to the top of the MDM list in summer, earning itself a Leader badge too.
How did we do this? Three things: Support, resilience, and you.
-Apu Pavithran, on the growth and recognition of Hexnode
New features are here!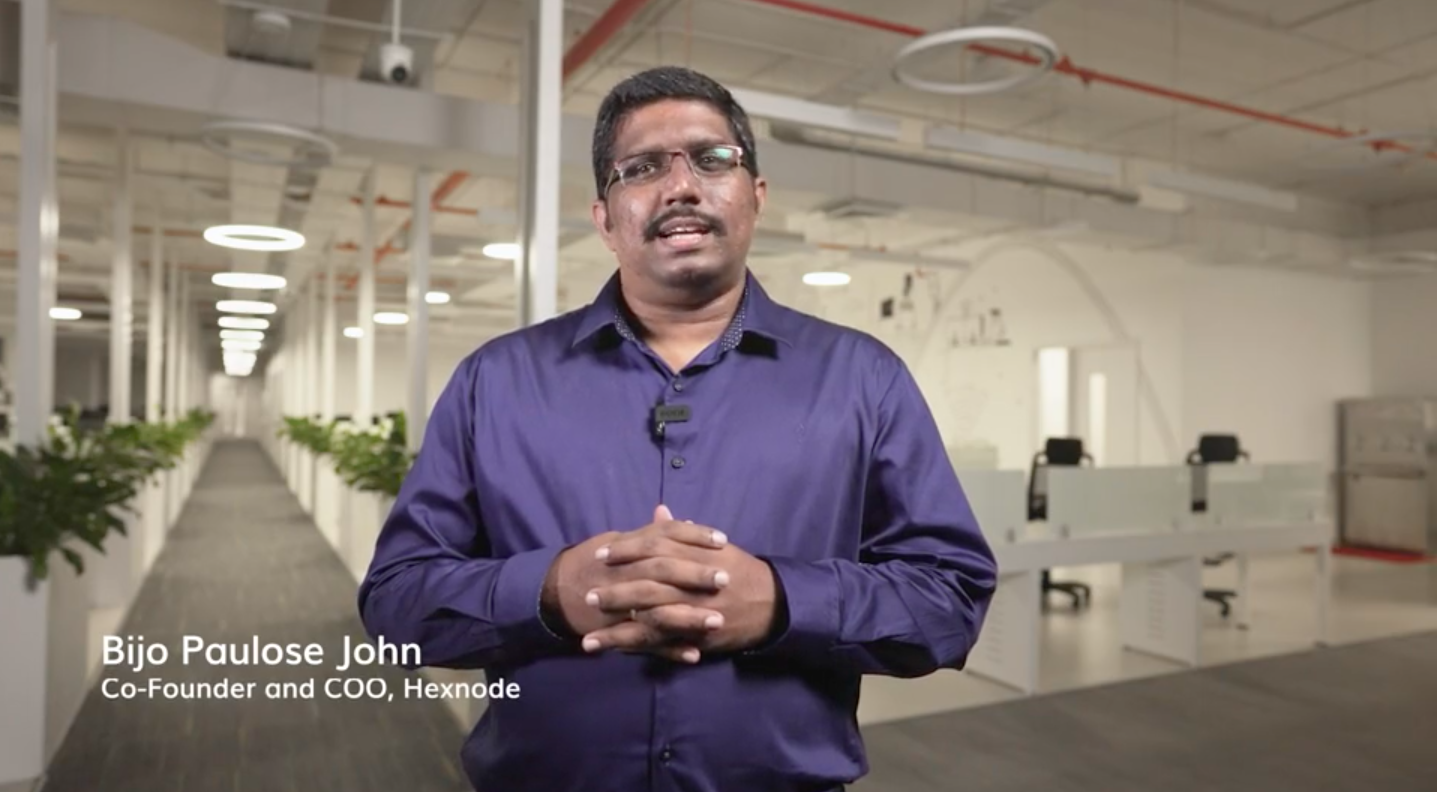 Bijo Paulose John (COO at Hexnode)
Apu Pavithran, Bijo Paulose John (COO at Hexnode) and Sahad M (CTO at Hexnode) had some exciting feature announcements this year for Apple, Windows and Android devices for us in store. With a special focus on remote work, much-awaited features like remote view for Windows and macOS, remote terminals for macOS, remote actions for Apple TVs, scripts for automation, VPN for Windows and Per-App VPN for iOS were announced. It doesn't stop there.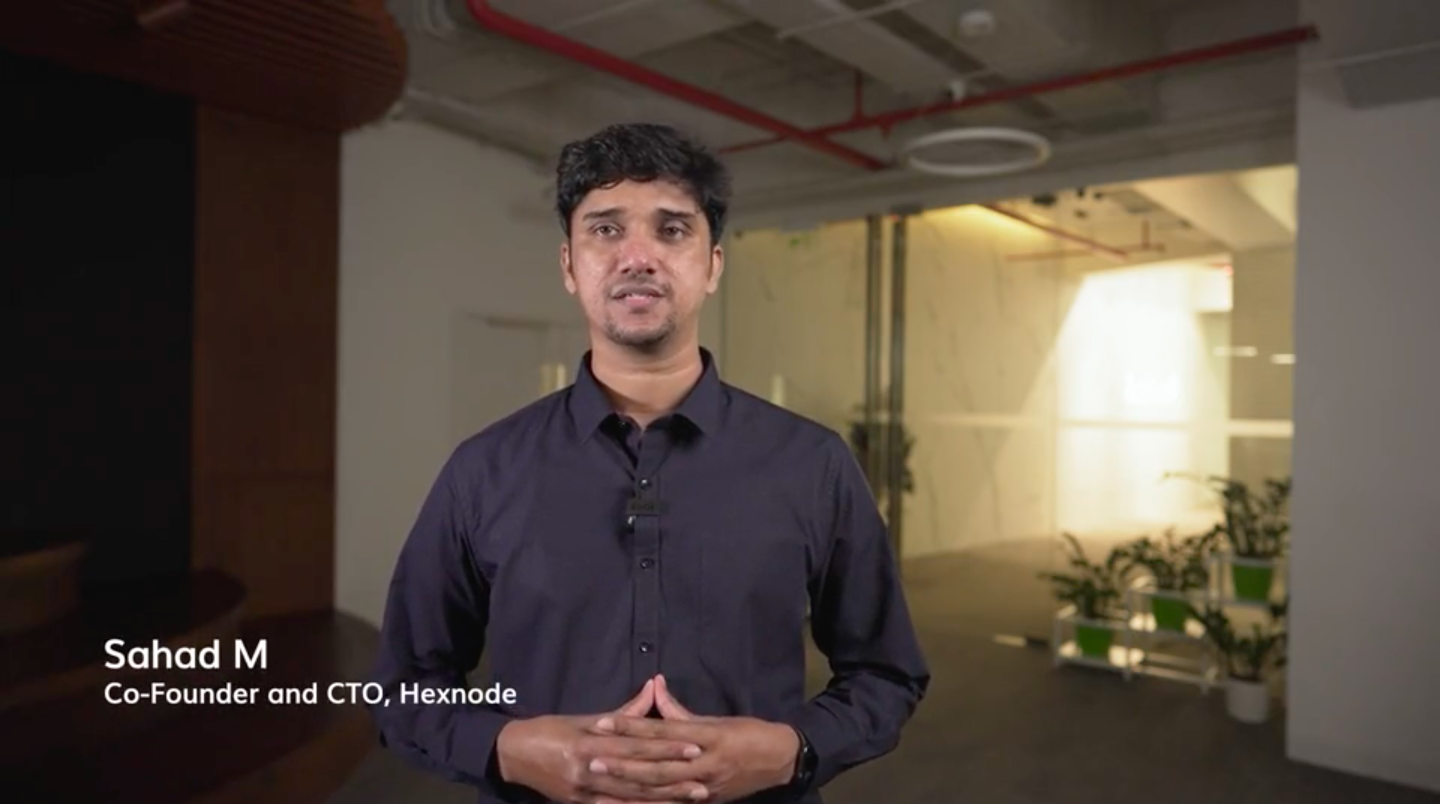 Sahad M (CTO at Hexnode)
A few other important features introduced were:
Support for Android TVs.
Media Management for macOS devices.
Hexnode Gateway for macOS devices for easier migration.
Custom configurations for iOS, macOS, tvOS.
User enrollment for iOS devices.
Partner Relationship Management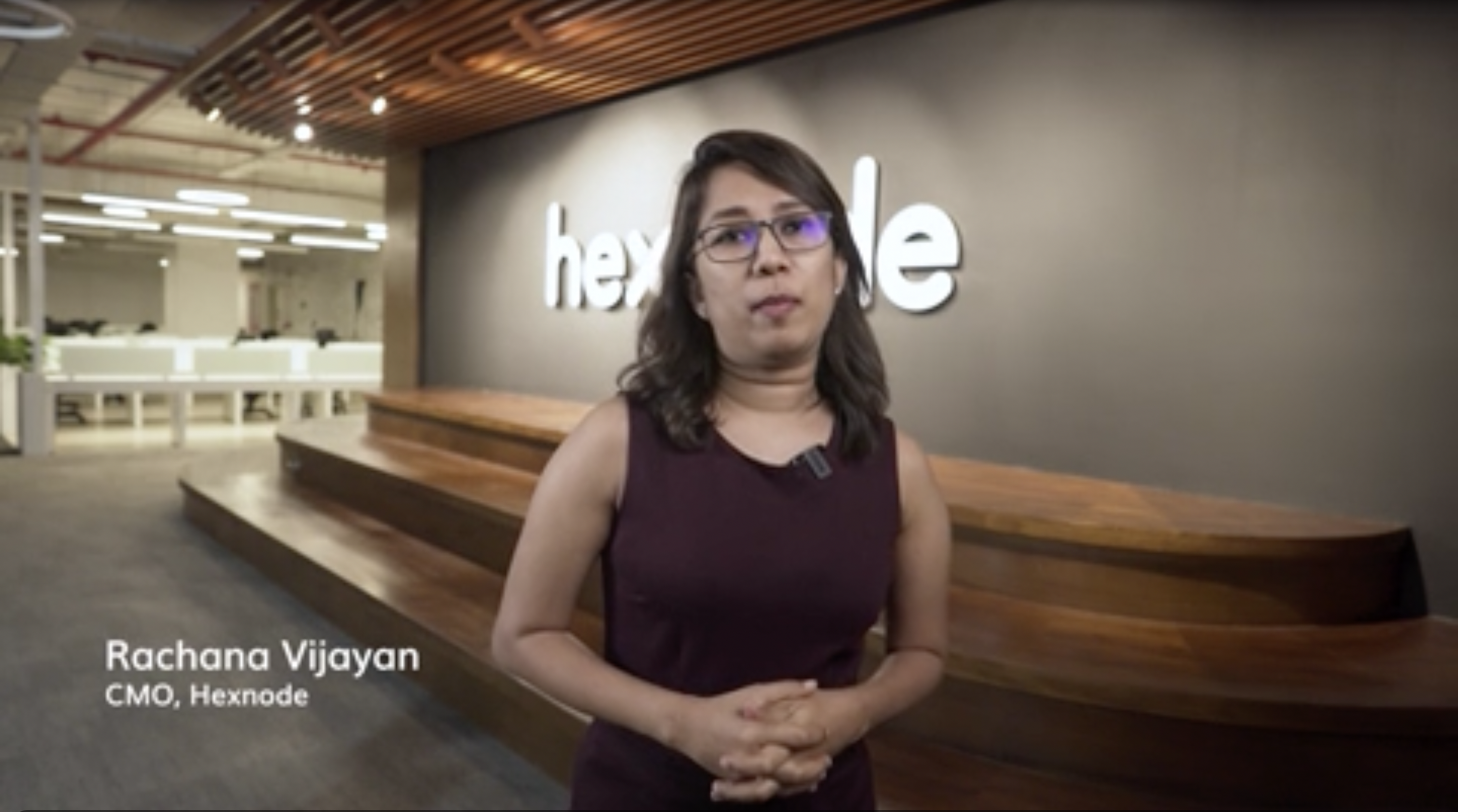 Rachana Vijayan (CMO at Hexnode)
Rachana Vijayan, CMO at Hexnode, talked about realizing Hexnode's vision for its partners. To empower Hexnode partners, Hexnode would be launching a Partner Relationship Management portal soon. The features include:
Partner enablement with co-branded marketing assets.
Product and sales training sessions in the portal.
Manage companies, contacts and deals from the PRM portal for efficient lead management.
Custom branding of the PRM portal.
Easy integration of your existing partner portal to the PRM portal.
Fundamentals of UEM
A new open certification course was announced for device management enthusiasts who do not know where to get started. All you need to do is to register for the course in Hexnode Academy and have a strong desire to learn.
The course "Fundamentals of UEM" would cover the basics of endpoint management, the evolution of UEM, essential features, business value, industry cases and more. This course is a zealous attempt at educating people about the need for UEM in their organizations.
Let's kick off the event!
Well begun is half done, and HexCon21 is definitely off to a good start. There are mind-blowing sessions to come on everything ranging from cybersecurity to endpoint management to the secret of building successful teams.
Stay tuned for the latest updates on HexCon21!