If this was any other year, our team would have addressed you all face-to-face for the first time. But as COVID19 has put a bit of crimp in how it was supposed to happen, HexCon20 took a complete virtual track just like any other event this year. The initial keynote for the user conference was a rapid-fire 30 min run through the revamped Hexnode MDM, the brand-new user provisioning and automation tool, and the other major upcoming features.
As Apu Pavithran, founder and CEO of Hexnode, welcomed everyone to HexCon20 – Hexnode's very first user conference, he talked about the ongoing pandemic that bought the entire world to a standstill. Healthcare providers, frontline workers and other volunteers who sacrificed their health and their time to curb the onslaught of the pandemic were thanked for their services. Though 2020 has been a year riddled with many challenges, Hexnode has stayed strong, and the smooth transition to remote work has enabled everyone to work as efficiently as they could and do their best in helping out customers and others within the Hexnode community.
---
We then got to hear about how our customers and partners were able to use Hexnode to ensure a smooth workflow amidst the pandemic.
Mr. Raymond Anderson, Director of Training at Life Link Training Institute, who served in the United States Airforce and Arizona Air National Guard, has spent more than three decades of his life in social service. Life Link Training Institute is a training institute involved in behavioral science and drug addiction habilitation. They took up a new project during the COVID-19 pandemic. It was a grant that they got through FEMA (Federal Emergency Management Agency). As a part of that project, they were required to deploy iPads to the fields in New Mexico to gather data regarding COVID.
This data was then later sent back to FEMA for analysis.
"If it weren't for Hexnode," says Mr. Raymond Anderson, "we couldn't have found a way to monitor these devices and ensure that the fieldworkers have everything they need for prompt data collection".
Mr. Raymond Anderson is not just an active social worker and a Director of Operation; he also holds a Ph.D. in counseling. Everyone who attended the conference could hear more from Mr. Raymond Anderson on his session on "Stress Management and Remote Work". Stefano Apostolakos, VP and Co-founder of Webistry, talked about how Hexnode MDM helped to take his entire Mac-centric company remote.
Stefano says, "Even before COVID has hit the world, we were looking into solutions that could help us manage the MacBook Airs, MacBook Pros and iMacs in the office. These devices were being used to manage and edit content for companies like Adobe, which meant that they could not be left just lying around, even when they are inside a secure corporate workspace. This aspect of keeping the devices secure suddenly rose to the top of our priority list when COVID hit. That's when we discovered Hexnode MDM."
Hexnode MDM helped Stefano to secure the existing devices and remotely onboard new employee devices. He also appreciated Hexnode's seamless integration with Apple Business Manager (ABM), which ensured that new devices were managed and secured with Hexnode MDM right from the first boot.
Highlights of HexCon20 Keynote
Hexnode began its journey in July 2013, we have come a long way since then, and our customer base has grown more potent than ever. Hexnode MDM has evolved with the times and has received a number of awards and recognitions over the years. "The ones we cherish the most," says Apu Pavithran, "are the Gartner Peer Insights Customers' Choice recognition for UEM tool for April and November 2019 and being crowned a High Performer by G2 in its latest Grid Report for MDM category. It clearly states our relationship with our customers and how they rate us." He further highlighted the importance of customers being the top priority.
---
The new-look of Hexnode MDM
Next, we got to see some exciting new features that Hexnode has lined up for its users. Here's a short summary of what's in store.
Advanced Kiosk Launcher in Android devices
New customizations were brought in for the Kiosk Launcher.
The new advanced view now allows users to set the orientation and grid size of their choice by enabling an accurate visualization of their device screen.
Network Data Management in iOS devices
The network data management rolled out for iOS devices comes in with network usage rules in expense management.
Run shell commands and do much more on macOS devices
The latest macOS updates let users remotely run shell commands, manage disk images, internal, external and optical media, and backlist or whitelist applications.
Execute custom scripts and enable remote lock in Windows devices
Users of Windows devices will be delighted to know that they can now execute custom scripts and remotely lock users out of their devices.
The new Hexnode Remote Assist for Windows lets users remotely view their devices in real-time and decrease downtime by quickly resolving various troubleshooting issues.
One of the major highlights of this keynote address was that users were able to catch a glimpse of Hexnode's new UI. The new design is all about simplicity and easier navigation for users. Here are the highlights:
After these exciting features were revealed, Sahad, the CTO of Hexnode, gave a more detailed insight into the functional aspects.
Policies Tab:
The flow of policy creation and assignment was revamped to make it more user friendly.
The policy assignment is now moved to the first step to ensure a more streamlined flow.
Tags have been added to ease the policy deployments.
Apps Tab:
The new dashboard provides a single pane view of everything users need to know about their app deployments.
Users can upload up to 8 versions of the same app to the Hexnode portal. You can add alpha, beta, pilot, and production builds for your enterprise applications.
You can deploy different prototypes to different user/device groups to accomplish beta testing.
Users can use the prototype tags to easily add apps to the policy.
An app-specific summary page has been added for each app.
Content Tab:
Users can now stay organized by creating folders and nested folders.
Technician and Roles:
The new Hexnode MDM features a broader range of permissions for technicians.
You can configure custom roles with your preferred permissions.
The provision to add multiple roles for a single technician has been added.
Users can expect these updates in the beta rollout that the team has planned for the first quarter of 2021.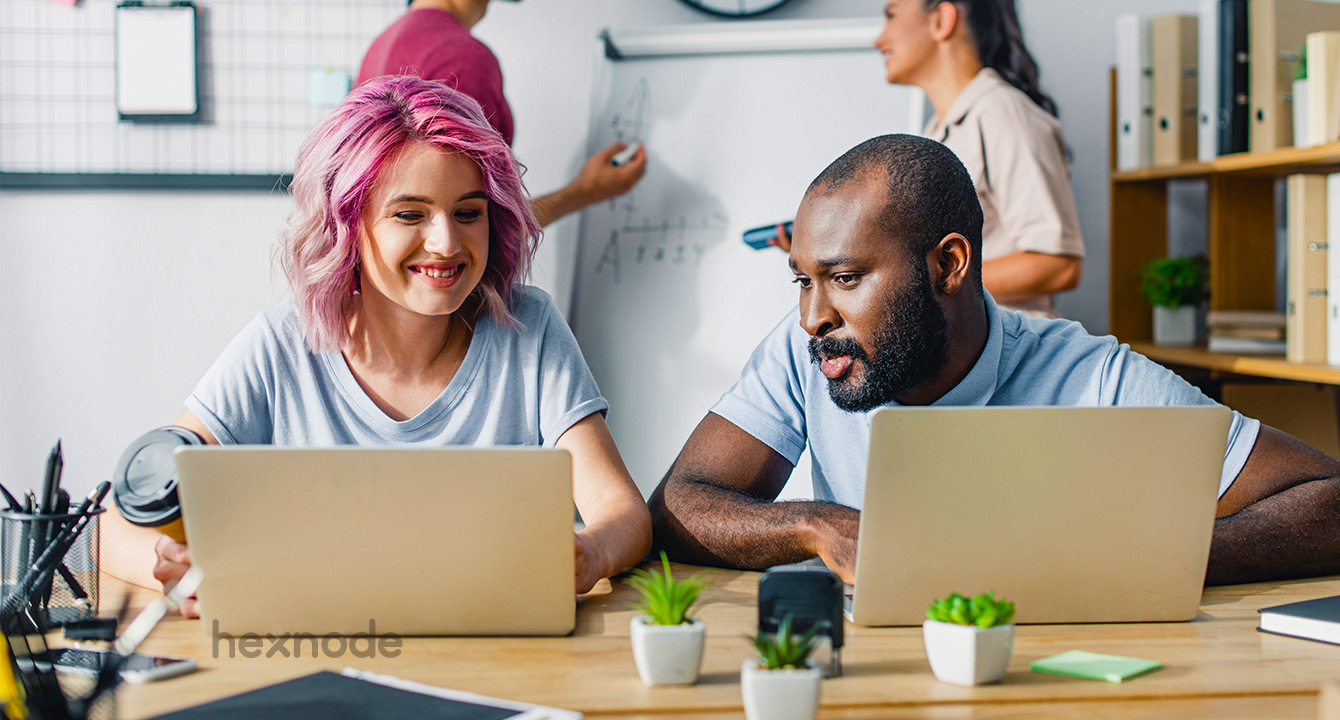 The Hexnode Do unpacked!
The team debuted the new product, Hexnode Do, which was one of the most exciting parts of the keynote session.
"Hexnode Do aspires to be a pinch of data loss prevention a whole lot of SaaS operations, with equal parts of User security and Employee lifecycle management", said Bijo, Co-founder and COO at Hexnode, as he introduced Hexnode Do.
Hexnode Do is a SaaS management tool with a clear focus on user-centric security which allows pushing data loss prevention policies directly to the users irrespective of the device platforms they are working on. It also simplifies Saas app deployment and configuration, making the entire Saas app management all a breeze. In simple terms, Hexnode Do will provide an additional layer of security to the data you are currently managing with Hexnode UEM.
Key features with phase one of Hexnode Do:
The team announced that the first version of Hexnode Do would be up and running by the Q1 of 2021.
The Hexnode Academy
We next got to know more about Hexnode Academy, a platform where users can learn and grow their endpoint management strategy. This initiative was brought in to ensure that all our Hexnode fans out there know about Hexnode as much as we do. With a Hexnode certification in hand, you can prove your expertise on Hexnode. Rachana Vijayan, CMO at Hexnode, gave us all a more detailed insight on the Hexnode certification.
Two levels of certifications will be launched – Hexnode Certified Professional and Hexnode Certified Expert.
Users can get certified on the platforms of their choice as this will extend to Apple, Android, and Windows platforms.
The curriculum will cover everything you need to know about Hexnode.
Hexnode Certified Professional:
It explores all the fundamentals of Hexnode MDM right from setting up and configuring the MDM environment to learning everything you need to know about remote device management and application and kiosk management for Android, iOS, macOS, and Windows.
Hexnode Certified Expert:
It offers complete command over the administrative and operational tasks in the Hexnode MDM console.
Users will be provided with the course material, video guides for each configuration and hands-on labs. These labs will give users complete practical knowledge of enterprise device deployments, integrations, apps and content management, and kiosk management.
A discord channel "#hex_academy" will be available to answer all your burning questions regarding Hexnode Academy.
Our partner community has much helped Hexnode grow over the years. The current partner program features three tiers – Silver, Gold, and Platinum. A vital element across all these tiers is the partner portal. Taking this into account, the major update added is the deal registration.
The new deal registration workflow provides partners with full autonomy over a lead for a period of 90 days. Partners can ensure that their leads are not approached by the Hexnode sales team or other resellers during these 90 days. Plans to add new features to the Partner portal in the coming year were discussed. Crucial analytics will be brought forth to help partners keep track of their revenue and progress, the data will be accurately represented in the form of a dashboard and reports.
The Hexnode Connect – Re-igniting vibrant discussions
The team has rebranded the old version of its forums to Hexnode Connect, a major step towards uniting our communities. The community forum is intended for our users to get advice from tech peers, MDM experts, and the Hexnode support team and to stay up-to-date with the new product enhancements.
The keynote closed with Apu Pavithran giving us a summary of what to expect from the user conference. A special treat will be unveiled at the end of day 2 where the Hexnode certification exam will be hosted live for everyone who registered for HexCon20. They will have access to both levels of certification but just for tomorrow.
Stay tuned to get detailed coverage on HexCon20!