Imagine yourself trekking on a deserted mountain with no GPS. A widely known way of tracing the path you are following in unchartered territory is trail brazing. Why is this relevant you ask? because random facts are cool.
You need not be in a wild unknown territory to be lost, and tracking isn't just to make sure you're safe. It serves multiple purposes. Let me tell you how…. but first
What is Geo tracking?
Geo tracking, also known as geographical tracking, is the process of determining someone's or something's physical location at a specific point in time.
To be more specific about its requirement, it is most useful for enterprises who want to track their devices and whereabouts. This can be due to a lot of factors, like privacy, productivity, and other use cases. Location tracking can be done with the help of a Unified Endpoint Management solution. Before you can track any device, we need to turn the location services on. The way to do this differs based on the OS of the device.
Track your devices with Hexnode
Why Geo tracking?
Constant tracking isn't that an invasion of privacy. Well, it's complicated. In the age that we live in, remote work is not a choice but the only way forward. When the users are scattered all across the globe it is imminent that they go around places, connecting to unsafe networks or leaning towards unproductive things and in cases like these, location tracking becomes a necessity for corporates.
Lost and found
This is the most obvious use case of Geo tracking. Imagine you lose your corporate device. If it is enrolled with a UEM like Hexnode, you need not worry, because knowing the location of the device is just a click away for the IT admin. This saves the corporate valuable money. In the off case that the device is not connected to the internet or just cannot be retrieved, the admin can push a policy to wipe the device. Hence, protecting the corporate data.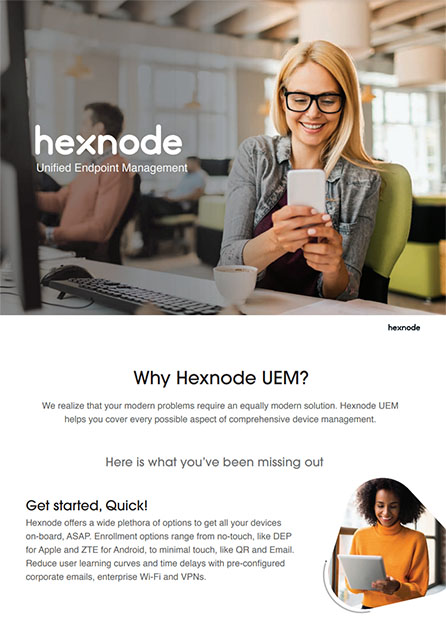 Featured resource
Why Hexnode UEM
We realize that your modern problems require an equally modern solution. Hexnode UEM helps you cover every possible aspect of comprehensive device management. Refer to the brochure to know more about UEM features.

Download Brochure
Productivity and information
When an employee works from a remote location, oftentimes corporate is not present to monitor their productivity and gather valuable information. There are many industries that rely on Geo tracking for a multitude of their corporate needs. Like transport services, vehicle rental services, food delivery among others.
Industries that use Geo tracking
Track your hunger
It is highly likely that you have ordered food from services like Just Eat, Grubhub, and UberEats. While we constantly refresh our screens to check where our delivery person is, the technology we use to keep us sane is Geo tracking.
Transportation
Earlier people used to arrive at the boarding point or hit the street quite early in search of a cab. They could only book a cab from a single boarding site or had to resort to going on the road and finding one.
However, uber changed the ball game, introduced GPS and time monitoring technologies, making travel simple and secure. People can now hire a cab from the comfort of home. They can track the cab's location and predicted arrival time.
Well, this isn't the only travel industry that uses Geo tracking, it can be used to track valuable items that are being transported and can constantly update you about their whereabouts. Everything from on-board flight to a cruise ship is integrated with dedicated Geo tracking technology.
Vehicle rental
Industries renting out vehicles are giving out an important asset and it cannot just be run on trust, a dedicated Geo tracking technology is of paramount importance to make sure the vehicle is safe.
It also helps in calculating the distance travelled by the vehicle, as most rented out vehicles have a cap on the number of kilometers a person can use the vehicle. This eliminates the risk of theft, while also helping the cause of the business
Logistics
A logistics company's drivers and frontline executives must have access to a complete repository of information regarding the real-time location and usage scenarios of endpoints and vehicles. When a UEM solution for logistics providers includes location monitoring as a feature, it may greatly improve the company's IT security. It enables the organization to keep on top of endpoint security and allows them to follow their devices and employees in real-time.
When a vehicle or driver is being tracked this also helps in improving productivity, as being constantly monitored. The drivers will tend to finish their work on time and huge money, that the drivers spend on fuel for personal gain, can also be reduced.
By enrolling the devices into a UEM, the enterprise can manage and monitor the entire device fleet, saving up a lot of time and money.
Schools
It is important to manage and track the devices used by kids, Geo tracking helps you track the whereabouts of the device in case a kid misplaces it or helps in finding the kid himself/herself. Enrolling it in a UEM such as Hexnode also unlocks other possibilities to manage and deploy various policies besides tracking.
Industries
Core industries with huge workplaces, involving a lot of manufacturing and moving around, have a need to manage and track devices. In a huge industry, oftentimes it is very hard to navigate all by yourself and there is a need to locate important personnel and equipment. If you enroll your devices in Hexnode, with its geofencing feature, you can easily track the movement of personnel and make geo-fence. This will make sure that, if an employee walks out of an assigned location, the managed corporate device he/she is using will become non-compliant.
Now that you know the importance of Geo tracking and how using a UEM can ease up its basic requirements. Let us look into some important features for Geo tracking that you need to look out for before selecting a UEM.
Features that matter
Scan location
Start off by looking for this feature, can your UEM retrieve the live location of the enrolled devices in the network?
Location tracking
This feature updates the location of the device periodically, depending on the time period set by the admin.
Location reports
This feature lets you view information on the location history of the enrolled devices, and filter these reports based on their recorded dates.
Force enable location
There can be multiple bad apples in a company that would want to sneak through this level of scrutiny, so it is important for the UEM you choose to have a feature that forces the user to enable location of the device at all times on their work devices.
Geofencing
This is a game-changer when it comes to device management capabilities. Geofences are virtual location barriers that are placed by the IT admins. This helps admins configure and push various policies and restrictions on devices that are inside the allocated geofence. This can also be used to make a device non-compliant in case a device moves out of the geofence. By using dynamic grouping along with geofencing, admins can push policies together to multiple devices which are grouped together, and easily monitor devices that fall out of the group due to non-compliance. Organizations can then apply stringent security policies to the devices that are out of compliance or in the worst case can remove them from the enterprise network itself.
UEM location services – A vital tool to secure your business
Tracking the best UEM
Hexnode is one UEM that you can bank on to deliver all the capabilities that we have discussed thus far. With its feature-rich portal and multi-platform support look no further as we got you covered.