One of the current drivers of business success is the adoption of Enterprise software solutions. Companies today use software services to optimize, rationalize, simplify, and automate business operations.
Besides, as cloud computing has become more popular, the cost of maintaining IT infrastructure has fallen, while access to high-quality enterprise computing resources has become more affordable. As a result, enterprise software solutions for a wide range of company activities are becoming increasingly adopted.
Are you curious about the best software services available in the market? Then read on, because we have a handpicked list of enterprise software solutions that you should definitely try.
Enterprise software solutions aren't just about productivity
Business leaders, regardless of their industry, are always looking for methods to streamline their processes and work smarter, not harder. With remote employment becoming the norm, companies today are more anxious than ever before in terms of boosting workforce productivity.
The use of software solutions is going to change your firm for sure. But, don't you just want to know how it's going to benefit you? Let's see
If not just productivity, then?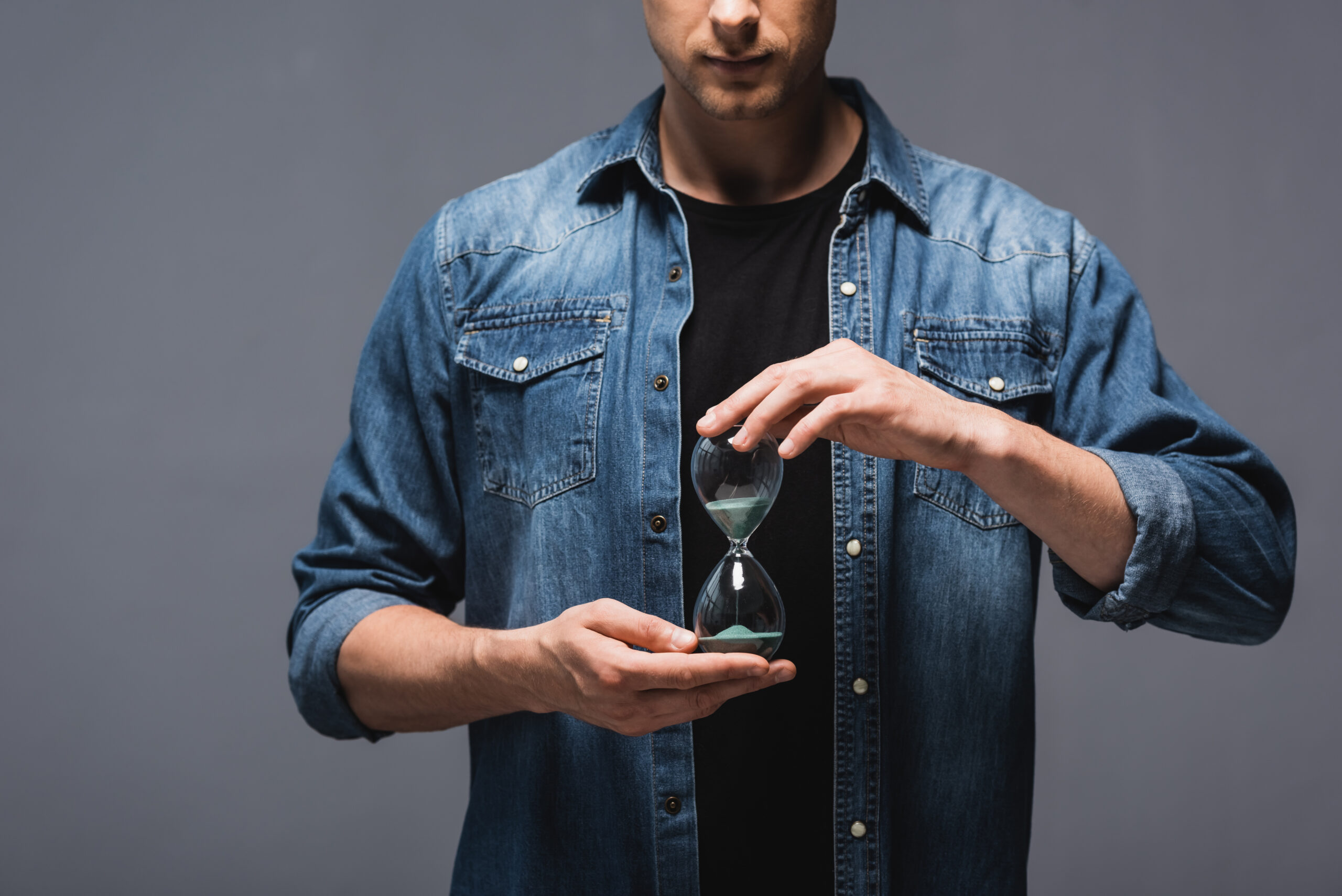 Time is really important when it comes to productivity
Saves more time
The use of productivity apps helps in understanding how you and your employees use time. That way, you can identify areas where you need to focus more.
Reduced cost
The software services smoothen the workflow and can be designed in a way so that the bottlenecks in enterprises can be eliminated. Apart from that, automation will reduce wastage and any mismanagement in the workplace thus saving a lot of pennies for your enterprise.
Improved communication
Communication is the key to the success of any business. With software like Slack and Microsoft Teams, organizations are communicating and collaborating more effectively than ever. As much as any other software on this list, effective use of workflow and communication software will allow your company to expand its market horizons and aid in team organization and collaboration.
Automation of workflow
If you've ever worked in a chaotic environment, you're well aware of the detrimental impact it may have. Whatever the cause, a disrupted workflow is going to affect your total revenue. It's not just about encouraging your employees or team; it's also about providing them with the tools they need to be more productive. Having an automated workflow helps the employees to work without any disturbances.
5 must-have enterprise software solutions
There are umpteen enterprise software solutions available today to support and aid an enterprise. But integrating all of them at once might not be productive. So, we've narrowed our focus to the best and must-to-have ones that we feel would benefit you.
1. Project/Task management
Enterprises frequently manage numerous projects at the same time. Even though these might be unrelated, they all have an impact on the same industrial organization. The technique of managing projects on a company-wide scale is known as enterprise project management (EPM).
EPM focuses on the organization, prioritizing and highlighting its business goals, as well as managing and combining projects to meet the broader company goals. Numerous project management software is available today. Based on our extensive research, we've handpicked 3 of them for you.
ClickUp is an ideal task management platform for teams and enterprises. ClickUp integrates critical business systems and consolidates data into a single online solution. You can assign tasks to your team, manage client projects, and communicate with others using this software. The benefit is that it gives you all the tools and functionality you need to complete your task easily.
ClickUp allows you to examine work tasks and data in numerous ways for better comprehension and tracking. To-dos can be viewed in a list, processes can be viewed on a board, dashboards can be viewed in a box, and project schedules are displayed using a Gantt diagram.
There are also calendar views, activity views, mind maps, workload views, table views, and map views available in ClickUp. You may customize your workspace, work status description, themes, and many more using this software.
Basic: Free
Unlimited: $5/user/month
Business Plus: $19/user/month
monday.com is a Work Operating System that enables teams to manage projects and workflows. It's a basic yet intuitive work OS that helps teams define workflows, adapt to changing demands, provide transparency, collaborate, and quit doing manual grunt work.
monday.com is well-known for its appealing, user-friendly interface and customizability. The dashboard gives you instant access to top-level metrics that are essential in decision-making. This data can be customized to meet a specific objective or business need.
monday.com gives users a sense of ownership and accountability, leading to higher productivity. Today it is used by over 127,000 teams in over 200 business verticals to run their businesses and achieve their objectives.
Basic: Free
Standard: $10/user/month
Pro: $16/user/month
Asana was created so that businesses of any size can track their progress and resolve concerns in one location, reducing the need for endless meetings, email updates, and notes.
asana comes with a variety of tools to assist businesses and their employees in establishing a method for getting things done as quickly as possible.
You can construct lists or boards to house entire projects, which will describe all of the activities, meetings, and programs associated with them. asana offers features that boost project and task management capabilities.
Basic: Free
Premium: $10.99/user/month
Business: $24.99/user/month
2. Collaboration
Collaborative software provides a centralized platform to share information, data, and documents to solve specific business problems. The advantage is that employees can collaborate from any location on the cloud, stimulating innovation and accelerating work to increase profitability and corporate growth.
When it comes to choosing the best collaborative platforms, Slack and Microsoft Teams are the most widely used ones.
Slack is a business-oriented chat service that connects users to the information they require. Slack revolutionizes the way businesses communicate by bringing individuals together to work as a single team.
Slack facilitates collaboration in any enterprise by extending its features like instant messaging, voice and video calls. Additionally, it comes with a suite of tools to let groups exchange information and collaborate. Slack is available for Windows, Mac, Android, Linux, and iOS.
Workspace managers can link additional apps such as Google Drive and Dropbox with Slack for more advanced capabilities.
Basic: Free
Standard: $6.67/user/month
Plus: $12.50/user/month
Microsoft Teams has emerged as the premier choice for enterprises searching for a cloud-based collaborative workspace for their users. Its diverse set of communication, collaboration, and automation capabilities can bring working groups together in even the most difficult situations.
Microsoft Teams comes with essential services like business messaging, calling, video meetings, and file sharing. Apart from these, Teams have also integrated numerous third-party integrations to its platform. Some of the integrations include Jira, Zoom, ClickUp, Trello, and even Monday.com. Today, businesses across the globe are using teams for communication and collaboration.
Basic: Free
Business basic: $5/user/month
Business standard: $12.50/user/month
3. Workflow automation
Automated workflow helps in improving workplace efficiency by enabling internal communication, creating more accountability, reducing cost parameters and errors.
Zapier is a workflow automation platform that connects your apps and services to help you automate operations. The main advantage of Zapier is that it enables you to automate processes without having to create an integration of your own.
Zapier can let you focus and relax during your work by automating a variety of operations between two or more apps. For example, it can immediately share a new blog post on LinkedIn, add events from multiple applications to your Google Calendar, and many more.
Basic: Free
Starter: $19.99/month
Pro: $49/user/month
Company: $599/user/month
'If this, then that' is how IFTTT got its name. The company sells a software platform that integrates apps, devices, and services from various developers to trigger one or more automation. For example, you can automate your workplace with Amazon Alexa for web searches and Dropbox for file sharing with coworkers.
IFTTT uses small apps inside an application called applets, to carry out the automation. Using the IFTTT website or mobile apps, you can toggle an applet on or off. IFTTT's user-friendly, uncomplicated interface also allows you to develop your applets.
Standard: Free
Pro: $1.99-$9.99/user/month
4. File hosting/Synchronization service
A file hosting service, in technical terms, is an internet service dedicated to storing a user's data. It allows you to upload, save, and view your files from any computer, smartphone, tablet, or other comparable devices.
The most significant benefit of hosting your data online is that users may access them from anywhere, at any time, whether at work, at home, or on the go. The only thing you may need would be a reliable internet connection.
Dropbox is one of the most well-known and widely used cloud storage services available today. Dropbox is commonly referred to as "cloud storage." When you sign up for Dropbox, you'll be given a set amount of storage space on an online server called "the cloud."
Any files you store locally in Dropbox will also be copied to the Dropbox server. If you make modifications to these files in one location, the changes are mirrored everywhere, provided, you have Dropbox enabled on the devices that need data synchronization. You can access and share your Dropbox files from anywhere by synchronizing them locally and online.
Professional: $16.58/month (single user-3000 GB)
Standard: $12.50/user/month (3+users-5000GB)
Advanced: $20/user/month (unlimited storage)
Microsoft's online storage service, OneDrive, is a 100% cloud-based service. OneDrive allows you to sync files created on your computer with the cloud. You can use OneDrive to sync and access files across several devices, including laptops, phones, and many more.
OneDrive also allows you to back up particular places from your PC to the cloud. Files stored on your Desktop, in the Documents folder, and photos stored in your Pictures folder will be automatically backed up to OneDrive. OneDrive provides you with a reliable automatic backup of your most important information.
Basic: $5/user/month
OneDrive for Business (plan 2): $10/user/month
Business Standard: $12.50/user/month
box is a platform for file storage, sharing, and team collaboration used by individuals as well as businesses. It facilitates secure and reliable synchronization of files and folders.
box is fairly nice when it comes to storing and sharing files. It's very easy to use, has niche features, and provides excellent customer support.
The enterprise-grade solutions of box include more collaboration and governance tools, allowing business customers to benefit from huge scalability.
Starter: $5/user/month
Business: $15/user/month
Enterprise: $35/user/month
5. Endpoint management solution
Endpoint security is regarded as one of the most time-consuming, demanding, and expensive administrative activities in an enterprise. UEMs are well-known for their device management features such as device security, asset management, and end-user management. BYOD and COPE devices have risen in popularity as the number of remote employees has grown. Most firms cannot afford to leave these devices unattended. An endpoint management solution is a perfect way for them to secure their devices.
But with hundreds of UEM solutions available in the market, choosing the right one for your business might not be easy for you.
In an age of worker mobility and multi-device support, overcoming the problems of enabling security and user productivity necessitates a fundamental move away from traditional endpoint management practices. A modern UEM, in particular Hexnode, can be your best pick for endpoint management.
Hexnode UEM is an advanced tool for configuring, monitoring, and securing your employees' mobile devices. It's used by SMEs and large corporates to manage endpoints from a centralized console. Hexnode is unique for its organized, simple, and user-friendly interface.
Some of the most sought-after deployment functionalities provided by Hexnode include bulk deployments, pre-configuration of devices, self-enrollment, and zero-touch enrollment.
Hexnode has various policies which can be set up by an IT admin of a firm. These policies help an enterprise in terms of security (device security and network security), productivity, accessibility, and many more.
Some of the productivity-driven features of Hexnode include,
Kiosk management
During kiosk mode, devices are configured to execute a specific use case set by the company. Organizations can employ kiosk mode to ensure that devices are only used for work during working hours. Kiosks provide several advantages to enterprises in terms of increased productivity, device security, and many more.
Hexnode offers a single-app kiosk, multi-app kiosk, web app kiosk, and for branding purposes, digital signage-like features. For successful kiosk management, you can make use of certain tips. (10 essential tips for successful kiosk management)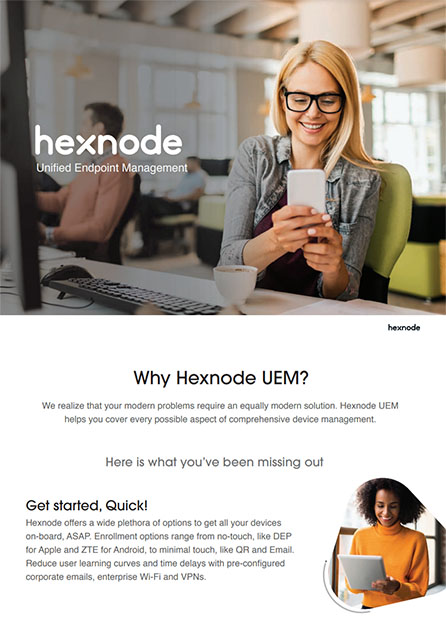 Featured resource
Why Hexnode UEM?
Hexnode's comprehensive set of features is the right fit for modern-day enterprise mobility needs. Download the brochure to learn more!

Download brochure
Blacklisting and whitelisting applications
Blacklisting restricts users from accessing particular applications. IT admins of a company can choose to blacklist all the unproductive apps that users may be having on their devices.
Whitelisting is the exact opposite of blacklisting. Whitelisting restricts users from using any apps other than the whitelisted ones.
Web content filtering
Web content filtering is similar to blacklisting and whitelisting. Instead of applications, here websites are blacklisted and whitelisted.
Organizations can use this feature to restrict users from accessing unwanted sites during work hours and to concentrate more on their work. Web content filtering also helps in securing the web traffic of end-user devices.
Android Enterprise
The concept of 'Android is ready to work' has gained much popularity in recent years. Hexnode has integrated every feature that an enterprise requires under Android Enterprise.
Devices can be enrolled using Hexnode as a "Device owner" or a "Profile owner". In device owner mode, enterprises will have full control over the device. For BYOD devices, the devices are enrolled as profile owners. A separate work container will be set up on such devices to avoid mixing user data and work data.
Remote troubleshooting
During the pandemic, we saw a gradual shift of 'work from the office to home. While the IT team could easily maintain the PCs used in workplaces directly, the shift to 'work from home' has necessitated new techniques of over-the-air device administration.
Hexnode comes with remote actions to troubleshoot an end-user device remotely. Additionally, policies are available to remotely configure CalDAV, Exchange ActiveSync, VPN that could save lot of time. CalDAV helps to automatically schedule and update calendar events across all the employee devices. Exchange ActiveSync is a step ahead. Exchange ActiveSync synchronizes mail and web services housed on an Exchange server, such as Calendar, Contacts, Reminders, and Notes, with the enrolled devices.
Pricing: Starts from $1/device/month
Try Hexnode UEM for free
Make your first step towards attaining productivity with Hexnode UEM.

sign me up!