What is Android Enterprise Essentials?
Android Enterprise Essentials is a simple and secure management solution for protecting corporate devices and the data stored within them. Historically, the choice for SMBs has always been to employ a resource-intensive mobile device management solution or have no protection at all. In a study conducted by Bullguard in 2020, it was found that 43% of SMBs in their study lacked any sort of cyber-security defense plan and 23% neglected to use endpoint security.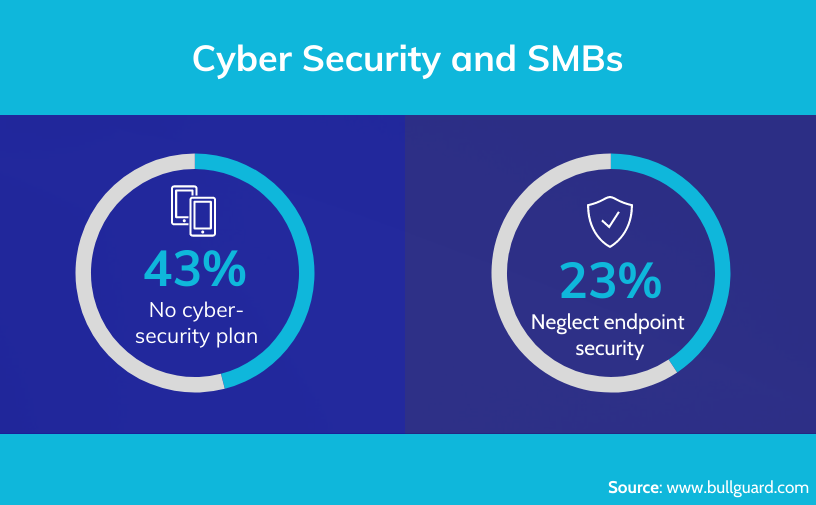 Android Enterprise Essentials aims to find the middle ground when it comes to mobile security for these SMBs. By providing critical security at an affordable price, Android Enterprise Essentials provides a lifeline for SMBs in the face of a cyber-attack.
Google did also mention that the Android Enterprise Essentials program would be perfect for large organizations that want to provide core security features to devices but might not need advanced device management. It could also work as an initial starting point for organizations that are just dipping their toes into device management. These organizations can potentially upgrade to advanced management in the future after having a taste of simple device management.
How to get Android Enterprise Essentials and what to expect?
Obtaining Android Enterprise Essentials is fairly straightforward. If you already have a Google certified reseller, you can get it through them. If you don't have a reseller, head on over to Android Enterprise Directory, there is a list of resellers available there. As for compatibility, Android Enterprise Essentials is compatible with any Android device that supports Zero-Touch enrollment. As of the latest update, that means any Android device running 9.0 or above originally shipped with Google Play Store and a select few Android devices running 8.0.
As far as expectations are concerned, what you see is what you get. This program provides you with the essentials of mobile security. There no highbrow device management involved, it is basic and simple.
Better
Security
Any device in the Essentials account is required to have a screen lock. This is the first line of defense against data breaches. A device without a screen lock is just trouble waiting to happen. You can also ensure that the policies you apply to these devices are persistent, even when the device goes through a factory reset. Malware detection and protection would always be running in the background courtesy Of Google Play Protect. You can also ensure that users don't sideload apps. Installing applications from unknown sources is always a huge security threat. Now in case the device gets lost or stolen you can ensure that the corporate data within the device could be wiped clean remotely with the help of Android Enterprise Essentials.
Simple set-up
and
functionality
The deployment of devices is streamlined in such a way that the users just need to pick up their device and get going. Everything can be handled remotely. Even the policies are enforced automatically. There is no user intervention. You can also view and manage these devices from a much simpler and more streamlined portal. This portal also gives you the functionality of resetting the lock screen pin of these devices from afar. So, in case a user forgets their password remote troubleshooting wouldn't be a big stretch anymore.
Great
ROI
Android Enterprise Essentials provides you with affordable protection for all your Android mobile devices and the data it houses. Any new device you purchase from the reseller is automatically added to the portal without much of hassle. You can also save a ton on training and manpower costs because the functionality is so simple that there is no need for additional training or resources required.
How does the Essentials Portal work?
The new Essentials portal is simple and very easy to use. You will receive access to the Essentials portal after your reseller has finished setting up your account. You would receive an e-mail through which you can explore the portal. The basic functionalities that are available in this new portal are:
Check device status
In the portal, you can view information about all the devices that are registered to your account. You can view the default device name, the IMEI number/serial number, the last time the device was synced, and its current status. Before a user turns on their device, the status would be displayed as "ready to set up" and once the setup is completed the status would be "active". This means that all the security criteria that entail the Android Enterprise Essentials program are now applicable to the "active" devices. The last synced time shows when the device last communicated with the Essentials portal. If it has been a long time since the last sync, it would suggest that the device could be offline. Furthermore, you can also add friendly names for devices for easy identification.
Add users
If you were the one that received the welcome mail at your e-mail address, then you would be the first owner of the Essentials portal. You can add other users as an owner or admin role, into the portal. The admin role has similar capabilities to the owner role. But only an owner can add new users to the portal.
Add resellers
This is in case you are buying devices from multiple resellers. The new reseller can be added to your existing Essentials portal, rather than creating a new portal for each new reseller.
Manage devices
You can take proactive action on your devices, if it comes down to that, with the help of the Essentials portal. The only requirement is that the enrolled devices should be connected to the internet. The following remote actions can be performed from the portal:
Reset the screen lock:

Users forgetting their passwords is pretty common

, but it requires a lot of troubleshooting and is quite the hoopla if you don't have the time for it. With

Android Enterprise

Essentials, you just need to login to the portal,

select the device you want to reset the screen lock on, and just enter the new password.

At the other end, if the device is locked

,

the user has to enter the password you created to

access the device

. Once in, the user may change the password

to his liking.

Wipe the device:

If a device is lost or stolen and you are sure that recovery is not possible

,

you can opt to wipe the data within the device through the Essen

tials portal. Similar to reset lock screen, you just need to select the device and click on wipe device.

If the device does not have an active internet connection, the data will be wiped as soon as the device gets connected

to the internet. When wiped the device will be reverted to its factory settings and all the security

features implemented by Android Enterprise Essentials would be reinstated.

Remove a device:

If a device is no longer being used in your organization, it is better to have it removed from your account.

Similar to the device wipe action, when you remove the device, all the corporate data within the device would be deleted and the device would revert

back to factory settings. But since it's no longer part of your Essentials account, the security features

won't be re-enforced.
When is Android Enterprise Essentials launching?
Android Enterprise Essentials was launched in an online event held on the 26th of January. The solution was introduced by James Nugent a Product Manager at Google. He discussed some of the major vulnerabilities that are plaguing the SMB sector on the device security front. These included sideloading of apps, lost & stolen devices, and the absence of a screen lock on many devices.
He introduced Android Enterprise Essentials as a solution to these vulnerabilities.
Automatic and affordable protection from Google
The principles that are the foundation of the solution were also discussed. These were
Simple and automatic security
Instant set-up and easy management
Excellent value
He then proceeded to give a product demo, both from the employee's perspective and the admin's perspective.
If you want to watch the introduction to Essentials, you may click here,
Introduction to Android Enterprise Essentials
If you are interested in watching the whole webinar you may click here
In case

you need more functionality
This solution provides you the basics in mobile security but Android is a very vast platform with so much more to offer in terms of device management capabilities. In case you need more functionality, you only need to migrate over to the numerous, authorized EMM providers like Hexnode.
You can unlock functionalities like:
App configuration and distribution

Corporate data containerization with work profiles

Pushing network configurations and settings

Managing devices in kiosk mode
Sign up if you need more functionality!
Unlock limitless Android device management capabilities with Hexnode.

Sign up!