On June 10th, Microsoft posted an eleven-minute video that played just one thing – the start-up tune of Windows that we are all very familiar with. This was in addition to the announcement of a Windows event at 11 AM ET on June 24th. Yes, all this was a precursor to the announcement of Windows 11 – the first major release of the Windows operating system in six years. There is no question about the fact that Windows is the most used operating system in both businesses and homes. The popular OS promises an upheaval in the way it has been doing so far, and we cannot wait to see what it has in store for us. The updates to Windows 11 will be available in late 2021.
Hello hybrid work, meet Windows 11!
Image source: Windows 11 Press materials
Hybrid work is the go-to in 2021, and obviously, Microsoft does not want to fall behind the trend. Windows 11 is promised to be built with a complete focus on hybrid work. How does it do so?
Windows 11 would support cloud configurations, just like Windows 10. If you have experience managing your Windows 10 devices with Hexnode, you already have experience managing these devices using cloud configurations.
The best part of Windows 11 is that there is an upgrade of all the existing features while retaining the core of Windows 10. IT does not need to look for an entirely new Unified Endpoint Management (UEM) solution to manage their Windows 11 PCs. They can just use their existing solution for this more productive and secure version of Windows.
System Requirements for Windows 11
| | |
| --- | --- |
| Processor | 1 gigahertz (GHZ) or faster with 2 or more cores on a compatible 64-bit processor |
| Memory | 4 GB RAM |
| Storage | 64 GB or larger storage device |
| TPM | Trusted Platform Module (TPM) version 2.0 |
| Graphics card | DirectX 12 compatible graphics / WDDM 2.x |
| Display resolution | >9" with HD Resolution (720p) |
The most secure version of Windows yet?
Microsoft promises us the most secure version of Windows yet with brilliant hardware-based integrity protection. It means that the PCs would be secured core PCs. Secured core PCs build upon the existing layers and takes advantage of the advanced processor capabilities to protect against firmware attacks. The built-in security promises to protect the workers, data, and company assets.
What about the apps?
Apps run the show on any device and business devices are no exception. When there is such a huge update coming, it is natural to be worried that there would be no backward compatibility for your beloved Windows apps. The worries are for naught as it has been announced that all Windows 10 apps would also run on Windows 11.
What if the devices are not eligible for an update?
If the devices are not eligible for an update to Windows 11, you do not need to be worried. Microsoft has announced continued support and updates for Windows 10 till 2025 for sure. Even if the devices are eligible, it is completely prudent to wait before deploying the updates in bulk. If you prefer to have both Windows 10 and Windows 11 devices in your enterprise ecosystem, that's also possible as the two operating systems are designed to co-exist.
You can check if your device is eligible for a Windows 11 update by either painstakingly going through all the requirements or by using Microsoft's PC Health Check app.
A completely new UI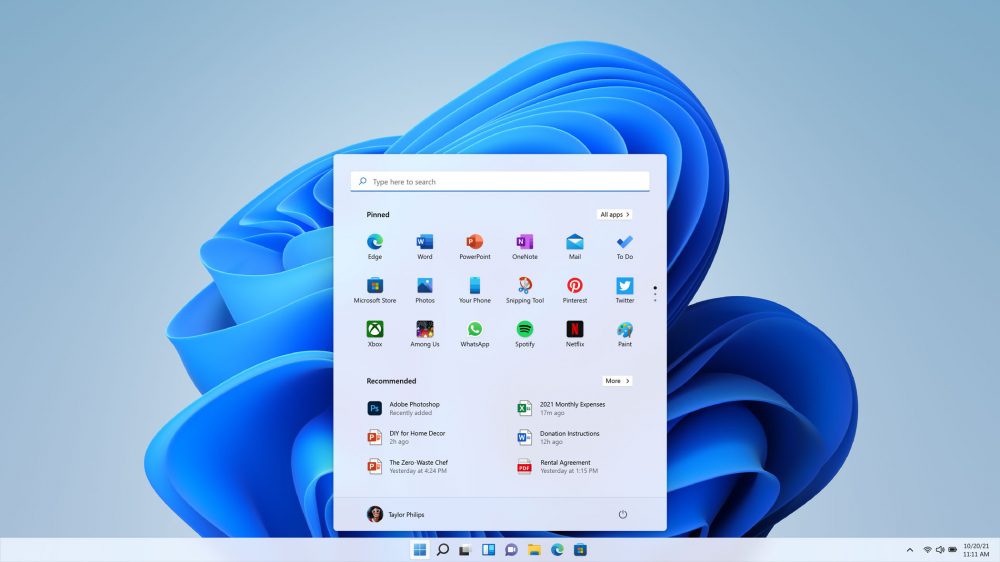 Windows 11 UI
Image source: Windows 11 Press materials
Personally, I am a bit confused on whether this is a good change or bad. The iconic start menu at the bottom right is no longer there by default. However, we can change it back and it is for sure that most of us would be doing exactly that. The new UI has close similarities to that of macOS, and we would have to wait till the update and see how it feels like using it.
Goodbye to twice-a-year upgrades!
Upgrades for Windows 11 would be released annually, and that feels like an excellent change of pace. The dual updates for Windows 10 in the first and second half of the year were, frankly put, very difficult to manage and deploy. Seems like Microsoft is going for quality over quantity!
Early access to Windows Insiders
Those who have registered for Windows Insider Program would get access to the first Insider Preview Build this week. Microsoft has said that a Beta release would follow later this summer.
Bottomline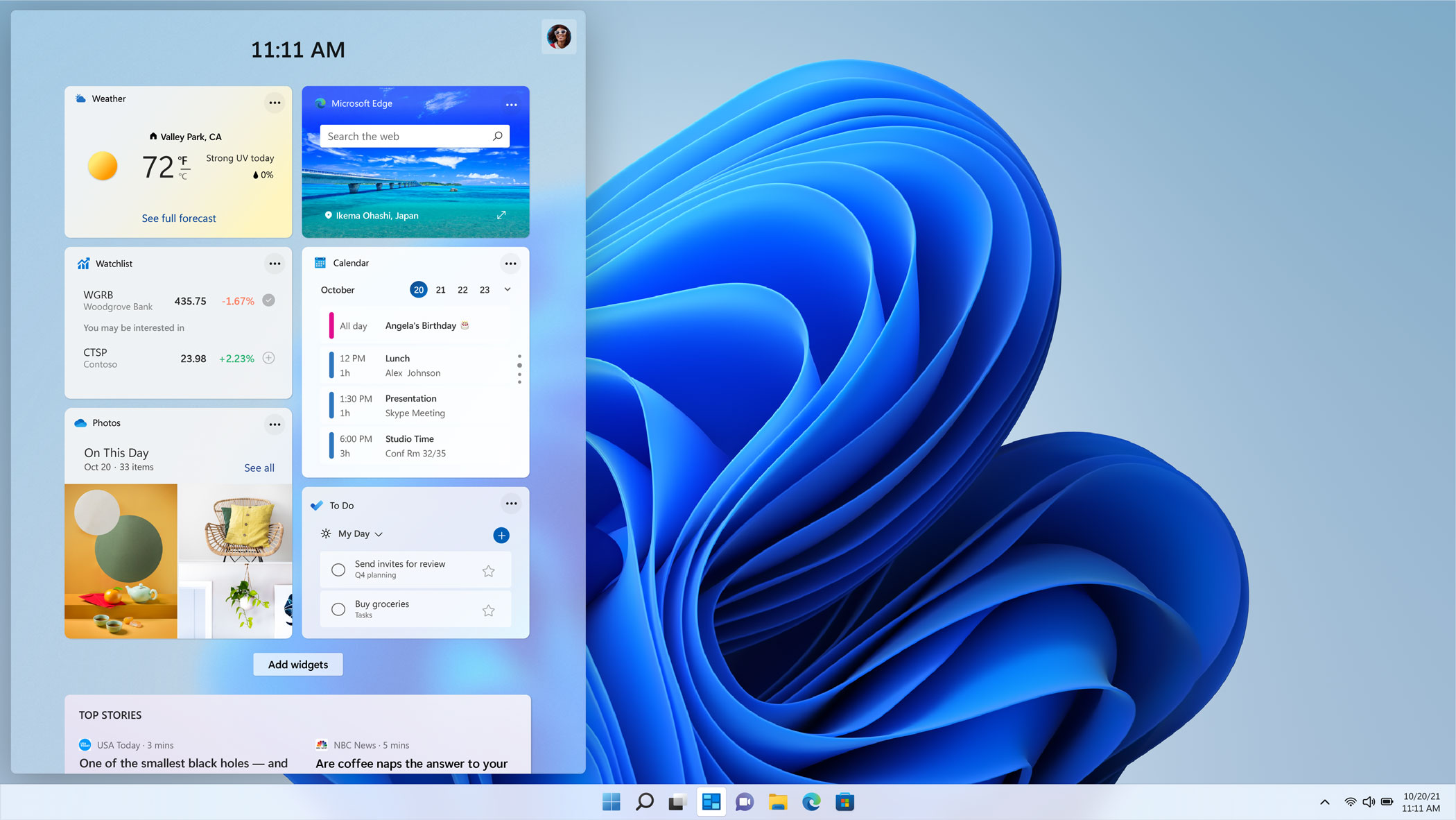 Windows 11 Widget screen
Image source: Windows 11 Press materials
Windows has this history of being popular on its every alternate release. Remember Windows 8? We cannot either. After the wild success of Windows 10, we hope sincerely that Windows 11 breaks this cycle for good. It does feel better that the Windows 11 updates are supposed to be very easy.
Upgrading to Windows 11 is similar to taking a Windows 10 feature update

-Wangui McKelvey
Let's wait for the fall and see (judge) for ourselves all the updates that Windows 11 is offering.