Windows devices are a common sight in modern workplaces. Almost all organizations have at least one or two Windows devices deployed to their employees as work devices. It can be laptops or PCs.
By now, almost everyone should be familiar with the importance of device management. If you are not, think of it this way, your employees would have a lot of distractions on their work devices, and resolving device-related issues would be a real headache.
Choosing a perfect solution for your device management is not simple anymore, with a variety of tools available to do the job. And just as is the case for every device, Windows device management is no different since there are a lot of options available.
Out of all the options, the two most prominent ones are Unified Endpoint Management tools and Group Policy or Group Policy Object (GPO). Both of them are very different in every way, even in the way they approach Windows device management. Let's see what these two are and why UEMs are better than GPOs.
Explore Hexnode's Windows management features
What is Group Policy or Group Policy Object (GPO)?
Group Policy is almost like a set of commands which IT admins can send to users and computers in Active Directory (AD) domains, using AD to restrict, enable, or configure system settings or other variables like account settings, device wallpaper, control panel settings, and so on. These commands can be sent to any number of devices remotely as long as they are in any of the organization's AD domains.
There are some things you must have before you can start managing your Windows devices using group policies:
The first one is Active Directory Domain Services.
The second thing is a properly set up and functional domain and OU structure otherwise popularly known as AD forest.
The last thing you will need is the Group Policy Management Console (GPMC).
Don't worry about GPMC, it usually comes as a package deal with AD DS. Search Group Policy Management Console in the Start menu to see if you have it or not. If it is not there, there are a few different ways using which you can install it.
The easiest way to do it is to go to the Start menu, search Optional Features and select "Add Optional Feature". You will be taken to a different window, where there will be a button labeled "Add feature" with a plus sign. When you click on that a search bar will appear. Type in Group Policy Management in the search bar and a result named "RSAT: Group Policy Management Tools" will come up. Click on that and proceed to install it. There, you will have GPMC installed on your PC.
So, GPMC acts as an interface where you can configure and apply GPOs to OUs. GPOs are objects containing all the instructions that are applied to OUs to make changes on the device end.
How to manage your Windows devices with Group Policy Object?
As mentioned earlier OUs are the smallest units to which you can apply group policies. Apart from OUs, you can apply group policies to domains and sites in AD. But in the case of domains and sites, it will get applied to the OUs in them.
So, to start managing Windows devices with GPOs, you must have your domain structure or AD forest set properly in AD DS. Once that is figured out, you can open GPMC. There are two ways to open GPMC:
First way
Press the Windows key + R to open the Run dialog box.
Enter the command gpmc.msc or click OK in the Run dialog box.
Second way
In the start menu, type Group Policy Management Console to find it.
The GPMC window displays a hierarchical layout of the AD forest and domains as soon as you launch it. Here you can see the OUs or the domains to which the GPO is to be associated. For that, first, find and right-click on the GPO you want to edit, then choose "Edit" in the context menu. This takes you to the Group Policy Object Editor, where you can edit the GPO of your choice.
On the left side of the Group Policy Object Editor, there will be a pane where you can navigate through the different policy sections available, and you can also expand it by clicking on the folders in the left pane. All the sections of policies will have a set of policies that can be edited and configured for the GPO of your choice. You can edit a policy setting either by double-clicking on it or by right-clicking on it and then clicking on the Edit option.
By doing this, you can access the policy setup window and change the required settings. Click OK to save your changes and close the setup window after making any required modifications to the policy settings.
Once everything is done, do not expect changes to happen that instant itself, because the GPO has to link to the site, domain or the OU. This might take anywhere from minutes to hours to even a few days. Sometimes a simple restart of the device can make the changes visible.
What is UEM?
UEM or Unified Endpoint Management is a software tool that acts as a single interface where IT admins can control every endpoint in their organization. From smartphones and tablets to laptops and PCs you can manage almost every endpoint that is normally used in an organization using a UEM. And almost all of the leading UEM tools support the management of Windows devices.
You can deploy, provision, manage, configure changes, and monitor Windows devices using a powerful UEM like Hexnode. Oh, did I mention that all this can be done across any number of devices, that too remotely? The pre-requisites to managing devices using UEM is that the device has to be enrolled in the UEM portal of the company. That's it, yes, it is that simple.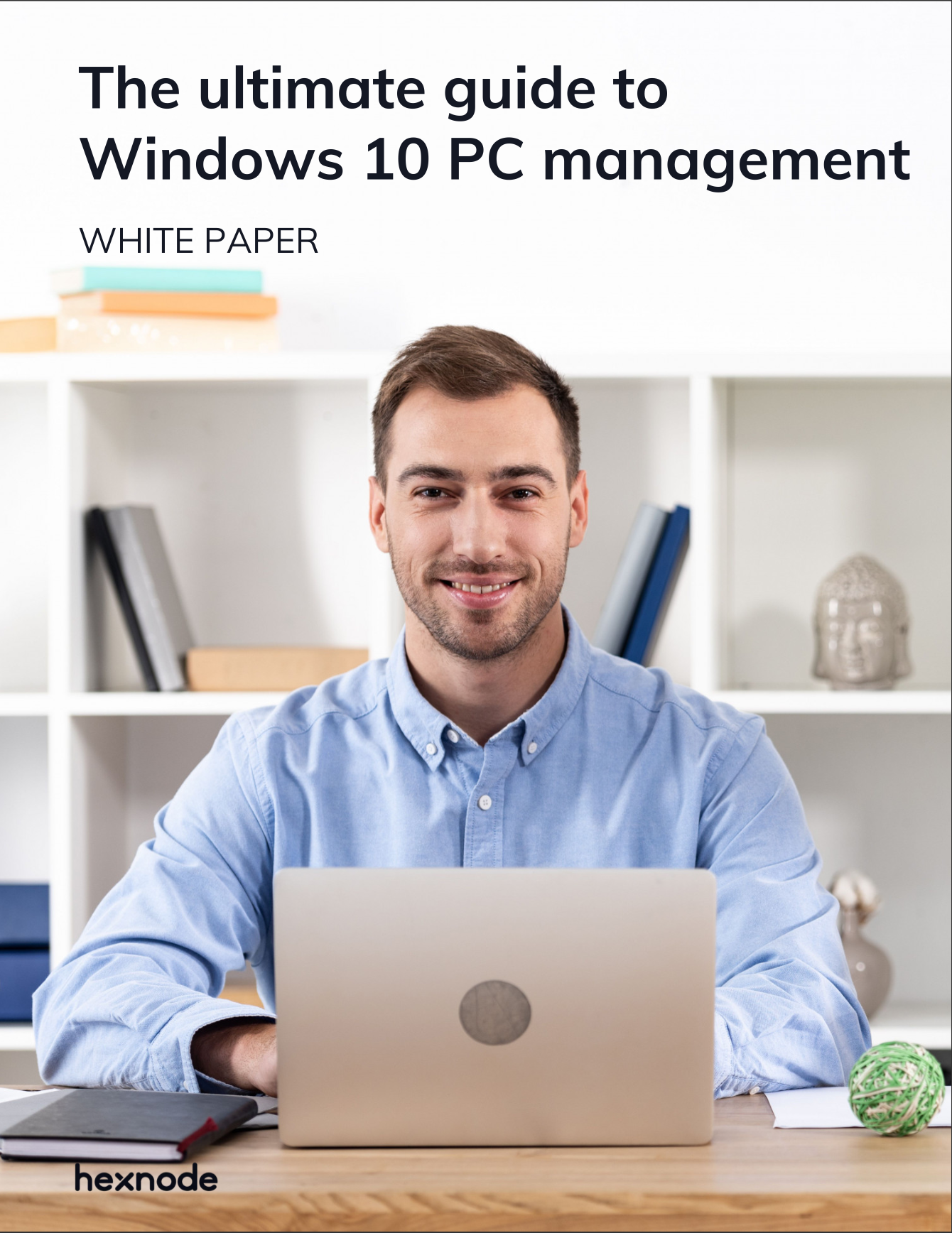 Featured resource
The ultimate guide to Windows 10 PC management
Managing Windows 10 devices with traditional device management models can be problematic since the end-user can often find ways to tamper with the system settings. UEMs provide all the new management needs and prevents attack vectors from anywhere.
Download the White paper
How to manage your Windows devices using a UEM like Hexnode?
To start managing devices with a UEM, first, you have to enroll the devices in the device management portal and assign these devices to respective users. When it comes to enrollment, Hexnode offers a few options:
Open enrollment
Here the enrollment process requires no authentication from the user side. There are two ways to proceed with this enrollment process: Using the Hexnode Installer app and using the Native enrollment method.
Click here
for step-by-step instructions.
Authenticated enrollment
It is similar to open enrollment in the setup, but one thing is different. The users have to authenticate in between the enrollment process to complete the enrollment process.
Click here
for step-by-step instructions.
Enrollment using provisioning package (ppkg) files
This method makes use of a provisioning package file (.ppkg) which is a container containing a collection of configuration settings. Administrators can readily configure and deploy the settings needed for the enrollment process on a large number of devices by using Windows provisioning.
Click here
for step-by-step instructions.
Google Workspace enrollment
The integration between Hexnode and Google Workspace allows enterprises to import users or groups directly into the UEM dashboard. With the help of this integration, businesses can easily enroll and assign their Windows devices to the configured Google Workspace account.
Click here
for step-by-step instructions.
Co-management for Windows devices
Although a device registered with another UEM/MDM software cannot be enrolled in Hexnode, it can be co-managed to access device data or carry out simple tasks using Hexnode. As a result, Hexnode supports these devices
Using Hexnode you can see all the users, devices/endpoints, and groups in your organization. And just like in GPMC, you can associate device configuration instructions (called device management policies) to all these sections, that is users, devices, and groups.
You can import user, device, and group details from AD, Google Workspace, Okta, and Azure. Or even you can enter user details yourself in Hexnode and make groups based on different conditions. Dynamic grouping is also possible with Hexnode. This can be used to manage devices and users conditionally according to your organization's needs.
So, once all the hierarchical grouping and sorting are done, you can configure device management policies using the Policies tab in the Hexnode management console and associate them to users, devices, or even groups.
Let's see a few features offered by Hexnode.
IT admins can use Hexnode to define a variety of Microsoft Defender settings on all enrolled Windows devices. Users can use and access their devices without worrying about viruses, spyware, malware, or other dangers thanks to Hexnode's Threat Management function in Microsoft Windows Defender.
Hexnode additionally offers device monitoring options to check on the performance of your Windows devices and to streamline troubleshooting. With the monitoring feature, you can make sure that all the policies that have been applied have taken effect on the device. Some remote actions are also possible with UEM, like restarting a device, wiping the device, remotely running scripts, and so on.
Why is UEM the better option compared to Group Policies?
Okay, now that you have seen what is possible with both GPOs and UEM it is pretty obvious which is the better option when it comes to Windows device management. Just to make it a bit clearer let's see why a UEM is better than GPOs.
One of the main advantages UEM has over Group Policy Object is its simplicity. Whether it is the UI or the entire process of creating and associating policies, UEMs are usually better. Compared to GPO, using a UEM is like a walk in the park. Configuring and arranging domains properly in AD DS is not for the faint-hearted. But you don't need all this in a UEM.
Another advantage is that UEMs can be used to manage devices that are not in the Active Directory. But to use Group Policy Object, the device has to be an OU in the AD domain. And since UEMs like Hexnode can import AD domain details, it would be a good idea to stay away from the complex maze, that is the GPMC.
Another edge UEM has over GPOs is that using UEM you can make sure that the changes you have made have taken place on the device end or not. This is not possible in GPO; you have to confirm it on the device end. Also, using a UEM, you can monitor the device to see if the device is working as it should.
Wrapping up
Phew, that was a lot of information about Windows device management, right? But all that information will surely help you make your choice easier when it comes to choosing between GPOs and UEM to manage your Windows device fleet. What are you waiting for, go and try out Hexnode for free to see how powerful it is for yourself.
Try out Hexnode for free
Sign up for a free trial and explore Hexnode's Windows management features.
Sign up