Apps and software are critical when it comes to using mobile devices and desktops. There is always a software or app for your every need. In fact, I bet if you think of any task at random right now, 9 times out of 10, there's gonna be an app that can help you with it.
It is no surprise then that today, enterprises require lots of apps and software to function properly. However, the manual installation of enterprise-required apps can be a tedious task. IT admins would have to configure software in each device one by one.
This is where software distribution finds its use.
Explore Hexnode's app management capabilities
What is software distribution?
Software distribution is defined as the deployment of software and applications to employee devices in a particular network. Apart from just deploying apps, software distribution includes monitoring and regulating the deployed software, supervising its use by employees, and also managing its updates.
As mentioned earlier, manual software distribution is a very time-consuming and labor-intensive task. Which is why tools are available now that help with every aspect of software distribution.
These tools allow IT admins to remotely install and also update apps on employee devices. Also, it allows IT admins to monitor how employees use these apps and software and configure its settings.
Advantages of software distribution
Software distribution has its fair share of advantages.
Time-saving
As mentioned earlier, software distribution tools can save a lot of time compared to the manual installation and upgrading of software. Using software distribution tools, the IT team can deploy multiple apps to multiple devices at once and save a lot of time.
Security
IT admins can keep track of the apps and software installed on employee devices and find out if there are any fishy or harmful ones installed. If such apps are found, the IT admin can use software distribution tools to remotely uninstall them within minutes of its discovery.
Manage app usage and status


Software distribution tools allow IT admins to keep track of apps installed

 in employee devices. These tools also provide a list of all apps installed in the organization. Also,

IT admins can monitor app installations, troubleshoot issues, and ensure they are installed correctly.

Easy software updates


One of the main highlights of software distribution is the ease of pushing updates to end-user devices. From app updates to OS updates, IT admins can easily manage all kinds of software updates on employee devices remotely

.
How can a UEM aid in software distribution?
A UEM or Unified Endpoint Management solution combines the capabilities of different tools like Mobile Device Management, content management, data management, and so on. Among these capabilities, one is app management.
UEMs lets IT admins distribute and manage apps on employee devices along with many other features. Other software distribution features like deletion, management, and monitoring of apps and software are also provided by UEMs.
Software distribution and upgrading with Hexnode UEM
Hexnode's Unified Endpoint Management solution helps enterprises streamline the process of software distribution and ensures seamless deployment of apps and software to end-user devices. From installation and configuration to management and uninstallation, Hexnode lets IT admins manage every aspect of software distribution.
Software installation and uninstallation
IT admins can remotely install and uninstall apps and software on employee devices. Hexnode lets enterprises push store apps, web apps, and enterprise apps.
Store apps: – This refers to apps that are available in public authorized app stores like Google Play Store for Android devices, Apple App Store for iOS devices, and Microsoft Store for Windows devices. IT admins can not only install but can also uninstall store apps using Hexnode.
Web apps: – These apps are mostly used in kiosk management. Web apps are URLs displayed as app icons and when it is clicked, the URL is opened on a web browser. Web apps can currently be enabled on Android and iOS devices.
Enterprise apps: – Enterprise or in-house apps are apps that are developed for use inside an organization. Enterprise apps can be pushed to Android, iOS, Windows, tvOS, and macOS devices.
Based on the type of app, type of enrollment and the device OS, apps can be silently installed on employee devices. This means that apps can be installed on end-user devices, without any user intervention.
Software update management
Updating apps has always been a headache for IT admins. Without the help of any tools, IT admins would have to manually check the version of apps in devices and then manually update the same.
With Hexnode, updating apps and software takes a few minutes. IT admins can update apps and software remotely using the Hexnode UEM console. App downgrading is also a feature that is possible using the Hexnode UEM console. It is a process where apps are forcibly reverted to an older version itself.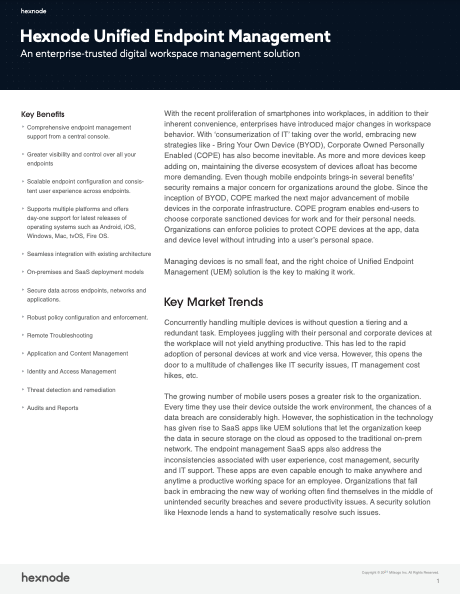 Featured resource
Hexnode Unified Endpoint Management
Hexnode UEM goes beyond delivering basic mobile and desktop management capabilities to meticulously manage the plethora of mobile devices in your organization. Get started with Hexnode's UEM solution to manage all your endpoints from a central console.

Download datasheet
Software monitoring
One of the main problems IT admins face with software distribution is the need for proper monitoring of software and apps installed in the organization. Hexnode provides an app inventory that lists all the apps used in the organization.
Hexnode app inventory simplifies the process of auditing as a detailed list of all the apps used in an organization is readily available. App status is a feature provided by Hexnode using which IT admins can check whether an app pushed through the UEM is installed or not.
App feedback channel is a feature introduced for Android Enterprise devices that enables the IT admins to ensure the configurations sent to apps have taken effect and settings have been changed successfully. Hexnode supports App feedback channel and IT admins can use it to check the status of app configurations sent via Hexnode.
Management and configuration of apps and software
Hexnode allows IT admins to configure certain app settings and configurations on Android, iOS, and macOS devices. By doing so, enterprises can make sure that employees stick to organizational requirements when it comes to app and software usage.
OEMConfig – Breaking the boundaries of Android device management
Restriction of apps and software on devices
One of the most important aspects of software distribution is to restrict employees from installing apps that are not necessary for the organization. Blacklisting is a feature provided by Hexnode where IT admins can restrict employees from installing certain apps on their devices.
On the other hand, whitelisting is another feature that helps IT admins specify the apps employees can use on their devices and blocks the installation of all other apps on the device.
OS update management
Keeping operating systems up to date is crucial in terms of security. Hexnode supports remote OS updates, which streamlines update management and ensures zero intervention from the end-user. For devices like Android, iOS, and macOS it is possible to schedule updates so that it takes place automatically at a specified time.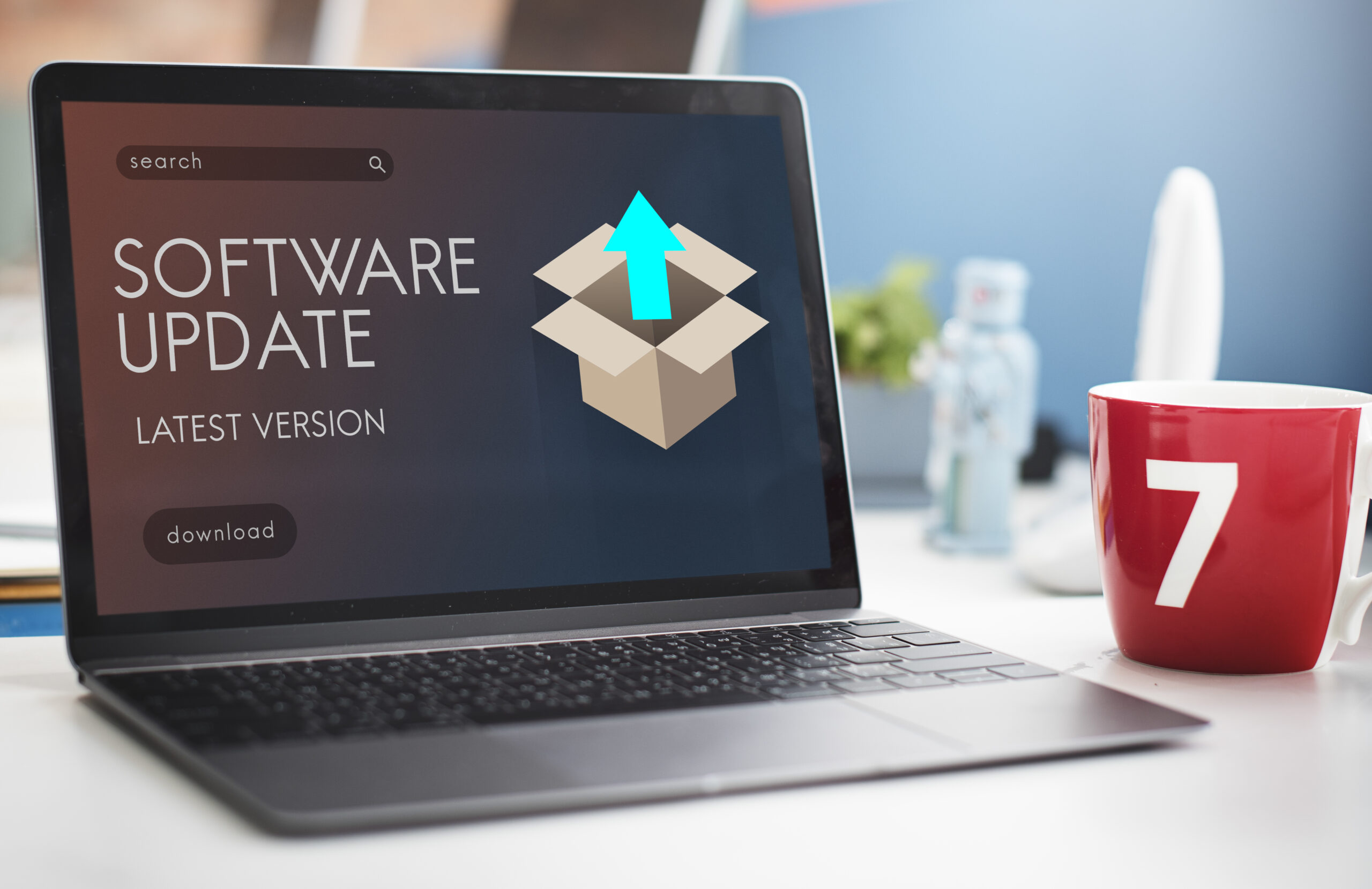 Software update in an employee's laptop
It is also possible to download and install OS updates using scripts through Hexnode.
Why is it better to use UEMs for software distribution?
Using a UEM for software distribution and upgrading is smart because it gives you more granular control over the process. UEMs also provide additional features such as app configuration and management, which are not often seen in software distribution tools.
Another reason to consider UEMs is that they provide multiple tools under one roof. From device management to content management to app management, everything is possible using a single simplified tool.
Sign up for a free trial
Sign up for a free trial with Hexnode and try out its App distribution capabilities.
Sign up