Apple Mac devices are quickly gaining traction in the business sphere. Although it was not built for business use, Mac is becoming a viable option for businesses. Enterprises prefer mac because of its superior performance, security, compatibility, and macOS management features. In addition, Apple provides users with long-term value with its robust hardware and software.
The popularity of Mac has boomed in the recent past, parallelly the need to manage the growing number of Macs has also risen. This blog is a good starting point for IT admins looking for ways to manage Mac devices.
What's the point of macOS management?
Manually maintaining Mac computers require a significant amount of time, work, and planning. Businesses have realized that the ideal approach to deal with this problem is to use a Mac management tool that provides efficient ways to cut the IT operational costs and time spent on managing your Macs.
Choosing the right macOS features out of the many available is hard. So here are a few handpicked macOS features that are vital for any firm.
The list includes features that are deemed for security, configurations, app management, and endpoint management.
macOS management features that matter
1.FileVault
Data security breaches can harm a company in a variety of ways. Individual and business data can be protected by encrypting it, so it is kept out of the hands of unauthorized people. Encrypting the entire drive assures the security of all data.
FileVault assists individuals and companies in protecting user data on internal and external storage. This is done in a way that is transparent to the user and, in certain situations, without the usage of IT resources.
In the second-generation FileVault, full disc encryption is built into OS X for every device. FileVault protects all contents on the hard drive with XTS-AES-128 data encryption, even if the computer is lost or stolen. Additionally, with Apple's hardware and software integration, enterprises can protect all user data in internal and external disc drives, all while being transparent to the user and functional for IT.
In the past, data-at-rest solutions have been hampered by performance, but FileVault shines in — architectural design, optimized cryptography, and hardware acceleration. As a result, FileVault improves the user's and organization's experience while maintaining the required level of security.
What is secure token and why is it important for macOS security?
2. Custom Script
Scripts in mac are programs that combine multiple commands into a single file. A script is made up of several statements, each of which performs a different task. As a result, scripting allows you to design sophisticated workflow solutions that increase productivity, decrease errors, save time and money.
Advantages of using Scripts
Scripting helps in automating tasks and thus saves a lot of time.
It allows users to create highly advanced solutions for any test case.
Because scripts are very expandable, they provide a lot of flexibility.
Copying and altering existing scripts makes it simple to create new test processes.
Scripts allow for a modular testing strategy and are highly reusable.
Scripting doesn't require costly apps for functioning.
Using Hexnode you can simultaneously deploy the script to a number of endpoint devices.
3. App configurations
Configuring each user's login credentials on their work apps manually can be time-consuming. Imagine your company employs hundreds or rather thousands of employees, surely it is unreasonable to try and configure each device. However, with an MDM an IT administrator, you may transfer this data to their work apps using custom app configurations.
IT administrators can adjust Mac program configurations and pre-configure settings such as accounts, login preferences, and more using custom app configurations. You can adjust the app set-up on a Mac by selecting the app and downloading the XML file, which contains all of the app's configuration options. These app configuration options are pre-determined by the app developer and the configurations they make accessible.
Perks of pre-configuring applications
It saves a lot of time and effort
Configure user data and credentials before setting up the app
Manage app permissions
Enforce access management
Enable access to app tunnel on configured apps
Enforce Single-sign on
Your IT can make the process of adopting work apps easier while also defending the app from any assaults by establishing a proper app configuration policy. You deploy the preset settings to your managed apps when you impose a custom app configuration policy. These changes are then applied immediately the next time the app is used, with no action from the user.
4. System extensions
System extensions are application bundles that increase the capabilities of macOS management. They let developers construct programs with more advanced features without granting them kernel-level access to the operating system. This macOS feature came as a replacement for Kernel extensions (KEXTs).
System extensions, unlike kernel extensions, run in the user space of macOS and are not part of the kernel. This allows end-users to work without jeopardizing macOS's security and stability. Additionally, with System Extensions, developers are free to code in any programming language. After system extensions are installed, all users in the system have access to them. You may get rid of these add-ons by simply uninstalling the software.
The system extensions framework consists of:
DriverKit – The Driverkit framework defines the driver's basic structure and provides event handling and memory allocation functionality.
Network extension – Using the network extension framework, you may customize and expand fundamental network functions, such as configuring Wi-Fi and VPN.
Endpoint security extension – Used for monitoring system events for potentially dangerous activities.
Why Mac system extensions are the modern replacement to kernel extensions (KEXTs)
5. AD asset binding
The efficient management of assets across organizational networks is one of the most critical roles of IT administrators. They must monitor user authorizations and manage permissions across the network. However, as a company grows, it expands its network, increasing the threat. Errors or difficulties in applying authorization and accounting procedures are frequently the sources of data breaches and compliance violations. Keeping track of abandoned accounts and defending against privilege escalation threats is tricky, and AD helps you with that.
Active Directory enables IT admins to keep track of numerous network objects, grant and revoke user access, and set policies to ensure that a network runs smoothly. An administrator, for example, can create a group of users and grant them certain access permissions to server folders. However, when the network grows, administrators may find it challenging to keep track of users, login information, resource allocation information, and permissions. This is where Active Directory comes in, it allows administrators to manage users, security, and audits from a single location.
Benefits of integrating AD DS
Centralized resources and security administration
Administrators can safeguard network resources and their related security objects from a single location using Active Directory.
Simplified resource allocation
Active Directory can simplify network resource security management and increase compatibility with a wide range of applications and devices.
Single sign-on for access to global resources
Active Directory just needs to identify and authenticate the user once. After this process is complete, the user only needs to sign in once to gain access to the network resources that are authorized for him or her in Active Directory, based on his or her given roles and privileges.
Managing trust relationships effectively
Trust relationships between domains are possible with Active Directory. This means that two entities can have a two-way trust relationship.
In a nutshell
If you are a company with Mac devices as your daily drivers, it is not an option, but a necessity for you to have a reliable macOS management solution. With Hexnode UEM, you can automate the management of the Mac devices in your company. Hexnode gives you granular control over your Mac devices and includes all the critical macOS management features we have discussed above.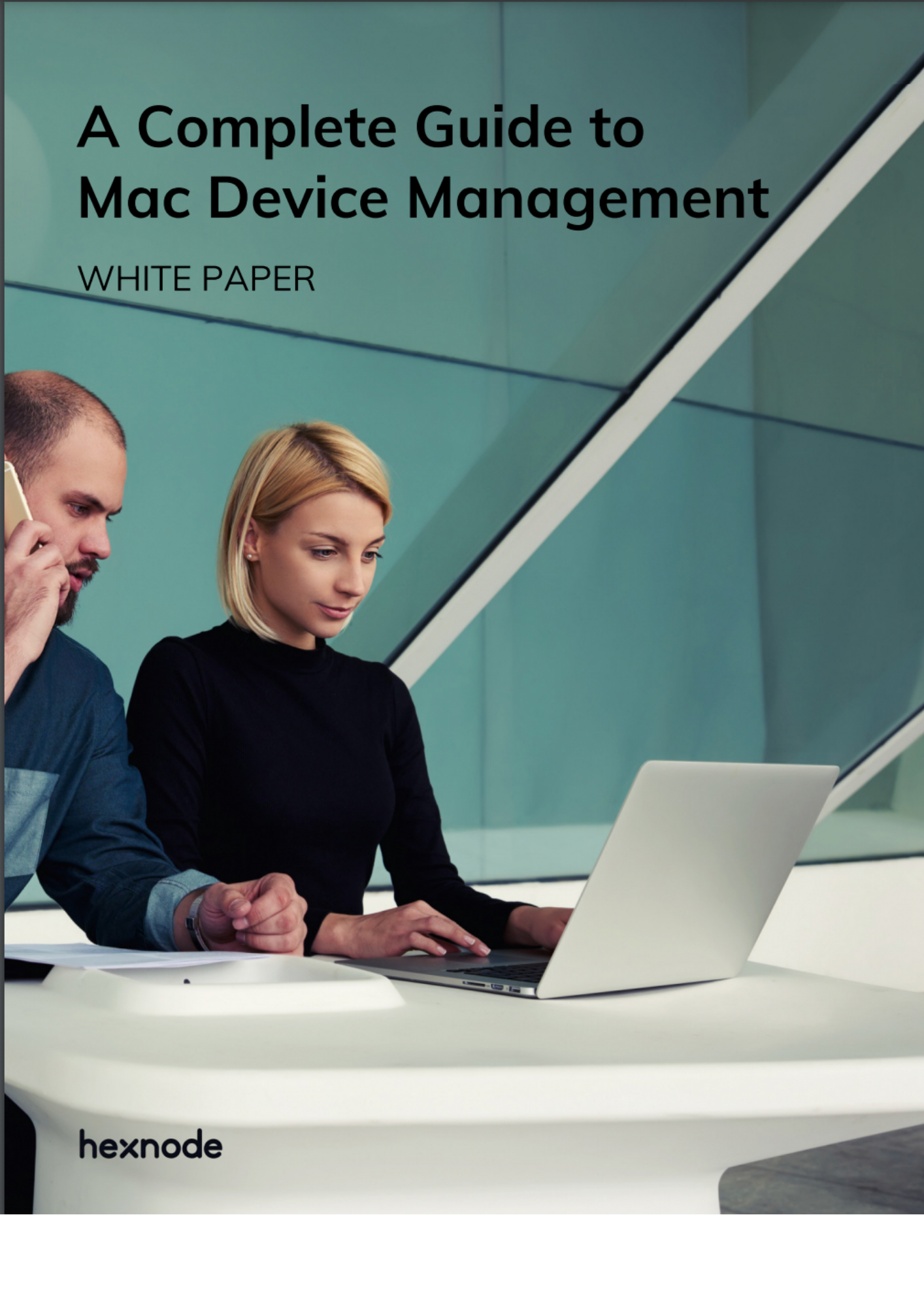 Featured resource
Mac Device Management
Macbooks have become the go-to devices for enterprises due to their cost-effective price and efficient OS. Read more about Mac device management from our whitepaper.
Download whitepaper