WALNUT, Calif., July 10, 2018 (Newswire.com) – MarketsandMarkets recently recognized Hexnode MDM as an innovator in the Microquadrant (2018), which showcased the MDM market. The MDM vendors are chosen based on the features their product offers, and the size of the organization and the Microquadrant was created with the strength of product portfolio and business strategy excellence.
The vendors are evaluated based on two strategies – the strength of product portfolio and business strategy excellence. The strength of product portfolio depends on the product offering, product feature and functionality, focus on product innovation, and product quality and reliability, while the geographic footprint, breadth of applications/verticals served, channel strategy and fit, and inorganic growth strategy make up the business strategy and excellence.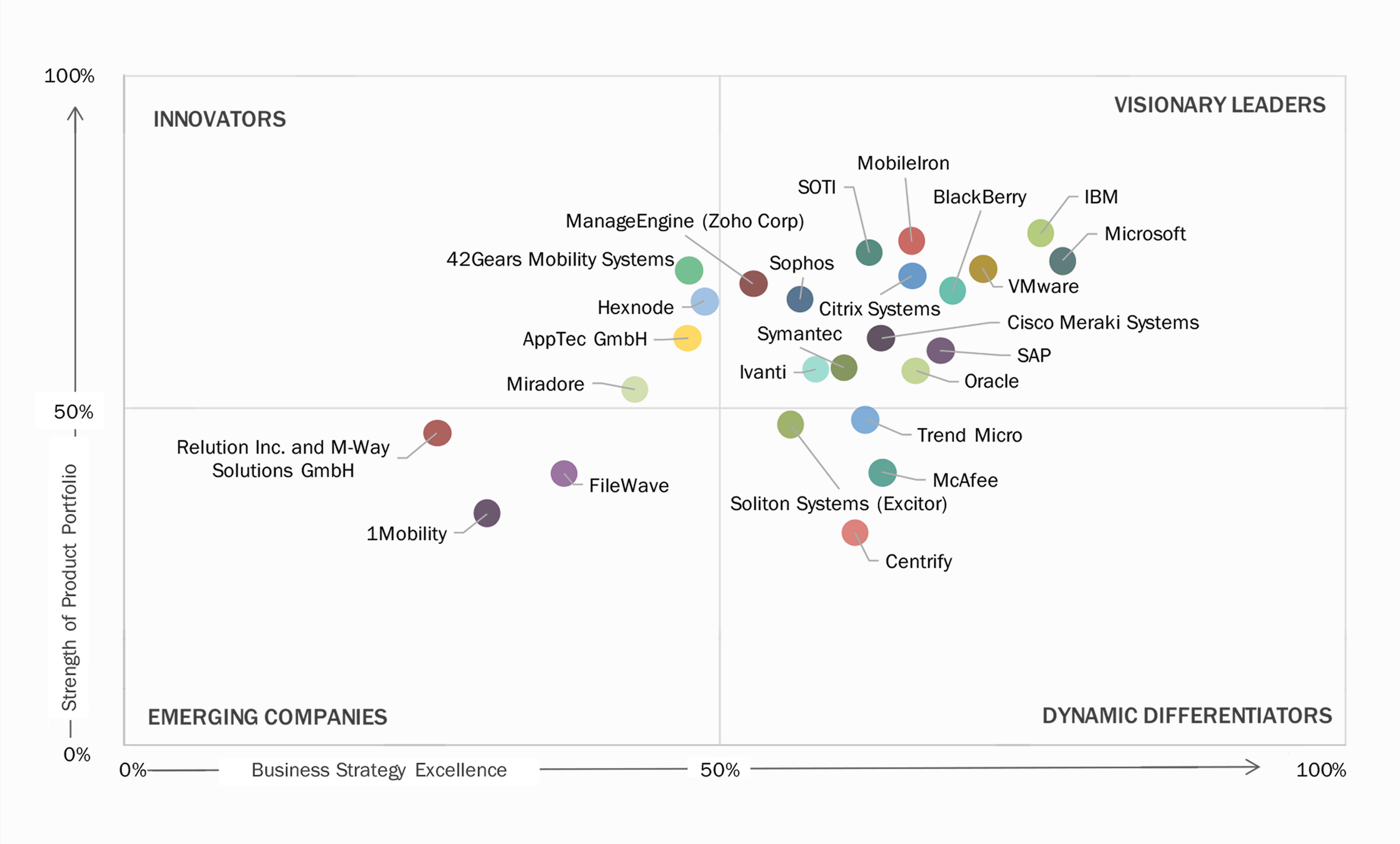 The final list of MDM vendors in the quadrant is generated based on a series of researches conducted by the MarketsandMarkets team. The first round of research pumps a stream of questionnaires toward the officials of an MDM vendor, with their replies ranking from 0-10. The second round was just to collect some information about the vendors before they put them in the quadrant, using white papers, press releases, and other official writeups. Hexnode MDM builds into it, Security Management, App Management, Kiosk Management, and Expense Management systems, with features varying from a remote lock and wipe to geofencing and remote control. Hexnode MDM integrates with Samsung Knox, LG GATE, Kyocera, Apple's DEP and VPP, and Android's Zero-Touch Enrollment and Android in the Enterprise, to bring the most out of device management.
About Company: Mitsogo Inc. is a trusted provider of Enterprise Mobility Solution under the brand Hexnode. The MDM offers application management, security management, email management, kiosk management etc. along with device management. Hexnode MDM has found its way to all kinds of business sectors such as education, healthcare, transportation and even in high-security government fields all over the world. The clutter-less UI and simplified workflow are what makes the solution more efficient and preferable.
For more information visit: www.hexnode.com