Earlier this year in June, Apple unveiled their new major updates during the 2021 Worldwide Developers Conference. One of the key announcements this year was the inception of macOS Monterey. The macOS Monterey comes loaded with enterprise features that let users connect with others in exciting new ways, ease the work experience and help users engage better. The Monterey update supports a wide array of devices including MacBook models from 2016 or later, MacBook air, MacBook pro and iMac models from 2015 or later, iMac pro models, mac pro models from 2013 or later, and Mac mini models from autumn 2014 or later.
Now that the highly anticipated update is finally here, let's have a look at some of its salient features, with a focus on what's in it for enterprises.
macOS Monterey Enterprise Features
Apple during the preview of Monterey had specified that the new macOS update would bring new features to help users stay focused on their current task, easily work between Apple devices, stay connected with others in a more efficient way, and much more. And they provide just that. Let's have a look at some of the significant and Enterprise-centric Features introduced by Apple this year for macOS monterey.
Declarative Device Management and Account-driven User Enrollment
Apple announced two new features to ease up the device management and enrollment procedures. The current MDM protocol described by Apple as "imperative" depends heavily on the servers for performing each task. This means that the device would wait for a command from the external server to update the status or perform an action. The new version, declarative, will reduce the burden on external server and the device will be more autonomous than before.
On top of that, account-driven user enrollment has been introduced, giving UEM vendors more options to authenticate and bringing a new feature called "required" app. Users have the option to sign in to work or school in settings, to begin their enrollment process. The "required" app, will get installed once the enrollment process is successfully completed. This app, for example the Hexnode UEM app, cannot be removed or modified by the user, once enrolled.
Universal Control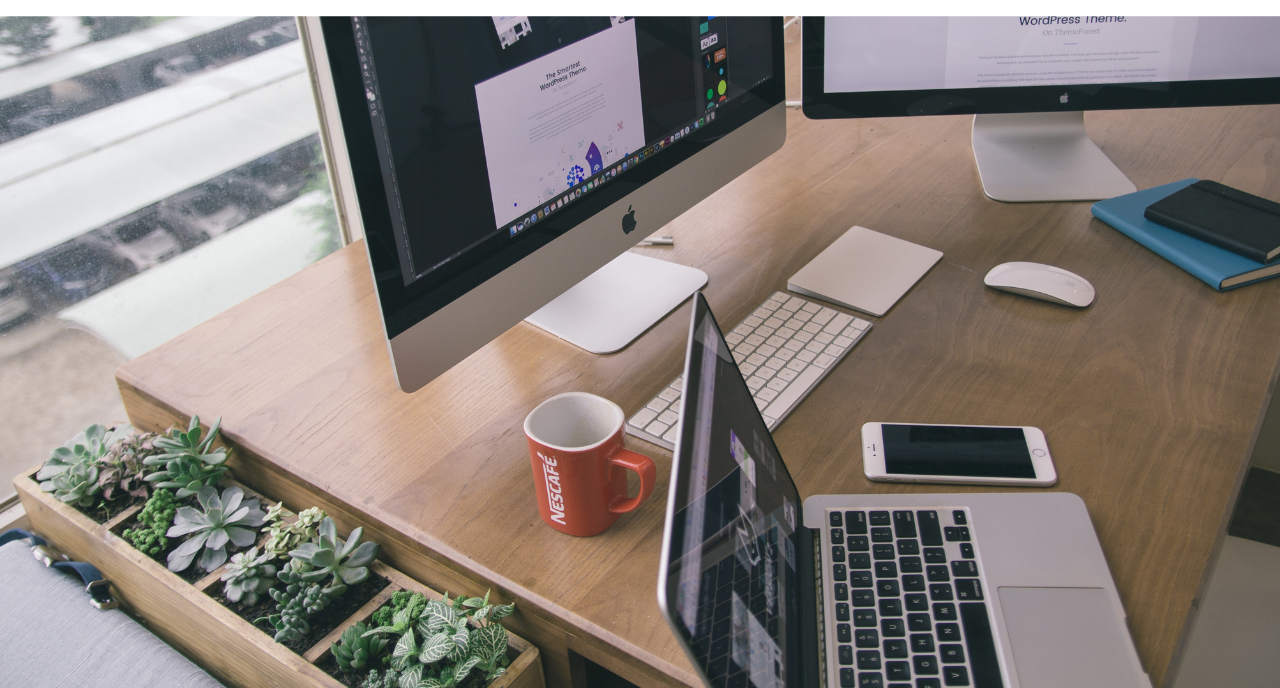 Universal Control
One of the particularly vital features introduced in the macOS Monterey is the universal control feature. With this, users can control multiple devices like iPads or Macs by using a single Mac's control. That is, users can use the trackpad and keyboard of a Mac across multiple devices, perform the functions there, and even drag and drop files between devices. The best part of all is that doing all these doesn't require any additional setup. The devices will be automatically synced for this feature, by measuring proximity. This will be a boon when you have to work on some applications that are better manageable on other devices and will make it easier to work between devices.
Focus
As the name suggests, with this user will be able to focus more on their work with minimal distraction. What this update brings to the table is an option for silencing the notifications not related to the task a user is currently working on, and showing only those notifications relevant to the current task. For example, users can set up a focus mode for work, so that only the work-related notifications will be shown by silencing other notifications, and this configuration will be synced across your devices. This feature will give a substantial assist in increasing the efficiency of the users. Currently Apple has Focus modes for sleep and driving, as built-in configurations.
With the new update, Apple is restructuring the FaceTime app to make it more business friendly. The new interface of FaceTime features a grid view, where all the members are displayed equally in the screen, unlike the earlier version which was more speaker-centric. This will increase the user experience for meetings that include large number of people. Moreover, FaceTime now lets you add non-Apple users to the calls. Someone with a non-Apple device like an Android or Windows will be able to join FaceTime calls with the link shared to them.
Another major upgrade that elevates the FaceTime experience is the introduction of SharePlay. With SharePlay, users can now watch videos, listen to music, and share their screen inside the Facetime app itself. The advent of screen share facility has emerged as an impetus for effectively collaborating with coworkers, where you can seamlessly present to your group.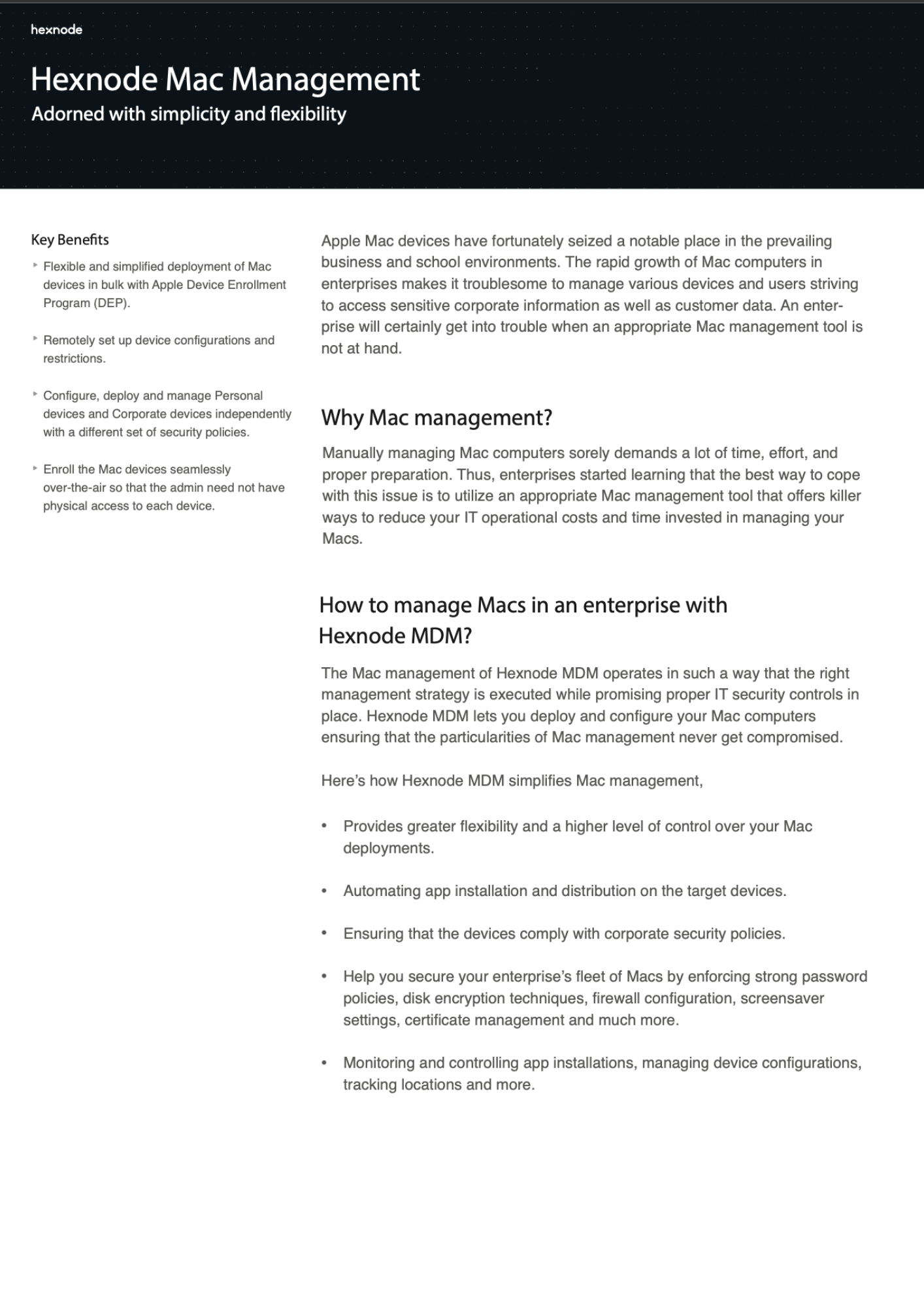 Featured resource
Hexnode Mac management
Managing the large fleet of enterprise Mac devices can be tedious without an effective device management solution. Download the datasheet to learn more about Hexnode's Mac-specific management strategies.

Download datasheet
Privacy
When it comes to privacy, Apple never disappoints its users. Apple always keeps stepping up their privacy game every year, and this year is no different. With the introduction of mail privacy protection, users can hide their mail IP address, which blocks the senders from tracking your online activity. Also, now the senders won't be able to get information regarding your email like whether you have opened your mail.
From now on, the recording indicator in Macs will indicate which app is currently using the microphone.
Furthermore, iCloud+ will also see some privacy updates. Users will get iCloud private relay which provides safe and encrypted browsing, expanded HomeKit Secure Video support, and a feature to generate a random email address which directs all mails to you.
Admin Controls & Other Notable Updates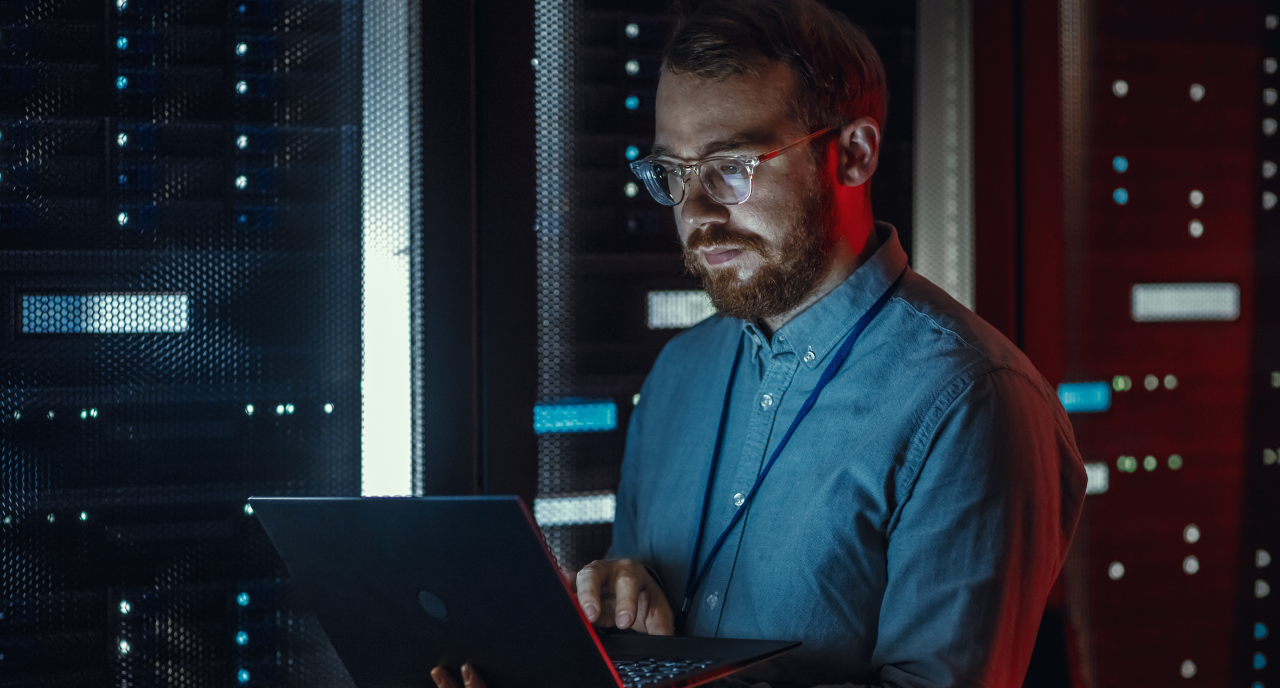 Admin updates
A feature which was available on the iOS to wipe the device, will now be available for Macs too. Users can wipe their Macs back to factory settings using the "Erase all content and setting" option available in System Preferences, although admins can restrict them from doing so.
Software update device ID, a new addition, will help admins recognize the devices that are compatible with new updates available to install. With macOS Monterey, the software update proceedings will be similar to the one in use for iOS. An UEM command for installation will be sent to the device, to which the device responds with details regarding the compatibility. The ones eligible will begin the software update.
The new update gives IT admins the power to enforce system updates, unlike the previous versions. Unlike earlier, where users could defer the system updates pushed onto their devices, the admins can now enforce installation after a predefined number of deferrals have been used up.
With the growing popularity of Apple silicon Macs among enterprises, the macOS Monterey has introduced a multitude of new features exclusive to them. This includes the portrait mode background blur feature for facetime calls, interactive 3D earth view in Maps, live text, and more. For enterprises, the remote lock has been enhanced where admins can now send a 6-digit code, without which the users cannot unlock the device. Likewise, the admins can now enforce a recovery password which is mandatory for the users to reboot to recovery mode.
To Sum up…
The macOS Monterey is a major update, one for all classes of users; and the best part? It is a free update. With loads of features aimed at enterprises and powerful tools built for effective device management, the advent of macOS Monterey is without a question, a blessing for the users.
Manage your enterprise devices
Start securely managing your macOS devices with Hexnode
Get a free trial