Think of all the ways to communicate today, from SMS, Messaging apps to the multiple platforms that host these services. While these services have taken precedence in recent years, one thing that has remained unchanged as the trusted corporate communication is email. Since the first email was sent in 1971, multiple trends have changed on the internet, and many mainstream non-formal communications have taken precedence over time. However, email still stands tall as the go-to for enterprises and email management is at an all-time high.
Enterprises use email both for internal communication and for their email marketing goals. As a result, email marketing has a return on investment (ROI) of $36 for every $1 spent. When you have an ROI of 36x, it becomes a no-brainer for corporates to make it part of their financial plan.
Emails make corporate communication simple, secure and efficient, but the security of emails is up to the user's usage. Logging into your email on all your devices makes communication extremely easy and seamless through every endpoint. However, as easy as this is, it can be bad for email security. This is problematic if the emails are corporate because a single phishing attack is enough to breach the entire internal system.
The effective fix would be to use email management; a capable UEM like Hexnode would be perfect for the job. Hexnode helps you manage your emails across different endpoints and different OS.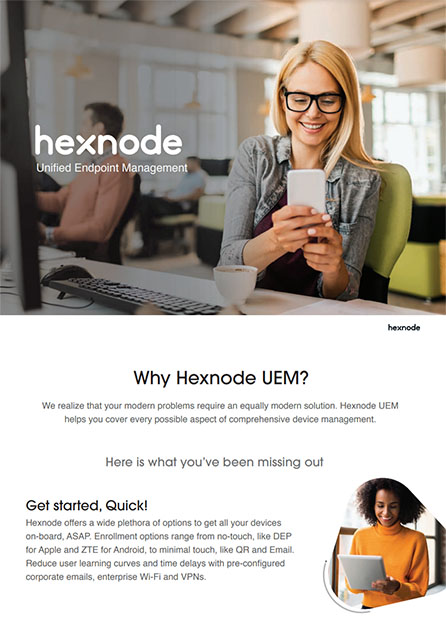 Why Hexnode UEM?
Featured resource
UEM helps you better manage your email strategies, find out why Hexnode is the best UEM out there.
Download brochure
UEM for email management
Secure email management
Hexnode allows you to configure email on devices right out of the box. The user account can be silently added to the default mail app without human intervention. This has many benefits like
The corporate need not go through the lengthy process of logging into every device manually and can easily configure the email through the Hexnode portal.
For added protection, the corporate can also not disclose the email password; this way, they can be entirely sure about the security of the email without having to depend on the employee.
Hexnode can disable copy and paste; this ensures the user does not copy or send important corporate data out of the network.
With the rise in remote working in recent times, bring your device (BYOD) has become increasingly popular. Employees welcomed this change as it enabled them to work from anywhere. However, the problem with BYOD is using the same device for both work and personal use.
Employees use their devices for tasks that can be dangerous to user security, and when you have the same device for office/personal use it is essential to draw a line between what is personal and what's corporate.
With the containerization feature in Hexnode, you achieve just that. It allows you to separate work apps and data from non-work apps. This separation blocks users from accessing corporate data from personal profiles and vice-versa.
Managed domains
The managed domains feature in Hexnode allows you to add email domains. The emails will be checked for the domains as a suffix, and any email that does not have the suffix will be considered out of the domain and highlighted in the mail app; this ensures the user knows the mails that are not internal or trusted. This can be used as an effective tool against phishing.
The security risks posed by unauthorized devices accessing business emails can be minimized using digital certificates to authenticate them. The Simple Certificate Enrollment Protocol (SCEP) is a certificate management protocol that aids in deploying certificates from a trustworthy certificate authority (CA). Using an automated enrollment mechanism, SCEP allows you to issue certificates to many network devices safely. Many certificate authorities support SCEP, and there are even open-source software implementations of certificate authorities that enable SCEP. For example, you may use Hexnode UEM to set up SCEP and enforce certificate-based authentication for Wi-Fi, VPN, and email, among other things.
Exchange Active sync
ActiveSync is an XML and HTTP-based protocol that lets the device sync data with the Exchange server. Exchange ActiveSync enables safe access and storage for your email and attachments remotely on your iPhone and Android. It synchronizes emails, attachments, contacts, calendars, and other accounts between the devices and the Exchange server, allowing access to this data even when the network is down. In addition, standard encryption services, such as SSL encryption, are provided by Exchange ActiveSync to improve the security of the mobile connection with the server.
S/MIME adds an extra layer of security by signing, encrypting, and decrypting the email, providing protection to your email. The usage of S/MIME verifies the sender's identity as well as the message's integrity. S/MIME is an asymmetric cryptography-based encryption mechanism.
CardDAV
CardDAV is an address book that helps users sync contacts from the CardDAV server to Hexnode managed devices. You can add the email address from which the contacts are to be synced along with the CardDAV account password in your Hexnode portal. Hexnode lets you remotely add and remove contacts from your managed iOS devices without requiring user interaction. The synced contacts get saved to the Contacts app inside the iOS device.
Conclusion
Hence, using a UEM for your email management is a sure-shot way to improve your security and productivity. Hexnode UEM is among the best for email management, with its superior feature set and affordable pricing it makes it highly sought out for all your management needs.
Secure your email management strategy with Hexnode UEM
Hexnode UEM helps in securing your devices with superior management and encryption.

Sign up